Reviewed
CES Unveiled: The Products that Slipped Through the Cracks
These are some of the oddest, quirkiest, and most unusual products from CES Unveiled.
CES 2013 has kicked off with a bang! Well… sort of. Sunday's CES Unveiled event was a bit of a snooze, since most of the big products and announcements are scheduled to be made on Monday. The show's opening night ball was really just an opportunity for the scrappy startups to show off their stuff—with a few major brands scattered in between.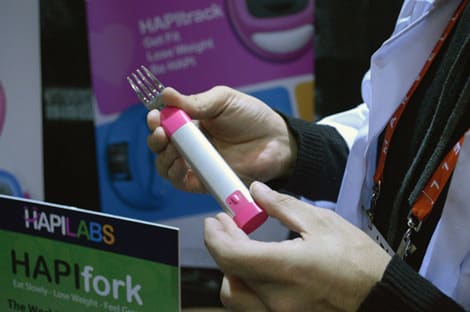 There was no shortage of nifty gadgets, but it's important to point out that "nifty" is not always the same as "useful" or, you know... "marketable." Take the friendly folks at HapiLabs, for example, and their head-scratcher of a product, the HAPIfork. A single electronic eating utensil that sells for just under $100 might seem like a good idea on the surface—in the same way that your stoner friend might think food delivered by post is a good idea.
What the HAPIfork does is monitor the duration of your meals, including the number of "fork servings" taken per minute and per meal. When you begin to eat too quickly, the fork vibrates—which I suppose is expected to stop gluttons in their tracks? I'm skeptical. Not only would such a product be futile in the hands of America's most gargantuan gorgers, but it costs $99 and is only a single fork. More crucially, it relies on the owner eating most of their meals at home (or carrying the HAPIfork with them everywhere) to be effective in helping curb eating habits.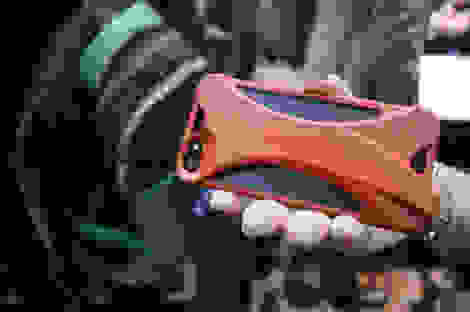 The HAPIfork wasn't the only silly product on the floor at CES Unveiled. Kubxlab was showing off their "ampjacket" acoustic amplifier for the iPhone and iPad. Yes. Digest that for a moment: an iPhone "acoustic amplifier." Trust me, it's not as cool as it sounds. It's essentially a spacious (read: bulky) cover for an Apple product that includes an acoustic "port" over the speaker unit. Supposedly this gives the audio output a decibel boost.
According to a representative, the ampjacket can actually double the acoustic volume of an iOS device (they don't have anything yet for Android, sorry guys). But here's our beef: low-end frequencies—never a strong suit for mobile speakers—are in no way improved, so it sounds like a loud, tinny hiss. Given the hefty increase in size and the fact that we can't imagine a situation where you'd be so in need of louder sound from an iPhone, this one's DOA for us.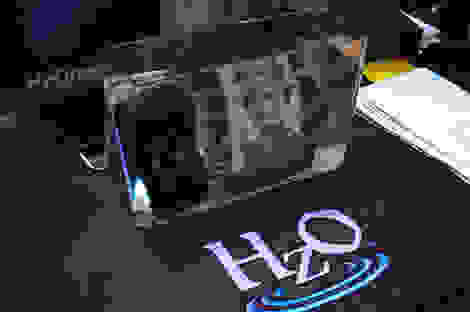 But now I feel like we're getting off on the wrong foot. While CES Unveiled was by no means the time for big industry announcements, there were a few really cool, really practical gadgets. One of the most interesting products we came across wasn't even a consumer product—at least, not yet. HzO's WaterBlock technology applies an invisible, organic compound to the interior of virtually any electronic device—phones, tablets, radios, computers, you name it.
Imagine our amazement as we watched the representatives submerge a pristine Samsung Galaxy S III in a jar of Powerade, only to pull it out and operate it as if it were raised from the dead by a voodoo priest. The product is still proprietary, but one representative told me they plan to eventually bring it to the consumer market. Either that, or manufacturers will start coating everything on the assembly line in this material—it's just that awesome.
Check out some of our photos from CES Unveiled, and be sure to check back this week for coverage of all the big announcements and top stories from this year's CES!