The Best Snow Shovels of 2019
By Dan Roth, November 13, 2018, Updated January 02, 2019
Snow may be beautiful, but that charm doesn't last. Those drifts have to go somewhere so people can get to work, kids can make it to school, and everyone can avoid cabin fever. So, when you need to move snow from one place to another, it's time to grab a shovel. But there's no shortage of choices when you're looking for just the right one. A straight or ergonomic shaft? Plastic or metal blade? Plow or scoop?
We decided to put all these different snow shovels to the test—including highly-rated winners from other review sites like Wirecutter and shovels with good user reviews on retail websites. And after many hours of scooping and maneuvering, some of our findings surprised us: Features, such as additional handles, turned out to be more troublesome than we anticipated.
But it was easy to pick the most well-made shovels—like one of our favorites, Forest Hill Homeowner Aluminum Scoop Shovel (available at Amazon)—from the more indifferent products on the market.
Here's how the best snow shovels we tested ranked, in order:
True Temper Aluminum Blade 20-inch Shovel
Forest Hill Homeowner Aluminum Scoop Shovel
Tabor Tools 18-inch Blade Snow Pusher
Snow Joe Shovelution
True Temper 18-inch Mountain Mover
Bully Tools 22-inch Combination Snow Shovel
Suncast 20-inch Steel Core Combo
Emsco Bigfoot Shock Shield 25-inch Snow Pusher
Updated January 02, 2019
Advertisement - Continue Reading Below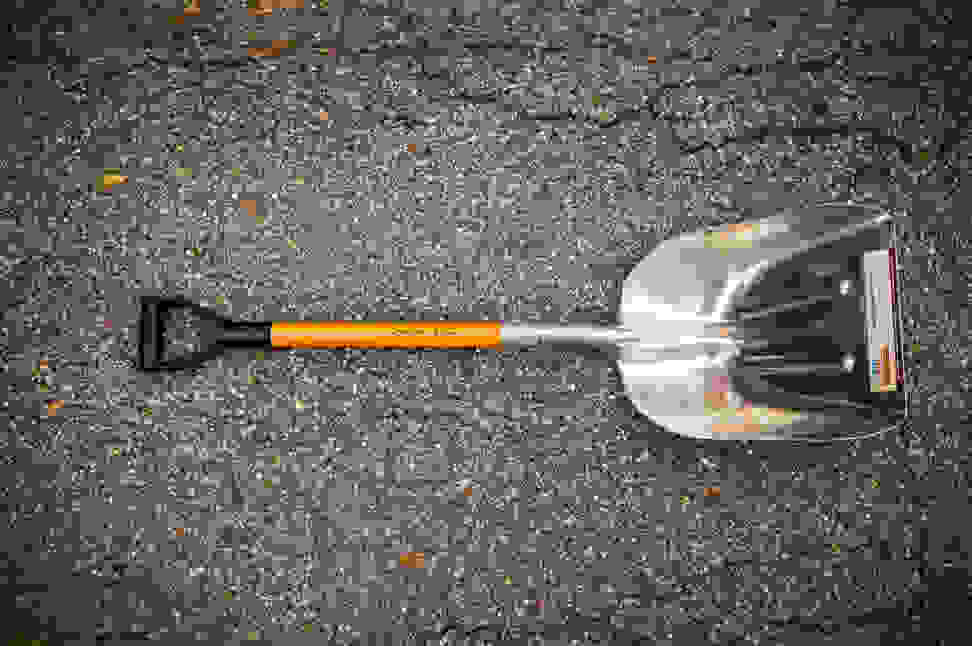 Forest Hill Homeowner Aluminum Scoop Shovel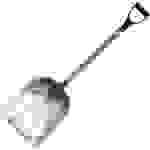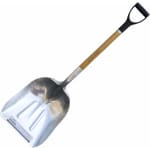 Forest Hill Homeowner Aluminum Scoop Shovel
Best Overall
While technically Forest Hill came in second in our scientific scoring, we like this shovel the best. Yes, it's the most expensive among the shovels we tested (at the time of publication it was priced at $59.99 at Amazon), but it's also the best looking with its beautiful wood handle and shiny blade made of thick aluminum. Aesthetics are not why it won, though.
In practice, the Forest Hill shovel isn't just for snow. It's more versatile and useful for garden or farm tasks. Its shorter handle makes it slightly more compact than most of the other shovels, and it's well-balanced. This is a shovel that just feels good in your hands and is easy to use.
Objectively, there are a few hits against the Forest Hill shovel. It's price, of course, but also the lack of a steel or composite wear edge for the blade, and a non-ergonomic design are both areas where other shovels, especially the True Temper 20-inch aluminum shovel, can claim an advantage. The thick aluminum of the blade didn't show much wear after use, so even without a steel edge, you should still expect the Forest Hill to last a long time.
The design of the blade is best-suited for scooping, and it can pick up a lot of snow (or dirt, or other materials) at once. There's a limited amount of plowing action, though. We were concerned that snow would stick to the aluminum blade, so we chilled it for a while in a snowbank, but we were unable to produce that result. It's possible that our snow was just too wet and ambient temperature too high to produce the sticking that we've seen complaints about online. In any event, a shot of cooking spray or silicone lubricant will make snow slide off smoothly no matter what the temperature. At 5 ½ pounds, you'll get a good upper body workout with the Forest Hill, but it's a joy to use.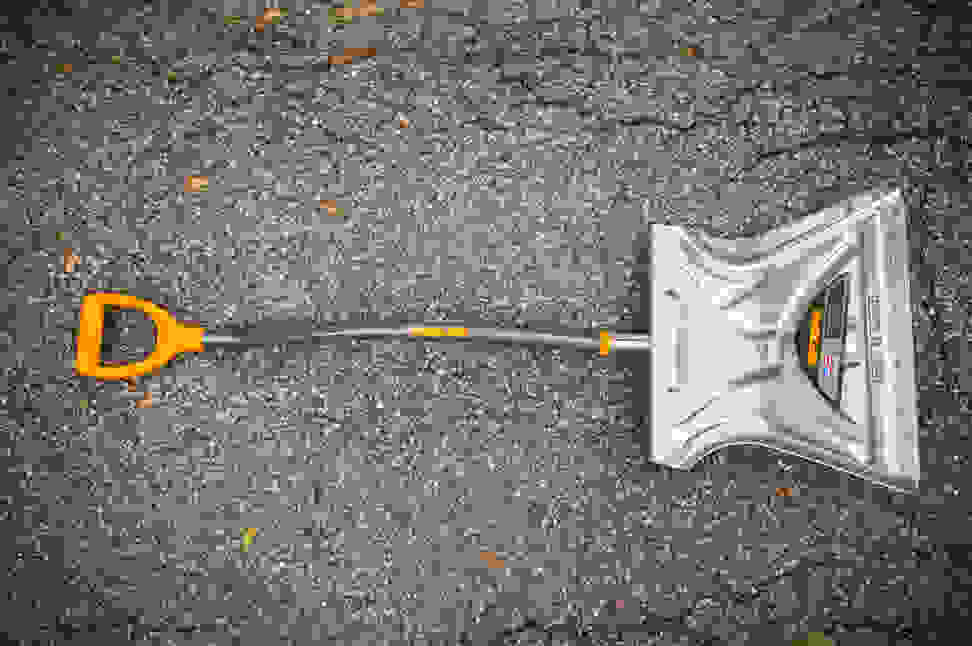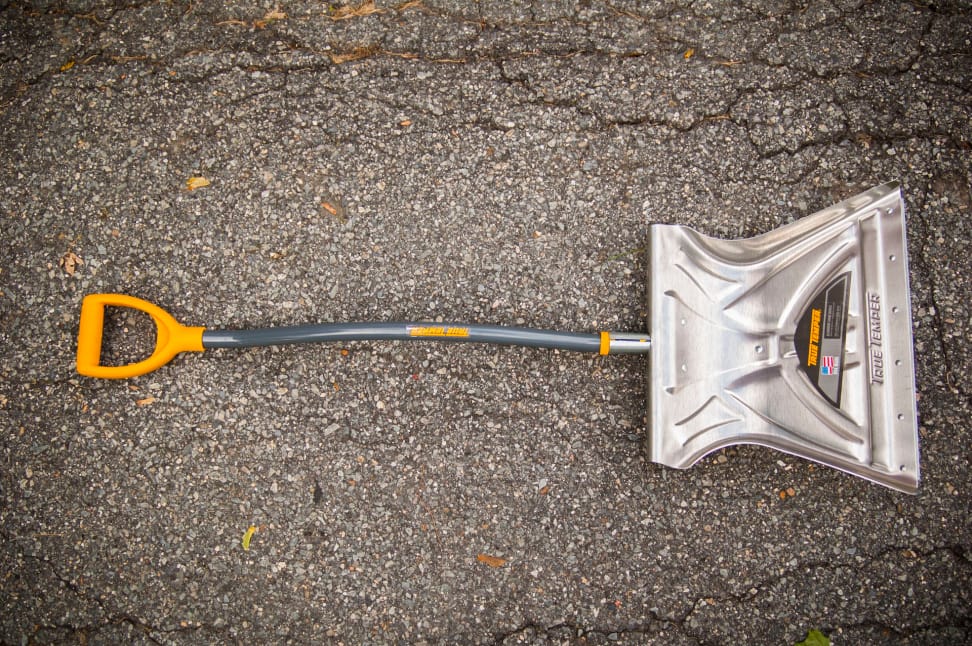 True Temper Aluminum Combo Blade 20-inch Shovel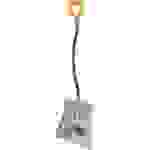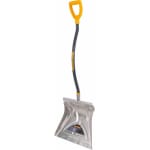 True Temper Aluminum Combo Blade 20-inch Shovel
Best Value
Our other favorite snow shovel is the True Temper Aluminum Blade Shovel. It has all the things the Forest Hill lacks, from an ergonomic shaft to a lower price, to a wear strip (True Temper says it's the industry's only steel wear strip for an aluminum blade—putting those two metals together usually means corrosion). It's heavy like the Forest Hill shovel, too—both shovels weigh almost exactly the same. But the True Temper feels heavier, maybe because it's got a longer shaft or it balances differently. Either way, this is a good shovel that's got it all on paper, but was less pleasant to use in practice. It wasn't _un_pleasant, mind you, and its big scoop size and thick metal blade mean it should give you robust performance for many years. It's also about half the price of the Forest Hill, so you can get two and enlist a helper to get the job done faster.
Both Forest HIll and True Temper are metal bladed which makes for a very sturdy shovel. The trade-off is weight, though the ease of use and features such as ergonomic design should help keep fatigue at bay.
How We Tested
The Tester
I'm Dan, a Reviewed contributor, who has written about subjects from the best cordless drills to the best windshield wipers to the best starter toolkits. I live in Massachusetts and have moved a lot of winter precipitation after 17 years at the same address. All that snow and slush experience has taught me a thing or two about what's important when it comes to snow shovels. I've had my share of straight shaft and ergonomic shovels, scoops and plows. Not all shovels are created equal, and some are better to use than others. It turns out I have a lot more feelings about shovels than I'd expected.
The Tests
Temperatures hadn't yet fallen enough for snow in Central Massachusetts, and even with the tools and materials in hand to whip up a homemade snow gun, the weather just wasn't going to cooperate. Instead, we simulated light, powdery snow by using fine pine shavings normally used for livestock bedding. Its weight and consistency are similar to the kind of snow you get when temperatures are in the 20s or below. Wetter, heavier snow was simulated with a yard of wet mulch. I shoveled myself and also had assistance from my 10-year-old son, who may represent the bulk of snow-shoveling labor in many households. His feedback about what was heavy or unwieldy proved valuable.
Because stand-ins can only ever be approximate, we also went and found some real snow out behind a local ice rink where the Zambonis are emptied. This snow was wet and heavy because ambient temperatures were in the high 40s and there had been some recent rain, but it did help adjust our impressions and expectations to work with the real deal.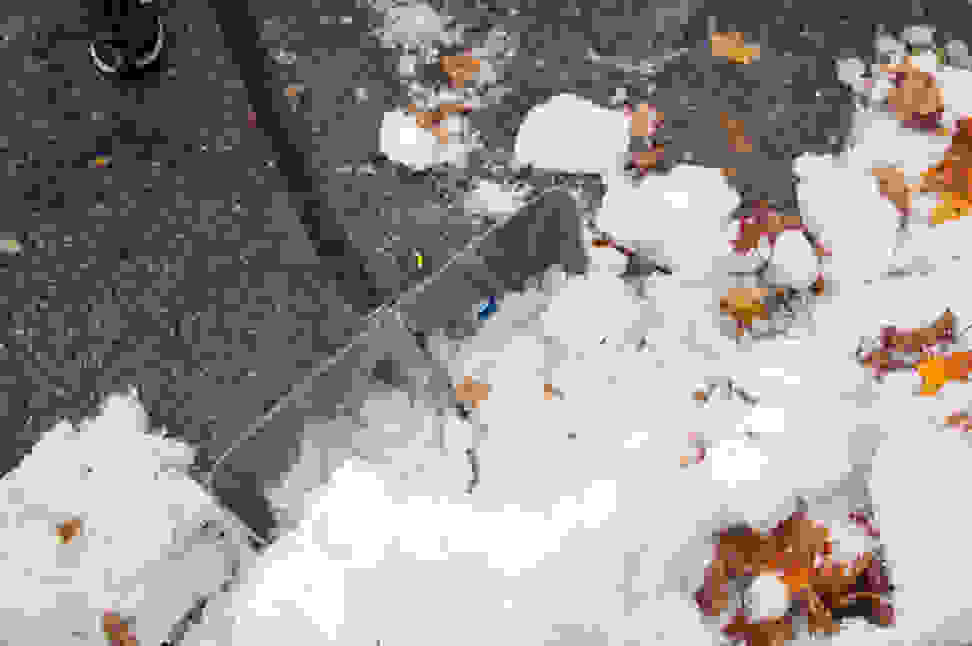 In all cases, the ground was covered first to a depth of a few inches, and then piled up more like a snowdrift, a foot or more deep. Our main driveway surface was well-worn suburban asphalt with cracks and imperfections. We also tested shoveling off deck stairs to get a sense of how easy it was to use each shovel at varying heights. When testing with the actual snow, we spread it out on the ground to a depth of a few inches. In doing that, we were shoveling into a larger drift that was 3 or more feet high, which also helped us understand how easy each shovel is to use at varying heights.
Clean up of all the pine shavings, especially after they blew around in the wind, provided ample opportunity to test how the shovels could be maneuvered around obstacles and objects. In the end, we found ourselves reaching for just a couple shovels when it came time to get some tasks completed, and those are the winners of the test.
What You Should Know About Snow Shovels
The idea of a snow shovel is simple, but start shopping for one, and the choices pile up. Options boil down to just a few things:
Blade Material—The age-old question, at least for the last 50 years, has been plastic or metal? Plastic is, of course, lighter. Depending on the type of plastic, it's also just as durable as metal, and not prone to rusting or denting, either. You'll see more plastic-bladed shovels than anything else, mostly because its biggest advantage is cost, and it's significantly cheaper to make a shovel out of plastic.

Wear Edge Material—The business end of the shovel, the wear edge, is where it contacts the ground. Here, a slice of steel that's been riveted to the blade can be a real boon to getting through icy precipitation and minimizing the work you have to do. Metal will effectively get down to the pavement better than a plastic wear edge. It also stands up to abuse, such as chopping at ice on frozen surfaces. A plastic wear edge may be durable, too, but metal stands up better to the rigors of shoveling. Steel is the best metal for wear edges. Aluminum is more malleable, so it will deform more readily under the sometimes-rough challenges of clearing winter's fury. If you want to be able to pound away, a steel wear edge is a must.

Blade Design—Some shovels are like a teaspoon—a good scoop meant for picking the material up. Others are like miniature versions of the plows that clear your street. These look more like a section of pipe. The two different designs have overlapping talents. If you have a large area of flat pavement to clear, a plow-type shovel is going to be very efficient. It's almost like mowing the lawn—start at one end, walk the shovel all the way over to the other. Snow piles up in front of the blade and gets pushed along. On the other hand, the best type of shovel for stairs, tight areas, and undulating pavement is your typical scoop-type snow shovel. These are more versatile, allowing you to deal with clearing any area of any kind of snow. The plow shovels become a workout if the snow is wet and heavy.

Ergonomic (or not) Handle—Because the bend in the ergonomic handles looks less than graceful, they're not the most widely-loved shovels. On the other hand, the idea actually works. An ergonomic handle is designed so you keep your back straight. Shoveling with a more upright posture keeps the strain off your back muscles and makes your biceps and shoulders do most of the work. That's as it should be. These shovels are a little bit more of a hassle to store because of the funky shape, but the ergonomic handle does have its place. You can consciously remind yourself to maintain good posture while using a straight-shaft shovel, but it's most likely you'll eventually assume the typical hunched-over form, and your lower back will become angry at you.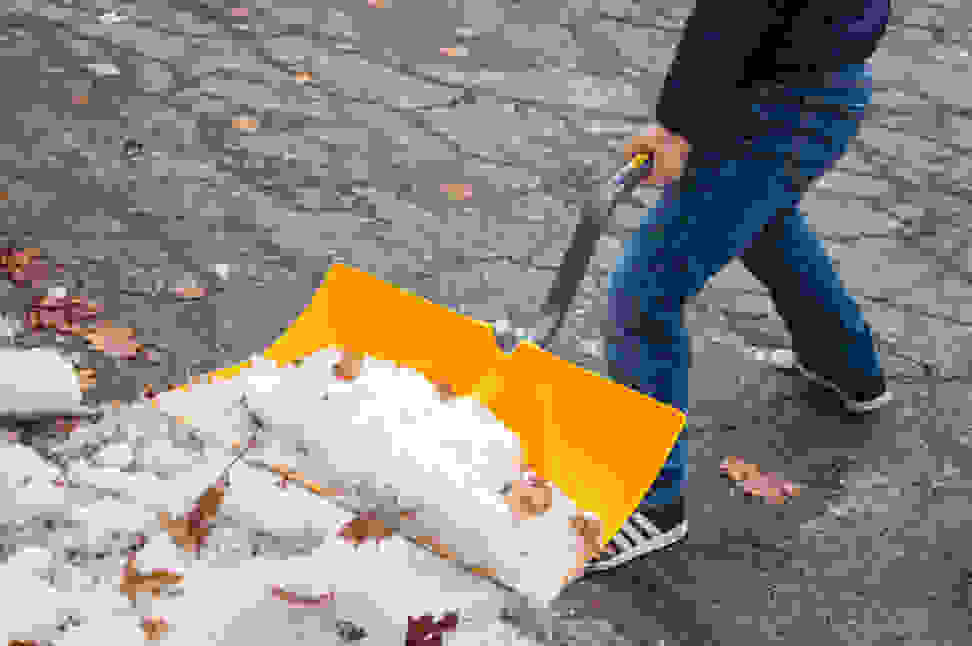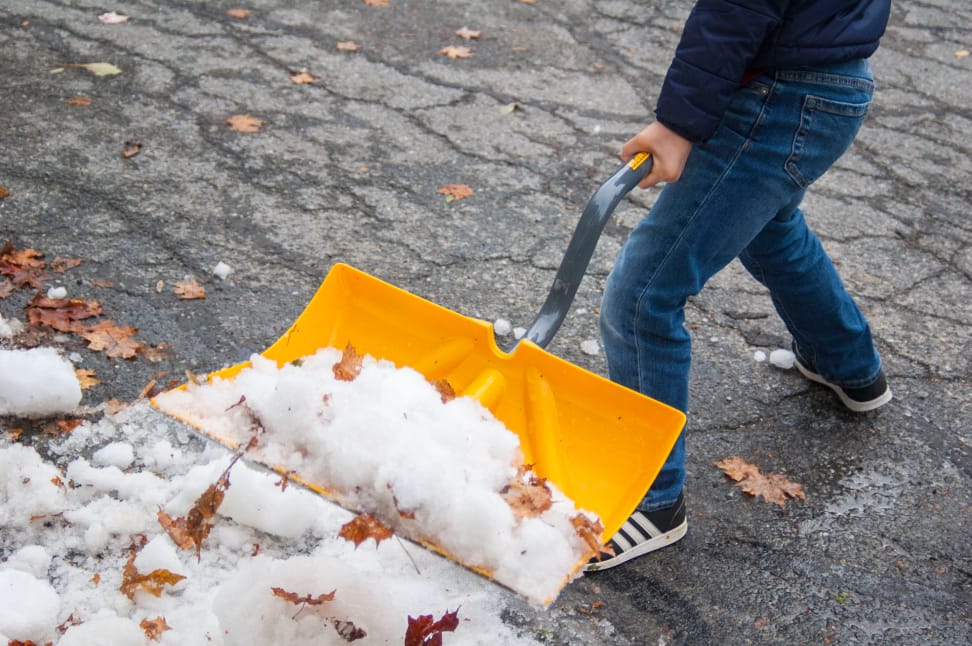 Construction Details—How well put together is the shovel? Does it use small little screws? How many? Remember, snow can be heavy, and you can wind up moving tons of it just cleaning up after a single storm. Tiny hardware and thin-wall tubing limit how long a shovel will stand up to use, and how well they'll accept repairs. You can only tighten those screws so many times before the hole itself strips, for example. Where the handle mounts to the blade is another area worth looking at. It needs to be strong so you can pick up a heavy shovelful of snow and confidently put it where it needs to go, instead of wobbling or flexing around. Worse, a wimpy shovel isn't going to last very long before things just become detached.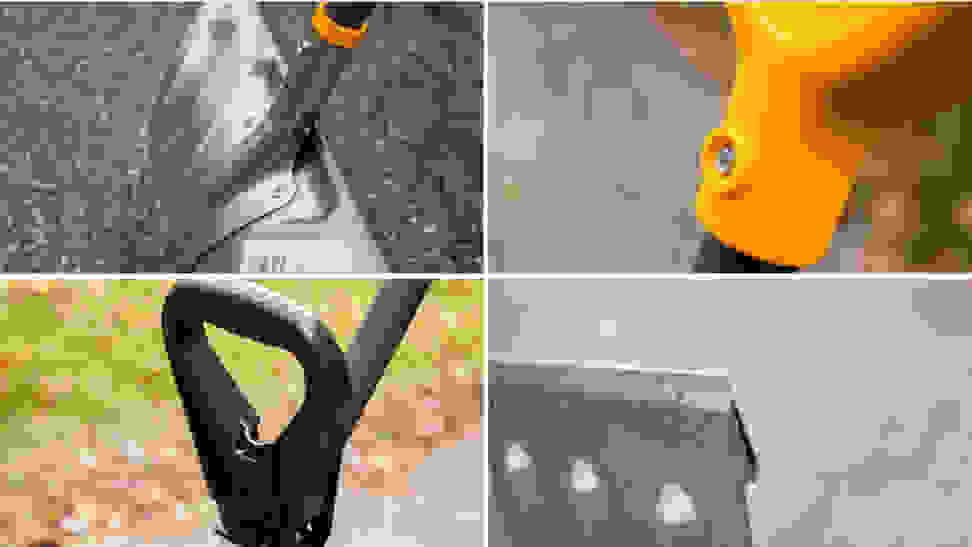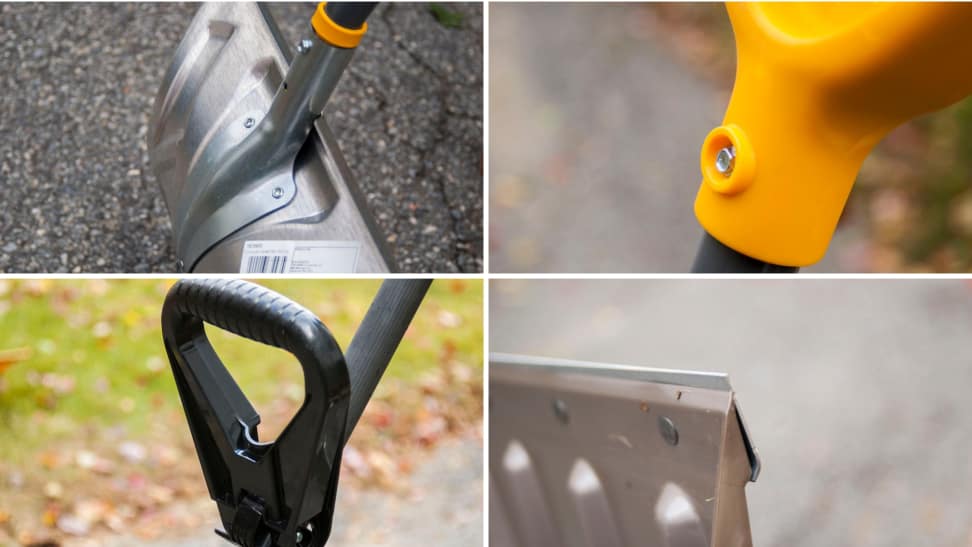 The best advice we can give for shovel-shopping is to consider the type of storms you typically experience. Light, fluffy snow is easy to move. Heavy, wet stuff is more miserable. Your terrain is also important: a plow shovel is going to be a challenge on a narrow walk paved with pea gravel or bricks. If it all sounds too confusing, you can do what I did: get one of each.
---
Other Snow Shovels We Tested
Tabor Tools 18" Blade Snow Pusher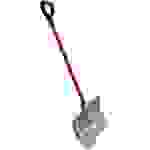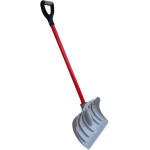 Tabor Tools 18" Blade Snow Pusher
Even though this shovel has a purely plastic blade with no metal edge, it works harder than you'd think. It easily gets right down to the pavement if the snow is light and airy, and because it's made of composites, the shovel itself is also light and airy. The blade is tough plastic, the shaft is fiberglass, and the handle is big and comfortable. Tabor Tools says the design of the handle, which is wide enough for a gloved hand to fit easily, adds some additional leverage when lifting. The blade splits the difference between plowing and scooping, so it's a great all-purpose shovel that's solidly built. Because it lacks a metal edge, you may be at a disadvantage when things freeze over. It took more effort to get all the way down through heavy wet snow during testing. The price is higher than some of the other shovels we tested, too. It's hard to find much to fault, otherwise, but this is a good all-purpose shovel, especially in climates that don't see vast amounts of snow.
Snow Joe Shovelution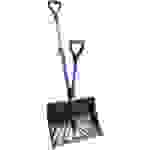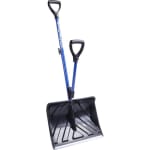 Snow Joe Shovelution
This shovel easily breaks down for storage, making it great for an apartment closet or the trunk of a car. It's light, with a plastic blade that's got an aluminum wear edge. It also has a second handle on its own mounting bracket. The design appears well thought out for durability, with sturdy blade and handle mounting, and even a loop of cloth to keep the whole assembly tamed during storage. The second handle makes it easy for you to lift heavy shovelfuls and keep your back happy. But it wobbles around, which doesn't interfere with the shoveling so much as it takes some extra energy and attention. It's also confusing at first to get in a rhythm of emptying the shovel if you're lifting with the extra handle because you're not quite sure how to flip the snow off the blade. The metal wear edge is an extruded piece of aluminum that's crimped over the edge of the plastic blade, a high-quality detail. This is a good all-purpose snow shovel for heavy, slushy stuff or light, fluffy powder. It tucks away easily and should last a good, long time.
True Temper 18-inch Mountain Mover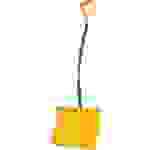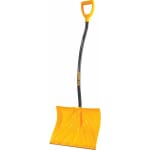 True Temper 18-inch Mountain Mover
This is your standard snow shovel experience. This plastic-bladed True Temper shovel is built more solidly than the Suncast or the Emsco, but it's not as solid as our top scorers. The top handle is attached with a single small screw that is likely to put up with only so much abuse. The rest of the shovel is made from materials that appear durable for an indefinite amount of winters. The ergonomic shaft is a sturdy steel tube, and the plastic parts are thick. The scoop mounting ensures that it's not going anywhere, but it does allow some wobbling to occur while you're shoveling. The wear edge is made of metal and is attached by rivets. The design of the scoop is better at picking up shovelfuls than it is at any kind of plowing action. It can hold a good amount of snow each time, and it's not that heavy on its own. This is the kind of shovel we see at a lot of retailers, and it will definitely work to move the snow, but it won't make you feel any better about it.
Bully Tools 22-inch Combination Snow Shovel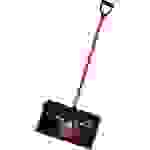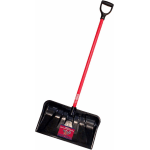 Bully Tools 22-inch Combination Snow Shovel
This compact shovel is handy and light. It's got a blade of thick, durable plastic (it comes with a sticker showing a photo of a truck driving over it) and a fiberglass handle. Like the Tabor Tools shovel, it does just as well as the metal-edge shovels when the snow isn't wet, icy, or heavy. The "boxed" design of the blade helps make tidy rows if you're using it as a plow, and its light weight lets you move a lot of winter with less fatigue. A pair of bolts secures the shaft to the blade, and the oversized D-shaped handle is pinned through with a big rivet. Like the Tabor, you're likely to have to work a little harder in certain conditions with an all-composite blade, but it's made of thick, rugged plastic that should last a very long time. It's slightly shorter overall length makes it easy to maneuver, too.
Suncast 20-inch Steel Core Combo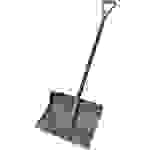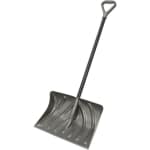 Suncast 20-inch Steel Core Combo
This shovel feels cheap and the brittle feel of the additional handle causes real concern about how long it would last below freezing. The shaft has an ergonomic bend in it, but it's a smaller diameter than some of the other shovels we tested. The Suncast can certainly move the snow, but it's made inexpensively. The scoop is held to the shaft with just a single light-duty Phillips-head screw. The metal wear edge is a piece of sheet steel riveted to the plastic scoop, and it should be durable for several seasons. If you need a snow shovel, you've found it. This is neither the most expensive, or likely the most durable, but it'll get the job done.
Emsco Bigfoot Shock Shield 25-inch Snow Pusher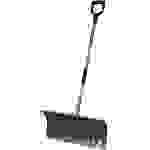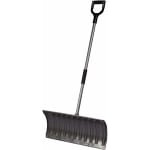 Emsco Bigfoot Shock Shield 25-inch Snow Pusher
This is not a confidence-inspiring tool. The assembly quality is indifferent—the top handle of the example we tried wasn't on straight, there was a random screw attached to nothing in particular on the back side of the blade, and nothing apparently holding the blade to the handle, despite an apparent screw hole. The overall impression is that this shovel isn't made to last. It plows fine but feels a little rickety when the snow is heavy. Light stuff is no problem. The shock-absorbing handle is a nice touch that will save your wrist some jolting if you run into cracks, seams, or obstructions. Because it's a plow-type shovel, it's not very good at picking up shovelfuls of snow, and with heavy snow, you can feel the blade twisting around on the light-duty shaft. Shop a little harder for a plow type shovel if that's what you want or need.
Advertisement - Continue Reading Below