After six weeks of some incredibly slow-paced testing, we've decided that CrashPlan+ Unlimited is the best online backup subscription service. It's as seamless and no-fuss as we could find. Transfer speeds are relatively fast, and the subscription tiers are flexible. For most folks, it'll be a good option for keeping irreplaceable digital files safe.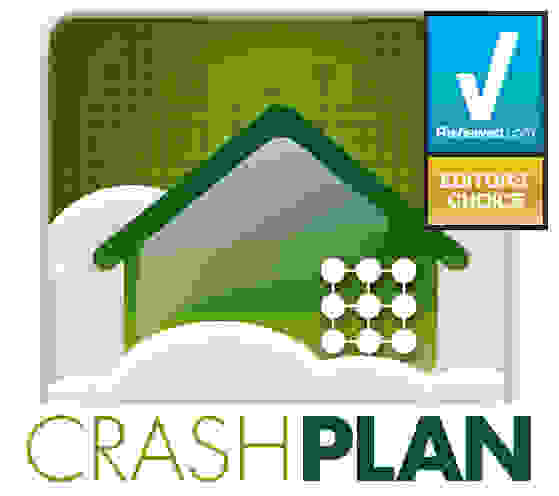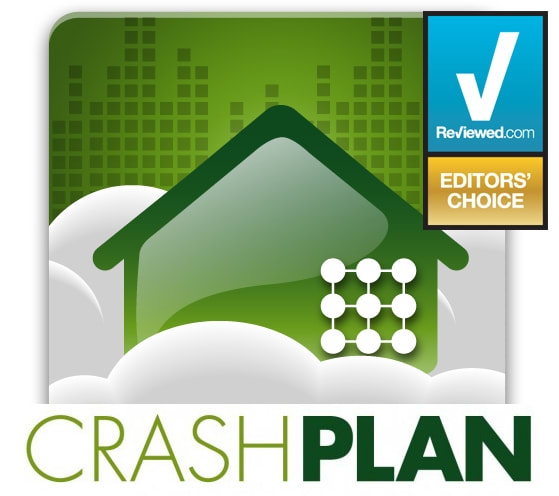 Why Online Backup?
Hard drives can fail at any time, and could take your priceless files with them—wedding photos, financial documents, the next great American novel just waiting to get published, whatever it is that you can't find anywhere else.
So, duh, you should make backups. A secondary hard drive is a good start. But if your home floods or burns down, it doesn't matter how many physical backups you keep—they're all toast.


Online storage is a smart failsafe, at least for peace of mind. Your digital data lives on a server, monitored by professionals who get paid to keep it secure and, most importantly, un-deleted. So if something happens to your physical drives, your files will be available for you to re-download.
How Do You Pick a Service?
Let's start with two assumptions. First, you're looking at online file backup because you want to prevent personal, irreplaceable files from vanishing into the ether. Second, you have a lot of those files—maybe not enough to fill an entire hard drive, but more than a thumb drive or any free cloud-storage service could hold. Personally, I have about 120GB of photos, music recordings, and written work that I'd be pretty sad to lose.
So that narrows the field: We need a service that's designed to store a lot of data, pretty securely, for a long time—like a digital version of those rentable self-storage warehouse units.
Online file storage services are designed to store a lot of data, pretty securely, for a long time—like a digital version of those rentable self-storage warehouse units.
Big-name cloud services like Google Drive, Apple iCloud, and Dropbox can store your stuff, but they're really designed to make smaller batches of files available across all of your devices: Take a photo with your iPhone, it's automatically on your iPad and MacBook Air thanks to iCloud. Write a story about online backup services in Drive, and it's available anywhere with an internet connection. They aren't quite what we're looking for.
We also want something that can work for both Mac and PC. After reading other reviews and consulting some colleagues who use online file storage, we settled on a short list: Carbonite Home, CrashPlan+, Elephant Drive Personal, and Mozy Personal.
The Experiments
Going into this experiment, I didn't have any significant portion of my irreplaceable files saved into a cloud service. I started from scratch—like most of you will do. I found three key factors that influenced my level of satisfaction.
I Didn't Want To Think About Making Backups
It's a chore. A great service lets me point out where my important stuff is, before it quietly and automatically handles the initial backup, and any periodic backups afterward. It should give me some convenient way to check in on the progress if I feel like it, and let me know if it's having trouble doing its job. Buying a subscription should also be simple. Otherwise, I don't want to even remember that I have this thing running.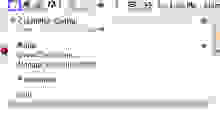 On most levels, CrashPlan turned out to be most hands-off, no-fuss option. It was super-easy to sign up for a free 30-day trial, no strings attached, no credit card required. I created an account in about two minutes. Installation and setup took about another 10 minutes, and then backup began promptly, and ran smoothly in the background until it was done. After the initial upload, it checked for new content daily in the folders that I had initially asked it to back up. If more than three days passed between check-ins, I'd get an email letting me know. When I restored some of my files, the download manager ran gingerly in the background.
Elephant Drive really struggled in the usability and convenience departments. For starters, you can't tell Elephant Drive what folders it should back up. Elephant Drive tells you to put your stuff into a specialized folder. That doesn't make sense if you're backing up huge chunks of your hard drive.
I don't even want to remember that I have my backup program running.
Elephant Drive also broke a cardinal rule: It was way too difficult to pay. None of our company credit cards were accepted, nor were personal cards. Customer service told me that I had been leaving a space in front of my zip code, and that was the cause of the errors. Not true the first time, not true the 10th time. The only explanation I can think of is that since the zips I tried all start with 0 (as they do in Massachusetts), their payment system interpreted that as a blank character. To its credit, customer service reached out and offered to take the payment info over the phone. But the whole thing seemed really amateurish for a company that's supposed to guard your priceless digital memories, so I cut it from the list of contenders.
Carbonite and Mozy were mostly stress-free, but each had a few more irritating quirks than CrashPlan did. Carbonite, for example, kept blasting my desktop with spammy pop-ups after the 15-day trial expired. Mozy got in its own way one too many times, first stalling for a day during the initial backup session, and then interrupting one of its restore sessions with a daily scheduled backup. So, it sat overnight, neither downloading nor uploading. Faulty logic, there.
I Didn't Want to Wait Forever
The fastest service took 6 days to back up 30GB.
Get my files backed up lickety-split, and get them back to me ASAP when I need them. Going into this experiment, I had heard that all of these services were pretty slow—one of my colleagues said it took him 24 days to back up his hard drive, using one of the contenders. I wanted to finish this guide sometime before December, so rather than trying to upload all 120GB of my vitals, I pared the test folder down to about 30GB, hoping that it would keep the transfer times reasonable.
The initial backups still took a loooooong time. None of these services are fast. CrashPlan was the fastest (comparatively), getting my files tucked away into the cloud in "just" six days (I was connected to the internet during regular working hours, plus a few hours every evening and on the weekends). Carbonite and Mozy each took about eight days. I don't know if I'd trust these results to be repeatable, but it should give you some feel for upload times.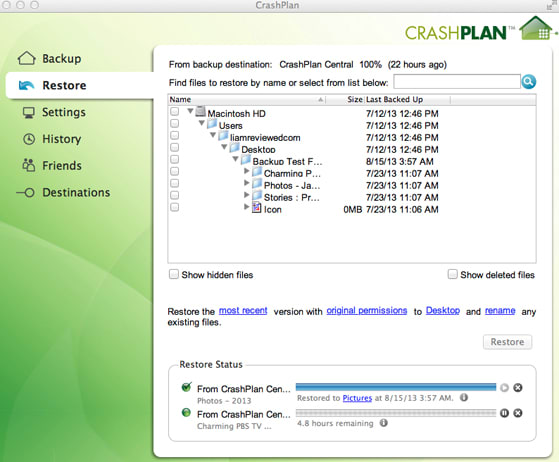 When it came to downloads, CrashPlan was once again the quickest. I chose to restore a folder with about 4.5 GB of raw photo files. It took a shade under 12 hours, running constantly. Still not very fast, but it's not bad.
I Didn't Want To Overpay
Basically, I wanted to get the cheapest plan that could fit all 30GB worth of my stuff, and only for as long it'd take to run this experiment. If there were an option for a free trial, I used it. If I could pay for a month instead of a year, I did that.
CrashPlan had the most flexible payment options, including one subscription that best-suited my needs for this test. It offered the most generous trial period—30 days, no size limit. A monthly subscription to the Unlimited tier of CrashPlan+ includes unlimited storage for one computer cost just $5.99. Prices drop if you sign up for longer chunks of time.
Mozy Personal was also $5.99 per month, but only for 50GB (an extra 125GB is $9.99 per month), and there is effectively no trial period. Carbonite Home only offered subscriptions in chunks of a year, starting at $59 (the same price as CrashPlan+ Unlimited, if you pay for a year up front).
CrashPlan It Is
CrashPlan+ Unlimited is going to make the most people happy most of the time (or at least ease their worries the best). It's easy to set up, stays out of its own way, runs a bit faster than the other options, and is priced competitively. Now that a chunk of my files are already uploaded, I plan to upload the other 90GB, and let my subscription keep running.
Our editors review and recommend products to help you buy the stuff you need. If you make a purchase by clicking one of our links, we may earn a small share of the revenue. Our picks and opinions are independent from any business incentives.