---
The Etymotic Research hf5 headphones are a set of in-ears designed for portability. In typical Etymotic style, they have incredibly small ear buds with a splash of color. Our review unit was cobalt.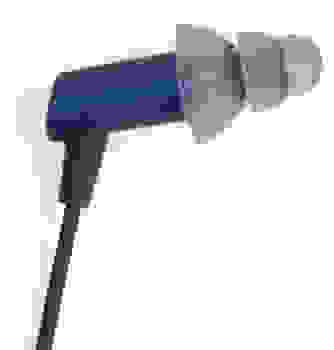 If the default sleeves pictured above just aren't doing it for you, don't fret: the hf5s come with three additional sleeves. From top to bottom, the hf5s' sleeve understudies are: foam, a larger triple-flange, and soft plastic.
The headphones end in the standard 1.8-inch audio plug, which has an adequate cord guard protecting its innards.
Below, youll find these cobalt beauties on our head and torso simulator, HATS. We put our headphones on HATS so you can get a sense for what they look like when worn. Pretend you're gazing through an internet portal and into another dimension, where you're an eyeless robot and you've already bought the hf5s—it makes the following pictures a lot more interesting.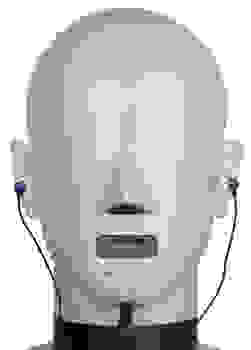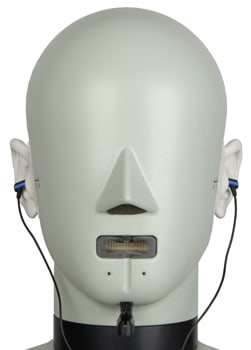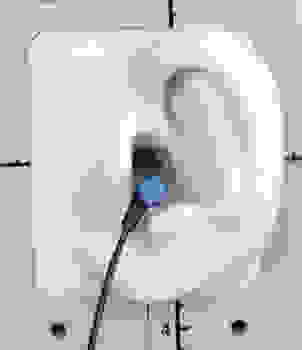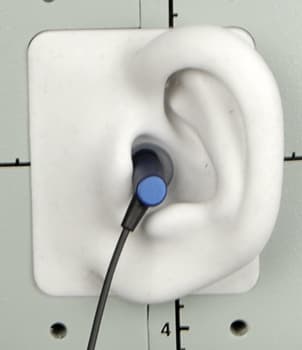 In The Box
---
The Etymotic Research hf5 headphones come with a few extras. You'll get four sets of sleeves (two triple-flange, one foam, and one soft plastic), two nozzle filters and their insertion/extraction tool, and small pouch to hold everything together.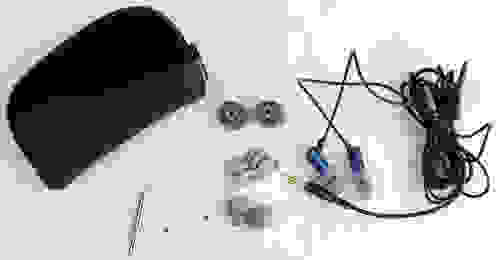 ---
The Etymotic Research hf5 headphones seem well made, but they're still a set of in-ears. In-ears often see much more wear and tear than on-ears or over-ears, since they're built for portability. People can't crumple a set of over-ears into a ball to shove in their pocket.
---
There's not a whole lot you can do with a set of in-ears to make them flashy. Sure, you can make them look like earrings or bedazzle them to your heart's content, but there's not a whole lot you can do with such a small surface area without coming off as gaudy. It's hard to rave about a simple design or a splash of color, which the hf5s have.
About our testing:
For more information on our tests, read this article.
**Frequency Response**     (4.10*)*
---
What we found:
For the majority of the frequency spectrum, the hf5 headphones were pretty balanced. The bass response is even, most of the mid tones are even, but towards the high end it drops off a bit. Etymotic Research does this intentionally (read the section titled quot;Target Curve Explainedquot;) to compensate for the boosted highs often found in commercial recordings. If you#39;re listening to content that doesn#39;t feature this boost, however, the playback might sound a bit dull. Otherwise, the hf5s#39; frequency response is pretty much spot on.
How the Etymotic Research hf5 compares:
How does this test work?

**You can read more about our frequency response test on our How We Test page.
**Distortion**nbsp;nbsp;nbsp;nbsp; (1*0.50**)*
---
What we found:
The Etymotic Research hf5 headphones have very minor levels of distortion from the bass frequencies to about 1000kHz. It#39;s something an audiophile might quibble about, but that#39;s about it. Realistically, it#39;s inaudible.
How the Etymotic Research hf5 compares:
How does this test work?

**You can read more about our distortion test on our How We Test page.
**Tracking**nbsp;nbsp;nbsp;nbsp; (8.70)
---
What we found:
The hf5s#39; tracking was pretty much flawless. There#39;s an imperceptible 1dB warble towards the high end. Perfect performance here otherwise.
How the Etymotic Research hf5 compares:
How does this test work?

**You can read more about our tracking test on our How We Test page.
nbsp;
**Maximum Usable Volume**     (9.37)
---
What we found:
The Etymotic Research hf5 headphones were capable of a high maximum usable volume: we clocked them at 117dB before they reached 3% distortion: the point at which the distortion would have been annoyingly audible.
How does this test work?

**You can read more about our maximum usable volume test on our How We Test page.
---
What we found:
The hf5s, like most Etymotic Research headphones we#39;ve reviewed, were excellent isolators. Like most in-ears, they block out more high frequencies than low ones, but they don#39;t exactly slack with lower hertz bands. Overall, the hf5s put up an incredible performance here.
How the Etymotic Research hf5 compares:
How does this test work?

**You can read more about our isolation test on our How We Test page.
**Leakage**nbsp;nbsp;nbsp;nbsp; (*10.00**)*
---
What we found:
The hf5 headphones really don#39;t leak much noise. This isn#39;t really surprising because virtually no in-ears have leakage issues. If you don#39;t want to annoy people around you with your horrible taste in music, the hf5 headphones can help you hide your shame.
How does this test work?

**You can read more about our leakage test on our How We Test page.
nbsp;
---
The hf5 headphones are pretty comfortable if you don't mind in-ears. Their sleeves are pretty comfortable and the handful of options should be enough to ensure most users find a good fit. We didn't notice any comfort issues for the first few hours of wear.
Of course, this is just our dumb opinion and has no bearing on whether or not you'll actually like the hf5s' fit. Our staff is notorious for having grossly disfigured heads, to the point where we're barely recognizable as human beings. We didn't have any problems fitting the hf5s into our misshapen ear equivalents, but that doesn't mean you'll find them comfortable. As with any headphones, you should test them out for a few hours first, before you decide to keep them.
---
The problem with in-ears is they tend to get more and more uncomfortable over time. After periods longer than 6 hours, the hf5s weren't exactly uncomfortable, but they weren't comfortable either.
**Customizability**     (3.5*0**)*
---
Good in-ears typically come with different sleeves to help customize fit. The hf5s come with two different sizes of triple-flanged sleeves and two different styles of foam sleeves. Some in-ears come with a few extra options or different sizes, but there's enough variety here to make most ears happy.
**Cable Connectivity**     (4.24*)*
---
The Etymotic Research hf5 headphones have a four foot-long cord, which is ideal for a portable set of headphones. They don't, however, come with any additional connectivity options, such as an extension cable, airplane adapter, or 1/4-inch adapter.
---
The hf5 headphones are in-ears, which means portability is priority one. Their form factor certainly lends itself to this end, since most in-ears are just tiny bits of plastic on top of thin cords. In-ears are easy to ball up and shove into a pocket, making them significantly more portable than headphones with full ear cups or head bands. If you tend to carry lots of sharp metal shards or miscellaneous cables of different length, fret not: you can keep the hf5s in the included pouch, which should protect it from the stabbing or entangling they'd otherwise suffer. The pouch even has a mesh pocket lining its interior, to keep the hf5s' sleeves restrained. The pouch itself doesn't have a cord wrap or any other tool from keeping the headphones from knotting on themselves however, so it's not 100% ideal.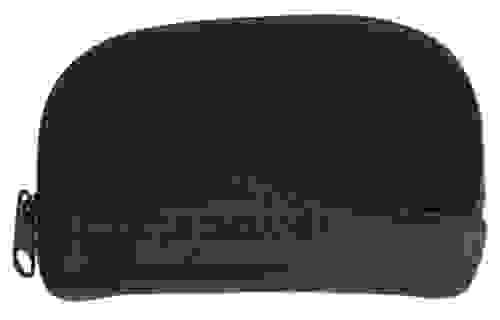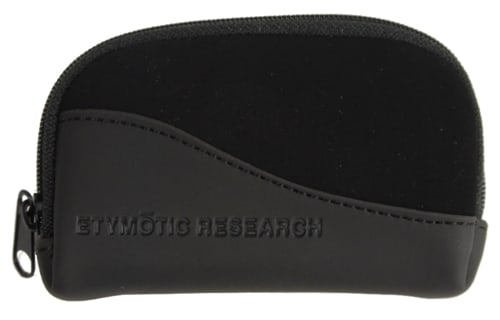 ---
Your hopes of maintaining the hf5s rest with the included nozzle filters. The filters are small sections of plastic tubing that fit inside the nozzle. Basically, you just wait for the nozzles to fill up with disgusting garbage, then use the handy extraction tool to pull the filters out and clean them.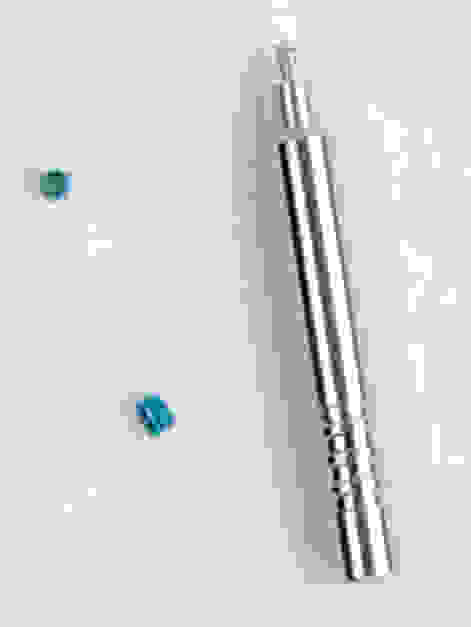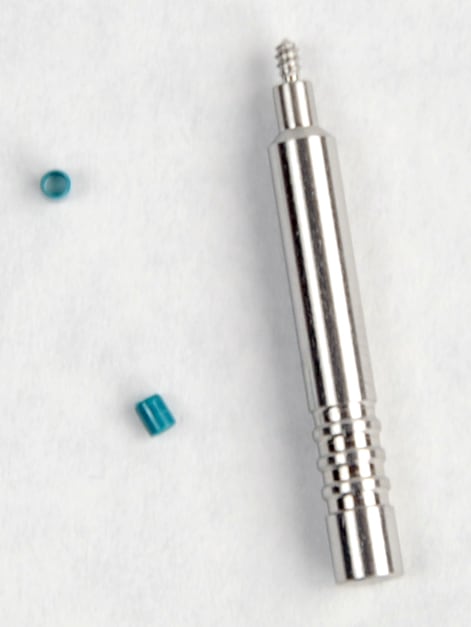 ---
Battery Dependency
The hf5s don't need batteries, so we gave them some points. Batteries are a pain and give your headphones an additional upkeep.
---
The hf5s and CX 980s are both nice sets of in-ears. We'd put them on the same par durability-wise, because their designs are very similar. The CX 980s have an in-line accessory, though, which means soldering and a slightly increased chance of breakage.
In terms of beauty, both sets of headphones have different charm. The CX 980s have a neat little plug and a chrome design, while the hf5s are simpler and have a splash of color. Neither are likely to catch anyone's attention since they're so small.
---
The hf5s and the CX 980s both had issues in their high end response, but they did opposite things: the hf5s started getting gradually quieter, the CX 980s got suddenly louder. The CX 980s also have a lot more bass, if such a thing suits your fancy.
Neither set had significant issues with distortion.
While neither set of headphones had any tracking issues worth mentioning, the hf5s were a bit more stable than the CX 980s.
---
The hf5 headphones blocked out a lot more external noise all across the frequency spectrum.
---
The hf5 headphones and CX 980s are about the same level of  comfort. Both have various sleeve options to help customize fit.
---
The Sennheiser CX 980s and hf5s are on pretty equal footing. The CX 980s have slightly better audio quality and the hf5s isolate much better.
---
Both the Etymotic Research hf5s and the Shure SE115s are well-manufactured in-ears, so they're roughly similar in terms of design and aesthetics. The SE115s have a unique shape to them while the hf5s are are tiny and feature a jaunty red paint job.  The only real difference between the two is their overall durability. While the hf5s are by no means flimsy, the SE115s will likely last longer. First of all, the SE115s have a much thicker, more robust cable, despite the ridiculously misleading pictures below. Secondly, much like the that reptilian Houdini, the gecko, the SE115s can jettison the lower portion of its cord should it break down. Replacing 2.5 feet of audio cable is much less expensive than just replacing the unit, so it's definitely appreciated. As an added non-durability-related bonus, the two-part cable also allows you to add in-line accessories, like a remote & mic or volume controls.
---
The SE115s had an overabundance of bass, while the hf5s had a much flatter, even response.
While neither set of headphones had a significant amount of distortion, the Shure SE115s technically had a bit more. This distinction is virtually meaningless, however: the SE115s distortion levels are negligible.
The hf5 headphones have a much more even kiel than the SE115s. The SE115s get a bit wobbly towards the high-end, with a sudden 6dB drop towards the 7kHz mark. While not a huge volume shift, it's sudden enough that you might notice it.
Note, however, that our graph of the SE115 is an older version, one that keeps some data on either end of the graph that's not 100% accurate (we left it in to indicate the general trend, but didn't score based on it).
---
Both sets of headphones are great isolators. The hf5s block out a bit more bass while the SE115s block out a little more high-end.
---
The two headphones are probably about the same in terms of comfort. Both are in-ears, so neither are as comfortable as a set of in-ears. The SE115s have a different wear style than the hf5s: if you like running the cord around the back of your ears, you'll prefer the SE115s and if not, the hf5s will better accommodate you.
---
The hf5s would take this match-up pretty cleanly if it weren't for durability issues. Shure builds sturdy in-ears. The hf5s aren't exactly poorly manufactured, but they also aren't as rugged as the SE115s. If you don't care so much about the extra durability, don't like the wear style, or just want to save a few bucks, the hf5s are the better choice.
---
Both headphones are by Etymotic Research, and hvae somewhat similar designs and durabilities. We'd say the design of the hf5s is slightly better-looking, since the ear buds are a bit thinner, but the mc5s have a more durable design with their more robust cord guards.
---
The hf5s have a more even frequency response, but both sets of headphones wane towards the high end.
Neither set of headphones had much distortion.
Both sets of headphones had very even tracking. No complaints here.
---
Both sets are great isolators. Both have very similar isolation curves and both would be a great choice for a noisy environment.
---
The two headphones come with the same sleeves and feel virtually identical in ear.
---
The hf5s slightly outperform the mc5s in a few areas, but not by a lot. This isn't so much due to the hf5s not performing well as it's due to the mc5s being incredible for their price. For most users, the mc5s are a much better pick.
Meet the tester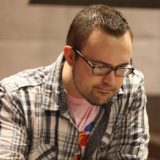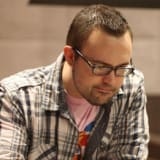 Mark Brezinski
Senior Writer
@markbrezinski
Mark Brezinski is a senior writer with seven years of experience reviewing consumer tech and home appliances.
Checking our work.
We use standardized and scientific testing methods to scrutinize every product and provide you with objectively accurate results. If you've found different results in your own research, email us and we'll compare notes. If it looks substantial, we'll gladly re-test a product to try and reproduce these results. After all, peer reviews are a critical part of any scientific process.
Shoot us an email