The Nixon Stylus impresses the eye with crisp-white ear cups and sleek lettering, cushy leather and an edgy coiled cable. What happens when you put them on and push play? For $130, buyers should expect real quality; it's time to put the Stylus to the test.
Great isolators—and that's all, folks
If you cough up 130 bucks for these headphones, you're paying largely for a look. I'll say it outright: You can do much better for this price range—and that goes for sound and design.
First, big bass buffs may be disappointed to find that the Stylus underemphasizes the down-low notes. The midrange suffers no such trouble, but high mids—representative of upper notes on everything from vocals, to woodwinds, and strings—sound quieter than they should. Rounding things out, the highest notes plummet in loudness as well, impacting the uppermost capabilities of instruments like flutes, piccolos, and violins.
The Stylus struggles to maintain equal volume in the left and right speakers.
The Stylus also struggles to maintain equal volume in the left and right speakers; in the lowest portion of the scale, music will sound nearly twice as loud in your right ear as in your left. Bassoon enthusiasts beware! Except for the midrange, milder problems of this nature pester music all throughout the scale, with sub-bass and upper notes suffering the most egregious imbalances. So far, the Stylus sounds like a 130-dollar disappointment.
However, as isolators, the Stylus can really deliver the goods. The fit can be tough to master, but if you get it right you won't be too bothered by high and midrange sounds like chit chat or beeping alarms. The only real trouble from outside noise will come in the form of low frequencies, like rumbling, grumbling engines.
The plastics
The Mean Girls reference was unavoidable—stop judging. In short, the Stylus isn't customizable, its design isn't inventive, and its materials aren't high-end, yet the clean, sleek shape should satisfy most. Buyers may choose from black, white, or army green.
Buyers may choose from black, white, or army green.
While the flexible plastic band is not collapsible, the arms do fold up for a more compact shape, and the ear cups pivot in and out. Once folded, the Stylus fits nicely into the included leather carry bag. The on-ear design is moderately comfortable at first, thanks to memory foam on the inside of each ear cup, but extended use tends to make one's ears ache—as with many on ears.
Ever drop your phone and cringe as your headphone cord rips out of its socket? That's less likely to happen with the Stylus due to a coiled portion of its cable that extends and retracts. Counting the extra length from this springy spiral, the cable is about 4.8 feet long and includes a remote and mic for taking calls and controlling tunes.
A closer look...
The Stylus in real life
In practical terms, these headphones are a great ticket for on the go, thanks to the sleek style, the handy carry case, and the wonderful isolation performance. With the right fit, the Stylus blocks out enough unwanted noise to make it a solid companion for noisy environments like the mall and the office.
On top of that, the Stylus's long, flexible, removable cable makes it an unlikely candidate for breakage—and that remote and mic come in handy for easy control over phone calls and music listening.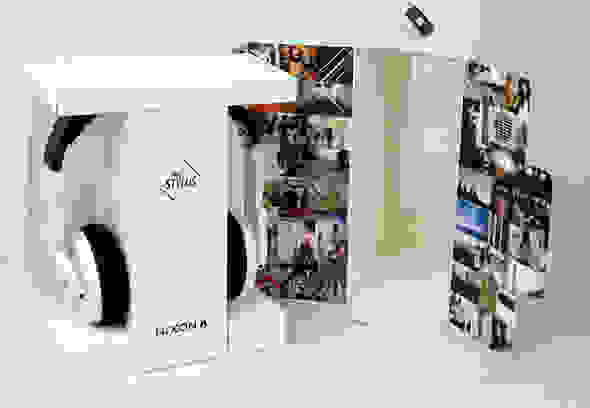 Of course, the on ear design fights these happy attributes; the persistent pressure applied to the outer ear is more painful by the minute. For anyone with sensitive ears, these just aren't the right buy.
"Where th' offense is, let the great axe fall."
Amusingly, Nixon's About page utilizes some terrifically unflattering language to describe its products. From the horse's mouth, as they say. But perhaps this is a fair reflection of these overpriced headphones.
For $130, ho-hum audio quality and plastic parts just don't impress. The market is too flooded with better alternatives to throw cash at the Stylus, which I couldn't even find on sale. Some might not complain about the sound on these headphones—might not even notice the flaws—but an audiophile would. Research before buying. Have the most for your money. Take it from me, you can do better than this.
Faced with testing software and a robot, the Nixon Stylus amped up for a day in the audio lab. The trials commenced, the numbers poured in, and the Stylus failed to impress. The Science Page is here to tell you more about why these headphones aren't such a hot deal.
Peaks and valleys
Compared to the equal loudness curve that so many consumer headphones follow—or one along which all frequencies are perceived as equally loud by humans—the Stylus appears to underemphasize bass. That's too bad, because lovers of hip hop, dub step, and other bassy tunes will inevitably boost volume to capture added loudness in the low range—so take care not to listen at hazardous volumes.
The middle of the scale suffered no such trouble, but mid-highs of about 2kHz to 4kHz experience underemphasis. Specifically, neglected mid-highs mean that the high notes of items like vocals, woodwinds, and percussion will sound too quiet—serving as an added temptation to boost volume. Most high frequencies are right where they ought to be until you reach 11kHz, which quiets the uppermost abilities of certain woodwinds, the violin, and the harp.
Blocking out the world
Well, your tunes may not sound great, but the Stylus keeps them from bugging your neighbor. Feel free to enjoy your embarrassing 90's music shame-free.
As for blocking noise out, the Stylus aces that test as well; lower rumblings may cause some trouble, but that's quite average. However, mid and upper range pollutants are obliterated—15 to nearly 40dB from 1kHz and up are stopped cold. Rumbling trains and passing trucks may therefore interrupt listening, but vocal chatter, squawking birds, and clanging sounds should be less troublesome.
Volume issues plague the Stylus
When we discuss tracking, we're looking at how balanced the speakers are in terms of volume. Do some notes sound much louder in one ear than in the other? In the case of the Stylus—yes.
First, significant tracking errors crop up in the lowest portion of the scale (lower than even a tuba's lowest notes). In this very perceptible sub-bass range, at 30Hz, the biggest error measures 8dB—meaning super low notes will sound nearly twice as loud in your right ear as in your left. Next, an error of 3dB occurs between 100 and 200Hz—impacting bass notes on instruments like cello, guitar, bass, trombone, and drums. This 3dB error, favoring the left channel, is hardly perceptible.
The midrange is quite balanced between left and right, but that same barely-audible error of 3dB repeats itself between 3kHz and 4kHz—this time favoring the right channel. Again, this is not very noticeable, but if high notes on violins, guitar, and similar instruments are more pronounced in your right ear, this is why. The error that occurs at 6kHz is more audible—so that music in the left ear is obviously louder than in the right. Last, the highest frequencies on the scale favor the left ear to a drastic degree—so prepare it to be blasted by upper limits of cymbals, flutes, piccolos, and clarinets.

Meet the tester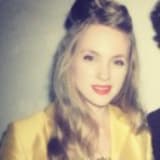 Virginia Barry
Former Managing Editor
@
Virginia is a former Managing Editor at Reviewed.com. She has a background in English and journalism. Away from the office, Virginia passes time with dusty books & house cats.
Checking our work.
We use standardized and scientific testing methods to scrutinize every product and provide you with objectively accurate results. If you've found different results in your own research, email us and we'll compare notes. If it looks substantial, we'll gladly re-test a product to try and reproduce these results. After all, peer reviews are a critical part of any scientific process.
Shoot us an email