Pros
Lush, detailed sound

Long battery life

Comfortable
Cons
Minimal customization options
Warm, robust, and detailed audio completely justifies this price tag.
I will be the first to admit my surprise. While Yamaha is a respected brand in many audio spaces, I wasn't expecting to love how these headphones sound as much as I do. I'm always a fan of understated products that just get the job done, and the YH-E700A are up for a promotion. The audio quality here is warm, robust, and detailed—full-bodied in a way that almost completely justifies this price tag.
Yet for some folks, paying over $300 for headphones means getting all the bells and whistles: a high degree of EQ customizability, touch controls, even virtual effects. You're not getting much by way of extras here, and the design isn't going to turn any heads on the street. But in terms of basic, core functions, these headphones achieve with aplomb. If you just want reliable basics—and brilliant sound—the Yamaha YH-E700A should be high on your radar.
About the Yamaha YH-E700A
Here's what you need to know about the Yamaha YH-E700A, at a glance:
Price: $349.95
Battery life: Up to 35 hours (claimed)
Colors: Black, white
Style: Over-ear (closed housing)
Noise canceling: Active Noise Canceling (ANC)
Connectivity: Bluetooth 5.0
Audio Codecs: SBC, AAC, Qualcomm aptX Adaptive
Frequency response: 8 Hz - 40 kHz
Passive operation: Yes (3.5mm cable included)
Boasting dual wireless/wired operation, 30+ hours of battery life, active noise canceling, huge cushy ear cups, and a big price tag, the YH-E700A seem to be Yamaha's way of going toe-to-toe with Sony's WH-1000XM4 and other flagship travel cans.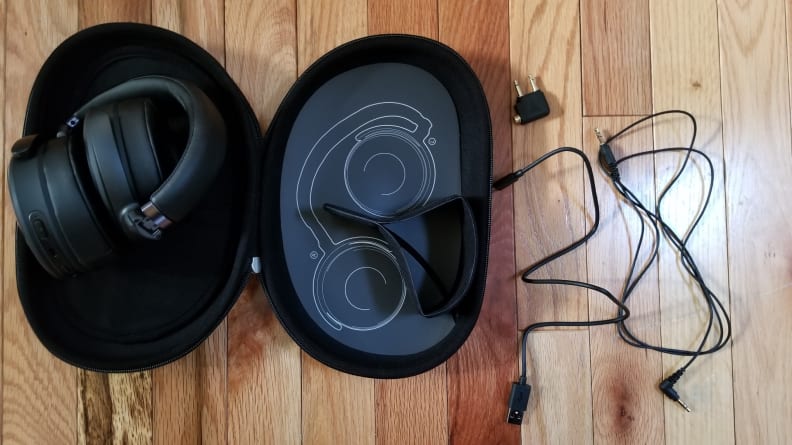 Opening up the E700A's big box, you'll find the headphones zipped up in a rather large but sturdy carrying case with stow/fold instructions printed right on it (always a nice touch). Alongside the headphones, you're getting a 3.3-foot 3.5mm cable for wired listening, a shorter USB-C charging cable, and an airplane adapter.
What We Like
Comfy and lightweight
From a design perspective, the first thing you'll notice about the YH-E700A is how massive the ear cups are (unless you've just… never seen headphones before?). Compared to the "average" over-ear headphones—and especially when considered within the trend of smaller and smaller wireless earbuds—these are practically gargantuan.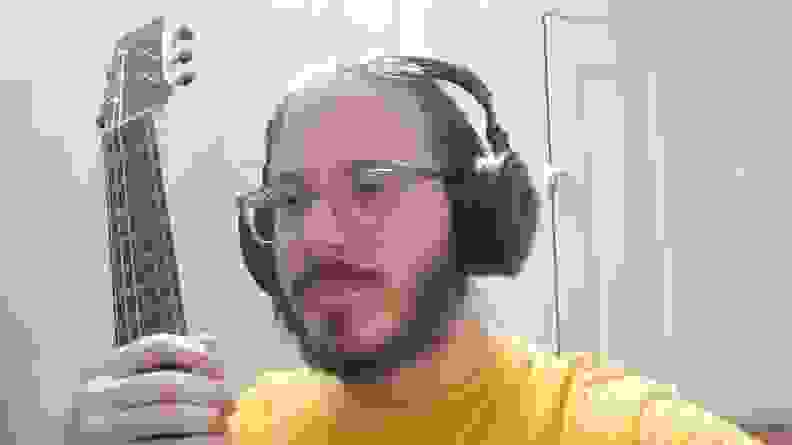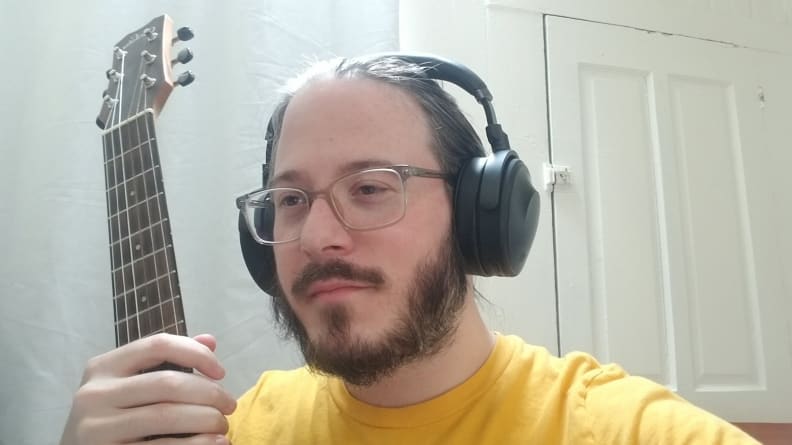 Despite how chonky the cups are, though, as a total package these headphones are surprisingly light and feel rather compact. I was almost puzzled by how much I had to extend the arm bands to accommodate my head: Many over-ear headphones fit me without any arm extension at all, or (at the most) within three or four "clicks" out. With the E700A, both sides took about seven or eight clicks to feel like they were roomy enough. If you've got a larger-than-average head, you may have to push the band to its limits.
Overall, there's a somewhat unusual mix of tightness and looseness. The huge ear cups are nicely padded, but the padding is a bit stiff (something that should break in over time). The band is not very heavily padded, which might be a good thing considering how relatively short and tight across your scalp it is. The clamping force—how tightly the cups squeeze together around your head—is quite mild; good news for folks with glasses, bad news for headbangers. Finally, the ear cups fold down flat against your clavicles when you've got these around your neck, which is great news: the cups are way too big to wear them around your neck comfortably otherwise.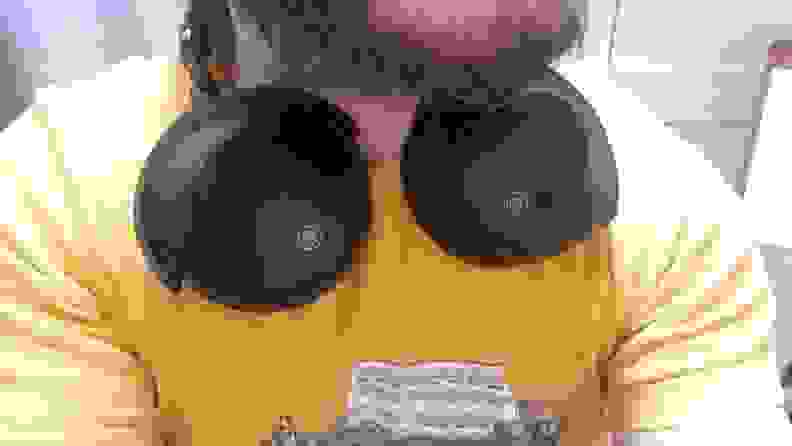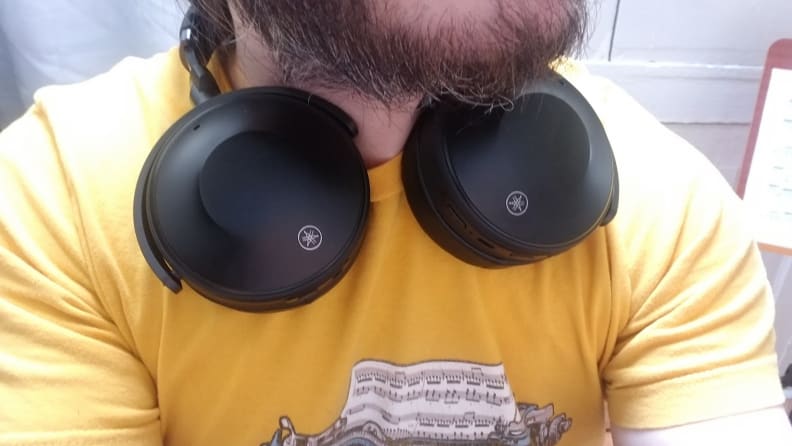 The end result is a product that is comfortable enough to wear in both the short and long term, but doesn't feel as luxurious or refined as something like the Sony WH-1000XM4. The E700A are amply comfortable, but you won't want to sleep in them.
A surprisingly spacious soundstage
One complaint sensitive listeners tend to have about so-called "closed housing" (as opposed to open-backed) over-ear headphones is that their soundstage can sometimes sound cramped or compressed. In fact, while I love the Sony WH-1000XM4, that's one complaint many listeners have about them.
If soundstage is something you're concerned about, you'll be glad to know that this is one area where the E700A really stand out. Music and sound effects aren't just well-supported along the whole frequency range: there's a balanced, roomy quality here—plenty loud and impactful without the "boxy" sound of more closed-in soundstages.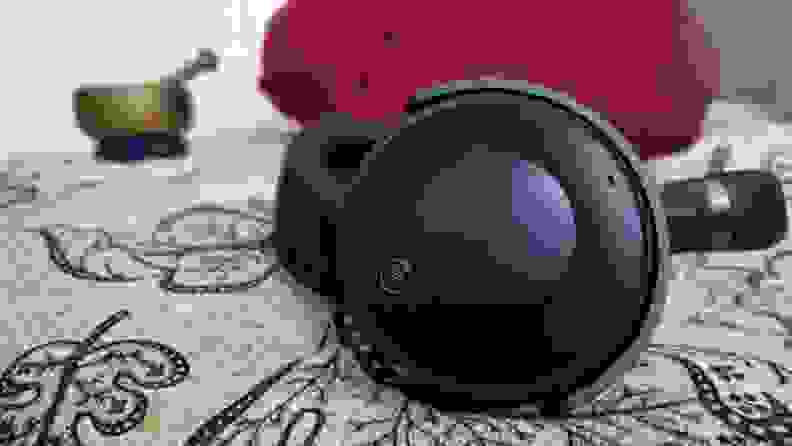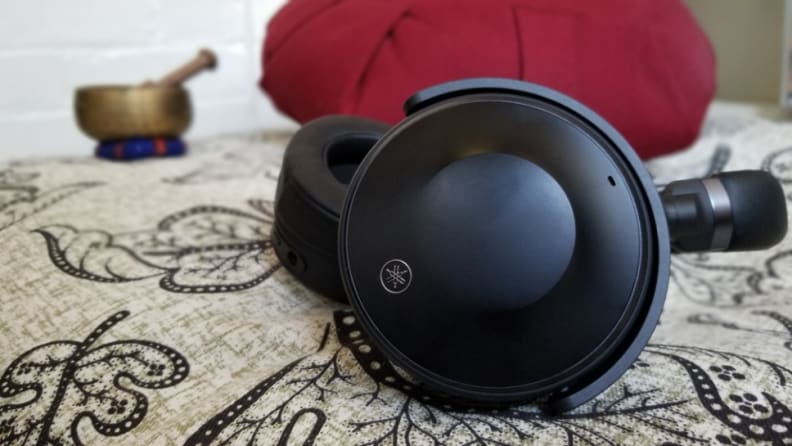 I wouldn't necessarily argue that the YH-E700A sound better than the Sony WH-1000XM4 (our top-rated headphones), but they do sound really good. I use the Audio-Technica ANC-900BT in a passive, wired capacity almost daily, and my immediate feeling about the YH-E700A is that they're an all-around better pair, at least for audio performance.
Some of this may be what I'm going to call the "new shampoo" effect, when headphones are subtly different in their frequency emphasis than what I'm used to, causing musical details to stand out and make them only seem more detailed by comparison. But suffice it to say that Yamaha's asking price of $349 doesn't seem outlandish all told.
There's an almost analog warmth to the aural quality here.
I listened to a bunch of my favorite music/playlists on Spotify and used them on Zoom calls, and everything sounds excellent. There's an almost analog warmth to the aural quality here that contrasts sharply with the colder, less spacious sound of my usual headphones. I listened to a lot of dream pop and synth-heavy retrowave, not only because I dig it, but because the E700A fashion the sonic equivalent of easing gently into a warm bath, and now I'm almost too relaxed to finish this
If I seem surprised, it's only because Yamaha—while well known in the audio industry in general—has not traditionally topped the lists of best headphones, and as of writing this there are no other professional reviews of these headphones online. Maybe the E700A are an anomaly, or maybe we've all been sleeping on Yamaha headphones, but the bottom line is that these cans sound awesome.
Can't touch this
One of the biggest differentiators between the E700A and the beloved Sony WH-1000XM4 is that the latter relegates on-set controls entirely to touch, while the E700A use no touch controls whatsoever.
That's right: it's all buttons. Welcome to 1985. But in all seriousness, while some people might find the array of buttons on the right and left ear cups to feel dated, I love this element of tactile certainty—especially if you're not a fan of the ambiguity of touch controls.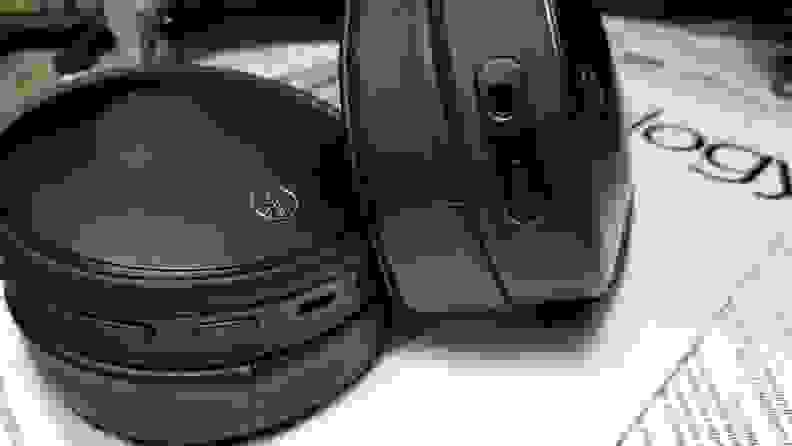 Personally, I don't feel like the E700A lose anything by way of their control scheme. The buttons are split between the left and right cups: On the left cup, you've only got to worry about the "ANC" button, which toggles between noise canceling, ambient sound, and off. On the right cup, you'll find separate buttons to increase/decrease volume, play/pause music, and power the headphones on and off.
There may be a moderate learning curve to memorize the buttons, but there are only five of them, and you'll only be using a few of them regularly. While I highly appreciate the sophisticated presentation of headphones that only use touch controls, I have no issue whatsoever with the E700A's utilization of tactile buttons, and even appreciate it. Feedback certainty is underrated these days.
Solid noise canceling overall
For $350, we expect a lot from consumer headphones in this class: all-day comfort and great sound, yes, but they also need to be able to effectively cancel or dampen noise. Otherwise, you're simply not getting what you paid for.
Fortunately, this is another area where the E700A put a big checkmark right in the box. Having used these to rid myself of ambient noise in the form of droning fans, space heaters, Philadelphia traffic, and background chatter from neighbors, I can confidently say that they do a solid job eliminating most forms of repetitive noise in a relatively wide range of frequencies.
They do a solid job eliminating most forms of repetitive noise.
Like most noise-canceling headphones, the E700A seem to handle the dampening of repetitive noises around the low-middle/middle frequency range best. Sudden, deep rumbles or unpredictable high-pitched chirps (lookin' at you, Philly birds) will often break through the active noise canceling system. But for the most part, they work well. Especially if you've got music playing at a decent volume, you're going to hear a whole lot less ambient noise than you would with the ANC turned off.
One relevant question might be: Do the YH-E700A cancel noise as effectively as the Sony WH-1000XM4 or the latest and greatest from Bose? I would argue no, if only because they lack the deep software integration and "adaptive" canceling abilities of some headphones in this price bracket. But more on that later.
Impressive all-around design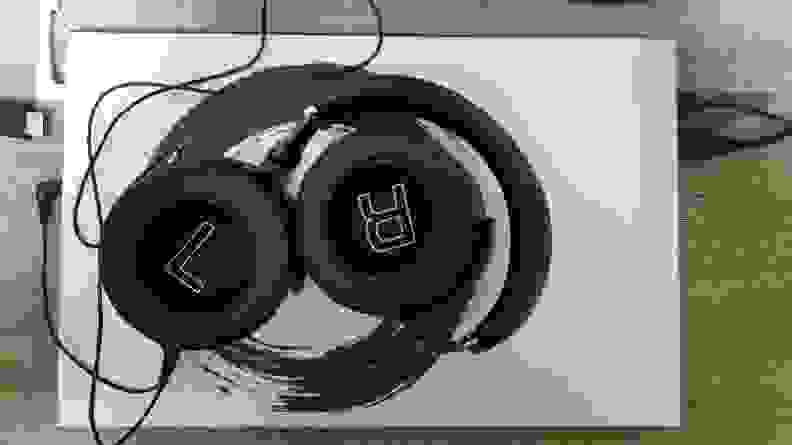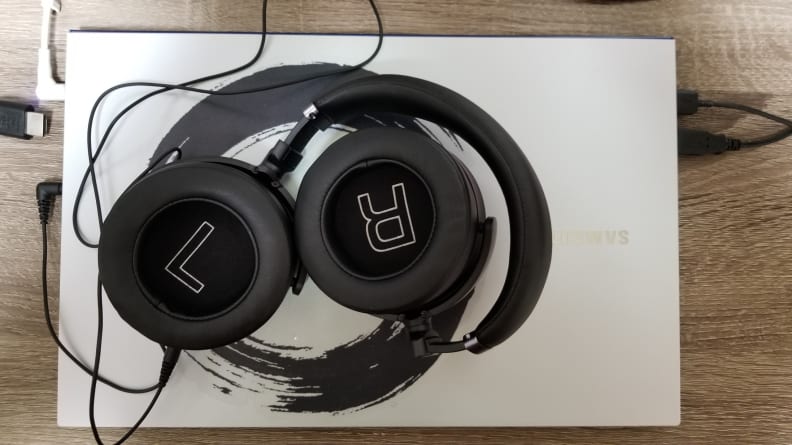 There are some things I really like about these Yamaha cans that aren't quite deserving of their own section, so here's the rest:
The claimed battery life of around 35 hours is accurate, and means you barely need to worry about charging these. It's on par with the best over-ear battery life on the market.
The humongous ear cups do a great job cutting down on "leakage," meaning you could use these in an office setting without worrying about annoying coworkers with sound bleeding out (or your family members, considering).
The slightly English-accented female voice that tells you when noise canceling is active or when Bluetooth is connected feels just a bit silly, but in a way that's charming rather than annoying. I'm turning off noise canceling, but I feel like I just initiated a light-speed jump.
You can use these in wired mode (the included 3.5mm-to-3.5mm cable is reversible and plenty long) and the audio quality barely changes between when they're wired or wireless, maintaining a certain consistency of experience. You can also use the ANC/Ambient features in wired mode, which isn't always the case.
Finally, the included zip-up case is especially sturdy: not completely crush-proof, but it gets pretty close. It's going to take up space in your bag or backpack, but you can throw it in with some textbooks and it will still do an excellent job protecting the headphones from damage.
What We Don't Like
Not much by way of customization
One of the ways that Sony successfully justifies the price of the WH-1000XM4 (and WH-1000XM3 before it) is by making features like their sound profile and noise canceling very customizable (via a separate iPhone/Android app on the connected device). While Yamaha does have a "Headphones Connect" app, it's not nearly as robust and involved. It only does a few things: providing ways to turn "Listening Care" and "Listening Optimizer" on or off; allowing you to toggle through the ANC/Ambient modes; and allowing you to set an Auto-Off timer.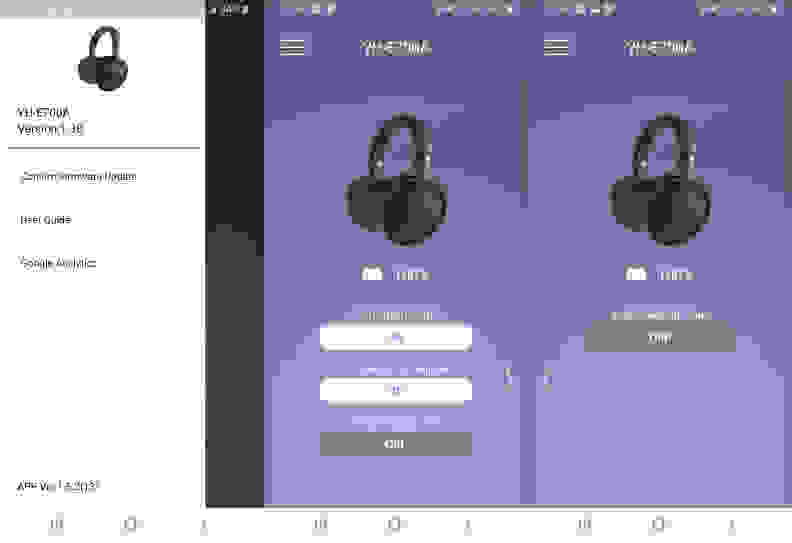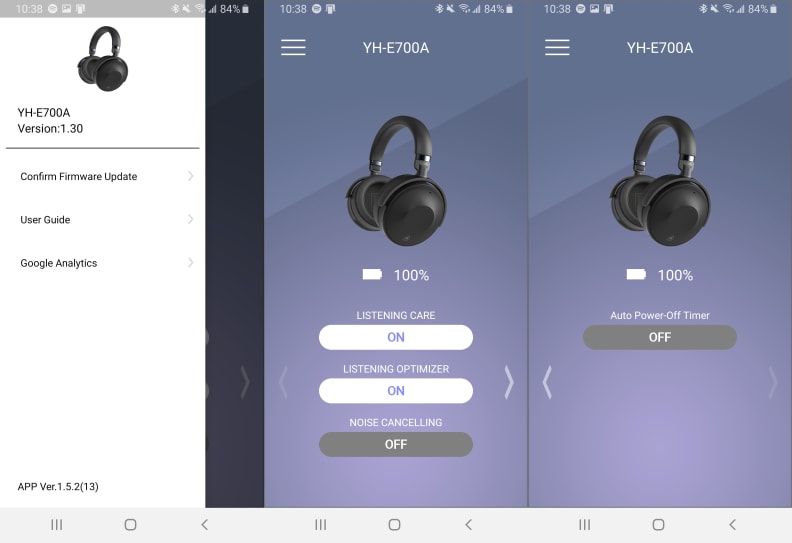 While these are welcome additions, the most important feature—toggling through ANC/Ambient modes—can be done just as easily by pressing the button on the headphones themselves. According to Yamaha, Listening Care helps balance your music's relative/perceived volume against ambient noise in the environment, while Listening Optimizer optimizes playback in real time. I listened while toggling these settings on and off, and couldn't immediately discern a difference, but I have no doubt they're doing what they say. However, they're on by default, and with how good these headphones sound, you should probably just leave them be—another reason the app doesn't feel terribly integrated.
What's more, I'm very glad I already adore the YH-E700A's sound profile, because there's no way to adjust it: no sound mode presets and no adjustable EQ. Yamaha, we don't need those things, but filling out the robustness of your app wouldn't hurt to really push these into blue ribbon territory. It also means if a buyer doesn't like how these sound, they're just going to return them since there's no way to change it up.
You're also not getting anything by way of smart assistants (Alexa, etc.), simultaneous Bluetooth connections, or any of the fancy extras that come standard with some of the headphones in this price range.
No easy way to scrub tracks
This is a minor complaint for sure, but it's worth mentioning. If you hold down the "volume up" button while listening, you can skip to the next track; likewise, the "volume down" button jumps back to the beginning of the track (or the previous track). While it's a bit strange to allocate track-skipping to the volume buttons, it makes sense when you consider the likely inaccurate multi-press approach it would take to assign these functions to the single play/pause button.
However, anyone who wants to fast-forward or rewind through an audio track—something you might do if you're really trying to learn some lyrics, or are jumping through a particularly long, ad-filled podcast—is going to have to fish their phone out of their pocket, change tabs on their laptop, etc. This is a nitpick, but it's one thing the button controls lose out on compared to the non-binary functionality of touch controls.
Should You Buy It?
Yes—if you just want robust basics
Despite their price tag, these are not "fancy" headphones. They cleanly sidestep the customizability and boundary-pushing features of flagship products like the Sony WH-1000XM4. They're comfortable, but the design is more or less forgettable. And while you can't customize the sound, you also probably won't want to: the spacious, well-balanced audio quality here is primarily what you're paying for (though the sturdy case and huge battery don't hurt anything, either).
Whether these are worth $350 depends on what you're looking for. You won't be able to program the noise canceling around whether you're stationary, walking, or commuting like with the WH-1000XM4. You can't shift the sound mode to "Relaxed" when you want to suck the sharper edges out of music while you're chilling, half-asleep. And these kinds of features, while they might seem like icing on the cake, are a big part of the price tag for many high-end headphones.
That said, I can't deny that despite the scant amount of icing here, the Yamaha YH-E700A is a delicious slice of gateau. The noise canceling does its job, you're getting a ton of battery life, and the spacious, warm soundstage delivers this "x-factor" that's hard to track down in consumer headphones unless you range upward into more expensive price points. If you don't think you need a laundry list of features and just want a very solid all-rounder, check these Yamaha cans out. Your ears may just thank you.
Meet the tester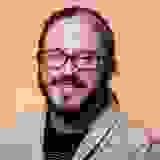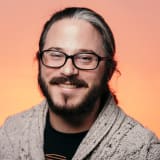 Lee Neikirk
Editor, Home Theater
@Koanshark
Lee has been Reviewed's point person for most television and home theater products since 2012. Lee received Level II certification in TV calibration from the Imaging Science Foundation in 2013. As Editor of the Home Theater vertical, Lee oversees reviews of TVs, monitors, soundbars, and Bluetooth speakers. He also reviews headphones, and has a background in music performance.
Checking our work.
Our team is here for one purpose: to help you buy the best stuff and love what you own. Our writers, editors, and lab technicians obsess over the products we cover to make sure you're confident and satisfied. Have a different opinion about something we recommend? Email us and we'll compare notes.
Shoot us an email