Pros
Pull tab for easy removal
Cons
Pull tab makes it harder to fold

Difficult to clean
What is the Flex Cup?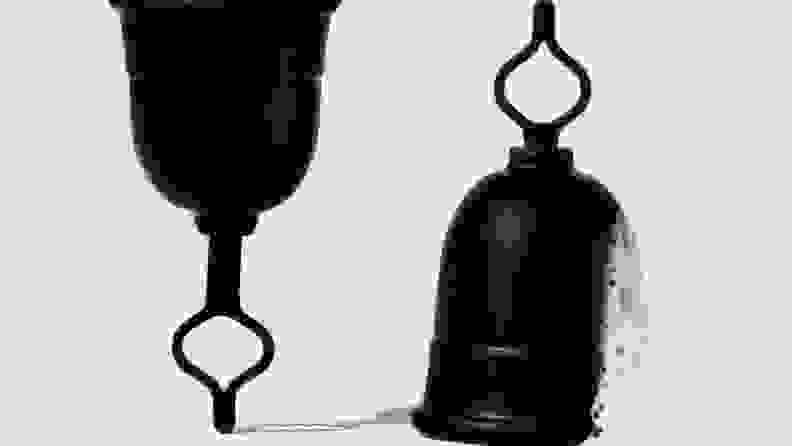 The Flex Cup is a menstrual cup with a unique string-release system that the brand designed to make it easier to remove. It costs $34.95 and comes in two sizes, "Slim" (which the brand says has the capacity of two super tampons, or 22 milliliters, and is intended for first-time menstrual cup users and "pros with light or heavy flows") and "Full" (which the brand says has the capacity of three super tampons, or 30 milliliters, and is intended for experienced menstrual cup users who prefer a larger size and those who've had two or more vaginal births). Like most menstrual cups, it can be worn for up to 12 hours. Flex recommends cleaning its cup by rinsing it out twice a day, or every 12 hours, and "periodically" giving it a deep clean by boiling it for 10 minutes.
Flex also makes and is primarily known for disposable menstrual discs, and each cup comes with two discs to try out as well.
How does the Flex Cup work?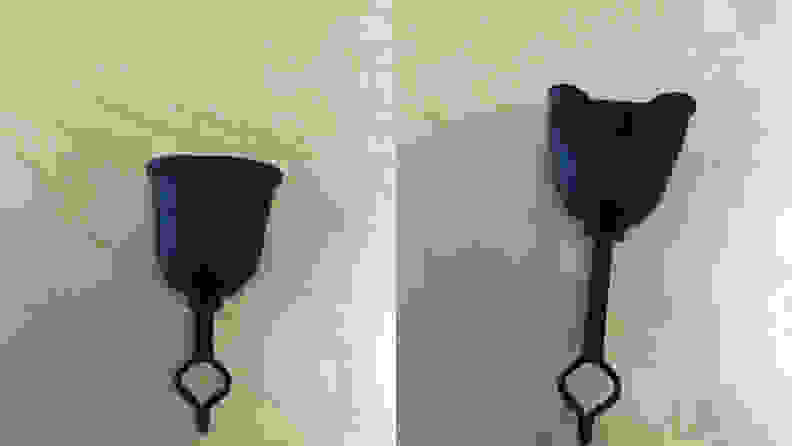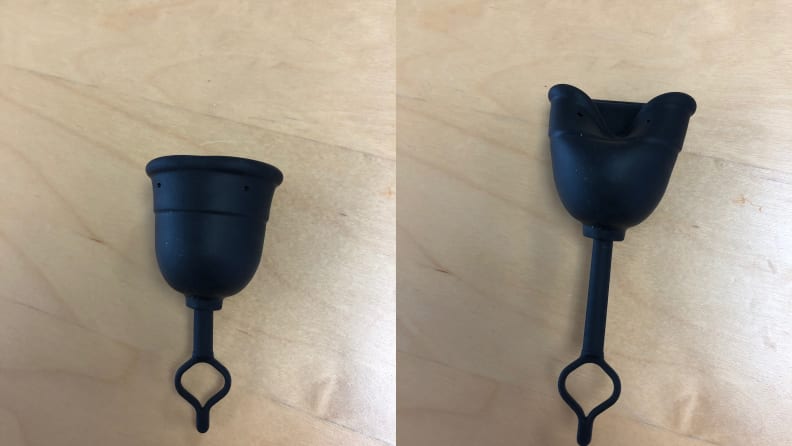 Even people with full use of their hands can struggle with using a menstrual cup. First, there's the insertion process, which involves folding the cup and sliding it into the vaginal canal, then making sure it pops open and into place to collect menstrual fluid. Then, you have to remove it—easier said than done, as the rim of the cup suctions to the cervix and won't budge until you pop the rim's seal. To do this, you must reach in and pinch the cup's base—or sometimes even its rim—to release the suction before gently guiding it out.
At a glance, the Flex Cup looks and performs a lot like other cups. It's bell-shaped and silicone-based, with a stem at the bottom, and is inserted in the usual way, by folding it and sliding it in. But one key thing makes it unique: Instead of a small knob or ring at the base of the cup to assist with removal, it has a finger loop attached to a stem that slides in and out the bottom of the cup. Pulling the stem causes the cup to collapse inward, thus breaking the suction and making removal easy (or, at least, familiar—the process is similar to that of removing a tampon).
This cup wasn't always called the Flex Cup—it was called "Keela" until late 2018, when the Flex company bought it. I bought the Keela on preorder in 2018 and upon receipt was so impressed with it that I actually messaged the company to thank its founders for making such an easy-to-use product. As is often the case with accessibility innovations, this invention benefits more than just those with disabilities. Flex makes cups more accessible for menstruating people of all kinds. Difficulty with cup removal is one of the major pain points I've seen mentioned time and again online, and now that Flex produces this easy-to-use cup, there's a better option.
What I like about the Flex Cup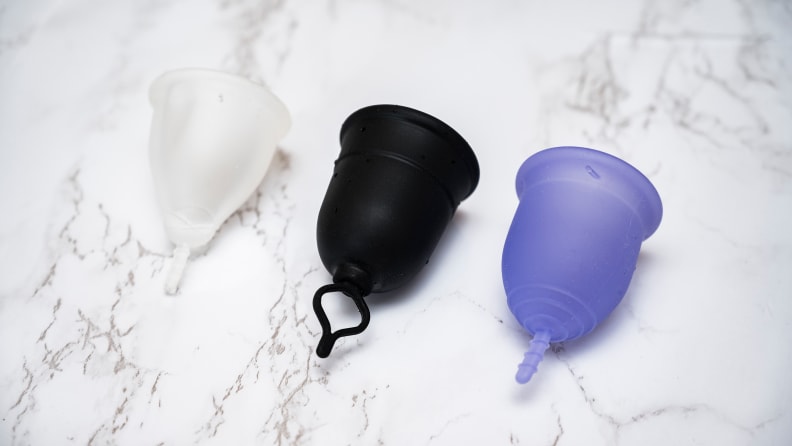 Insertion and removal is so easy
The rim of the cup is firm enough that it pops open without any fiddling necessary (another problem I've had with other cups), but it's still comfortable and easy to fold for insertion, in my opinion. However, some of our other testers felt it was difficult to fold. And, of course, the stem makes it easier to take out—with a simple tug, the suction breaks, and I'm able to guide it out without any fuss.
It's as effective as other cups
Even with the sliding stem, it doesn't change the effectiveness of the cup and I've never had issues with it leaking. I usually wear my cup for up to 12 hours and it stays comfortable and drip-free throughout. On especially heavy days, I might empty it every four hours.
What I don't like about the Flex Cup
It can be tough to clean
Flex Cup's stem system makes the cleaning process a little complicated—and keeping menstrual cups clean is really, really important. This is because the stem has to be pulled out of the base so the hole it slides in and out of can be cleaned, too. You don't have to worry about losing the stem, as it's still attached to the cup, but it adds a little more work, as you need to inspect the hole for debris, then slide the stem back into place. This is my only complaint, and taking a couple extra minutes a month is a small price to pay for a cup that I can actually use.
Removal can feel intense
In our testing, some users felt that the pull tab system breaks the suction too suddenly and creates a surprising "popping" feeling (and sound) when the cup is removed. This isn't an issue for me, but some people may find it unpleasant. Standard menstrual cups are difficult to grasp but can offer some more control if you're able to get a handle on them. I find that it sometimes takes a few gentle pulls to break the seal comfortably.
What users are saying
The general sentiment about Flex is that it's great for people who are new to cups. "The pull tab to remove is super easy. Literally just like a tampon," writes one reviewer. "I have no other menstrual cups to compare it to, but honestly I don't have a desire to try any others."
It also commonly receives praises from users who previously had bad experiences with menstrual cups. "After getting another menstrual cup stuck to my cervix, I was terrified about using one again despite how much I like the idea of sustainability, fewer chemicals in my body, and less stress dealing with leaks," writes another reviewer. "The pull string on this makes removal as simple as a tampon (that's why I gave suction only 3 stars, enough suction but not too much). I don't feel it when it's in. It's as easy as others to insert. It lasts all day."
Others, including our health and fitness editor Sara Hendricks, found the Flex cups firm rim created too tight a seal. "Over the last six months, I actually have come to not enjoy this menstrual cup very much," writes another reviewer. The suction is way too strong, so releasing it is very uncomfortable, and once the seal breaks, the cup leaks from where the pull tab comes out, inevitably getting a mess on your hands. I am now back on the market for a new cup and will not be purchasing this one again."
Should you buy the Flex Cup?
If you struggle to remove menstrual cups—or have always wanted to try a cup, but worry about the insertion process—Flex is absolutely worth a try. Cups are such a personal choice, as what fits my body may not fit yours. But the Flex Cup's stem system is truly unique, and there aren't a ton of choices when it comes to easy-to-remove menstrual cups. With the simple pull of its stem, Flex gets full points from me.
The product experts at Reviewed have all your shopping needs covered. Follow Reviewed on Facebook, Twitter, and Instagram for the latest deals, product reviews, and more.
Prices were accurate at the time this article was published but may change over time.
Meet the tester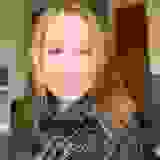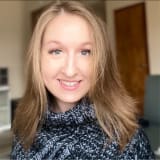 Sarah Kovac
Editor, Accessibility
@sarahkovac
Sarah Kovac is an award-winning author and accessibility editor for Reviewed. Previously, she worked with a multitude of outlets such as Wirecutter, TIME, PCMag, Prevention, The Atlantic, Reviews.com, CNN, GOOD, Upworthy, Mom.me, and SheKnows.
Checking our work.
Our team is here for one purpose: to help you buy the best stuff and love what you own. Our writers, editors, and lab technicians obsess over the products we cover to make sure you're confident and satisfied. Have a different opinion about something we recommend? Email us and we'll compare notes.
Shoot us an email