Health & Fitness
6 ways to get your kids interested in golf
Keep the love of the game in the family.
Credit: Getty Images / SDI Productions
If you thought distance learning required patience as a parent, try taking your kids out on the golf course for the first time. The payoff, though, is worth it. With 40-plus years experience in golf, I can attest to the fact that the life skills children learn can play a major role in their future.
So what should you expect when introducing your child to golf? And how can you go about making sure you teach them about the sport in an effective way? Here's what I've learned in my time as a golfer and a parent.
1. Get them started as early as you can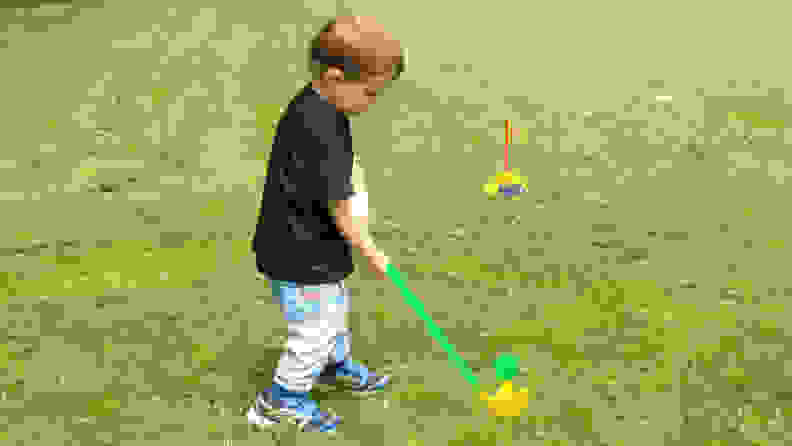 Deciding when to get your children on the green is a personal decision, but you can get them interested in the game early on. Begin with plastic clubs they can whack around in the yard. When paired with plastic balls, there are few worries about breaking windows. What kid doesn't like to swing something and watch it launch a projectile? And no, that's not a technical golf term, but you don't need to worry about that at this point. You are simply introducing them to golf as a concept.
Get Plastic Golf Clubs from Amazon for $12.99
2. Don't get too fancy with the equipment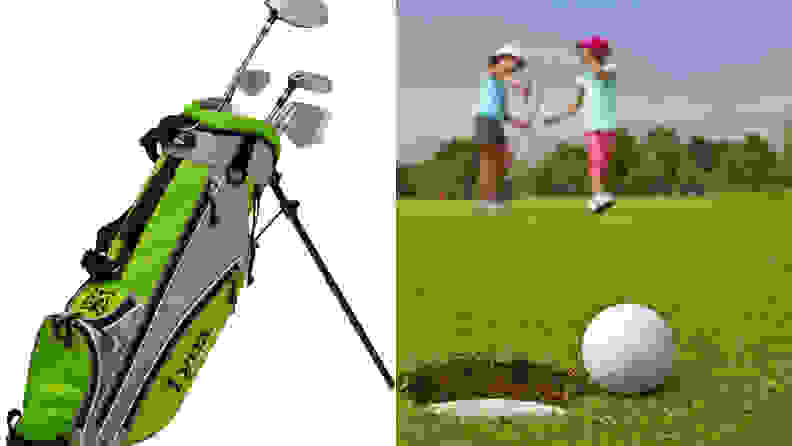 Shopping for kids' equipment isn't too different from shopping for your own golf gear, though you can count on spending a little less on their stuff. To keep it budget-friendly, choose clothes that can be used for other occasions, get them gently used golf balls instead of buying brand-new Titleists, and skip golf shoes because sneakers are fine and they'll grow out of them quickly like the rest of their footwear.
You buy gear based on your kids' heights, so remember that as they grow, their equipment needs will change. For example, a starter set requires only five or six clubs. As your child gets older and their game improves, the number of clubs will go up to 10 to 13, eventually maxing out at the 14-club limit. As in any sport, the more serious the participant, the more specialized (read: expensive) their equipment becomes. That beginner putter might cost $10 at a used sporting goods store; a brand-new Scotty Cameron club will get into the several hundred dollar category.
3. Don't underestimate the importance of mini golf
All kids should work on hand-eye coordination as they grow up to improve their motor skills, and miniature golf is a great way to do that. Not everyone agrees with this line of thinking, since putting on turf mats through windmills isn't the same as a 10-footer on a golf course. But if your child knows the basics of lining up to make a putt, setting out on a regular golf course is basically repetition for these skills.
Can't get to a mini golf course? Try setting one up in your backyard. This way, you get the fun of putting balls through minor obstacles without having to schlep your kids and their stuff in the car.
4. Consider golf camps or lessons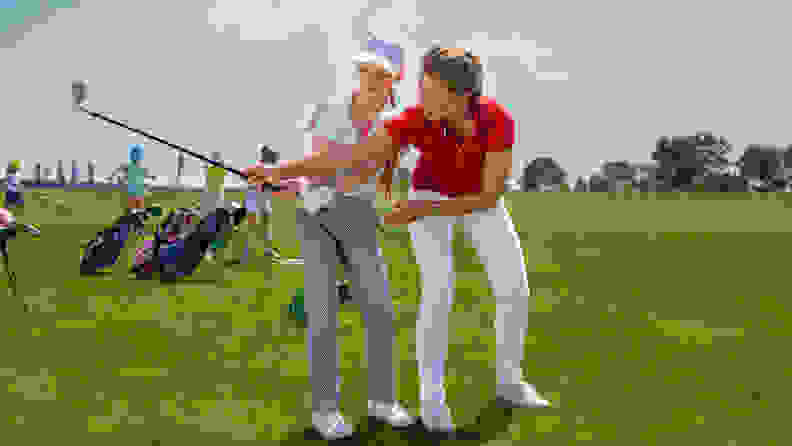 Many public courses offer golf camps during the summer. Golf can be intimidating to newcomers, but in a group of similar aged kids and skill levels, there's less pressure as they learn the basics. Bringing a friend will also lower the stress and make it even more fun.
For younger golfers, ages 5 to 10, you can find half-day camps for three hours in the mornings for a week at a time. Some challenges here are price (typically a couple hundred dollars for the week) and work schedules (as someone has to pick up your child during the middle of the work day). If you are able to maneuver around these obstacles, you can count on your child getting a great foundation in the basics of the game. Full-day camps, typically for middle school or high school children, tend to have instruction in the morning, lunch midday, followed by playing nine holes with your fellow campers in the afternoon. Not only do young golfers learn the game in these settings, but they get to apply those new skills on the course right away.
Individual lessons are phenomenal for personalized instruction—but wait until your child becomes better acclimated with the sport before shelling out cash for them. Would you spend $50 an hour for horseback riding lessons if you don't know if your kid likes horses? Exactly. Wait to see if they are into golf before going down this path.
One recommendation based on personal experience: I've sent my daughter to the PGA of America
Junior Golf Camps, which she loved during the multiple summers she attended. PGA has locations all over the U.S., so check out its site to see if there's one close to you.
5. Keep the game fun
The mantra all parents who want their children to play golf is simple: Make it fun. For me, bribery is almost always a part of the equation. That often comes in the form of ice cream after playing nine holes with my daughter. She's completely onto me, but the sugary payoff is worth it to her.
Depending on your child's age, you can also let them drive the golf cart. By no means am I suggesting anyone break the rules of the course you are playing, but if a child can't reach the pedals, let them sit in your lap for a brief ride up to the green while holding the steering wheel. That alone will keep them wanting to come back for more.
Eventually (and this might take a few years) kids will often want to get better. Keep an eye out on when they start to get mad about a bad shot. That's actually a good sign because it shows they care—but make sure they know the etiquette of the sport, and that club-throwing isn't cool.
At some point, your child will start to get better. Celebrate those great shots over and over like when they learned to ride a bike for the first time. Eventually they might even close in on challenging you for low score of the day. When they do, don't drown your sorrows, but commemorate that moment with a celebration. When that happened for me, my dad took the scorecard and had it made into a plaque that I have to this day.
Get a Golf Scorecard Frame from Amazon for $33.99
6. Know what to expect as a parent of a child golfer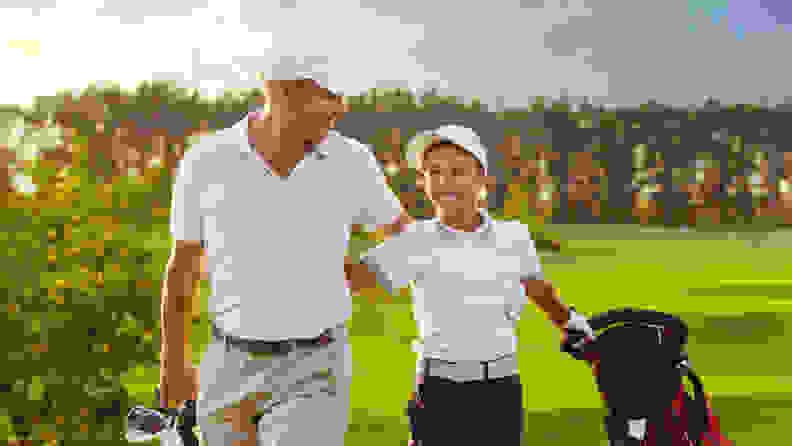 This will be a bumpy road, and your own golf game will probably suffer as you try to help your little one learn the game. That being said, the odds any of us will raise a Tiger Woods, who was making epic swings on national TV at two years old, are remote, so set realistic expectations. The phrases "keep your head down" and "yes, that miss counts as a stroke" will become second nature. Being able to keep your cool as your child loses theirs is never easy, but it is essential in a golf course setting. And who knows—maybe you as a parent can learn some life skills from teaching your kids to play golf.
As your child gets older and more competitive in golf, there are junior "tours" in many parts of the country. Don't get these confused with professional moneymaking events. These local tournaments are all about experience to show kids what it is like to be in a competitive golfing environment. Often the next step up is the AJGA (American Junior Golf Association), where travel might be involved (and, again, the costs will also increase because your rising golfer might be asking for that $500 driver now).
Most people who teach their children to play golf are hoping to have a golf buddy, someone to spend time with on the weekends for the rest of their lives. For me, one of my most prized possessions is a photo of my late father, my daughter, and me all dressed and ready to play a round of golf. How many sports can you actively compete against others in multiple generations? Getting to that point might take years of camps and lessons, of birdies and bogeys, but it's well worth the investment.
The product experts at Reviewed have all your shopping needs covered. Follow Reviewed on Facebook, Twitter, and Instagram for the latest deals, product reviews, and more.
Prices were accurate at the time this article was published but may change over time.