Imagine a Christmas tree wreathed in lights, smelling of fresh pine, and ladened with presents underneath. Whether your holiday season is more religious or more secular in tone, nothing invokes yuletide cheer like a grand Christmas tree. But to keep the holiday spirit alive, and to protect your family, home, and the tree itself from accidents, a sturdy tree stand is a must.
We spent weeks researching and testing some of the best-selling Christmas tree stands on the market to find one that can handle both powerful Father Time and lush Aunt Zelda. We evaluated each stand that came into our labs to see if they were easy to assemble, use, and could withstand a solid blow.
After lifting, watering, and striking a seven-and-a-half-foot Christmas tree a few dozen times, we think the Krinner Tree Genie Deluxe (available at Amazon) is the best for most households.
Here are the best Christmas Tree Stands we tested ranked, in order.
Krinner Tree Genie Deluxe L
Krinner Tree Genie XXL
Cinco C-152E
The Christmas Tree Company Santa's Solution
Dyno Swivel Straight
Jack-Post 519-ST Oasis Tree Stand
L.L. Bean Heirloom Cast Iron Tree Stand
Black and Decker BD3037 Smart Stand
Updated December 06, 2018
Advertisement - Continue Reading Below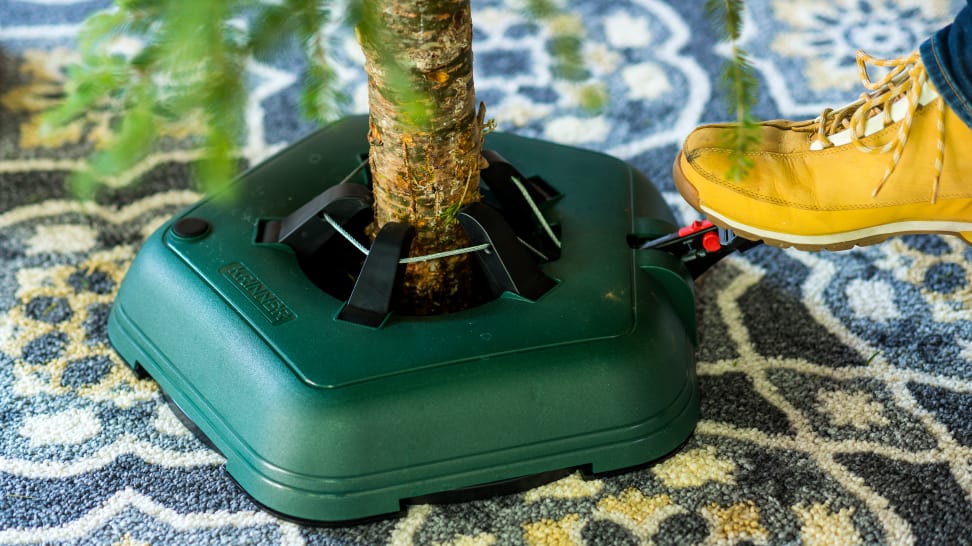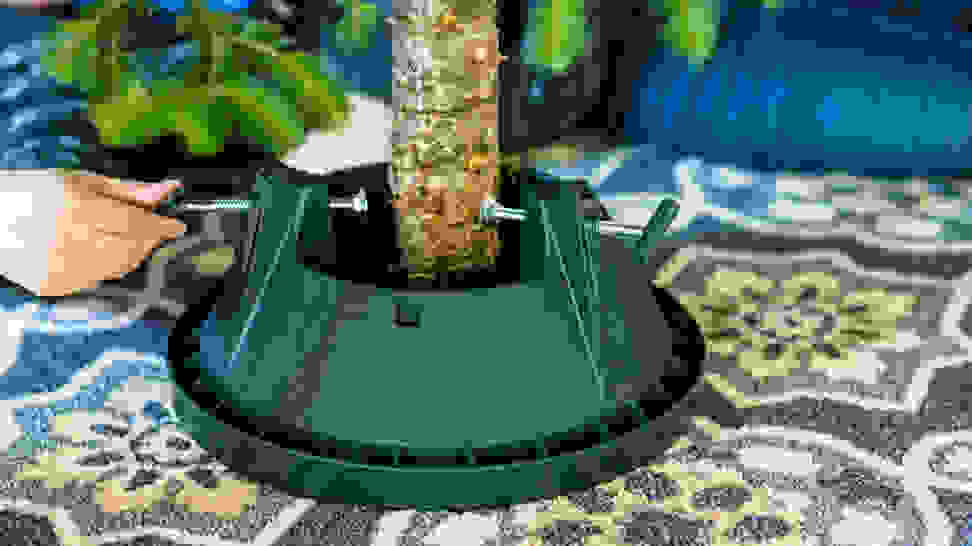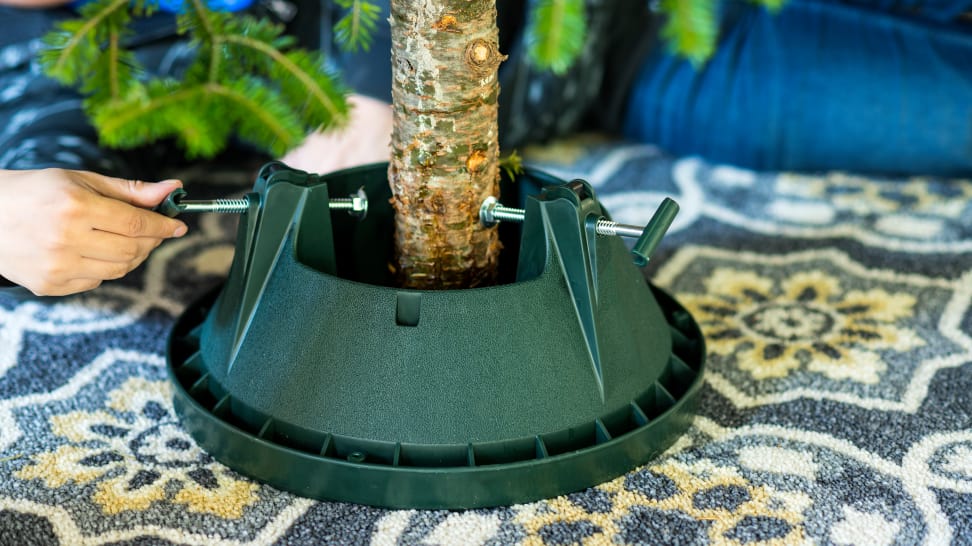 How We Tested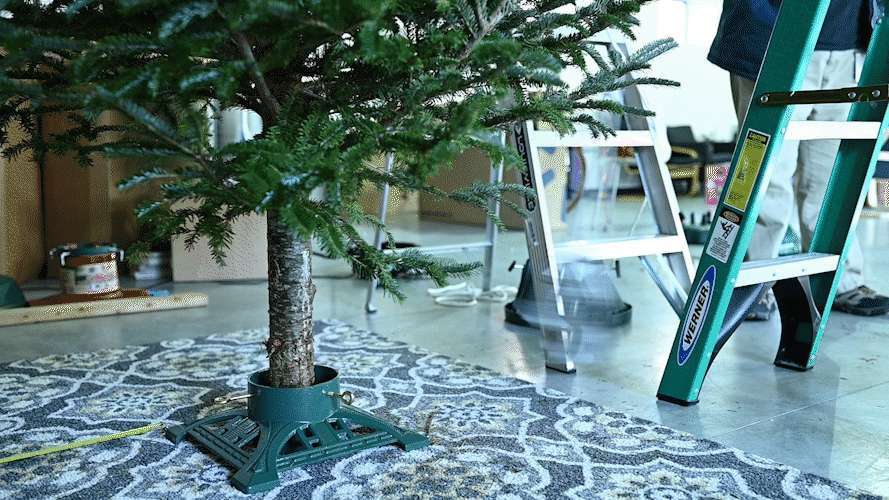 The Tester
Hello, I'm Jon Chan, the Senior Lab Technician at Reviewed. Over the years I've worked here, I've tested everything from pocket knives to pressure washers. I worked with my colleague Kyle Hamilton because lifting Christmas trees and setting up tree stands is not a one-man job.
The Tests
Testing came in three phases looking at assembly, usage, and stability. During the assembly stage, we always tried to set up the stands without looking at the instructions first. It's not because all the testers were men–mostly. A Christmas tree stand should last for years and from season to season, instructions get lost. Intuitive design is a must. We used a seven-and-a-half foot tall Fraser fir. After surveying our office and researching the average ceiling height for American households, we decided to get a tree that was no taller than eight feet, but not shorter than seven.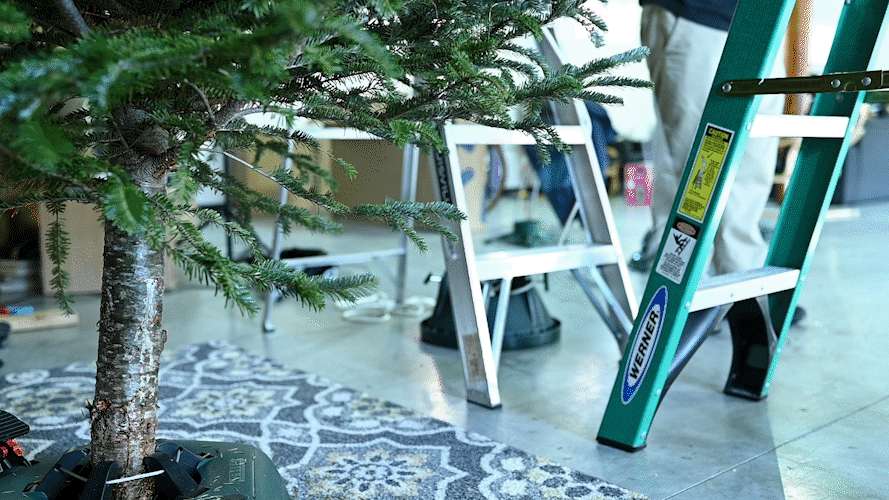 Usage testing covered placing the tree in and securing it. We assigned scores based on how long it took and how arduous the task was. We also made note of how easy it was to water and remove the tree.
Finally, with the tree all snug, we struck different parts of the tree using a 10-pound weight hanging from a three-foot length of cord attached to an adjustable frame. To keep the force consistent, we pulled the cord back until it was at a 45-degree angle and let gravity do the rest. After each swing of the weight, we measured how far each stand was pushed back.
The stands themselves always contained three quarts of water, the amount needed to water our tree for a day.
What You Should Know About Christmas Tree Stands
Getting the right size
Tree stands are designed for trunks of a certain length and diameter. Typically, you use a tree stand designed for a taller tree on a smaller one. The exception is when the trunk is too narrow. For example, a tree stand designed to take a 12-foot tree may only take a trunk that's down to three inches in diameter, any slimmer and you risk the tree falling over.
The real problems happen when you get a tree stand that's too small for your tree. More often than not, your Christmas tree will fall over the moment it goes in. We recommend you follow the sizing instructions from the manufacturer.
Does the material matter?
Ideally, you want a mixture of plastic and metal. The best Christmas tree stands that we tested used metal for the moving parts and plastic in the interior. You don't want metal all the way through because trees have to be water and that can corrode steel. The exterior should be made of either metal or high-density plastic. Both of these materials resist impact and scuffing so the stand can last for years to come.
Notes About Christmas Trees
Before you buy
In order to help ensure your Christmas tree lasts through the holidays, you need to do your due diligence. Before you purchase a tree, make sure to give it a smell test. A fresh pine tree should have pliable needles and exude a strong scent. The bark is another indicator of freshness. If you run your hand along the trunk and you feel sticky sap, that is a sign that the tree is still in good shape.
Before you bring a Christmas tree into your home
When a tree gets cut down, sap hardens at the base and forms a sort of cap that prevents water absorption. To keep your Christmas tree alive, you need to cut about half an inch from the tree when you get it home. If your stand has a long spike in the middle, this is also the time to bore a pilot hole.
After cutting the base, you should remove the netting and inspect the tree for critters. Christmas trees are grown outdoors and can become homes for any number of insects. Common hitchhikers include spiders and beetles. A good shake and a thorough eyeballing with the aid of a flashlight should be done before the tree enters your home.
Where to place your tree and how much to water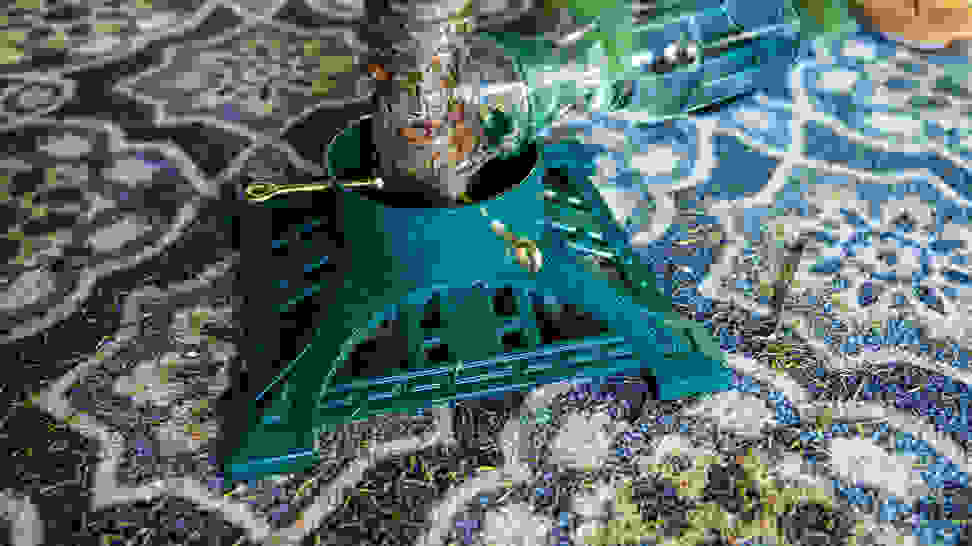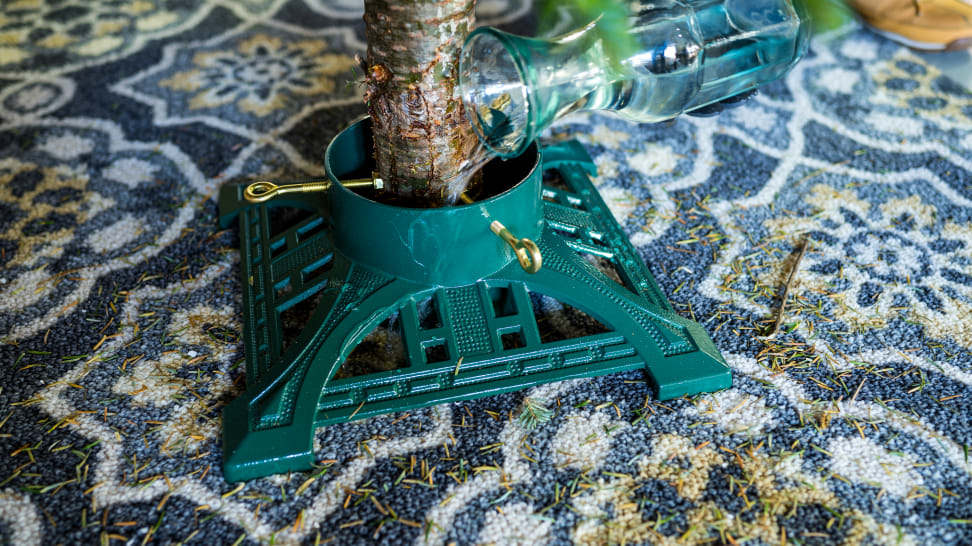 Avoid placing your Christmas tree near heat sources like radiators or sunward windows. While it looks nice, placing your tree next to a fireplace is a surefire way to turn your evergreen forever brown.
According to the National Christmas Tree Association, the general rule of thumb is one quart of water for each inch of the trunk's diameter. Our tree had a three-inch trunk so we added three quarts of water per day.
---
Other Christmas Tree Stands We Tested
Advertisement - Continue Reading Below