The Best Outdoor Extension Cords of 2019
By Kevin Oliver, September 28, 2018, Updated January 30, 2019
Whether you're hanging holiday lights or running power to an unreachable corner of the yard, a durable outdoor extension cord is an often overlooked, but vital component of daily life. A quality outdoor extension cord should be able to effectively transmit power and withstand the daily wear and tear that the average yard can bring, including rain, snow, tall grass, creeping critters, and just about any other annoyance you can think of.
After 15 hours of research and more than a month of testing, we've determined that the Voltec Pro 12-gauge outdoor extension cord (available at Amazon for $40.48) is the best extension cord money can buy. This well-built extension cord combines an impressive power capacity, a useful length of 50 feet, a fortified wall-socket locking component, and overall value that make it the clear front-runner in our testing.
However, there are many other great extension cords of varying lengths and power capacities that are certainly worth looking into.
Here's how the best outdoor extension cords we tested ranked, in order:
Voltec Outdoor Extension Cord (50 Feet, 12 Gauge, 15 A)
U.S. Wire & Cable Outdoor Lighted Extension Cord (50 Feet, 12 Gauge, 15 A)
Iron Forge Outdoor Lighted Extension Cord (25 Feet, 12 Gauge, 15 A)
Viasonic Outdoor Lighted Extension Cord (15 Feet, 14 Gauge, 15 A)
TerraBloom Heavy Duty Extension Cord (25 Feet, 14 Gauge, 15 A)
U.S. Wire & Cable Outdoor Lighted Extension Cord (100 Feet, 14 Gauge, 13 A)
Watt's Wire & Cable Outdoor Lighted Extension Cord (25 Feet, 14 Gauge, 15 A)
Coleman Basic-Power Outdoor Cord (100 Feet, 16 Gauge, 10 A)
Woods Lawn and Garden Extension Cord (25 Feet, 16 Gauge, 13 A)
Master Electrician Multi Purpose Extension Cord (20 Feet, 16 Gauge, 13 A)
AmazonBasics Vinyl Outdoor Extension Cord (50 Feet, 16 Gauge, 13 A)
Updated January 30, 2019
Advertisement - Continue Reading Below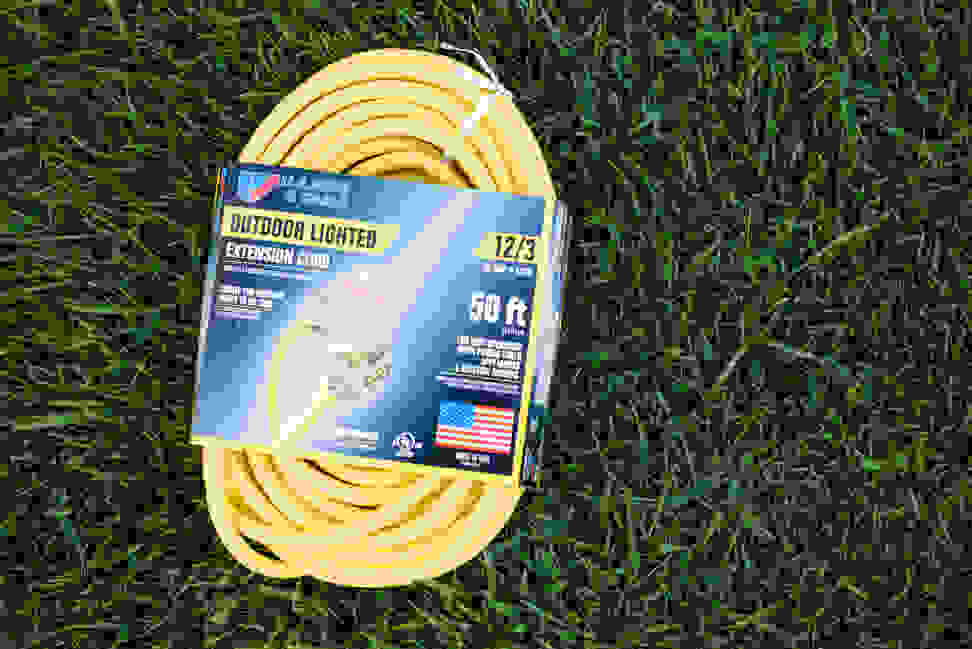 How We Tested
To learn all we could about outdoor extension cords, we put them through the paces by using them constantly in daily life for over a month. Admittedly, it's a tall task to discern overwhelming positive or negative qualities in heavy-duty outdoor extension cords. However, by using them in a variety of situations (including a North Carolina hurricane), we were able to parse the standout features and qualities that made certain extension cords better than others.
And just to spice things up, we decided to run over each extension cord with a 3,300-pound Jeep.
Both before and after we ran over the extension cords, we measured the voltage at both ends of the cords to learn whether the cords could stand up to the extreme pressure. We also exposed the cords to the elements to see how well they'd hold up in poor conditions.
Since all of the cords we tested held up to their expected power capacity and offered at least moderate durability, we put the most weight on our daily usage of the cords. In using each of them frequently, the ups and downs to each cord's design, length, power capacity, and useful features became readily apparent. Paired with our objective tests and voltage measuring, we feel we've covered all the bases in determining the very best in outdoor extension cords.
Understanding Power Transmission When Buying Outdoor Extension Cords
In the simplest terms, the amount of power a cord can hold is related to the size of the wiring inside of the cord and the length of the cord. The longer the distance that power needs to travel, the thicker the internal conductive copper wiring needs to be. Cable thickness is measured in AWG, or American Wire Gauge, in which lower numbers signify thicker cables. For example, a 12-gauge cable has thicker conductive wiring than a 16-gauge cable.
Because of the increased thickness of the conductive wires, lower gauge cords are rated to carry a higher amperage. Most often, short extension cords will offer lower gauges and higher power ratings, while longer extension cords typically opt for the thinner high gauge wiring that make the long cord easier to manage. Most of the top cords on our list are rated for 15 amps (15 A) and can hold and safely transmit power for just about any application. Some cords are rated for lower amperage but are still useful in lower-power applications.
It's important to remember that each cord is rated for a certain number of amps. Constantly over-powering a low-rated extension cord is not only less effective but can also be dangerous. Running too much power through a low-power rated extension cord, such as a 100-foot 16-gauge cord, can actually cause damage from voltage drop and even fire from the overload. While we still considered some 16-gauge extension cords because of their useful length and affordability, it should be made clear that these cords aren't safe for heavy machinery or other high-power applications.
---
Other Outdoor Extension Cords We Tested
Advertisement - Continue Reading Below