The Best Heating Pads of 2019
By Julia MacDougall, December 11, 2018, Updated January 02, 2019
Whether you're starting to feel the chill during the winter months, or whether you have sore muscles need some TLC, there are plenty of occasions when a heating pad is a perfect remedy to help you feel better.
Between measuring the temperature changes on each heating pad, to giving our officemates the chance to try the heating pads at home, we spent about two weeks assessing each heating pad on its heat output, comfort, features, and usability.
(If you're still chilly and want something with more power to it, check out our picks for the best space heaters.)
Of the 10 heating pads we tested, both electric and microwavable, our favorite was the BodyMed Digital Moist Heating Pad (available at Amazon). The other heating pads ranked as follows:
BodyMed Digital Moist Heating Pad
Pure Enrichment PureRelief XL King Size Heating Pad
Sunbeam King Size XpressHeat Heating Pad
Doneco King Size XpressHeat Heating Pad
Chattanooga Theratherm Digital Moist Heat Pack
Caylee's Creations Microwavable Corn Filled Heating Pad and Cold Pack
Vive Health Heating Pad
Thermalon Moist Heat Heating Pad
HealthSmart TheraBeads Microwavable Heating Pad
UTK Far Infrared Natural Jade & Tourmaline Heating Pad
To get all the details of how each heating pad performed in our tests, read on.
---
Note: All of the electric and infrared heating pads described below had a significant number of online reviews describing some or all of the following problems: malfunctioning controls within weeks or months of purchase; very hot or melted plastic controls; and difficulty returning the products. We can tell you about our experiences with these products, but in general, caveat emptor.
Updated January 02, 2019
Advertisement - Continue Reading Below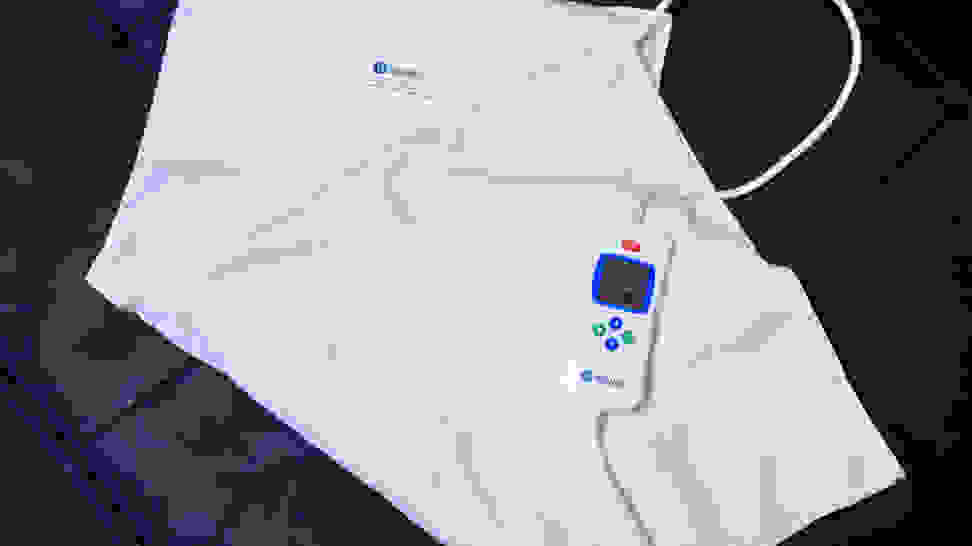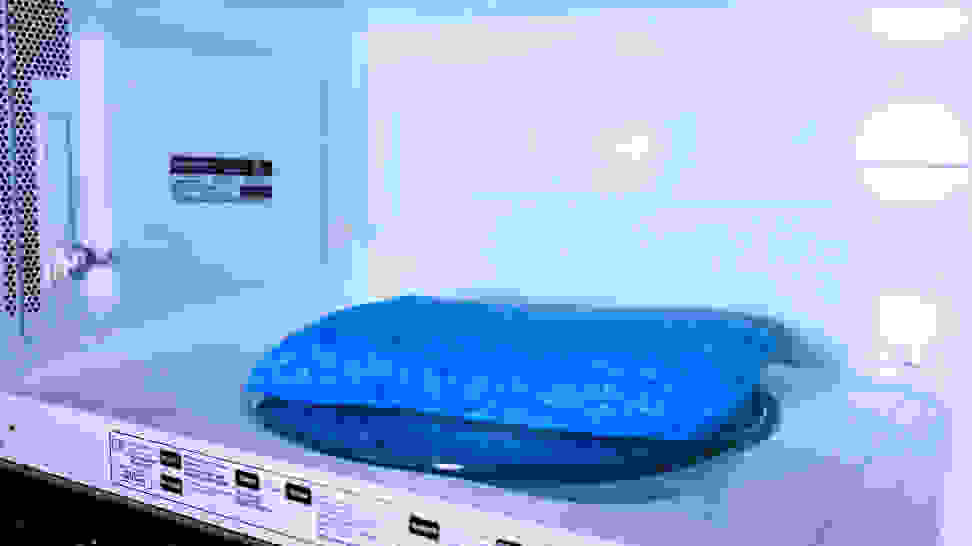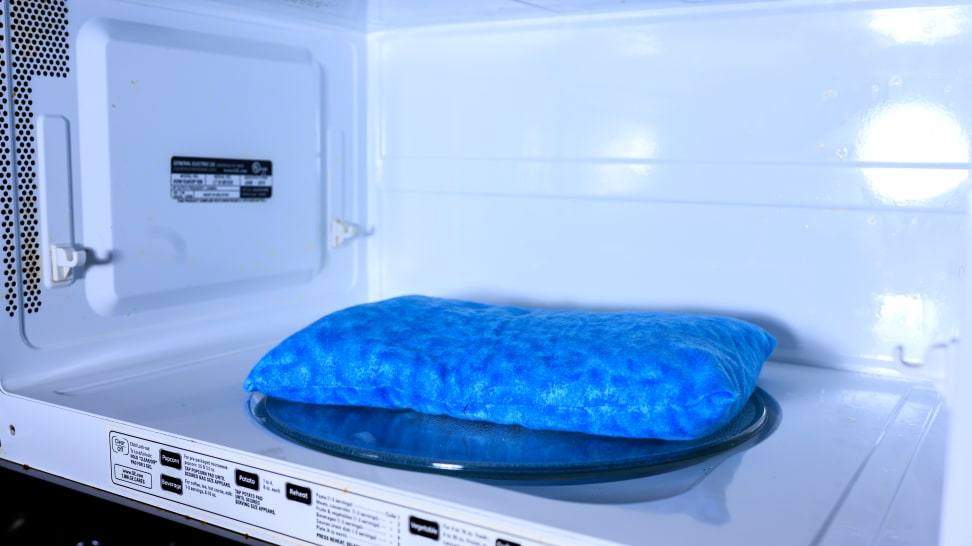 How We Tested
We decided to test three different types of heating pads: microwavable, electric, and infrared. Because electric and infrared heating pads come in a variety of sizes, we picked the models that were appropriately sized for a larger surface area, such as a person's back. This way, we could test not only a heating pad's heating ability but also its versatility in being applied to other body parts.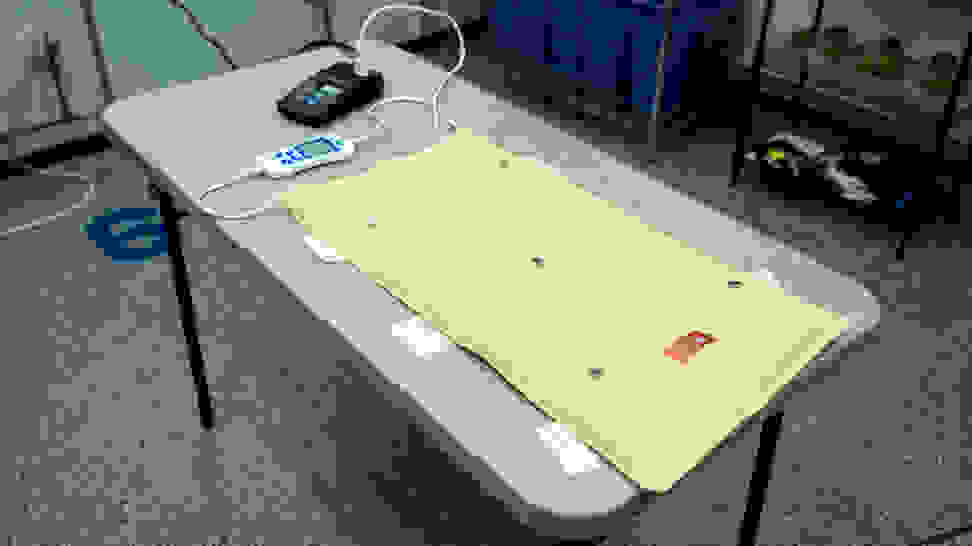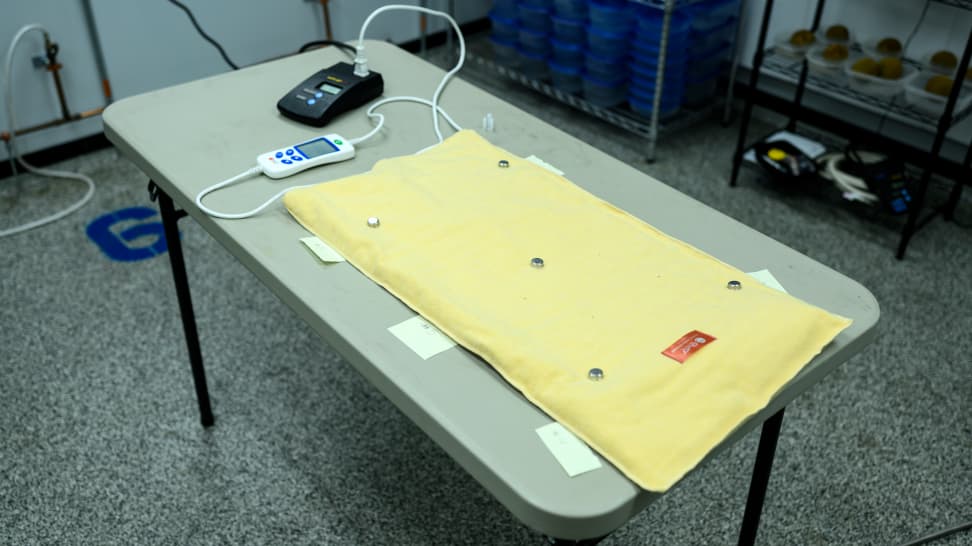 During testing, we first measured the temperature of each heating pad out in the open air. Temperature data was recorded at five points on the surface of the heating pad, on both the medium and the high setting for one hour. The temperature data was recorded with data loggers that are about the size of watch batteries.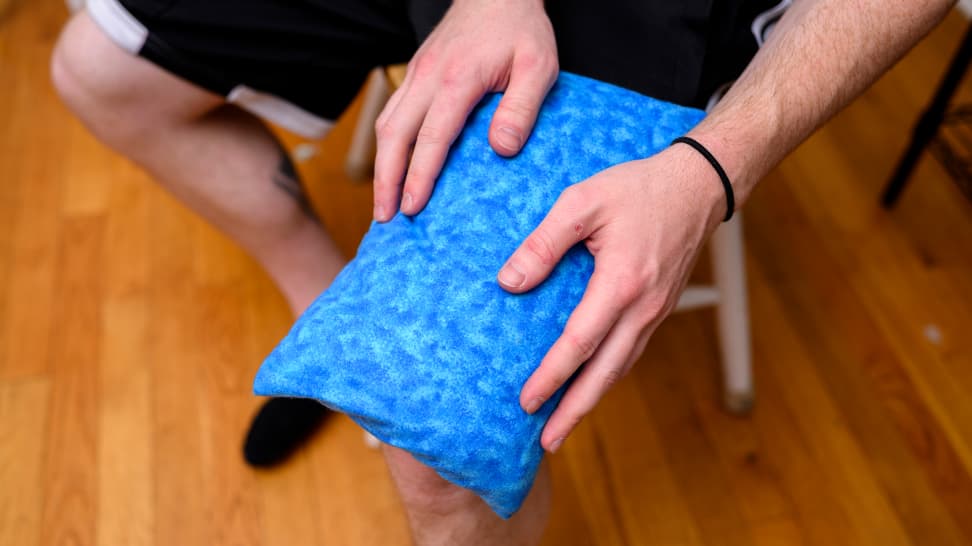 Further temperature data was gathered when we taped those same data loggers to each heating pad and then strapped those heating pads to our backs. When the heating pads were exposed to the air, the recorded temperatures are 20 to 30 degrees lower than they were when they were placed on a human body, where the enclosed environment and human body heat make the heating process more efficient.
With our scientific data, we determined the three objective measures by which each heating pad was assessed: how long it took for each heating pad to heat up, how much the temperature fell off after reaching the maximum temperature, and the energy usage.
Raw temperature data wasn't the only data we collected. We also used the heating pads casually so that we could determine how useful the various features were, as well as how easy it was to actually use each heating pad.
Based on our testing, we think that the best heating pads should heat up quickly, maintain high temperatures throughout the entire time you use it, and not use a lot of electricity to do so. Additionally, they should be easy to use, easy to store, easy to clean, and easily foldable so that it can be adjusted to different sizes to more easily fit on different parts of your body.
---
Types of Heating Pads
We tested three types of heating pads: electric, microwavable, and infrared.
Electric Heating Pads
Electric heating pads typically consist of shielded electric heating coils wrapped in vinyl and covered in a soft, touchable fabric. When the heating pad is turned on, the coils convert an electric current into heat and transmit radiant heat to your body through the vinyl and the fabric.
Electric heating pads typically have one- or two-hour automatic shut-offs (a great safety feature), and allow you to dial in your preferred heating level, whether that's a specific temperature (up to 167°F for the Theratherm heating pad), or heat settings from 1 (warm) to 6 (hot) for the Pure Relief, Sunbeam, and Doneco heating pads. While there are multiple heat settings for electric heating pads, our data showed that electric heating pads rarely get hotter than 120°F-130°F, despite having temperature settings higher than those values.
Electric heating pads come in a variety of sizes, from those that can cover your whole body to those that are made specifically for smaller areas, like your neck.
Microwavable Heating Pads
Microwavable heating pads are made of materials that can absorb and emit radiant heat (and cold), such as flax seed, wheat, water beads, corn, etc. Those materials are then wrapped or sealed into a fabric or insulated pouch that forms the outside of the heating pad.
Because microwavable heating pads go in the microwave, they are more prone to user error in that they can be heated for too long, and may cause burns. Please follow the included microwave instructions that come with these heating pads, and be sure that the microwave you're using is not an inverter microwave, which can make the heating pad unsafe to be placed on your skin (as we found out personally). For more information about safety issues surrounding heating pads, check out the safety section of this article.
Microwavable heating pads are usually smaller than their electric counterparts; they need to be able to fit in any microwave.
Infrared Heating Pads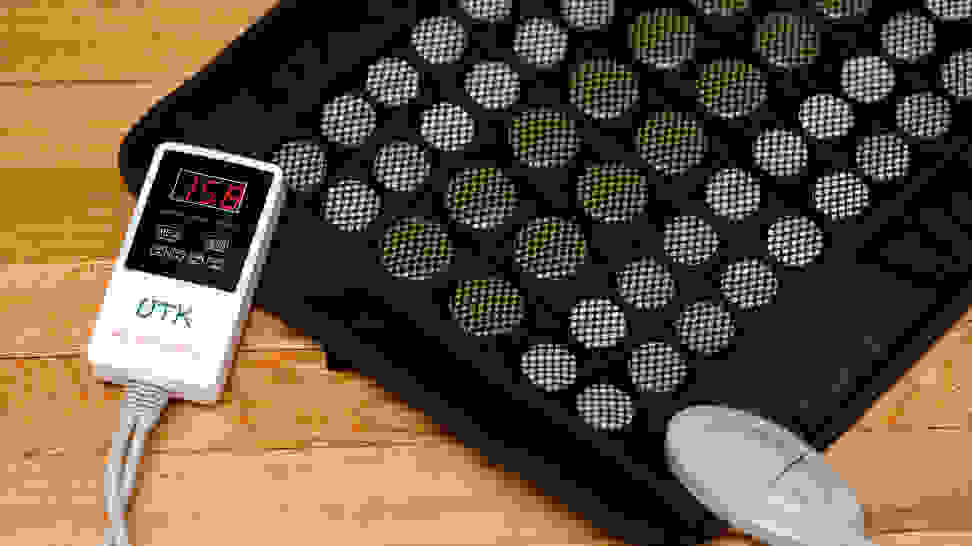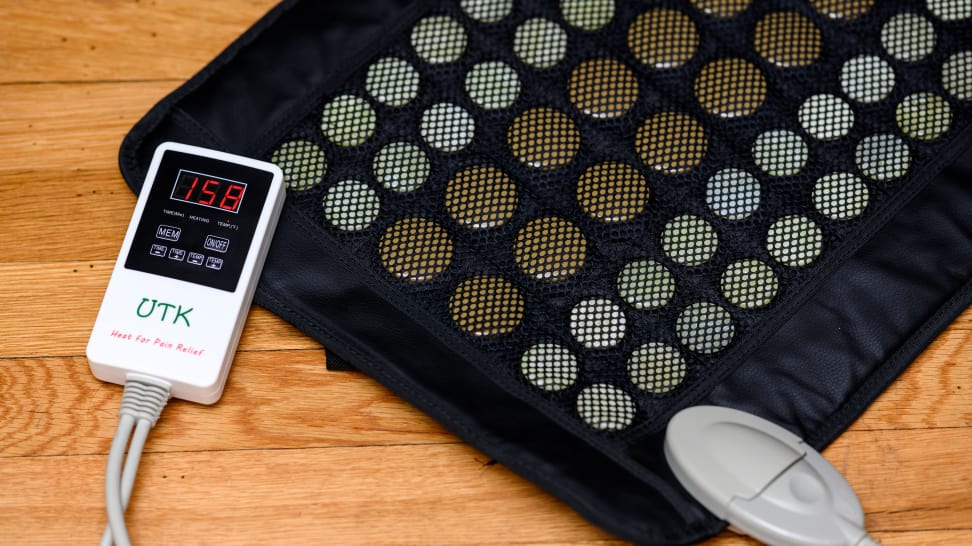 While infrared heating pads are powered by electricity, and could therefore qualify as electric heating pads, the method of emanating heat is different. While electric and microwavable heating pads rely on the diffusion of heat from a radiant heat source into your skin through the heating pad, infrared (IR) heating pads emit infrared rays that are absorbed by the water molecules in human skin. Once they've absorbing those waves, the water molecules convert that infrared energy into vibrational energy; the vibration of these water molecules generates heat that you feel in your skin.
In the case of the UTK heating pad, the electricity is used to heat up jade and tourmaline stones embedded in the heating pad, and those stones emit the IR radiation.
Infrared heating pads come in a variety of sizes but are generally more expensive than microwavable and electric heating pads because of their inclusion of semi-precious stones such as jade and tourmaline.
---
Things to Consider Before Purchasing a Heating Pad
There are a few things you should keep in mind when deciding which heating pad to buy.
Price—How much money do you have to spend? There are great heating pads at every price point. In general, though, microwavable heating pads are the least expensive, electric heating pads are somewhat more expensive, and infrared heating pads are larger financial investments. The cost tends to go up as the number of parts or the complexity of the heating method increases.
Size—Once you have your heating pad, what will be the most common use case? If it's going to be providing relief to a small area of your body, such as your neck, it may make more sense to purchase a heating pad that is specifically sized or designed to fit comfortably on your neck. For example, the Theratherm heating pad comes in Small (7" x 15"), Medium (14" x 14"), and Large/Standard (14" x 27") sizes, which are appropriately sized for your neck, limbs, and back respectively. If you are going to need heat relief on multiple areas of your body, consider getting a larger heating pad; they can often be rolled up or adjusted to sit comfortably on most body parts.
Heating time—How long do you need heat relief in a given session? It's not recommended that you use these heating pads for extended periods of time, which generally exceed one to two hours. Within that time, though, the different types of heating pads provide different amounts and durations of heat relief. Microwavable heating pads generally provide hotter heat (depending on the length of time it's in the microwave) over a shorter time duration (usually 10 to 20 minutes). Electric and infrared heating pads tend to provide heat at lower temperatures but maintain that same level of heat for a longer period of time (45 to 60 minutes).
Mobility—How mobile do you need to be while receiving heat relief? If it's difficult to carve out 20 to 30 minutes a day to just sit in one place near a power outlet, it may be better to purchase a microwavable heating pad. These heating pads are small enough that you can strap them or hold them on your body while still moving around. Electric and infrared heating pads, however, require you to be within a certain distance (typically 5 to 10 feet) of an electrical outlet. Also, while some electric heating pads can be strapped to your body, you still won't be able to move outside of the radius of the power cord. If you do have a comfy seat near an outlet, though, and need more than 20-30 minutes to sit and absorb the heat, an electric or infrared heating pad may make more sense; you can receive the same level of heat relief, but without having to get up and reheat the heating pad multiple times.
Durability—There's a noticeable difference in the usable lifetime of electric/infrared heating pads and microwavable heating pads. Because the electric/infrared heating pads involve electronic components, heat, and flammable surfaces, there are many more things that can go wrong with an electric/infrared heating pad than with a microwavable heating pad. Many users report in online reviews that the heating pads didn't last beyond a few months after the original purchase date.
Safety—There are a number of ways that heating pads can be used incorrectly, or can malfunction with or without user error. For more information, please read our section on safety below.
---
Other Heating Pads We Tested:
Guidelines for Safe Use of Heating Pads
The primary consideration with heating pads is safety. There are a few potential safety issues of which anyone purchasing a heating pad should be aware.
—It is possible for microwavable heating pads to be heated above recommended safe temperatures by leaving it in the microwave for too long (or by using an inverter microwave), which can cause heating pads to far surpass safe recommended temperatures (as we can attest personally). One study reports patients experiencing burns from wheat bags that reached temperatures up to 157°F. Please follow the heating directions for microwavable heating pads, and touch the bag with your hand before applying it to your body to ensure that it's not too hot.
—Heating pads can also cause burns when left on your body for too long. One study summarizes incidents of patient burns due to heating pads left on for more than two hours. All of the heating pads we tested had automatic shut-offs or other safety mechanisms that kick in; please follow the heating pad instructions, and do not use them for more than the recommended time duration. In general, do not apply a heating pad directly to your skin—either use it on top of clothing or wrap the heating pad in a towel before using it.
—Electric heating pads should not be sat or laid upon unless stated explicitly otherwise in the heating pad directions. The reasons for this are two-fold: First, putting weight onto a heating pad with electric heating coils may cause damage to the heating coils. Second, lying down on the heating pad may trap the heated air, which can cause elevated temperatures and subsequent skin burns.
—It is not recommended that heating pads be used in bed or in other enclosed spaces for reasons mentioned above. Additionally, if you're asleep, and something goes wrong with the heating pad, you may not know until it's too late. It is possible for faulty heating pads to start fires, among other possible negative outcomes. To safely increase the amount of heat you feel from a heating pad, wrap the side not touching your body with a towel; trapping the heat from the heating pad (without lying on it) will help to direct the heat back onto your body.
Long story short, please follow the manufacturer's recommendations for heating pad usage.
---
Related articles
• The Best Essential Oil Diffusers
Advertisement - Continue Reading Below