Home & Garden
10 highly rated desks that people swear by from Ikea, Wayfair, and more
It's time to move on from the dining room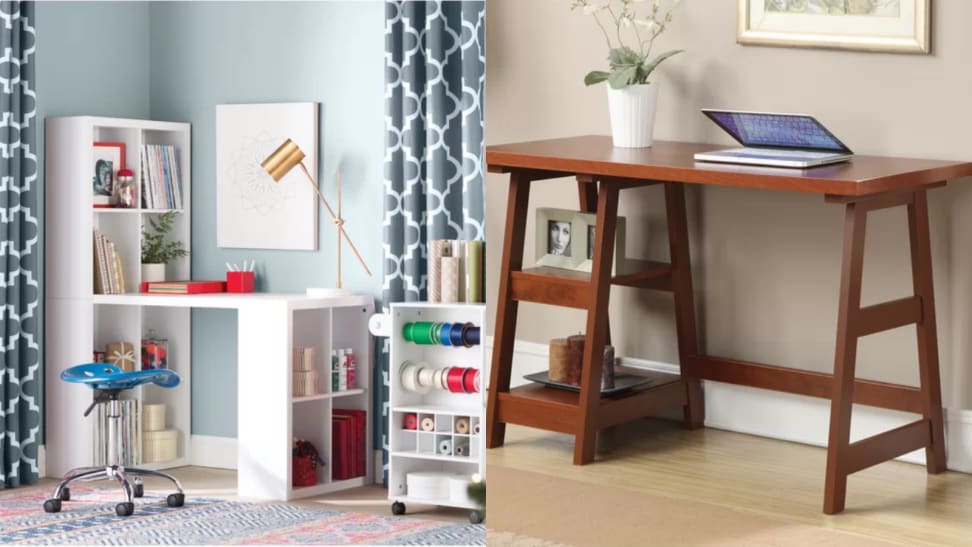 Credit: Wayfair
Week three of "The New Normal: Working From Home" has come and gone, and I'm definitely lamenting the loss of my office workspace. It isn't really just the people I miss (read: I'm actually truly enjoying the forced isolation, but it feels nicer to say I miss my coworkers); it's the many, many workspaces at my disposal.
My office desk is great—it's huge and has lots of storage. When I get sick of that workspace, like a cat meandering aimlessly, I can wander around until I find another suitable station. My needs are simple: a comfy chair, an expansive surface, and maybe a cute ornament or two. At home, I get bupkis. Just a tabletop in the kitchen and a couch if I'm lucky.
My days have been spent roving from room to room, punching pillows into decent shapes when I land somewhere decent, and stretching frequently because I'm generally hunched over a random surface that isn't conducive to hours and hours of sitting. I need something now. Something that can hold my computer and the oodles of cups I collect throughout the day.
So begins my journey: I need a desk, and these are some of the most popular ones available at our favorite home decor retailers right now.
1. A simple desk that will get the job done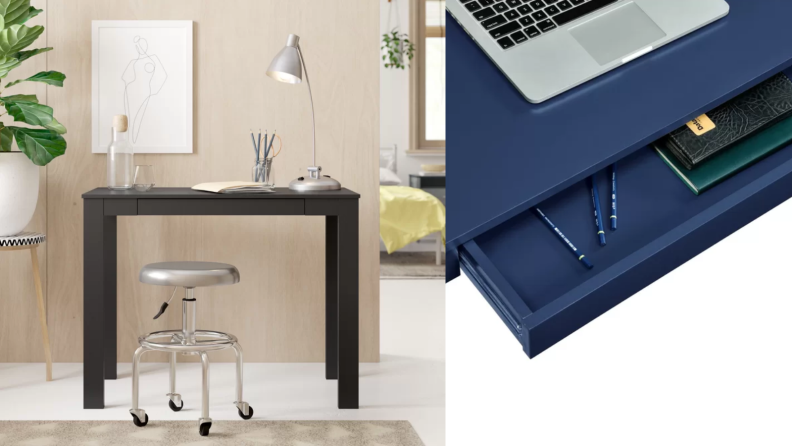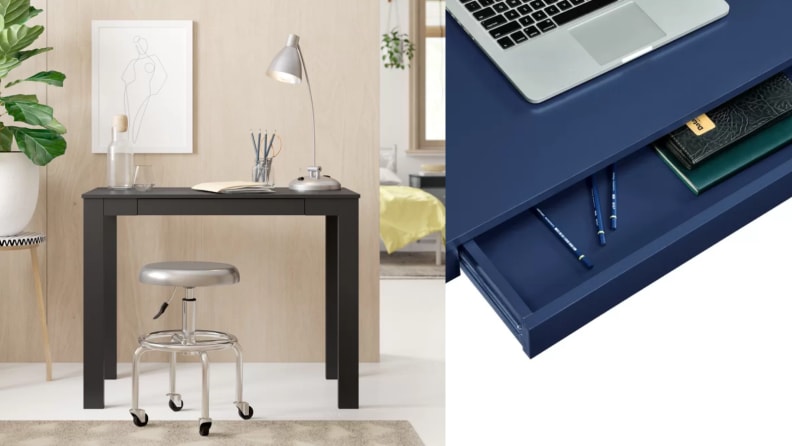 This desk from Wayfair has more than 7,000 reviews, elevating it to near cult-favorite status. Its simple design is perfect for those of us looking for temporary workstations—I can already see myself using this to house plants, photo frames, and trinkets once I'm able to return to my office. It won't break the bank (you can get it under $80 right now), but you'll get exactly what you pay for: a desk that will help you get your job done.
Get the Black Genthner Desk from Wayfair for $79.99
2. A small desk with a lot of spunk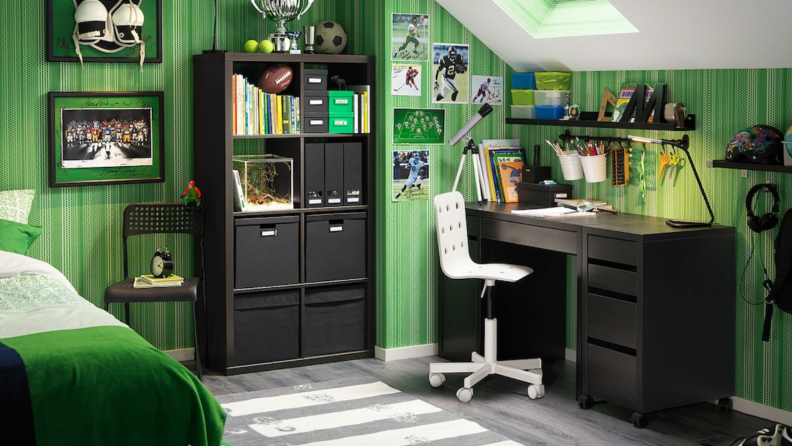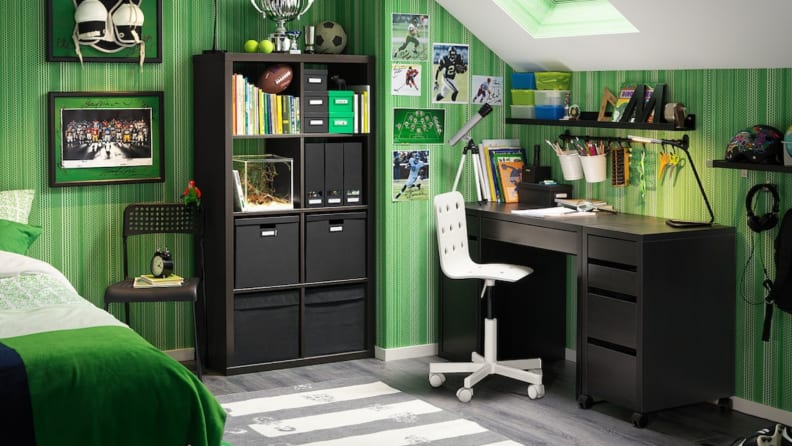 To clarify, I do have a desk. It's just incredibly awkward and not prepared for what I need it for—long periods of time. This beauty, however, gets close! It has the good sense to include drawer storage, which mine sorely lacks, and it has a really good (and wide) tabletop. Although it's not a deal breaker, a lot of extra space is set aside from a desktop modem, which I certainly do not have. Ah well—I can hide something in there, like a mini-safe or all the dirty cups I don't want to bring to the kitchen.
For even more organization, it has one of those little holes in the back that holds errant laptop charging cords, a.k.a. the thing I trip over whenever I need more tea. It's also super highly rated at 4.6 stars, which is a stellar selling point for me.
Get the MICKE desk from IKEA for $79
3. A desk with great shelving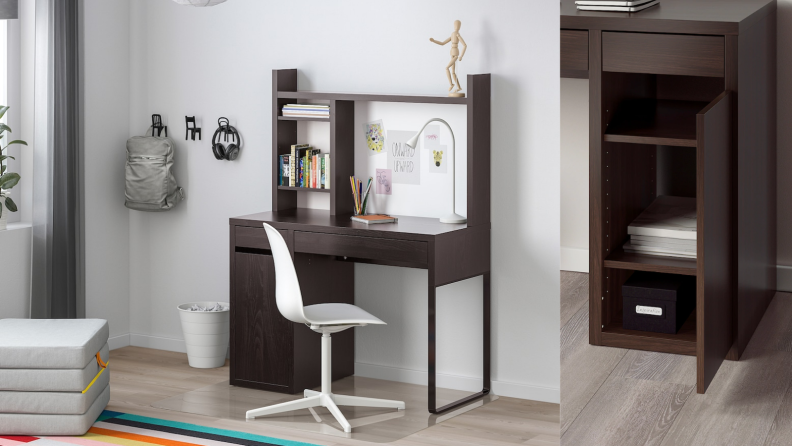 What's better than a desk with overhead shelving? Honestly, nothing. Nothing is better than that. I once had an office where my desk had this fantastic set of shelves just an arms reach away, right above my head, and it was the best thing ever. This desk provides you with exactly that, in the comfort of your own home.
While there's technically only one shelf above you, there are two shelves just to the left of the main workstation. Again, this brand loves its cupboard for modems which I certainly will not use, but hey. We can get creative and build our own shelving units inside, or something. The reviews are solid at 4.6 stars, with buyers saying they use this desk as an office staple, vanity, and even fixture in their kids rooms.
Get the MICKE Black-Brown desk from IKEA for $119
4. A brilliant white desk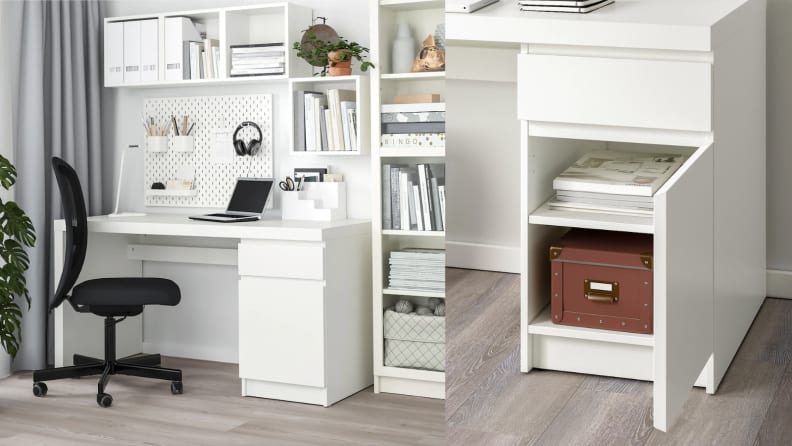 I don't know why seeing a white desk in the wild is so fascinating to me. I guess I need to get out more, because they seem much more common when you search for them. I suppose my shock and awe is mostly related to how afraid I would be of staining it with one of several possible somethings. Regardless, look at this beauty!
It has exactly what I want in a big cupboard-like storage space: built-in shelves! In the picture, a cute little box is nestled inside, and that's probably exactly what I would do. I'm also completely taken with the simplicity of this design; it's the perfect fit for someone who is all about function, and the fact that it's white makes it immediately glamorous. 10/10 would buy, if white wouldn't stand out bizarrely against my all-black furniture.
Get the MALM desk from IKEA for $179
5. A desk with modern chic flair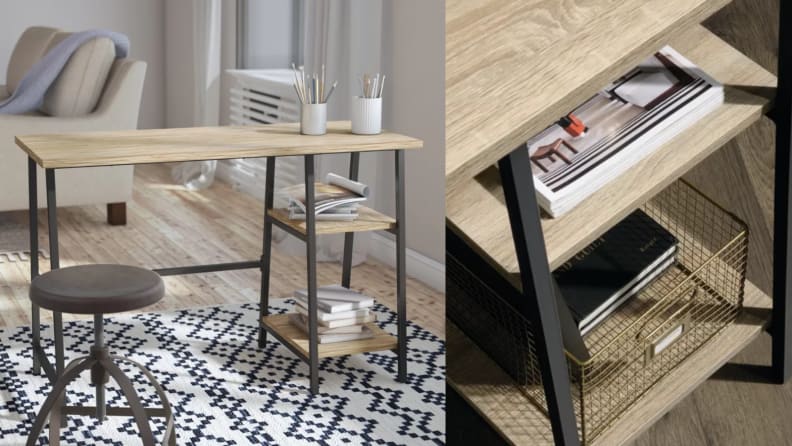 This desk is a mood. It's sleek with its metal skeleton and wooden surfaces, and it has all the right angles to make me feel like I'm looking at a very trendy artist's loft. I expect to see furniture like this in movies where the owner is just so aware of how cool they are; you know the type. They make fedoras look good and have rips in all the right places in their clothing, but they look like expensive rips.
Anyway. The desk. It's so cool, and I want one. I was also today years old when I learned that this is called a "writing desk." Something about the compactness of the shape and the extreme functionality outweighing the bells and whistles of, say, a bank manager's desk from old 1930s movies (I'm super into movies right now, apparently, and there's a lot of desk recall going on).
Clearly, I'm not alone in this new obsession: almost 3,000 people have reviewed this desk, and it holds a high star-rating of 4.7. Sign me up!
Get the Charter Oak Ermont Desk from Wayfair for $109.99
6. A desk with strong mid-century vibes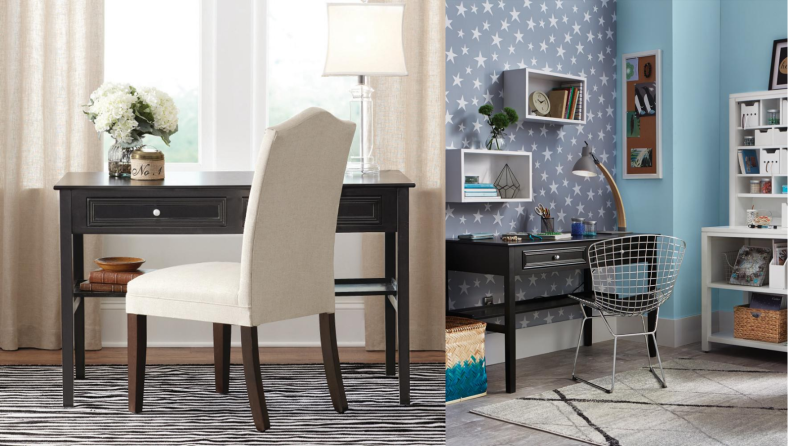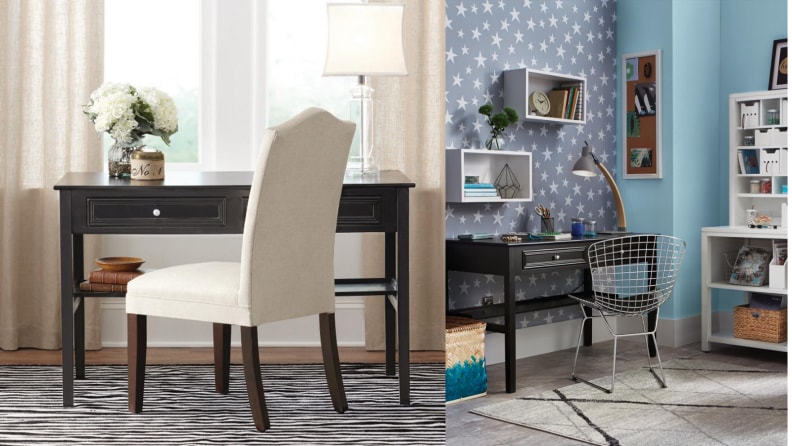 This is the kind of desk that would make me utter some sort of sound if I saw it in person. It's beautiful and, were I to add it to my collection, I would make absolutely certain to nestle it up against my black bookshelves.
It's another really simple writing desk, but this time, with 100% more storage in the form of two adorable drawers. There's also a clever platform underneath (where I would probably rest my feet) that I suspect is meant for items, such as books, notebooks, and plants that don't like a lot of light. It's made of wood with only a few embellishments in the overall design, including a few silver knobs. Another highly-rated item at 4.5 stars, and that makes perfect sense to me.
Get the Oxford Black Computer Desk from Home Depot for $154.10
7. The golden retriever of desks
This is the golden retriever of desks. If you look at it, you just know what it's meant to be. It has very efficient-looking storage space in varying sizes, it has the standard issue modem cupboard, and it even has an extendable keyboard shelf. It isn't fair to call it "simple" because it's not; compared to the others on this list, it's a cadillac. It's just not overdone. It has a purpose and it does it well; it desks well. And people agree—4 very solid stars from hundreds of reviews.
Get the Grey Complete Workstation Computer Desk from Home Depot for $195.11
8. An adjustable option for those who love variety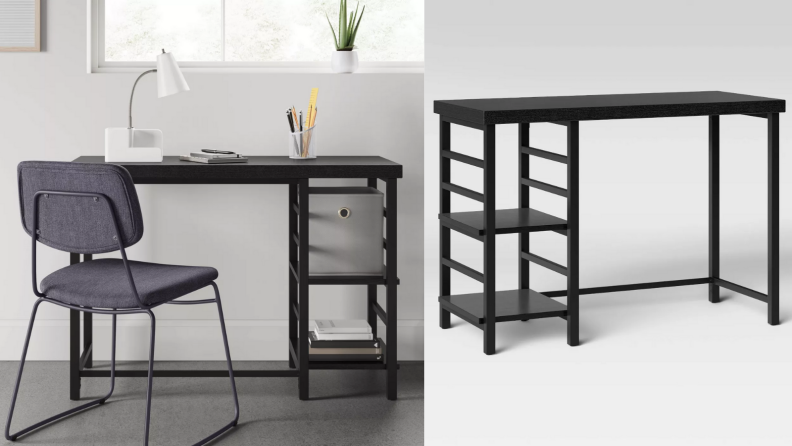 I love modular furniture. It's so freeing to know that you can transform it on a whim if you'd like, even though I probably never would (especially if I already have my stuff all over it). For an unexpected WFH situation, this is great. The price is right at $79.99, the desk space itself is expansive enough to hold all kinds of things, and it has adequate shelf space. No muss, no fuss, and it would fit well pushed up against a wall.
Get the Adjustable Storage Desk from Target for $79.99
9. This cubicle writing desk perfect for showing off your favorite things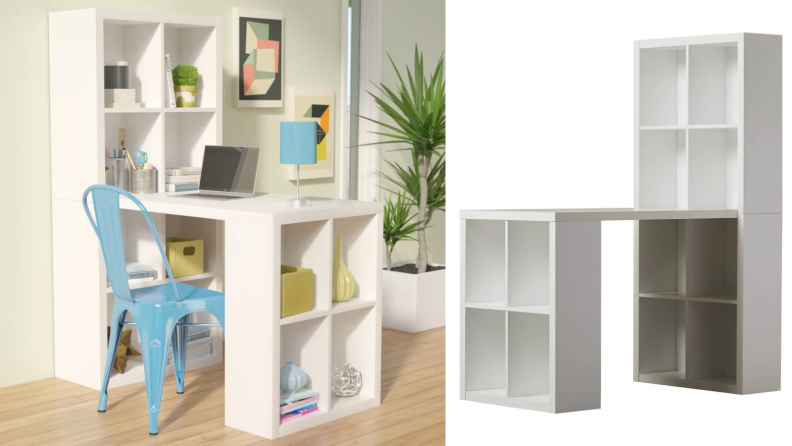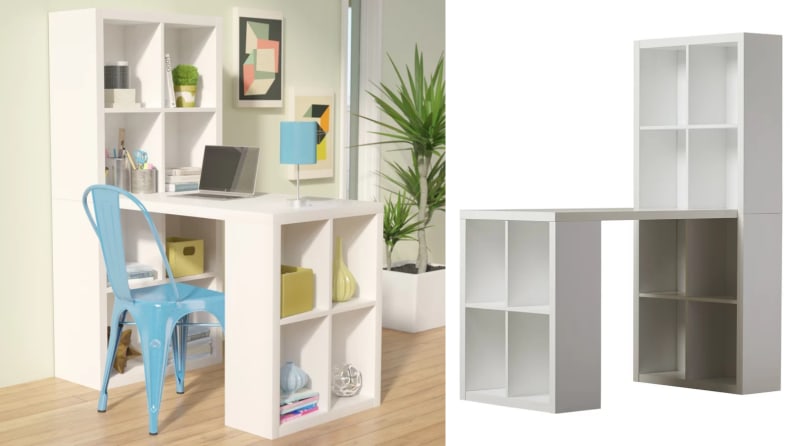 A desk that doubles as a way to store the best trinkets I own? I'll take three. This cubicle desk is perfect for those who love going straight from work-mode to hobby-mode, as the cubbies are perfect storage spots for crafts, pens, papers, and much more. Nearly 4,000 reviewers contributed to the 4.3 star rating on this desk, with buyers noting that it's easy to clean, looks just like the picture, and works well in small spaces. They caution that it's quite a heavy desk, which isn't surprising, considering it has about 400 nooks.
Get the White Hollow Core 12 Cubicle Writing Desk from Wayfair for $199.99
10. A desk that's reversible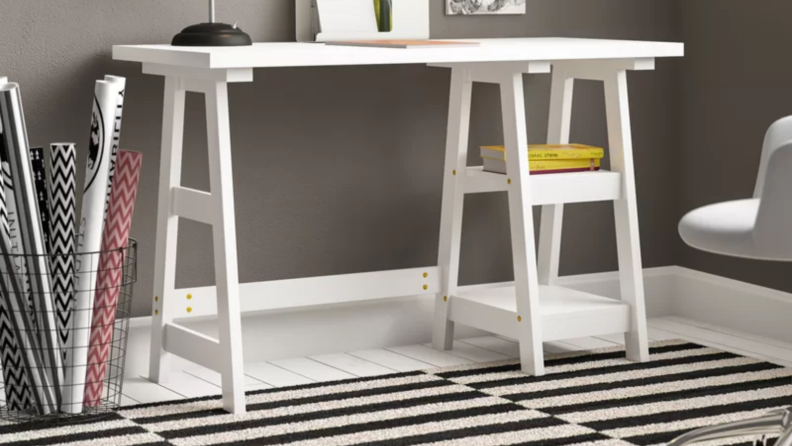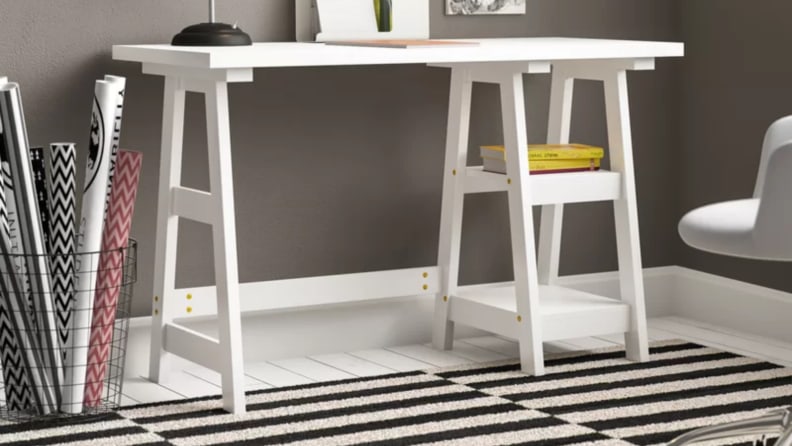 Really, any desk could be reversible, but this desk is meant to be. That means you can customize its look for your space, arranging it in whichever configuration works best for your setup. It comes in a whopping 11 colors, perfect for any room or task. I love its rustic look—it could just as easily fit in a handyman's garage as it could my bedroom.
This desk has more than 3,000 reviews at Wayfair, and has been described as "sturdy and attractive" by reviewers. Frankly, those are the exact words I'd like to hear used to describe a brand new desk.
Get the White Donavan Reversible Desk from Wayfair for $174.99
The product experts at Reviewed have all your shopping needs covered. Follow Reviewed on Facebook, Twitter, and Instagram for the latest deals, product reviews, and more.
Prices were accurate at the time this article was published but may change over time.