Home & Garden
Amazon Echo vs Google Home: who's more helpful in the kitchen?
Both can help you bake, but only one can be the best at it
Credit:
Little known secret about me, I love to bake. It doesn't matter if it's cakes, cookies, or bread, you name it and I've probably at least attempted to make it.
So when I found out the Google Home added recipes to its repertoire, I knew I had to try it out for myself. But, you've also been able to cook with Google's competitor, the Amazon Echo, for a while now. How was I supposed to know which one was more helpful in the kitchen?
I decided there was only one way to find out—a chocolate chip cookie challenge.
Amazon Echo with Alexa
Unfortunately, cooking with Alexa is a bit more complicated than just asking "Alexa, help me bake cookies." First, you had to log into your Echo account and activate the Allrecipes skill, which took a few minutes on its own. After that, I had to specifically call out Allrecipes by saying "Alexa, ask Allrecipes for a chocolate chip cookie recipe." Simply asking for a cookie recipe wasn't good enough. After I found a recipe I liked (Best Chocolate Chip Cookies), it was time to get baking.
After listing out the ingredients and the measurements for each, we started to bake. Alexa broke up the recipe in easy-to-use steps that I navigated by saying things like "Alexa, next step" or "Alexa, how much white sugar did I need?"
While it was a rocky start—and one time I had to quit the whole thing to start the recipe over thanks to a confusing set of commands and responses—overall it was a fairly painless process. I even asked for a few measurements to be converted just to see if she could. The Echo handled everything fairly easily and the cookies came out baked to perfection. And, lucky for me, there was plenty of leftover dough to snack on while I set up the Google Home.
Google Home with the Google Assistant
With the Google Home plugged in and setup, it was time to see if we could replicate the success we had with the Echo. Unlike with the Echo, there was no update or skill I had to find and activate. Instead, the Home had updated on its own and all I had to do was say "Hey Google, let's bake some chocolate chip cookies."
The Google Assistant responded by offering the exact same recipe for chocolate chip cookies as the Echo, which was way more convenient. How did the Assistant know what to grab? My guess is that it works like Google's "Knowledge Boxes" and that it was the same result you'd get if you'd just searched "Best Chocolate Chip Cookie Recipe" on Google.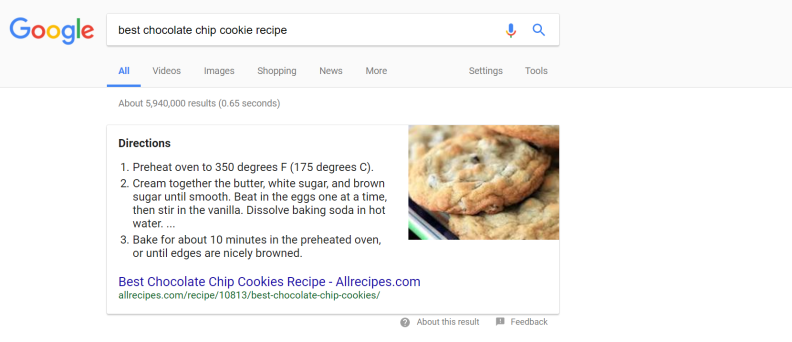 Unfortunately, this is where things started to go wrong. If I spent too long on a certain step—like creaming the butter and sugar—Google Home would seemingly forget we were in the midst of a recipe. I'd ask for the next step and instead of telling me I should beat in the eggs, I'd get a short description of a 2013 Canadian TV show.
It was frustrating enough that I really wanted to just look at the back of the bag of chocolate chips, but I persevered and was rewarded with nearly flawless cookies. It just took a while to get there.
Verdict
Honestly, while it was definitely neat to bake with a recipe being read to me, the technology just isn't quite there to make me feel like I'm living in the future. This was a pretty simple recipe and I had problems with both the Echo and Google Home. I'd rather just look at one of my recipe books when it comes down to it.
That being said, if you already own a smart speaker, it does have its uses. If my hands are covered in dough or some other food gunk, it's way nicer to be able to ask the Echo or Home for a measurement conversion or an ingredient alternative than getting stuff all over my phone. It's a fantastic concept that just needs a little time to improve. Hopefully, those improvements come sooner rather than later for the Google Home, though.
Where to Buy
Amazon Echo - $180
Google Home - $129
Related Video