Home & Garden
5 awesome plant ID apps to help you explore your own yard
We put them to the test to see how much they really know.
Credit: Getty Images / filmstudio
What is that growing over behind the rhubarb? Even if you're still a beginner gardener, in today's app-happy world, you never need to wonder about the name of that odd new weed, fabulous houseplant, or stunning flower in your yard. Snap a photo, and you can find out what that plant is—and depending on the app, you'll find out how often to water it, what soil it needs, and why the leaves are turning yellow, too.
We tested five apps to see what they had to offer.
1. iNaturalist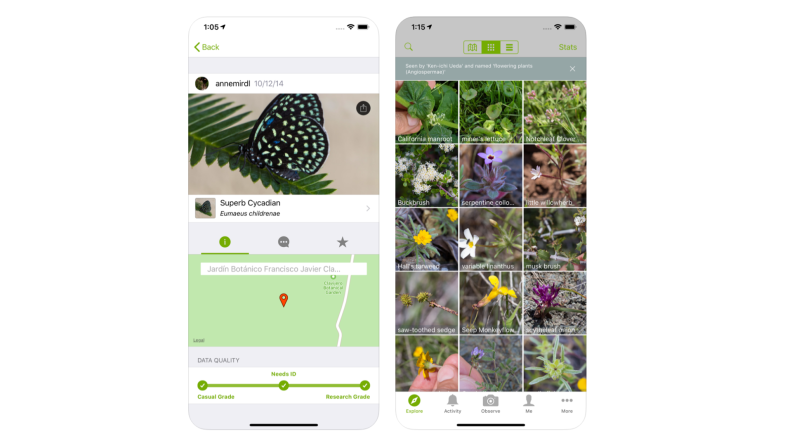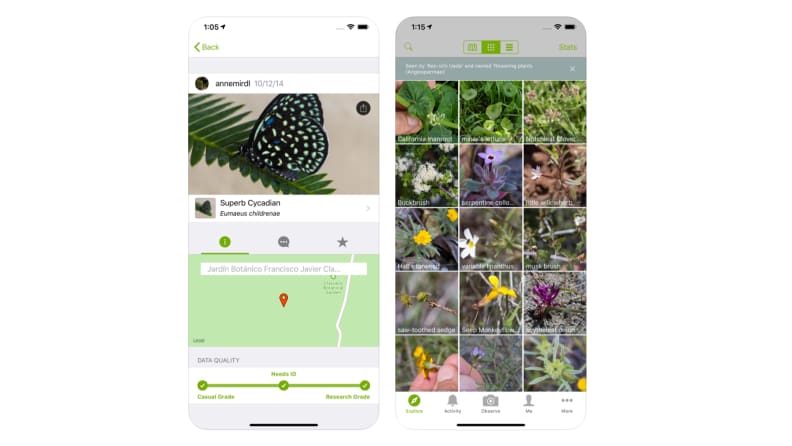 Works with: Android and iOS
Price: Free
iNaturalist is designed more for people who want to study the wild world than gardeners. However, the app's visual recognition software does a great job of recognizing houseplants and garden plants, as well as wild plants (or what gardeners call "weeds").
Developed by the California Academy of Science and the National Geographic Society, the app analyzes pictures uploaded from your phone and offers a list of suggestions. If none of those options look right, you can request crowdsourced suggestions from iNaturalist's social network. Select "More" in the bottom menu, and you'll get access to guides to plants and wildlife put together by local organizations in order of distance from your location.
In testing, this app did a great job of telling the difference between poison ivy and common East Coast lookalikes (Virginia creeper, raspberries, wild sarsaparilla), although it offered 10 different alternatives for wild carrot (Queen Anne's lace) from a single confusing photo of sprays of small white flowers. It was confused by the leaves of a potted avocado tree—offering a teak tree as a first choice, avocado second—but it was right on the money identifying wax begonias and coleus.
If you get tired of organisms that can't move, you can also identify birds, reptiles, insects, mammals, and pretty much every other living thing on the planet—if you can get a picture of them. Otherwise, you're just going to have to guess that rabbits are the ones snarfing up your string beans.
iNaturalist has a sister app called Seek, which is designed for younger naturalists. It offers just one guess for each photo, and awards badges to motivate users to identify more species.
2. PictureThis
Works with: Android and iOS
Price: Free
This easy-to-use app is very sure of itself, offering a single ID for a picture you upload. The ID also includes alternate names, the botanical (Latin) name, facts and common questions about the plant, and general growing information (height, season of bloom, water requirements, and how to propagate it).
You can also choose "Diagnose" on the home screen and get suggestions for what may be wrong with your plant, and how to cure it. PictureThis is a one-stop shop for garden plants and weeds, and it has an "Add to my Garden" feature so you can track your plants in the app.
Unfortunately, that certainty comes at a price. PictureThis misdiagnosed a poison-ivy-covered fence as Virginia creeper, and mistook raspberries for blackberries.
3. PlantNet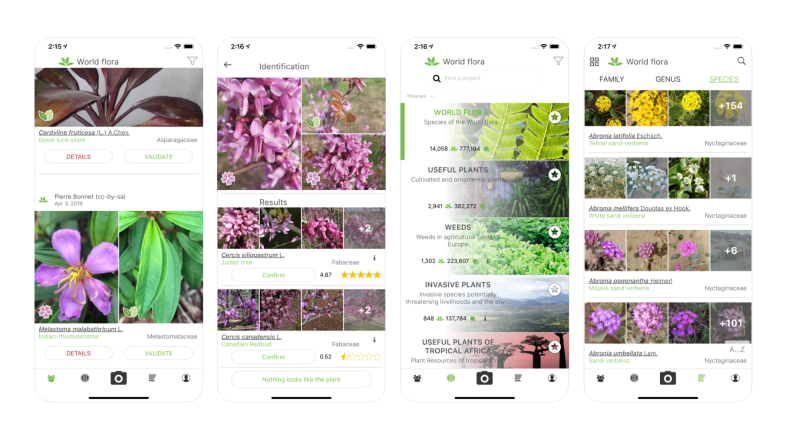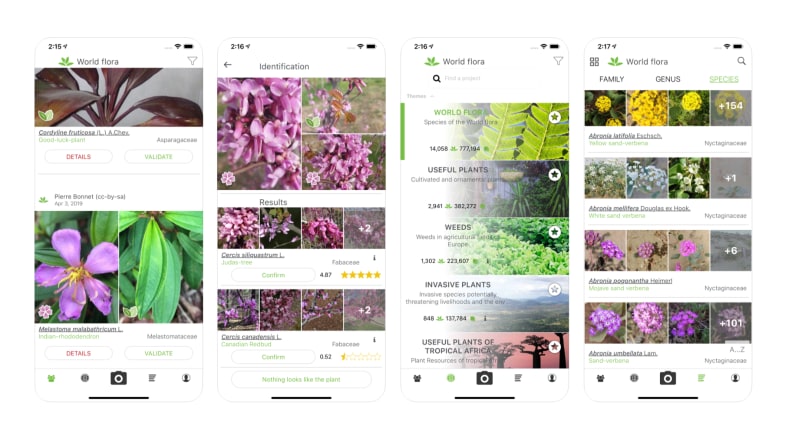 Works with: Android and iOS
Price: Free
PlantNet is a matter-of-fact, down-to-earth app that has one purpose: identify plants around the world. Created by a French research consortium, Plantnet offers a catalog of 8,268 U.S. plants, and more than 23,000 species worldwide. That's helpful when you're identifying garden ornamentals and houseplants, which frequently originate on other continents.
Choose your photo, then on the oddly named "Choose related organ" screen, you can select what part of the photo you'd like to identify: flower, leaf, bark, fruit, roots, a cut stem, or something else. You'll get a top answer with several other possibilities. In testing, this app was right on target for wild carrot, coleus, and even the avocado tree.
Then, the fun begins. You can see dozens of pictures of all parts of the plant, a link to the Wikipedia page for the species, and a special information page with common and botanical names (Did you know that Queen Anne's lace is also called "Devil's-plague"?), uses, its status as an invasive plant, and info from the Global Biodiversity Information Facility about its status worldwide.
4. Google Lens and Pinterest
Works with: Android, iOS, and laptops
Price: Free
You don't have to get a special app to identify plants. Both Google Lens—the app that comes with most Android phones—and the Pinterest app let you perform image searches from photos you save as pins. You can also simply drag or upload an image onto the Google search bar on your laptop.
The searches aren't perfect. Google identified a picture of poison ivy as a maple leaf, and Pinterest's image search for the same picture pulled up other leaves that were shiny but very differently shaped, including three different types of oak leaves. Still, if you're stumped, it's worth a try.
5. Rash Plants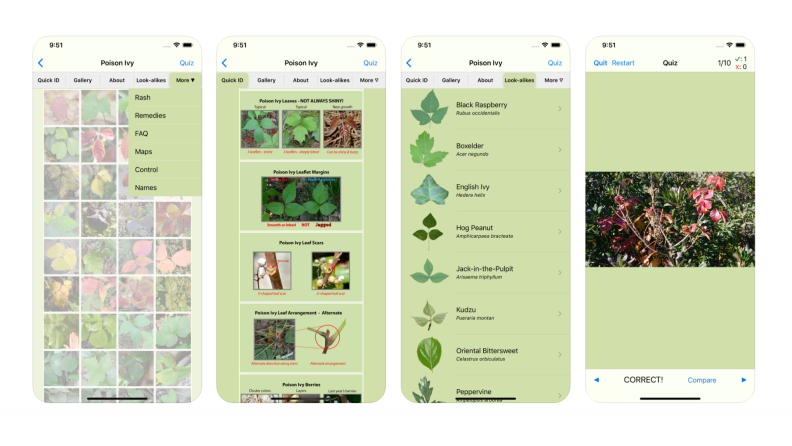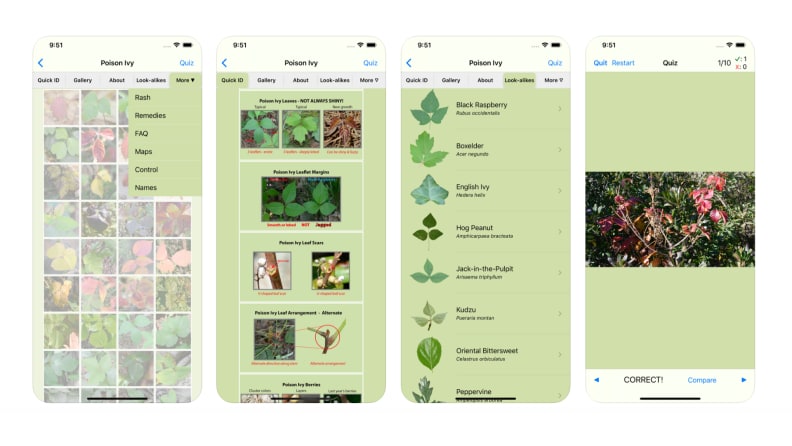 Works with: iOS
Price: Free
Rash Plants isn't an ID app exactly; you can't take a picture and have it tell you what plant you're looking at. But if you live in an area where you have poison ivy or poison oak, it's an excellent tool for helping to learn what these awful plants look like, and how to tell them apart from other common plants that resemble them (like Virginia creeper, which has five leaves in a bundle, not three). It's not the first app you should get, but you need to learn this plant sooner rather than later.
The product experts at Reviewed have all your shopping needs covered. Follow Reviewed on Facebook, Twitter, and Instagram for the latest deals, product reviews, and more.
Prices were accurate at the time this article was published but may change over time.