Line trimmers, string trimmers, weed eaters, weed whackers—whatever you want to call them, these slim, handheld tools are designed to make short work of garden and lawn maintenance. Yet unlike mowers, which are meant to be used indiscriminately over wide swathes of grass, trimmers are adept at nitty gritty details, deftly demolishing weeds around edges and ledges, such as patios, walkways, bushes, and flower beds.
So, over the course of a hot, wet (i.e., verdant overgrowth choked) summer, we've been putting electric trimmers from leading brands to the test. Eco-conscious consumers will find a lot to appreciate about our favorite, the lightweight and environmentally-friendly Greenworks 13-Inch 4 Amp Corded String Trimmer (available at Amazon). But if you prefer a cordless option, it's hard to hold a candle to the impressive whacking action of the full-throttle, 56-volt battery-fueled Ego. But whatever the needs of your unruly green space, one of the following models will more than handle the job.
Here's how the best string trimmers we tested ranked, in order:
Greenworks 13-Inch 4 Amp Corded String Trimmer 21212
Ego 15-Inch 56-Volt Lithium-Ion Cordless Brushless String Trimmer
Craftsman 30378 13" Electric Cordless String Trimmer
Black and Decker LST136W 40V MAX Lithium String Trimmer
Worx WG163 GT 3.0 20V Cordless Grass Trimmer/Edger with Command Feed
Ryobi One+ 18-Volt Lithium-ion Shaft Cordless Electric String Trimmer and Edger
Toro 51480 Corded 14-Inch Electric Trimmer/Edger
Makita XRU02Z 18V LXT Lithium-Ion Cordless String Trimmer
Updated August 20, 2018
Advertisement - Continue Reading Below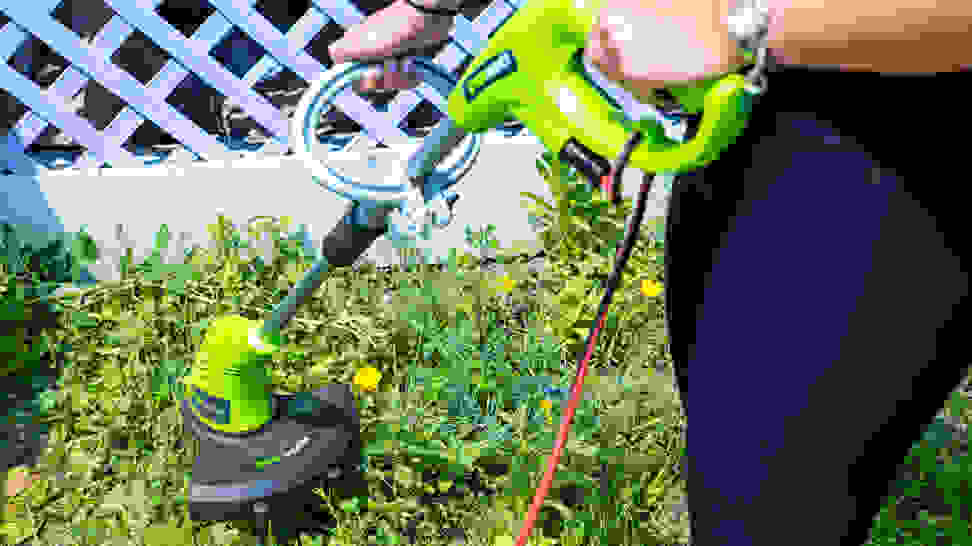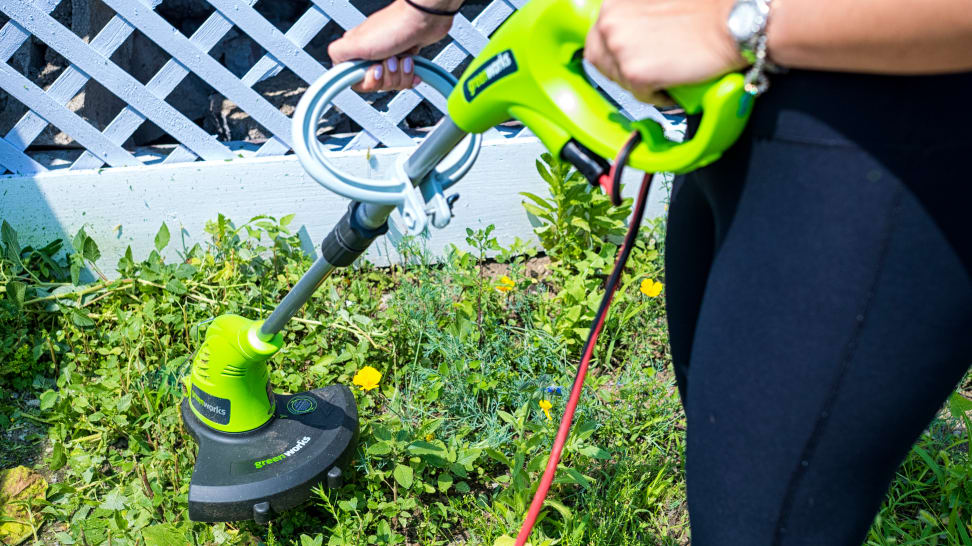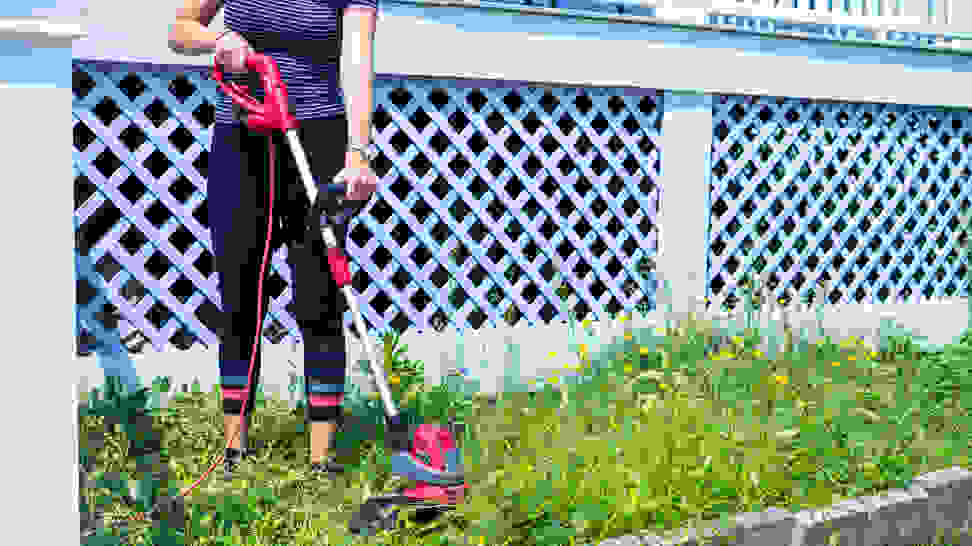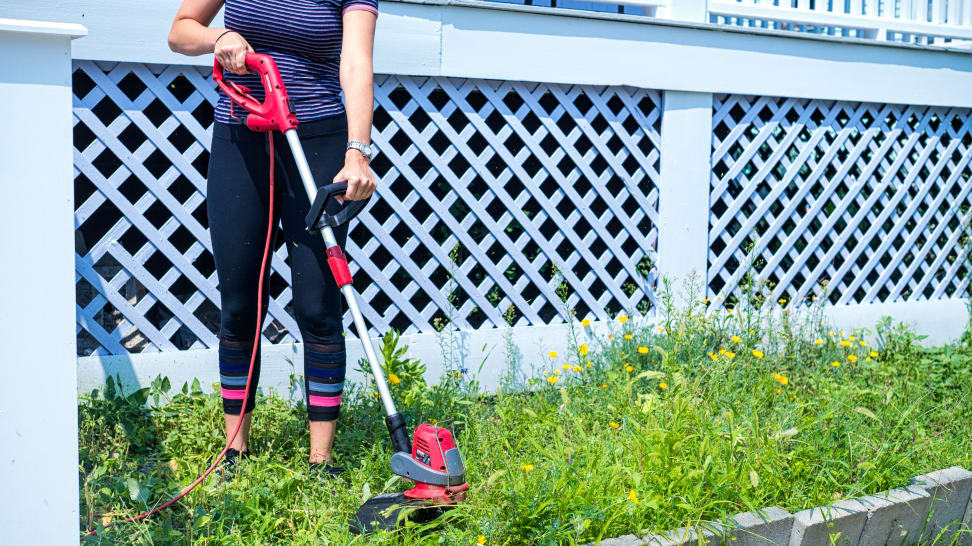 How We Tested
The Tester
My name is Sarah Zorn, and I'm a professional food and lifestyle writer. I'm also an amateur gardener, currently in possession of an urban garden—read: unpaved, gone to seed, apartment backyard plot. In my attempt to combat a relentless onslaught of weeds, I've regularly turned to line trimmers, which are able to groove around skinny spaces and funky corners and are a lot easier to store in a New York City one-bedroom rental, than a ride-on John Deere lawnmower.
The Tests
We assembled each trimmer, taking note of how clear the manual instructions were, how much set-up was required, and how easy it was to install a new string. We looked at safety features, such as locking power switches and trimmer guards. We also assessed how comfortable each unit was; if the weight was evenly distributed from top to bottom, if the controls were accessible, where the handles were situated, and if the shafts could be adjusted for better reach. Then we put the trimmers to work on both short- and long-growth grass, as well as tougher roots and weeds, seeing how quickly, efficiently and consistently they tackled each job, and maneuvered around edges and obstacles without running out of battery or breaking a string.
What to Look for When Buying Trimmers
While gas-fueled trimmers are generally preferred by professionals, electrical (corded or battery-powered versions) tend to make more sense for smaller properties and at-home use. Corded trimmers are generally lightest and least expensive and start with the push of a button. Yet they almost always require extension cords, which can be frustrating to wrangle while you're working. Battery powered models offer the mobility of gas, without pull-starting, fueling and fumes, but are heavier and more expensive than corded, and run between 30-60 minutes before needing a recharge. As far as cordless goes, look for options with a top-mounted motor, which tend to be better balanced (making them easier to handle) than models with motors mounted down near the cutting line. Also keep an eye out for amperage—averaging between 3.5-7.5—which generally affects the price, and assess how much power you really require for the size of your space.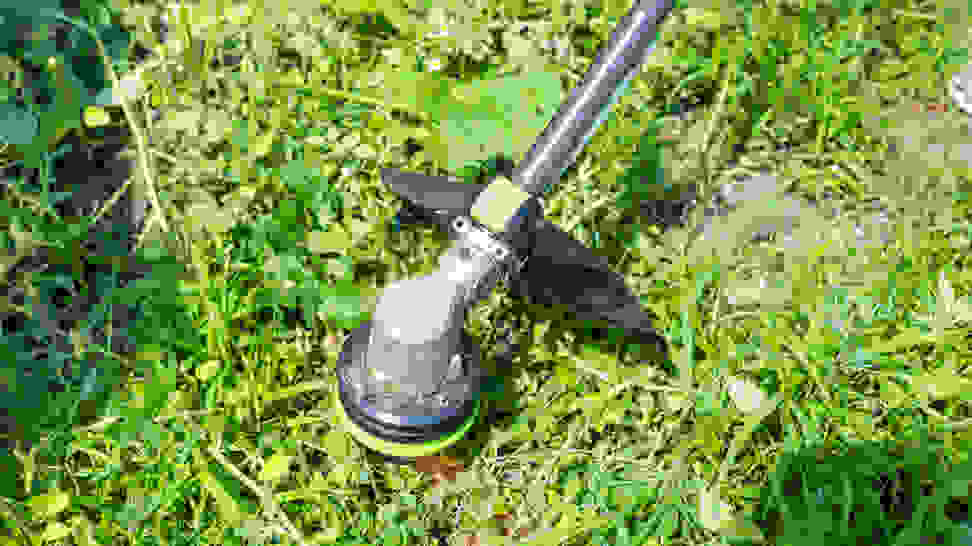 Whether you opt for corded or cordless, select a cutting swath (10 to 16 inches), that makes sense for what range you need. Curved shafts are best for light trimming, while straight ones are more heavy duty. Quiet motors or engines are obviously preferred, as are lightweight, balanced, and low vibration models as far as comfort goes. Thicker strings and dual nylon lines are most effective for tougher weeds and unruly yards, and trimmers with swivel heads assist with creating clean edges and finishes. Bump feed systems allow users to deliver lines as needed, while automatic feeds dispense line, well, automatically, so you don't need to stop in the middle of a job. And models are ideally equipped with spools, which make it easy to load a new line.
---
Other String Trimmers We Tested
Advertisement - Continue Reading Below