Home & Garden
Is a garlic press REALLY worth your money?
Will a garlic press make your life easier or more miserable?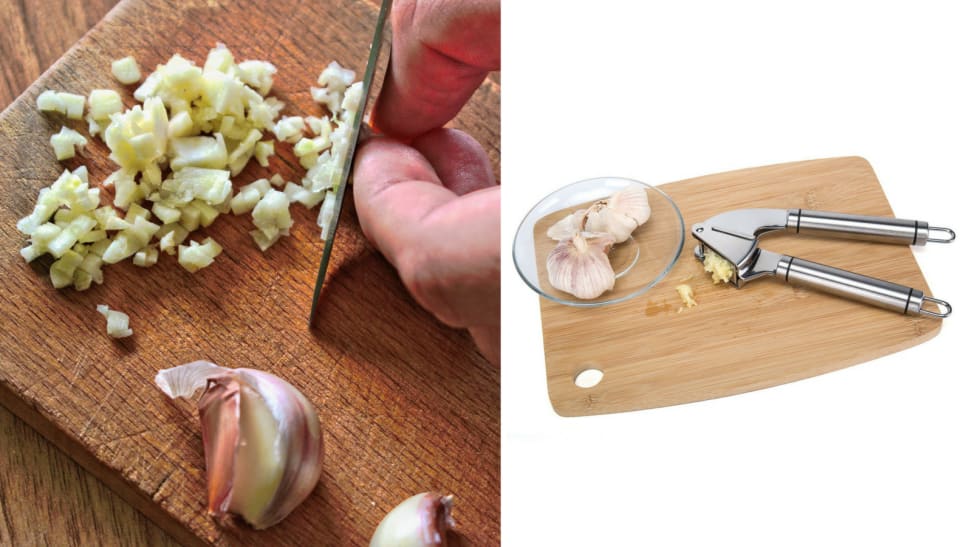 Credit: Amazon / Getty Images / Iwanyan
I love everything about garlic except the physical task of mincing it. It's not hard or difficult, just tedious – especially in a restaurant setting where you have to mince several heads of garlic at a time. You walk away with sticky hands that smell like the pungent allium no matter how many times you wash them.
I've tried everything I can to avoid mincing garlic—including pulsing it in the food processor and grating it on a microplane—but so far, everything creates less-than-stellar results. That's because garlic's delicate cells are easily damaged, and grated or processed garlic can be super pungent and burn easily.
Still, I'm willing to try anything to get out of this prep task, so I picked up Orblue Propresser Stainless Steel Kitchen Garlic Press ($14.97 on Amazon) to see if it was up to the task. Will the garlic press be the solution to my stinky prep blues?
The gadget in question
A garlic press is a convenient kitchen tool that can be used to quickly process garlic. They're not often used in the professional kitchen but they're popular amongst home cooks. While they've gotten some bad press for being a "uni-tasker" (only good for one thing), no one hates on a can opener so that's not a good enough reason not to disregard it!
There aren't really any bells and whistles for garlic presses, so we chose the Orblue Propresser Stainless Steel Garlic Press (the highest rated of all the garlic presses on Amazon) because it looked simple and sturdy. The gadget is easy enough to use: Slide a peeled clove of garlic goes into the hopper, then swing the arm shut to close the press, and give it a squeeze. Out comes very small, minced garlic—smaller than even I can mince by hand, and I spend a lot of time practicing my knife skills!
The everyday alternative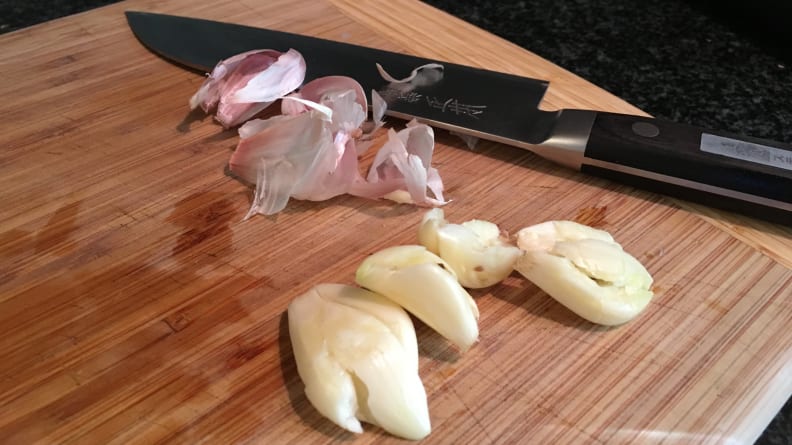 I would rather do any other prep task than chop garlic by hand using a knife. It's sticky and smelly, and it's nearly impossible to keep it from clinging to your hands or the knife (or both). But, it's not hard to do and if I'm going to take the time to peel a garlic clove, I may as well take the extra 30 seconds to chop it.
I like to start by crushing the garlic with the flat edge of my knife. This does two things: it makes the peel easy to remove and it gives me a head-start on mincing the garlic. Once it's peeled, all you have to do is chop, chop, chop. Move your chef's knife repeatedly over the garlic, rocking the knife back and forth as you move it over the pile of garlic.
These were the final results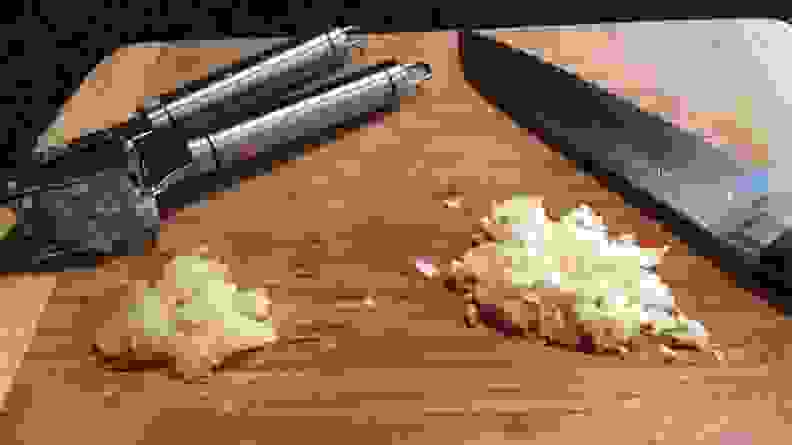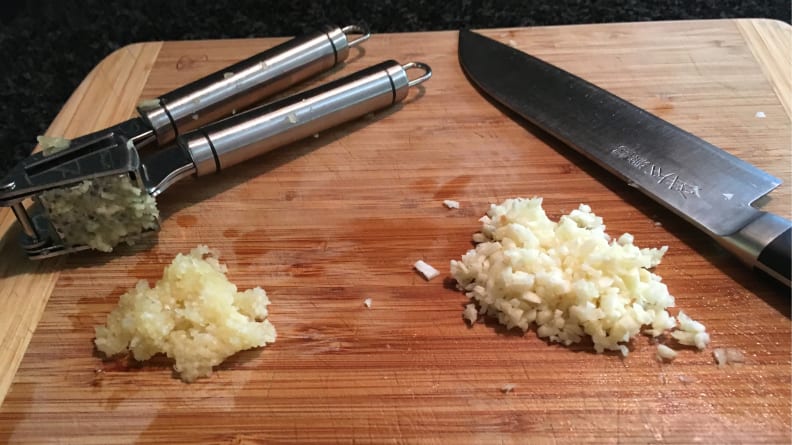 I hoped, dreamed, and wished that the garlic press would be better than the knife, but unfortunately, it was not so. The gadget's hinged hopper successfully pushed the clove through the tiny holes, but crushed the garlic in the process. The result was a pile of gooey, sticky chopped garlic that smelled especially potent. By comparison, the hand chopped garlic had distinct edges and its cell structure remained intact, which made the garlic press stuff look even more like garlic juice mixed into a thick paste.
The pieces also clung to the press's holes, reducing the usable amount of minced garlic. Not to mention the cleaning – the gadget should make life easier, but it was nearly impossible to clean all that garlic goo out of the press!
When we cooked up both sets of garlic, the flavor was much more intense from the garlic which came from the press. That could be a good thing if you love strong garlic flavors, but it was also juicier than the hand chopped garlic which made it hard to cook to a golden brown without going straight to burnt. In short, I missed some of the finesse that hand chopped garlic can bring to a dish.
The winner
When it came down to results, this was no contest. The gadget's garlic came out mushy, gooey, and gummy. There's no way they could possibly compete with the nicely formed, distinct edges of the hand chopped garlic, and it showed when I cooked up both batches.
While I'll choose the nicer garlic every time, the garlic press is certainly a convenient option if you're really trying to avoid sticky, smelly hands. I'm not into the less-than-stellar results, though, and I figure if I'm chopping vegetables for dinner anyway I may as well chop up the garlic, too.
Get the Orblue Propresser Stainless Steel Kitchen Garlic Press for $14.97 on Amazon