Home & Garden
7 steps for using a sod cutter when you want golf course grass
Move grass quickly and easily with a sod cutter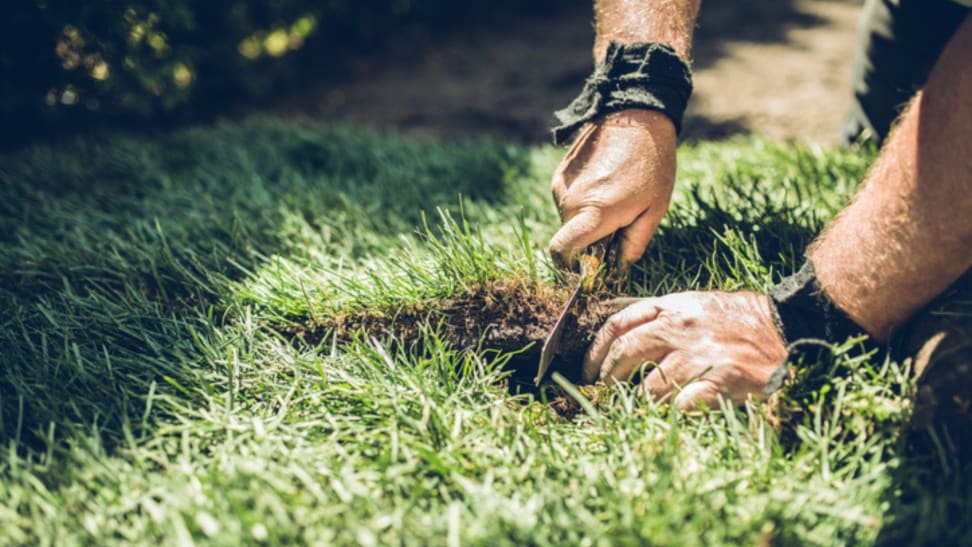 Credit: Getty Images / Warchi
Want a fresh look for your landscape with an aesthetic that rivals the poshest of golf courses? You know you do. No matter how nice your yard looks, there's always one little area that has grass in the garden bed or dry patches in the lawn that gets overlooked.
A sod cutter is the tool you need to peel away the top layer of your lawn and soil to prepare the ground for a new blanket of healthy green grass. Aside from redoing your yard, a sod cutter is also useful for removing grass to modify flower beds and construct patios, paths, and other hardscaping in your yard.
What is a sod cutter, you ask?
A sod cutter is a heavy-duty yard tool that removes the top layer of your lawn in strips. A blade digs into the soil to remove a thin layer of dirt, along with the grass and its roots.
There are manual sod cutters that require the user to push the blade into the ground to cut the sod, making it appropriate for use in small yards or for small tasks.
For larger yards, renting a motorized sod cutter from a local hardware or lawn care store makes it much easier to do the work.
How to use a sod cutter with these easy steps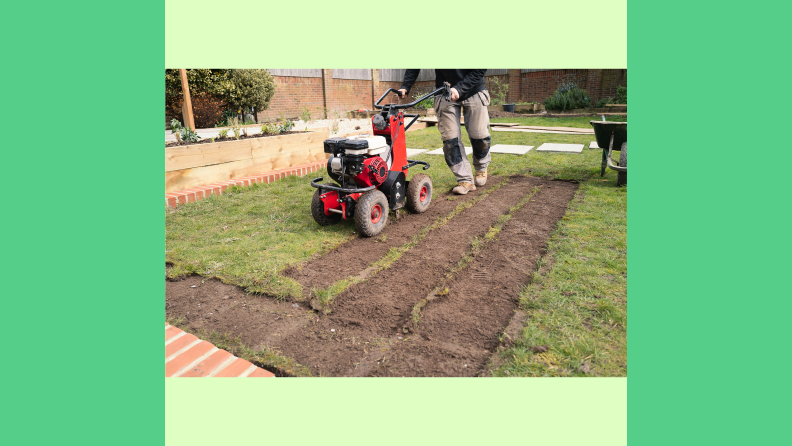 Use a sod cutter any time you need to remove the top layer of dirt and grass.
Whether you want to replace the lawn with new seed or sod or remodel your landscape with pavers, concrete, gravel, or other hardscaping, a sod cutter will remove the grass and level the earth to prepare it for whatever material you plan to lay down next.
Step 1: Water your lawn
Cutting sod is a laborious task even if you're using a motorized model, but it's much easier when the soil is moist. It's great if you can time the work for after a rainstorm, provided there aren't mud puddles in the grass.
Or, you could simply give it a good watering in the days leading up to removing the sod. Ideally, you want the top couple of inches of soil to be moist, which makes it easier for the blade to go through the soil. You can test it by inserting a screwdriver into the soil; if it's easy to push in, the soil is workable.
Step 2: Mow your grass
You'll also want to mow the grass short—set the lawn mower blade to the lowest setting for the type of grass—so that you don't make double work for yourself.
A fresh mow is always a good idea when performing any type of lawn care because it allows for easier access to the roots and soil.
Step 3: Mark your territory
Before you start cutting sod, be sure to remove all yard objects and mark off any areas in the grass that you want to avoid, like sprinkler heads or tree roots.
If you are only removing part of your lawn, use spray chalk to mark off the areas of the grass so you don't cut too much.
Step 4: Perform maintenance before starting
Make sure the blade on your sod cutter is in good shape before beginning. It should not be cracked or worn down, otherwise you could do more harm than good. The blade should be about as sharp as a butter knife.
Ensure that the sod cutter's hardware is in working order, too. For example, check tire pressure and examine the belts or cables to see that everything is secure.

Step 5: Dress for the job
Before operating your sod cutter, you'll want to take some safety precautions for yourself. Wear work gloves, safety glasses or goggles, and ear plugs.
Also make sure to wear heavy-duty shoes or boots. Keep feet away from the bottom of the machine, as well as all animals and humans when it is in operation.
Step 6: Get started
Motorized sod cutters will vary by brand, so make sure to follow manufacturers' guidelines for use.
In general, set the blade so that you are cutting anywhere between three-quarters of an inch to an inch. This is a good depth, because it allows you to get enough soil to keep the grass roots intact, but it won't make the sod strips too heavy or unwieldy to remove. Start up the machine and let it warm up for at least a minute.
Set the blade to the correct setting. If you simply want to remove the sod, three-quarters of an inch should do it. But, if you plan to replant it elsewhere, you can go to 1.5 inches or deeper. (You can follow these measurement depths if you are using a manual sod cutter, like a sod cutter knife, too.)
The motorized sod cutter will start to vibrate—that's how the blade is able to cut into the soil. Engage the control levers to activate the machine and the blade, then move the machine forward in a line to cut the sod.
At the end, release the levers and allow the machine to stop moving. Raise the blade so that it cuts through the soil to trim off the edge of the row of sod. Unlike when using a lawn mower, you will have to disengage and re-engage the control levers with each row in order to cut the strip of sod.
The sod cutter does the work, but your job is to keep it steady. Be careful on slopes; work at a 45-degree angle to avoid the machine tipping over. Also, be sure that nothing except the grass gets in the way of the blade.
Step 7: Cleaning up the sod cutter
Sod cutter blades tend to be less sturdy than lawn mower blades, so you risk damaging the machine if it goes over anything but grass. When you have to move the sod cutter to another spot in your yard or back to storage, make sure to pull the blade up fully so that it doesn't hit any hardscaping.
When you're finished using the sod cutter, be sure to rinse off any dirt, grass, or other yard debris from the wheels and other parts before putting it back in storage.
Redoing your turf is hard work, but a sod cutter makes the job much easier. Once the soil is grass-free and level, you are ready to lay seed or new sod. If you are reusing the sod that has been removed elsewhere, it's best to replant it soon after, but certainly no more than a day or two later to keep its freshness.
Other sod cutter garden tools for grass removal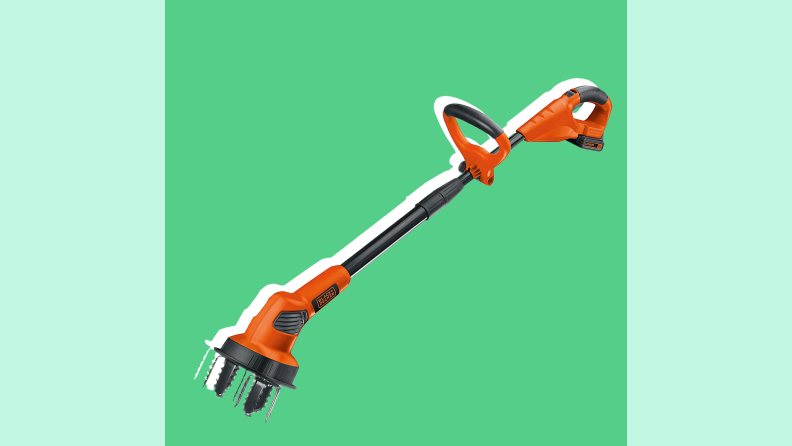 There are a variety of other yard tools that can be used to remove sod from your yard, like a tiller. The tool's slicing and twisting motion churns up the top layer rather than removing it in strips like a sod cutter. It still gets the job done, but know that if you use a tiller before resodding or reseeding, you will have to level the ground first.
One benefit of a tiller versus a sod cutter is that a tiller makes it possible to reuse the discarded grass and soil, which has retained the soil's nutrients, to fertilize the new grass. When you remove the top layer as strips of sod, on the other hand, the nutrients disappear.
Using a sod cutter hand tool is a neater and more exact process than tilling, because you are removing layers of soil and grass that can be replanted elsewhere. A knife-style sod cutter has a long and sharp blade and handle that you can use to slice up layers of grass into easy-to-remove chunks. It is also a more affordable alternative to purchasing or renting a motorized sod cutting machine, but it requires more manual labor as you have to exert strength to cut through the earth.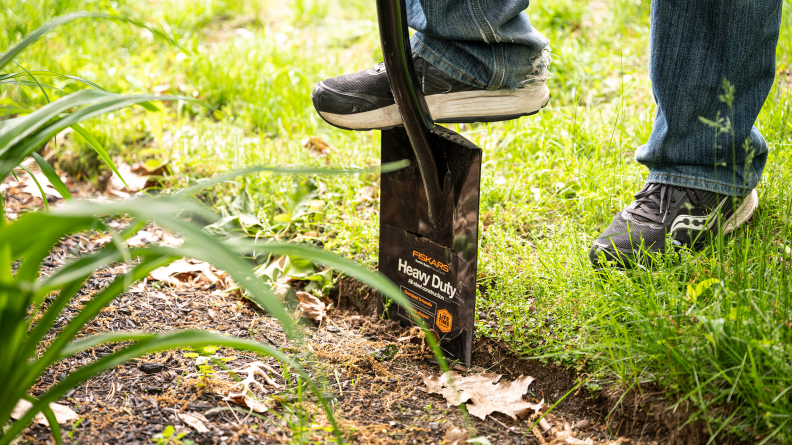 A lawn edger, shovel or garden spade can also be used to cut up areas of sod. The flat blade of a garden spade is also a helpful tool for sliding under a pile of cut-up sod for easy removal. Alternatively, a garden fork can also help cleanly remove chunks of grass to be loaded up in a wheelbarrow and carted to another area for replanting in your yard.
While a sod cutter does require a fair amount of work, it does prepare the ground more quickly for whatever you'll be installing there. Another benefit of using a sod cutter is that it removes weeds and any other problems that might have been afflicting the current grass.
While you can reinstall the sod elsewhere in the yard, the alternatives are to create a compost pile or dispose of it (in accordance with your local laws). Depending on how much sod you remove, its disposal might even require more work, so keep this in mind when planning your yard maintenance project.
The product experts at Reviewed have all your shopping needs covered. Follow Reviewed on Facebook, Twitter, Instagram, TikTok, or Flipboard for the latest deals, product reviews, and more.
Prices were accurate at the time this article was published but may change over time.