Home & Garden
I use a $200 trash can—here's why it's worth it
Even Oscar the Grouch would approve.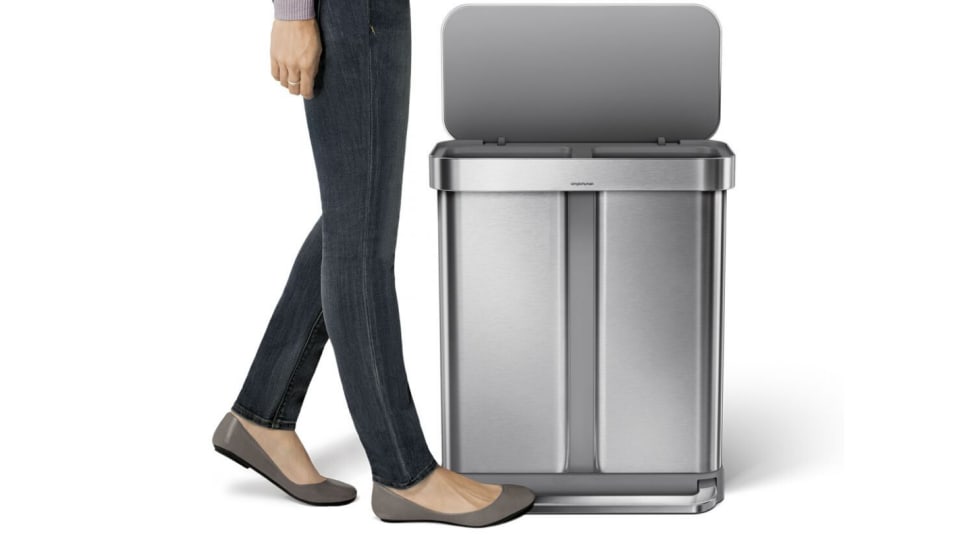 Credit: Simplehuman
Americans generate 4.51 pounds of waste per person every day. And in my household of four, the trash piles up before I even get the chance to toss it into our outside garbage can.
For years, empty seltzer cans and vacant cardboard boxes would litter my kitchen countertop. So, I did what I usually do when I need a quick solution to fix a major problem in my household: I opened the Amazon app on my smartphone and started scrolling, looking for a solution that would neatly contain my recyclables until I was ready to take them out at the end of the day. I found the Simplehuman Dual Compartment Kitchen Step Trash Can and decided to purchase.
It turned out to be the answer to my prayers: a $200 trash can that not only holds my everyday garbage but my recyclables, too. With 4.5 stars out of 3,299 Amazon reviews, I had to give it a shot. So, before you balk at the price, hear me out.
Simplehuman trash can design combines fashion and function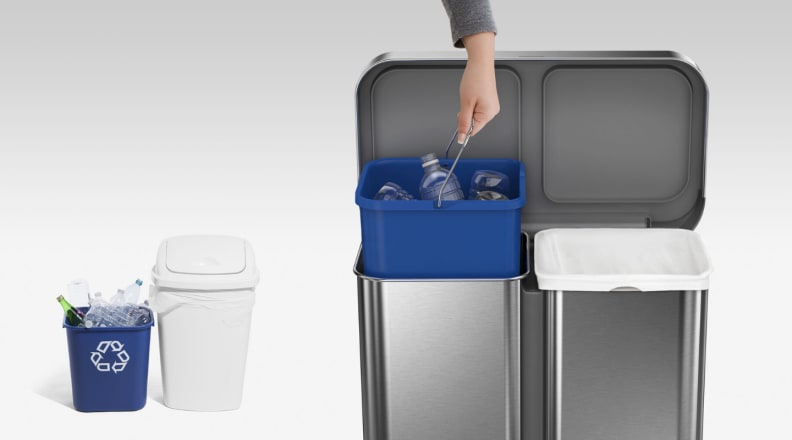 Simplehuman makes the best kitchen trash cans, so it came as no surprise to me that I loved the company's upgraded take on a basic kitchen trash can. The trash can comes in black, rose gold, and brushed stainless steel. I opted for the brushed stainless steel color so that it blends with the rest of my kitchen appliances.
The dual compartment design from Simplehuman features a designated spot for recycling and an adjacent space for your trash—and it's awesome. My favorite thing about this trashcan is that the recycling side has a rectangular blue bucket, which holds your recyclables in place until you're ready to properly dispose of them. When that time comes, just pull up on the handle attached to the blue bin and lift the bin out of the can to dump in your recycling bin or chute.
And, while you can't tell by looking at it, the trash can is covered in a fingerprint-proof coating that's blended with nanoparticles to keep your can as germ-free as possible. The particles prevent microbes from reproducing, which seems like something all kitchen trash cans should have. The fact that it doesn't easily show fingerprints makes this trash can a real winner in my book (especially if you have kids). Another feature to love is the steel pedal at the base of the trash can, offering an easy, hands-free way to throw away your garbage. The soft-closing lid is also a nice touch.
However, as much as I love this trashcan, the design could use some work. Whenever I dump the recyclables from the bin into my outdoor trash can, the handle falls in front of the opening and prevents the larger pieces of trash from getting out. I'd love to see a clip or lock of some kind added to future versions in order to prevent this from happening.
My only other gripe is that I wish it were slightly larger. I don't have a ton of extra space in my kitchen but even just an extra few inches of width would be great to help hold some additional garbage.
What trash bags fit the Simplehuman trash can?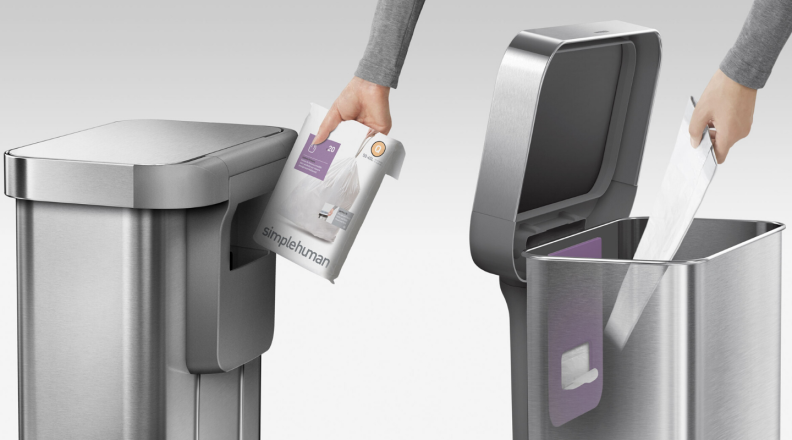 The trash can portion isn't much different than any other trash can you've used before, but the size of the garbage compartment isn't the size of most standard kitchen trash bags. For optimal use, it's best to buy Simplehuman's drawstring liners. One way to save a little bit of money is to buy these bags using Amazon's Subscribe and Save program made specifically for this size can. Luckily, a sample pack of custom-fit trash bags is included with your purchase, so you can test them out to see if you like them.
There's also a designated space on the backside of the trash can that holds extra Simplehuman trash bags. It may not sound like much, but it's a lot easier to reach behind the can and grab a new bag rather than digging under my cluttered kitchen sink looking for a replacement bag.
I've tried using the standard 13-gallon kitchen trash bag size in there before, and it's a little too big to stay in place unless you do some jury-rigging to it. And even that's not always a sure bet that the 13-gallon bag will stay in place. You're better off buying the Simplehuman Code H trash bags. Buying them with Amazon's Subscribe and Save program can save you up to 10% off the total cost of the bags.
Is the Simplehuman garbage can worth it?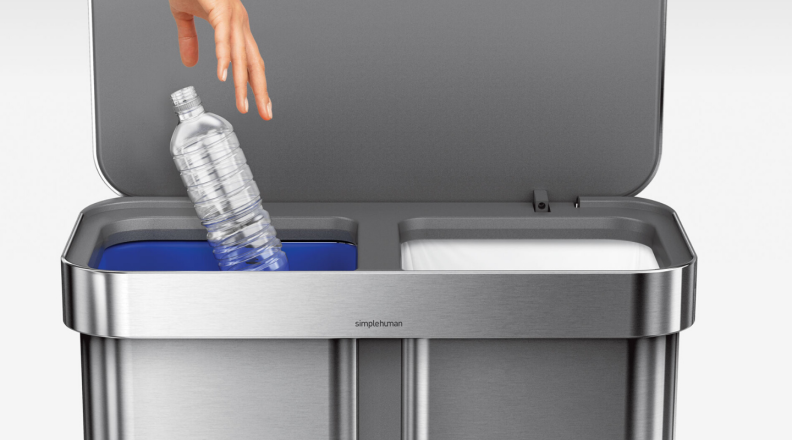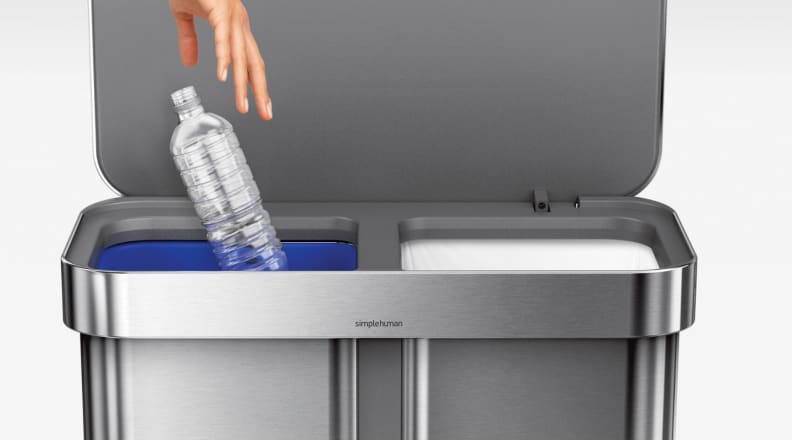 It may sound like a lot of money to spend on a contraption that's sole purpose is to hold your household waste until you're ready to dispose of it for good, but investing $200 into the overall cleanliness of my home has proved to be worth it. I know what you're thinking—why don't you just buy two trash cans? Well, my kitchen is tiny and therefore I don't have any extra space to store multiple trash cans.
Under-the-sink trash cans and recycling are popular options in some homes but my circa-1955 house wasn't designed with much functionality in mind, so the Simplehuman Dual Compartment Kitchen Step Trash Can is an easy, space-saving solution that's transformed how my family handles trash.
Not to mention, we're recycling more now than ever before because we finally have a designated space that the entire family can place their used recyclables. I empty the can once every day or two, depending on how much is piling up inside.
The product experts at Reviewed have all your shopping needs covered. Follow Reviewed on Facebook, Twitter, and Instagram for the latest deals, product reviews, and more.
Prices were accurate at the time this article was published but may change over time.