Home & Garden
The 20 best gifts for kids of 2018
Because your little ones were actually quite great this year.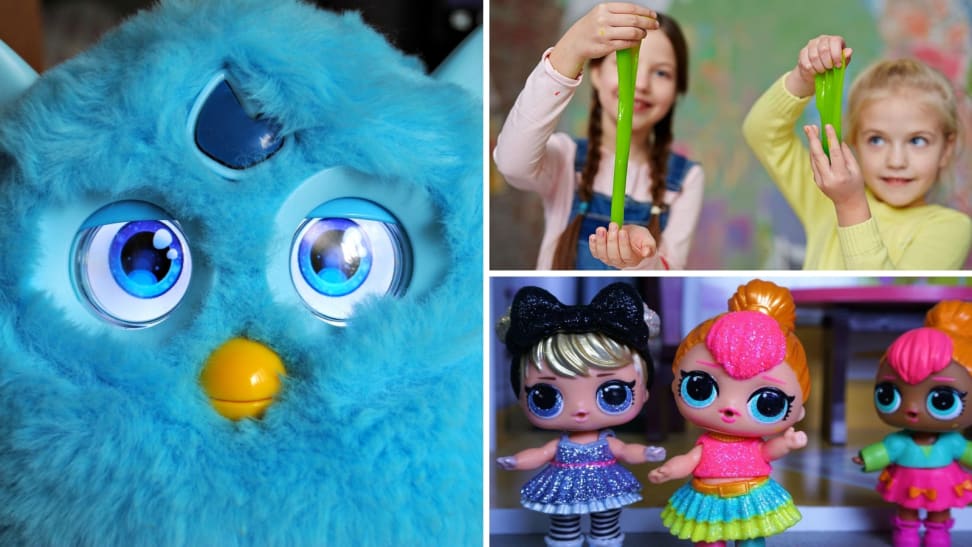 Credit: Mom Luck, Amazon, YouTube.com / Baby Dolls & Little Girls
Let's face it. Finding the best gift for your tiny tyke is anything but easy. Do you go with the creepy (possibly sentient) toy or the classic toddler trucks? With so many options available these days, the whole process is really overwhelming.
If you're not sure where to start, don't worry! We'll guide you every step of the way. Whether you've got a teething baby (my condolences), a giddy gamer, or an aspiring architect, there's something for every type of kid and baby on this list. These are the best gifts for kids of 2018, according to Reviewed:
1. For the budding engineer: An introductory robot toy
If your child loves to take apart remotes and other electronics, they'll probably love the Wonder Workshop Dash robot. It can respond to voice commands, sing little tunes, draw pictures, and move all around. You can also attach a xylophone and teach it to play. The possibilities are endless and user reviews on Amazon back it up with nearly 5-star ratings overall. It's an excellent introduction to robotics and programming for any kid who's interested in coding and tinkering.
Get the Wonder Workshop Dash Robot at Amazon for $145.79
2. For the doll lover: Trendy collectible dolls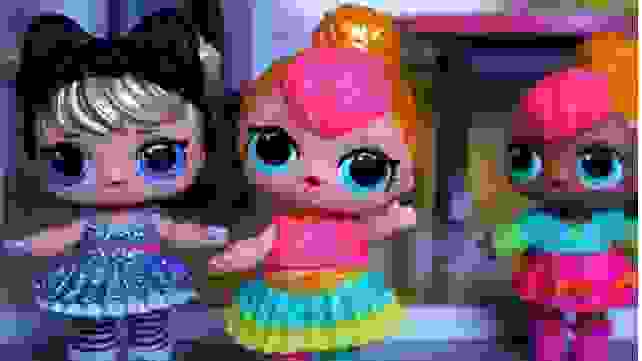 My niece absolutely loves these weird little dolls. Almost every time I visit her house, she comes galloping down the stairs with dozens of L.O.L dolls in her arms. If your kid enjoys collecting things, these miniature figures are perfect for just that, as there's well over a hundred of them. The plastic ball they come in can even be used as a carrying case, too.
Get the L.O.L Surprise Doll at Amazon for $10.99
3. For the Nintendo nut: A popular Nintendo Switch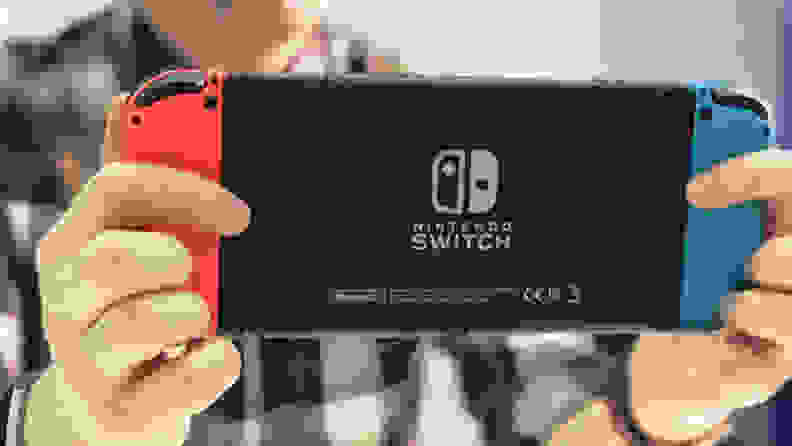 I can't recommend the Nintendo Switch enough. Not only does it work as a home gaming console, you can use it as a handheld as well. Between the versatile hardware and the wide variety of games that are great for kids and the whole family, you're getting a lot of bang for your buck. Nintendo is the most family-friendly console, too. Plus It's the only console that doesn't support voice chat, so you don't have to worry about your kids chatting with strangers online when they play.
When it comes to games, popular titles like Mario Kart 8 and Legend of Zelda: Breath of the Wild are classic options to start with. Plan on taking the Switch with you on a plane? We'd recommend packing it inside the RDS Game Traveler Deluxe Travel Case, which is our favorite Switch carrying case, as it's super rugged.
Get the Nintendo Switch at Amazon for $299
4. For the destructive kid: A kid-friendly Amazon Fire tablet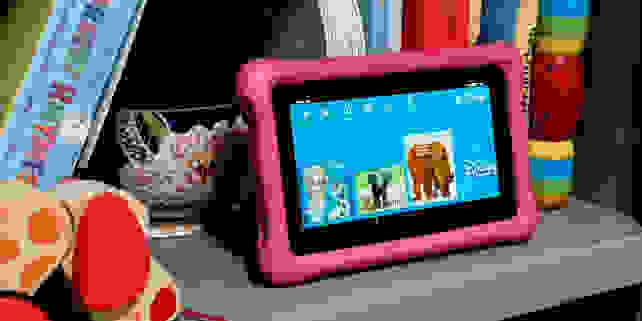 Whether you've got a messy or destructive kid on your hands, the Amazon Fire Tablet Kids Edition is great for the accident-prone, and our top choice for the best tablets for kids. Not only does the case protect against bumps and drops, but the parental controls are robust as well. You can set daily limits and educational goals and even block access to games. There's also a two-year, no questions asked guarantee, meaning Amazon will replace the device for free if anything or anyone happens to it.
Get the Amazon Fire Tablet Kids Edition at Amazon for $99.99
5. For the chef-in-training: A fun Playdoh baking play set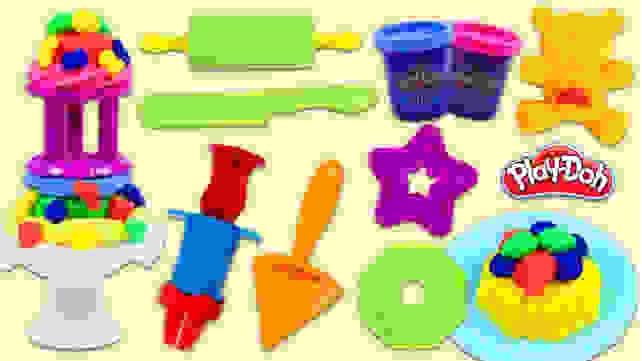 Does your kid like to make pretend cakes and pastries out of Playdoh? If so, you'll want to check out this Playdoh kitchen on Amazon. It includes everything from cake molds to frosting tools. Not only does it make for a great rainy day activity, it will keep younger kids entertained for hours.
Get the Playdoh Kitchen Creations Frost 'n Fun Cakes Playset at Amazon for $9.74
6. For the future DJ: The best kids headphones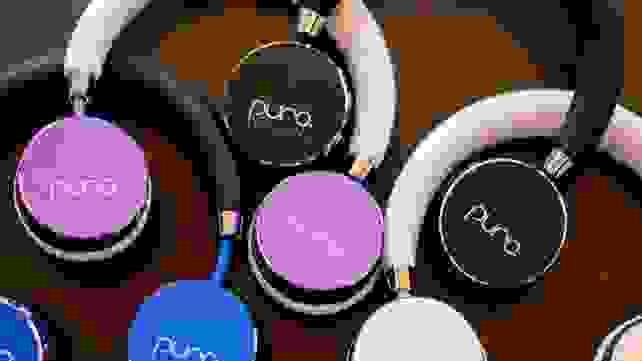 If you want to get a new pair of high-quality, safe headphones for your music-loving tot, look no further. Between the long battery life and comfortable over the ear fit, the Puro Sound Labs BT2200 headphones have a lot to offer. After testing all the top options, we named Puro's headphones the best headphones for kids for those features as well as their consistent ability to play only at safe levels for developing ears.
But you should note that while they should fit elementary-aged kids just fine, they're a little big for toddler-sized ears. They're also a little pricier than most kid headphones. If you're on a tight budget, the Sakar Hello Kitty Headphones are our top choice for best value kids headphones, as they're still safe for little ears but typically cost under $20 and have fun, popular designs.
Get the Puro Sound Labs BT2200 Headphones at Amazon for $99.99
7. For the gamer: Our favorite Xbox controller
The Xbox Elite Wireless Controller is our favorite Xbox controller. It's unique because you can swap out the joysticks and directional pad. This is cool if your kid likes to tinker with hardware, as this isn't a common feature among gaming controllers. However, the biggest selling point here is that it's very comfortable to use, meaning your budding gamer can grind away at Minecraft or Fortnite for hours on end. That said, it's also expensive, so it might be a better gift for an older or more responsible kid.
Get the Xbox Elite Wireless Controller at Amazon for $146.98
8. For the flyer: An affordable drone
The Potensic T25 drone is our top pick for drones under $200. Not only does it have a 1080p camera built right in, but the GPS gives it rock-solid stability. That means you can release the controls and the drone will stay exactly where you leave it. As you may or may not know, these flying machines tend to crash with alarming frequency, so it's probably a more suitable gift for an older child.
Get the Potensic T25 Drone at Amazon for $169.99
9. For the night owl: A light-up plush pillow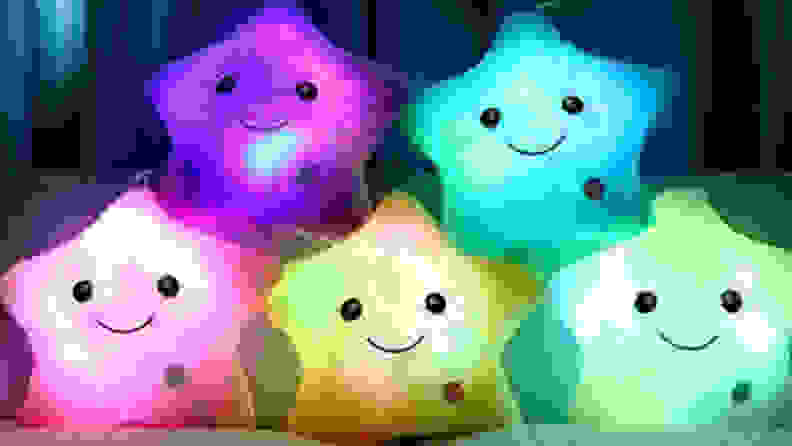 If your little one has trouble sleeping at night, you'll definitely want to get your hands on this light up plush pillow. Not only is it super adorable, it's a great alternative to the traditional nightlight. It also automatically turns itself off after thirty minutes, so you don't have to worry about your kid falling asleep with it. According to the reviews on Amazon, the plush material is really soft and the lights are vibrant.
Get the Light Up Plush Pillow on Amazon for $14.99
10. For the outdoorsy type: A light-up terrarium kit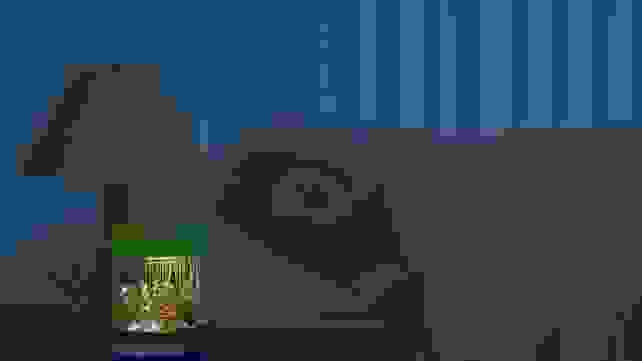 If your kid has a green thumb, you'll definitely want to look into this Mini Explorer Light-Up Terrarium Kit for kids. They can grow wheatgrass and chia sprouts, and the light-up LED lid really transforms the terrarium at night. According to Amazon reviews, setup is a breeze and the rechargeable LED light is convenient. It does come with small parts, though, so it's not recommended for children ages 3 and under.
Get the Mini Explorer Light-Up Terrarium Kit for Kids at Amazon for $24.99
11. For the Star Wars fan: BB8 Sphero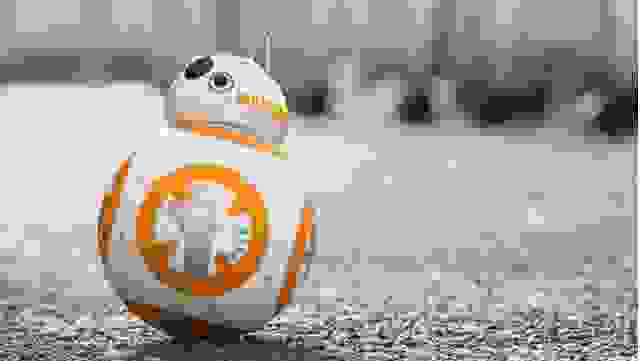 The BB8 Sphero robot is the perfect gift for the young padawan in your life. It's cute as hell and the companion app is really easy to navigate. Just don't do what I did and accidentally send it flying down the stairs. However, despite its accidental adventure, my little droid is still rolling. With that said, this robot might be more appropriate for older kids.
Get the BB8 Sphero Robot at Amazon for $54
12. For the trendy kid: The ultimate DIY slime kit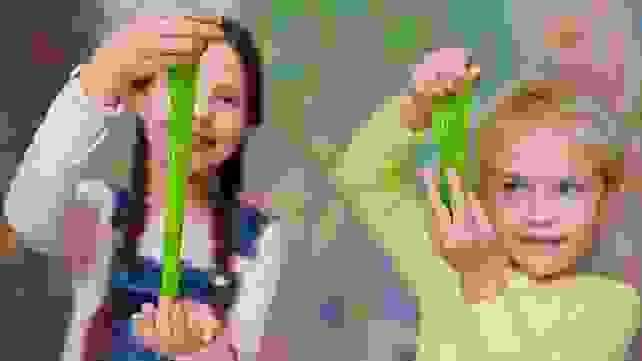 Slime is all the rage these days. If your kid likes playing with goop, you'll want to check out this slime kit on Amazon. There are lots of recipes, so you can make everything from glow-in-the-dark to color-changing slime. You also get everything you need to make the slime like measuring cups, wooden sticks, and more all in one package that's, perhaps most appealingly, under $20.
Get the Ultimate Slime Kit DIY at Amazon for $18.97
13. For the sporty kid: A pair of pop-up goals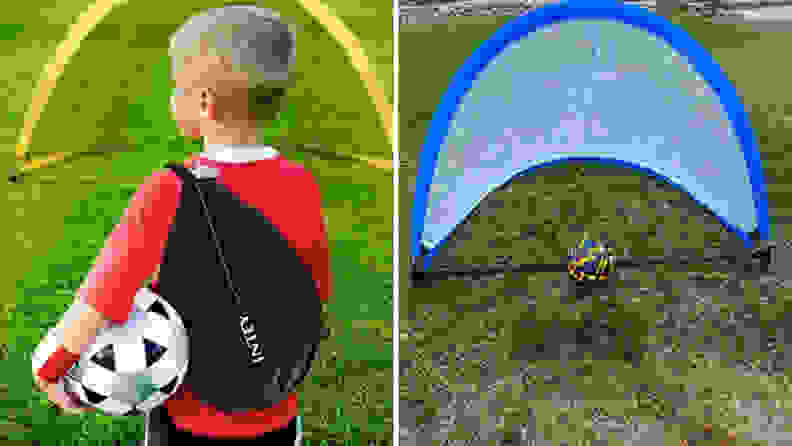 If your kid is into backyard sports, you'll definitely want to check out these pop-up nets on Amazon. Whether you're just kicking a ball around the yard or making up your own game, this will let you set up goals just about anywhere. You get two goals and a carrying bag, and the nets are available in three different sizes (2.5 feet, 4 feet, and 6 feet). Want to know the best part? Setup is super easy and requires zero tools. All you have to do is give it a twist and you're good to go.
Get the AmazonBasics Pop Up Goal on Amazon for $25.99
14. For the teething baby: Sophie the Giraffe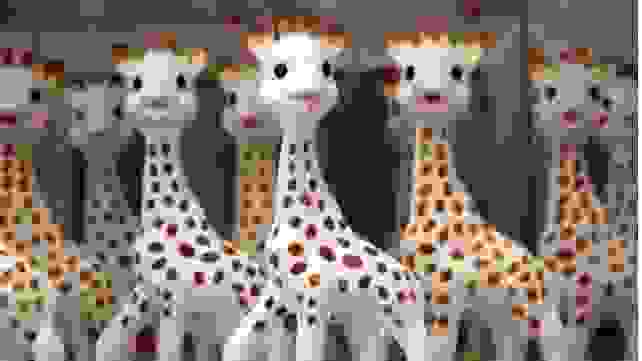 Sophie the Giraffe is an absolute godsend. If you've ever dealt with a teething baby, you probably know how terrible it can be for everyone involved. Well, for some reason, this squishy giraffe quells even the most miserable of babies. The second they pop this thing into their mouths, their eyes immediately glaze over as they start to relax.
Looking for an eco-friendly teething toy instead? We'd recommend the Superfood Teething Toy from Uncommon Goods.
Get Sophie the Giraffe at Amazon for $23.40
15. For the wannabe surgeon: Little Patient doll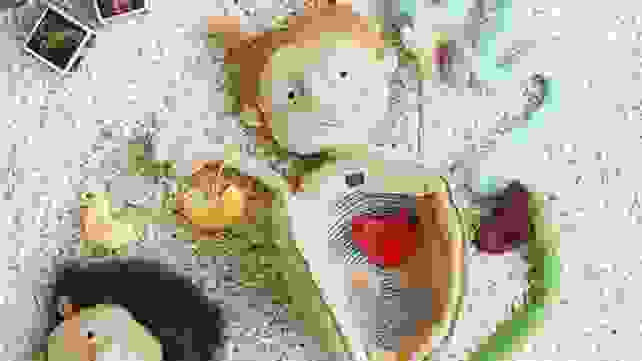 The Little Patient is a doll that you can literally pull the guts out of. No, I don't just mean stuffing. You can actually remove the heart, kidneys, and other organs. If your little one is interested in human anatomy, this would make an excellent gift to encourage their curiosity.
I know I would've loved something like this as a kid, as I always liked to look inside and see how things worked. There's even an embroidered skeleton inside the doll, which teaches kids about how our bones hold up our bodies.
Get the Little Patient Doll at Uncommon Goods for $55
16. For the future foodie: A miniature kitchen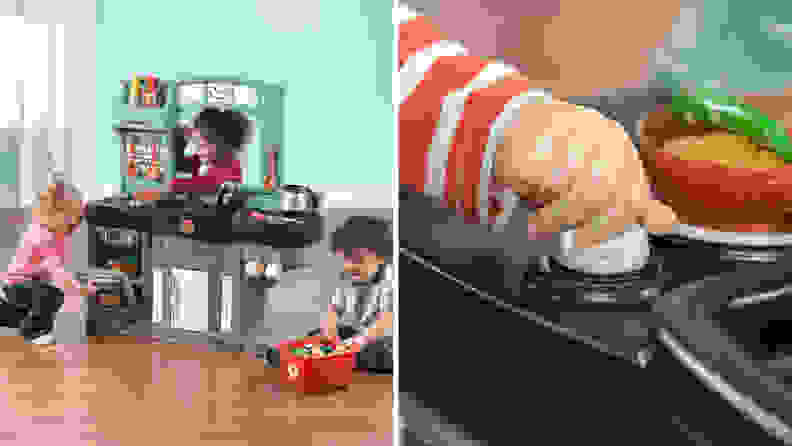 Okay, so, I'm pretty sure this play kitchen is better than my actual kitchen. Between all the storage and counter space, I'm a little jealous. There's also a row of hooks for hanging up cups and utensils. I mean, it even comes with a tiny recycling bin. How cute is that? According to the wise folk on Amazon, the set is very sturdy and doesn't take up too much space. It's also not too expensive, as these kitchen sets typically cost well over $100.
Get the Step2 Best Chef's Toy Kitchen Playset on Amazon for $72.74
17. For the youngster who likes trucks: Eco-friendly toy trucks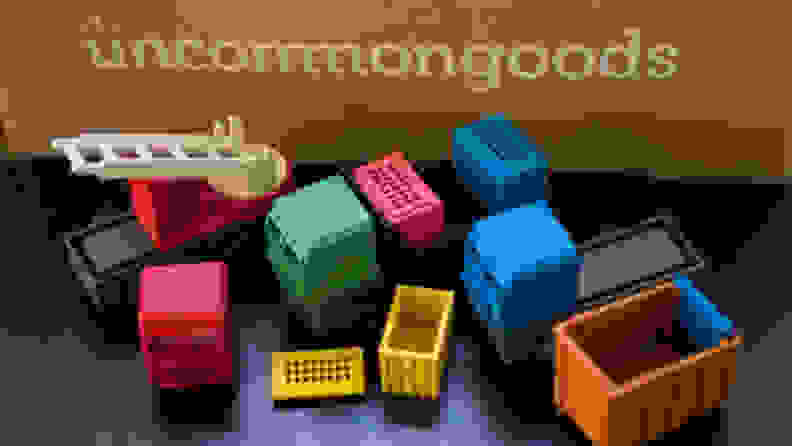 If your kid is currently honing their fine motor skills, these cute trucks are designed for exactly that. Not only are they colorful, eco-friendly, and perfect for tiny hands (3 and up, though!), they can be disassembled and reassembled as well. The trucks are sold individually, so at $20 a pop, you probably want to stick with one per kid, but even one truck is more than enough for hours of fun.
Get the Eco Toy Trucks at Uncommon Goods for $20
18. For the creative type: An 80-piece deluxe art set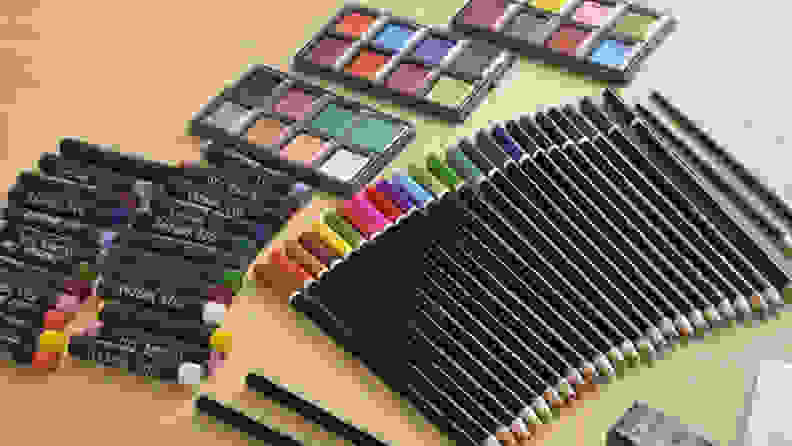 Whether your child is an amateur artist or a master finger painter, the Darice 80-Piece Deluxe Art Set is a wonderful gift for the creative kiddo in your life. It includes tons of art supplies for drawing and painting and a beautiful wooden carrying case. According to reviews on Amazon, this gift is all about quantity and less about quality, but for little scribblers, doodlers, and coloring crazy kids, variety makes art time more fun than top-shelf materials.
Get the Darice 90-Piece Deluxe Art Set at Amazon for $14.99
19. For the kid that's always on-the-go: Micro Mini 3 in 1 Deluxe Scooter
If your kid has a need for speed, you'll definitely want to check out this highly-rated scooter on Amazon. In addition to all the positive reviews, our editor-in-chief's daughter absolutely loves it. It comes in a couple of different colors and it's the type of product that grows with your child, meaning you can use it from age one to five (so worth every penny). While it's designed with young kids in mind (rounded edges and all that), we'd still recommend pairing it with this awesome helmet.
Get the Micro Mini 3 in 1 Deluxe Scooter on Amazon for $119.99
20. For the kid who loves engagement: Furby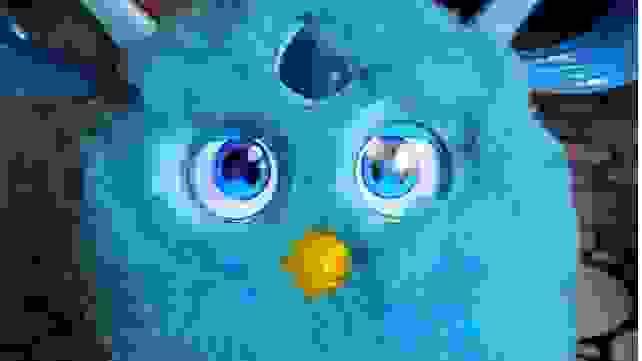 If your child likes Hatchimals or other similarly interactive toys, they'll probably love Furby. If you don't know about Furby, it's a nostalgic toy from the '90s, and it's having a moment right now with this generation of children. The new version can learn songs via an app on your phone and it comes with a "sleep" mask that can turn it off when it gets to be too much. User reviews are strong on Amazon with over 4 stars and over 1,000 reviews, despite the fact that these things can eat through batteries. If you go this route, make sure to check out our guide to the best rechargeable AA batteries.
Get Furby at Amazon for $69.90
Prices are accurate at the time of publication, but may change over time.