Home & Garden
The 25 best things to buy at Anthropologie
You'll love them even when they're not on sale.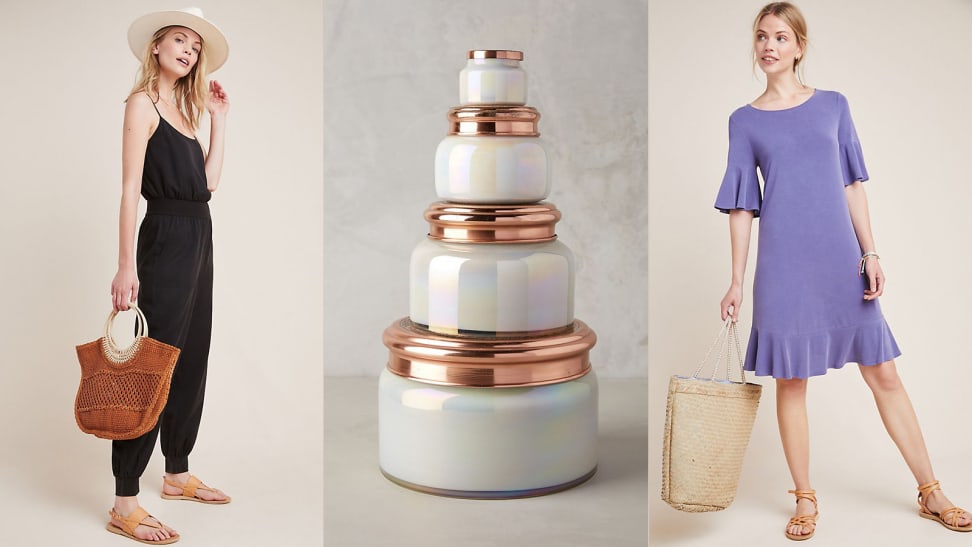 Credit: Capri / Anthropologie
Shop at Anthropologie all the time? Cool, neither do I. Unless there's a big sale going on or you're using a payment plan service like Afterpay, chances are that you—like me and like everyone else who has even a whiff of debt or a crippling fear of ending up like the old lady who lived in her shoe—don't shop there often.
The reason? You can't.
For most folks, Anthropologie is just one of those stores that's way outside of a normal budget. It's simultaneously the best place to shop if you're obsessed with boho chic fashions and also the kind of store where a shower curtain costs $100 and a chair like this not only exists, but could set you back a month's rent, too. It's ridiculous. It's sheer and utter lunacy. And oh my god, give me all of it.
Because the thing is, you can acknowledge that Anthropologie is seriously overpriced and still admire its eclectic aesthetic. In fact, I think that's what most of us do, right? Well anyway, I'm here to tell you that there are certain products—like those incredible Capri candles everyone's always talking about—that are the exception to the rule. They're the kind of highly coveted products at Anthro that might seem like a lot up front, but are among the most popular and top-rated things you can find at the store.
Don't believe me? Here are 25 of the best products to buy at Anthropologie that are totally worth the splurge, even when they're not on sale.
1. Capri Blue Candles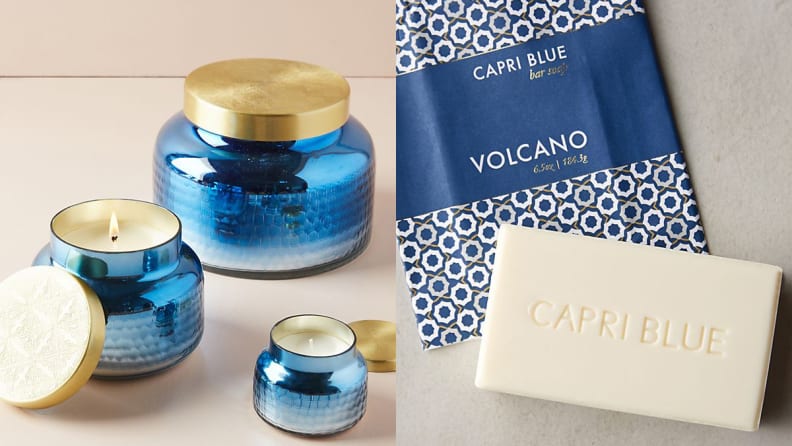 As I put this list together, there was no doubt in my mind which product would take the number one spot of Anthro must-haves. You know them, you love them—hell, you probably clicked on this list expecting to see them right at the top. Well here they are, those legendary Capri Blue candles that really are as good as everyone says. If you've never heard of them before, it's time to take a hard look at your life and your choices. Then I recommend you get thee to an Anthro, ASAP. Once you go, if you decide the candles aren't quite your thing, you can grab the Capri Blue Reed Diffuser for $34, so you can still get that same great scent wafting throughout your home.
Get the Capri Blue Iridescent Jar Candle for $30
2. Homegrown Monogram Mug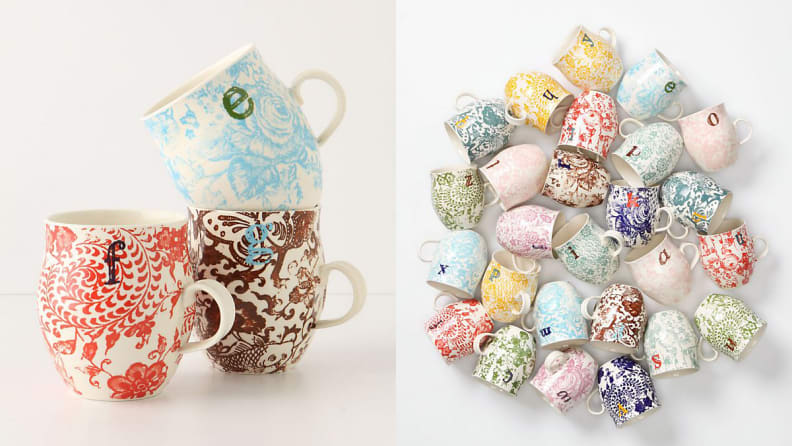 I had a boyfriend once who told me I had too many mugs. He broke one of my favorites—an adorable little French one with a picture of a kitty on it—but tried to say it was NBD because I had so many anyway, so why did it matter? Well, it mattered to me. A lot. I'm always on the lookout for cute mugs (and cuter boyfriends, for that matter). This monogrammed mug caught my eye some time ago, since it's one of Anthro's most popular mug selections. We feature it often in our sales roundups because of its almost perfect five-star rating, but even when it's not on sale it's worth a grab, since it's just so classic. Plus, if you grab a set you could spell out messages or something, like "boy bye" to the next dope who messes with your mug collection.
Get the Homegrown Monogram Mug for $6.40
3. Satin Ponytail Holder Set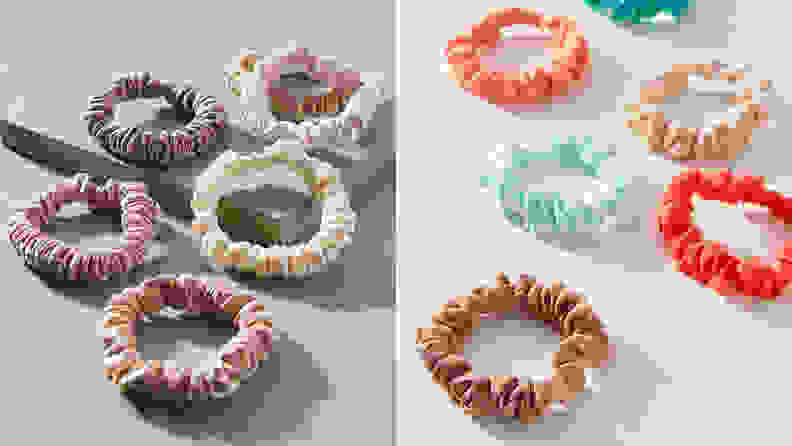 The '90s are back, guys. And while I refuse to ever wear flared jeans again (it's high-rise skinny jeans or bust for this girl), there are certain styles from the '90s that I'm glad are having a resurgence. Case in point: scrunchies. Back when I was in elementary school, all the cool girls wore their scrunchies on their wrists. It was peak style in my 2nd grade class, and if someone offered to give you theirs? Well, you were gonna be BFFs for life, obviously. This best-selling set from Anthro is perfect for reliving those glory days, since you get six in a bunch of different colors and you're really only paying $2 a scrunchie. If you feel like, you can even afford to keep a few and dish them out a few to your besties too, grade-school style.
Get the Satin Ponytail Holder Set for $12
4. Brianne Cowl Neck Dress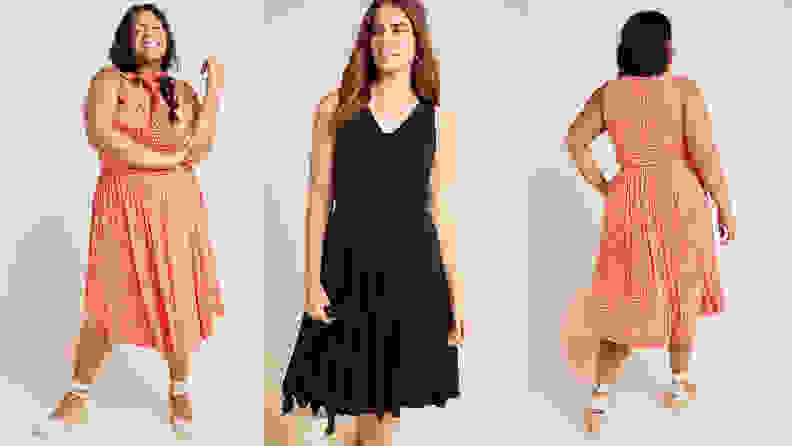 Allow me to introduce you to your new favorite work dress. This breezy, knee-length dress by Maeve offers a cinched waist and fit-and-flare silhouette makes for a flattering fit on virtually any body type, and I especially love the orange color as a lightweight summer staple. This dress is a must-own and our readers tend to agree, since it's quick to sell out whenever we profile it. Anthro reviewers also say that its length makes it a conservative but flattering choice for office wear, and the material itself is so gentle during the hot weather that they love keeping it on even after work is over.
Get the Brianne Cowl Neck Dress for $29.98, normally $120
5. Fireside Faux Fur Throw Blanket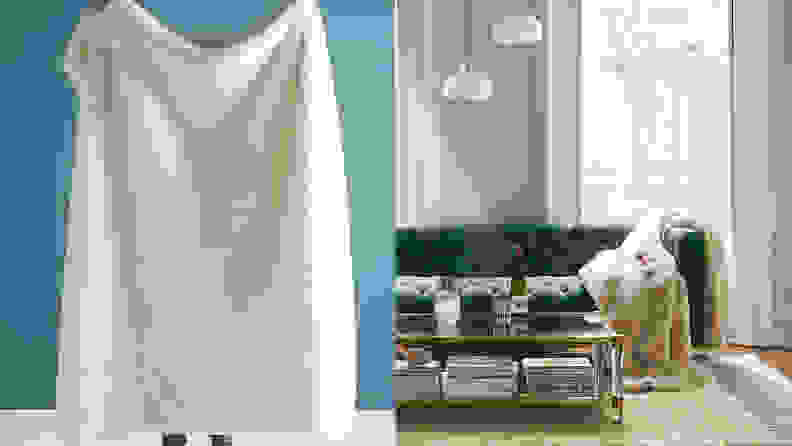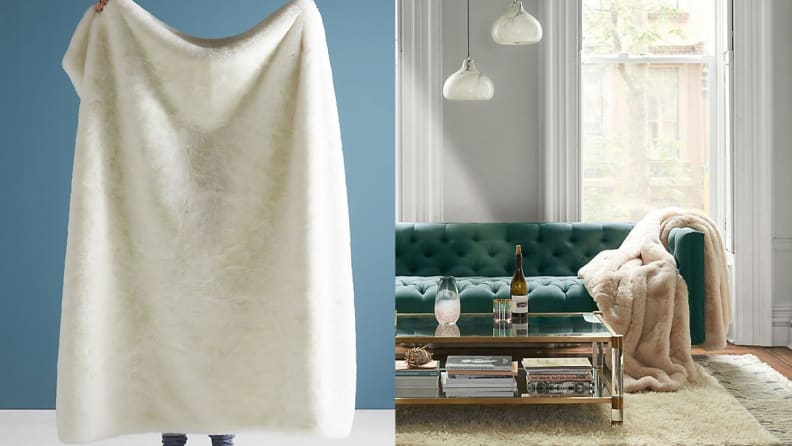 I can resist anything except temptation—and possibly a really good throw blanket. Anthropologie's selection of them has always been killer, but nothing rivals the fluffy allure of the Fireside Faux Fur Throw Blanket. Infinitely snuggle-ready and so soft, this throw has a perfect five-star rating and is one of the most popular products you can find at the store, and even when it's warm out, it sells out fast—probably because it makes such a good investment once the fall and winter months approach. You really can't go wrong with the Fireside Faux Fur Throw Blanket—unless you never try one at all.
Get the Fireside Faux Fur Throw Blanket for $34.98 on sale, normally $98.00
6. Shooties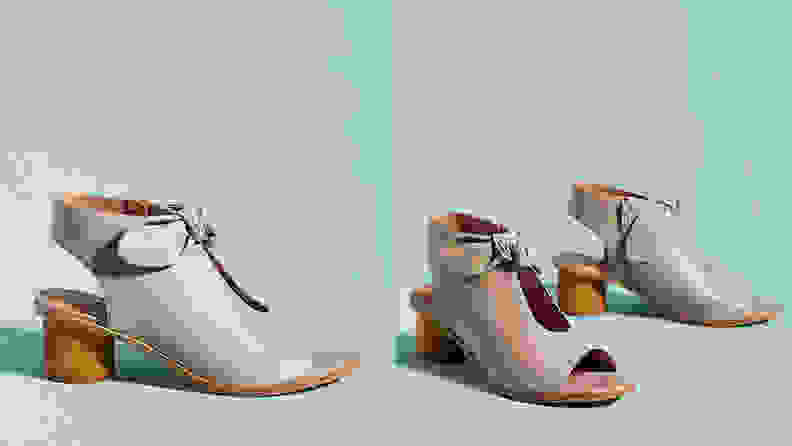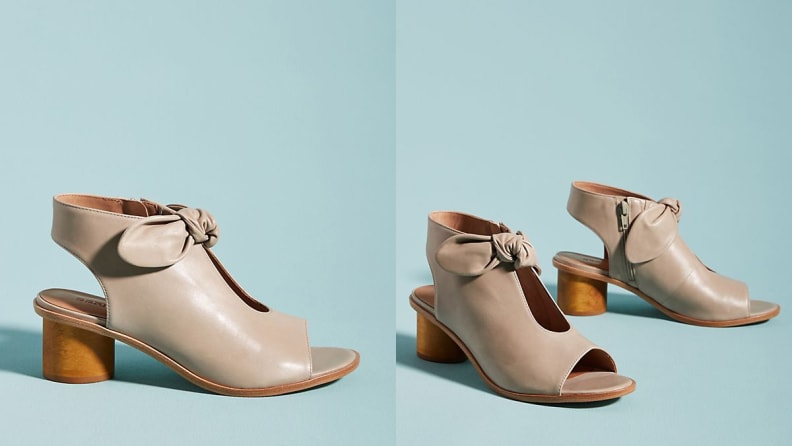 If your comfiest set of booties and your favorite pair of heels had a shoe-baby, you'd call them shooties, and they're fab. They offer more stability than your standard heels ever could and during the fall, they'll pair perfectly with denim and flannel combos. Right now, I'm obsessed with these Bernardo Luna Bow Shooties, since you can get them in black, white, clay leather, and other shades. And reviewers say they're great for wide feet, which is a rare find. The bow adds a nice touch of flirtiness here, but doesn't look too overwhelming, either. However, Anthro has a huge variety of shooties to pick from, so you can definitely find ones that best compliment your style.
Get the Bernardo Luna Bow Shooties for $198
7. Sweet Safari Trinket Dish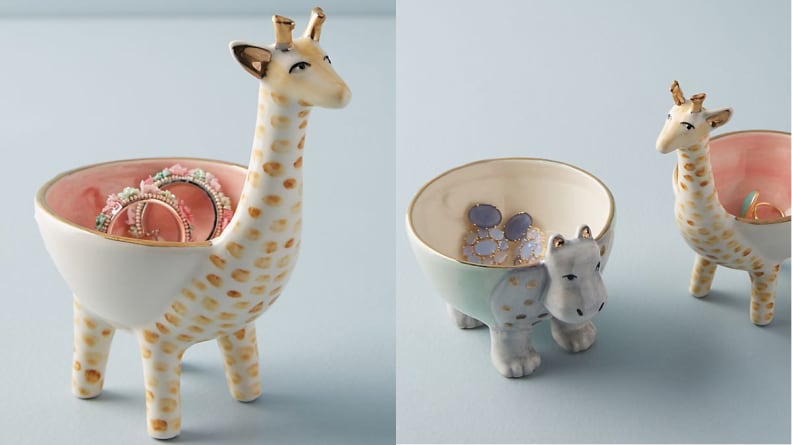 Where do bobby pins go after you take them out at night? I swear, there's a little gnome that lives inside my apartment and goes around while I'm sleeping and steals them all—along with my hair ties, phone charger cords, and occasionally my car keys, too. No matter what, I feel like I'm always scrambling to find my stash, which totally sucks. I'm hoping this trinket dish, which is one of the most popular products our readers always buy on Anthropologie, is the solution I've been desperately needing, because I can't keep living like this anymore.
Get the Sweet Safari Trinket Dish for $22
8. Sweet Escape Tank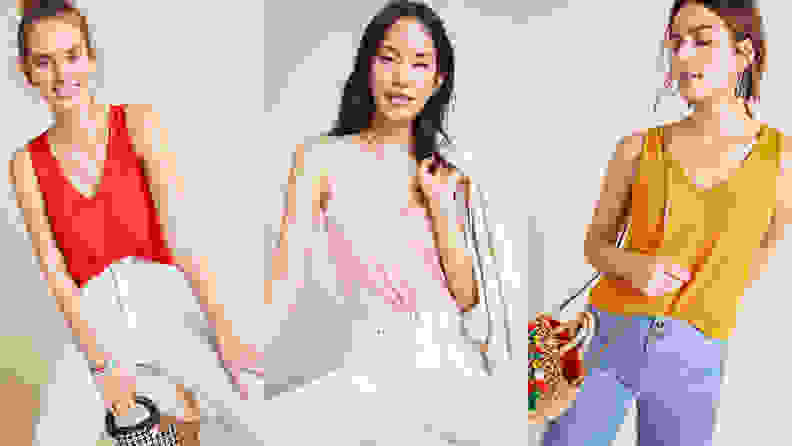 Can't ever find the right top to pair with your white jeans or denim skirt? You're going to lose it for the Sweet escape tank. It comes in 6 different colors and is soft and flowy, so basically whenever you want to tuck it in or wear it loose you can. With the breathable, lightweight fabric, V-neck and flattering cut, you'll want this five-star rated tank in every shade (and you'll be able to afford to grab a bunch, especially if you buy them during a sale).
Get the Sweet Escape Tank for $14.98 on sale, normally $29.98
9. Gleaming Primrose Mirror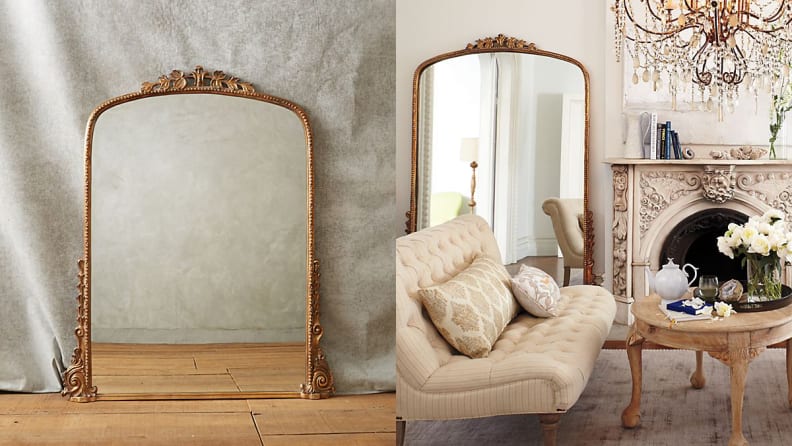 Chances are you've seen this mirror before, since it's been all over the 'gram for months and getting lots of attention. Unfortunately it's not a magical artifact of any kind (which was my first thought when I saw it), but the sheer size and ornate aura of this mirror definitely makes it seem like it belongs at Hogwarts. It has a vintage-inspired look that instantly elevates any room it's in, so if you're looking to upgrade your living spaces, this is the mirror for you. However, since it's obviously extremely expensive, this is definitely one of those Anthro items you only buy when there's a big sale going on.
Get the Gleaming Primrose Mirror for $448.00–$1,548
10. Circular Tote Bag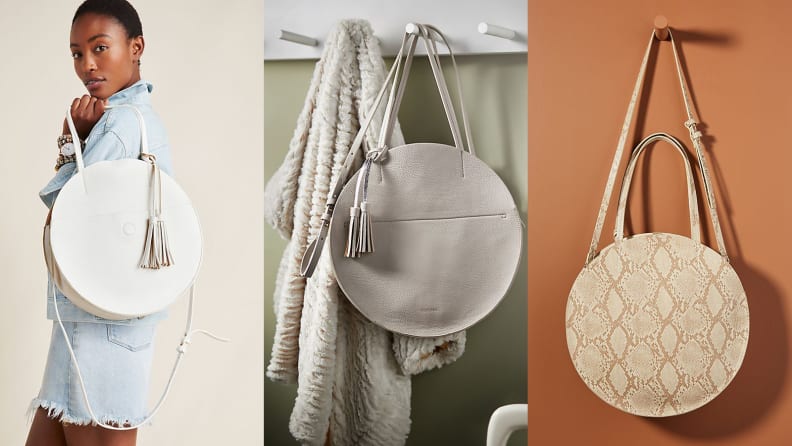 When it comes to bags, I'm very particular. I was in middle school when I got my first designer bag—a vintage Dooney and Bourke hand-me-down, thank you very much—and ever since then, my passion for bags has just grown. This tote definitely isn't vintage, but it's a solid everyday option and it might surprise you to learn that it's actually frickin' massive. Seriously, this thing can fit so much more than your standard circle tote, and many reviewers say its roominess is one of its best features, with one raving, "It's a little bigger than what it looks online but it's not overwhelming! It's great material too. I want every color!" Anyway, this is a great workhorse bag for your collection when you want to save your Longchamps and Madewells for more special occasions.
Get the Circular Tote Bag for $88
11. Byron Lars Carissima Sheath Dress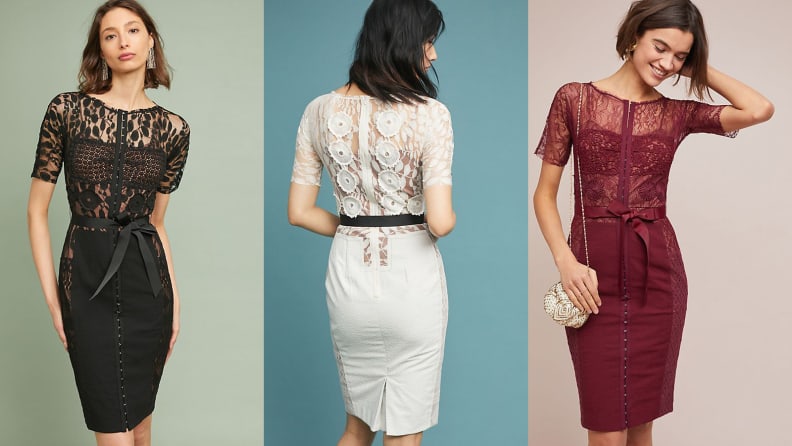 Before you faint over the price tag, hear me out: this dress is more than just a party dress. This is the kind of dress you can keep and wear to literally everything. Got a wedding coming up? Wear it (but not in white, don't be that girl). Headed to a social event and need something that's kind of formal but also a little risqué too? Wear it again. This dress gets rave reviews and it's one of the most popular items at Anthro for a good reason. Super-structured and designed by Byron Lars, it comes in a variety of colors and features lace and appliqued flowers, which makes it feel ultra-feminine in a really good way.
Get the Byron Lars Carissima Sheath Dress for $258
12. Celestial Coaster Set
Mostly, coasters just seem like decorations to me—they're colorful tchotchkes that technically have a purpose but rarely get used in any meaningful way. But I'm the kind of person who loves tchotchkes, and as far as coasters go, these are truly stunning. They have an almost perfect five-star rating on Anthro and they're one of the most popular things that our readers buy off the site. Even the name sounds lovely. Celestial. Dang, I'm getting goosebumps over here, and I haven't even gotten my set shipped out yet.
Get the Celestial Coaster Set for $40
13. Matte Latte Bowls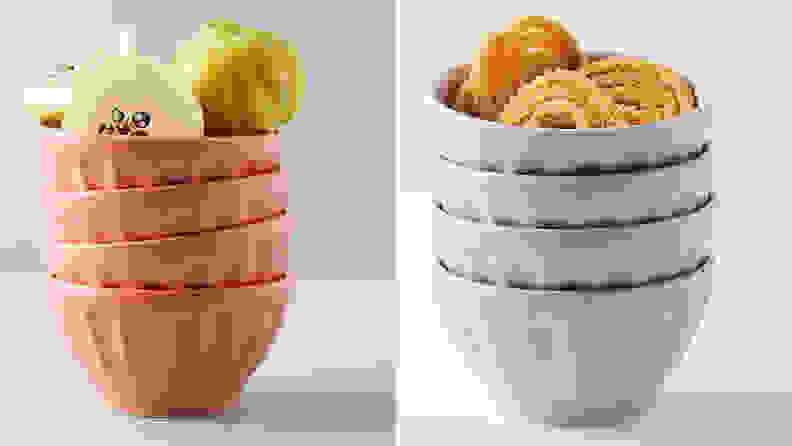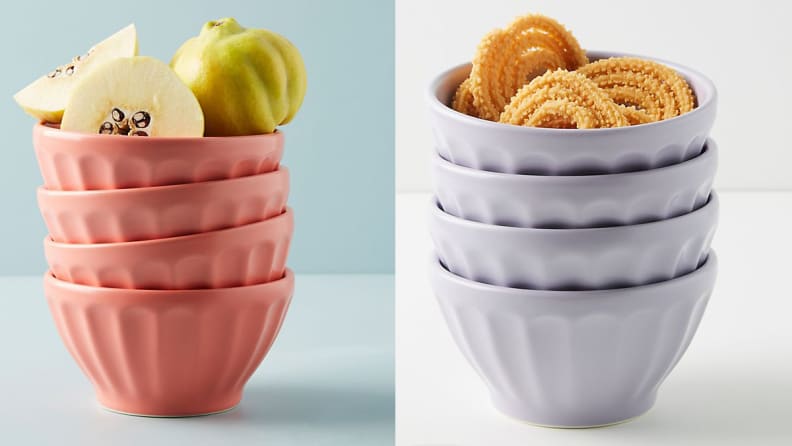 Latte bowls are everywhere right now. People are losing it over these little dinnerware items (and they sell out fast whenever we feature them in a roundup), in part because of their the minimalist design but truly, these bowls are all the rage because they're actually useful. You can cup them right in your hands and use them in a way that makes everything from a bowl of nuts to some mushy oatmeal look good. They can also be a fun way to add some much-needed color to your kitchen or dining room area.
Get the Matte Latte Bowls (Set of 4) for $24
14. Velvet Elowen Chair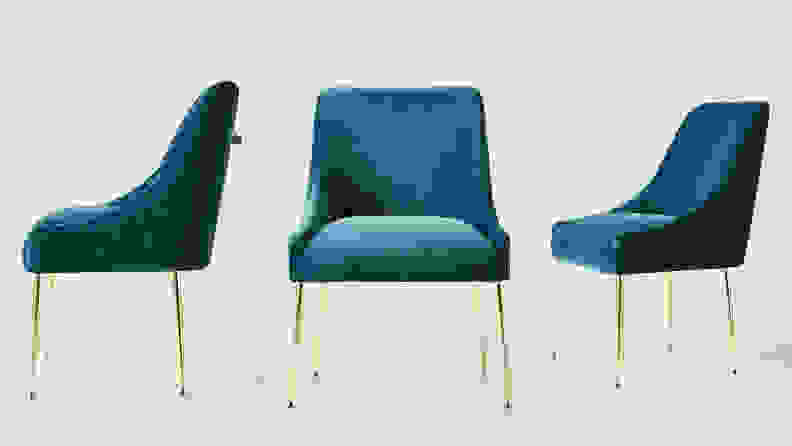 Is there anything more luxurious or instantly glam than velvet? I think not. This Velvet Elowen Chair—a.k.a. the chair of my co-worker Courtney's interior design fantasies—is the brass ring of chairs if you love all things velvet since it's obviously covered with it and it's ultra-soft to the touch. Available in a variety of colors and offset by some stylish gold legs, these chairs is just begging to be sunk into, and it works as dining room seating, or just put one or two in your living room by the bar cart.
Get the Velvet Elowen Chair for $398
15. Averil Tee Dress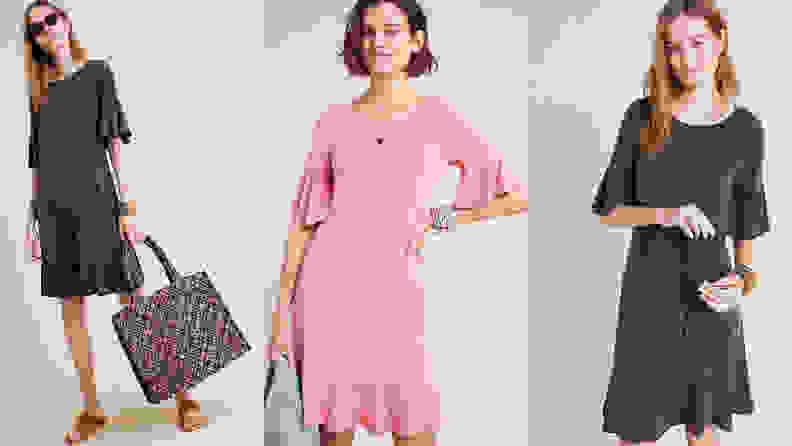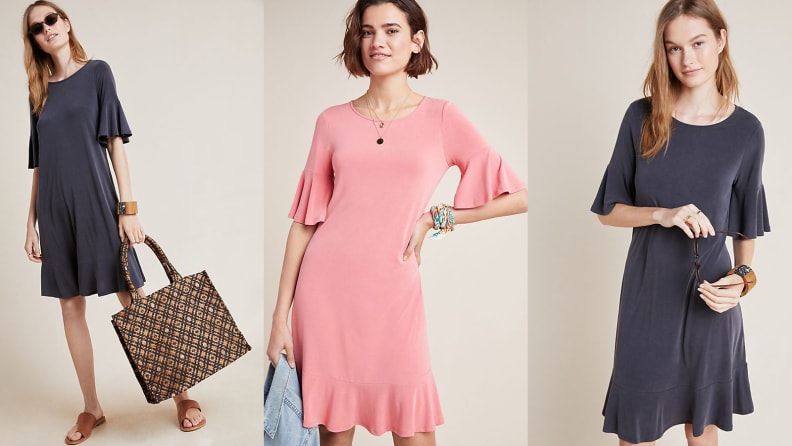 In search of some casual new dresses to wear to work that won't make you daydream about immediately slipping into a more comfortable set of leggings and a tank top the second you get home? My coworkers are big fans of the Averil dress and it's a popular buy from our readers. This ruffly dress is incredibly feminine and comes with a flounced hem, while the feel of the dress itself is soft and silk-like. You could wear this with sneakers or heels—that's how easily it adapts from one setting to another. This dress is also a favorite among our readers, who always seem to go straight for it whenever there's a big sale happening.
Get the Averil Tee Dress for $59.95
16. Barr-Co. products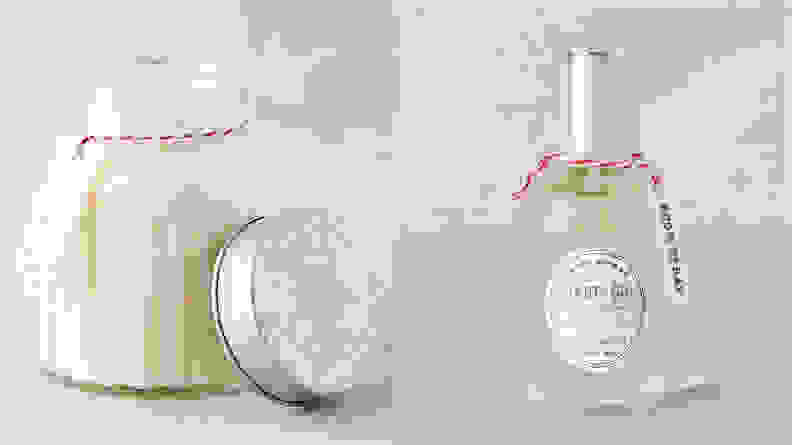 At Anthropologie, it seems like Capri gets all the love. Admittedly, here at Reviewed we include their candles in every roundup too, so we're just as culpable. Meanwhile this perfectly delightful and classic spray just gets no proper shout-outs. Well, I'm changing that, because Barr Co. makes some of the most divine scented products that I've ever come across. The original scent in specific, which smells like a blend of vanilla, oatmeal, milk, and vetiver, is so unbelievably soothing. Other popular Barr Co. products—including their lotion and bath salts—are a solid choice if you're looking to kick your self-care regimen up a notch. Do yourself a favor and give this brand a try.
Get the Barr-Co. Room Spray for $24
Get the Barr-Co. Fine Shea Butter Lotion for $24
Get the Barr-Co. Fine Handmade Bath Salts for $32
Get the Barr-Co. Apothecary Jar Candle for $34.00
17. Jumpsuits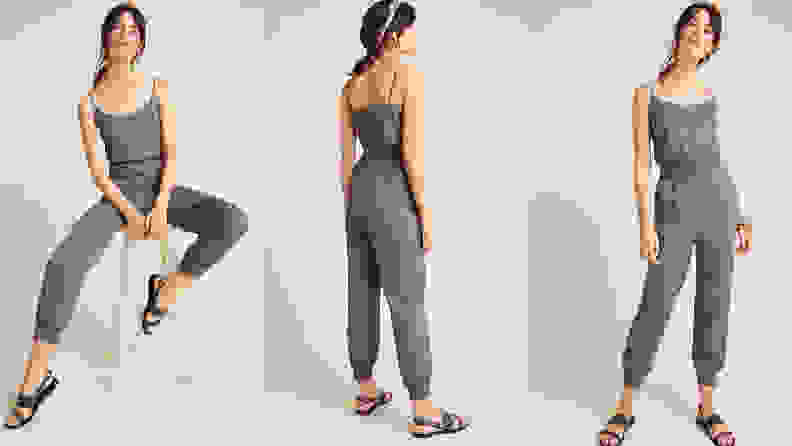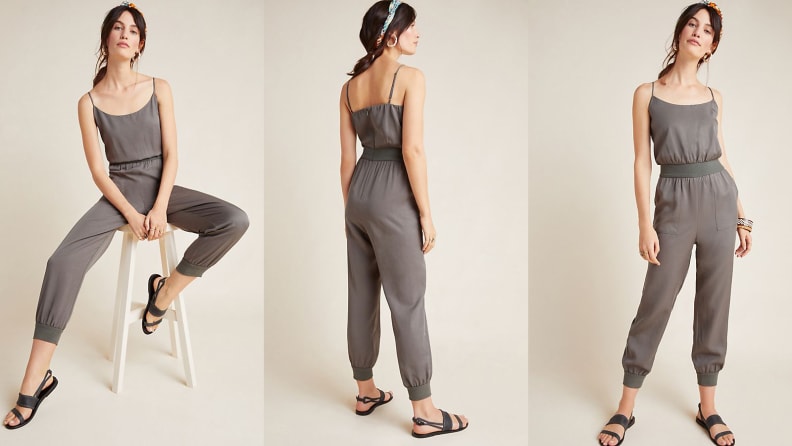 Confession time: I used to be terrified of jumpers. I think they're so on-trend right now, but as a woman with curves—I'm 5'8 and rock a size 16 these days—I'm always a little skeptical about whether or not jumpers will work well for my body type. But this jumper in particular, which comes with a smocked waist and jogger-style pants, is in a different category. Reviewers far and wide have praised it and say it's super flattering on virtually all body types, especially curvier ones like mine. It's definitely one of our summertime favorites right now.
Get the Jogger Jumpsuit for $125
18. The Joanna Gaines Collection at Anthropologie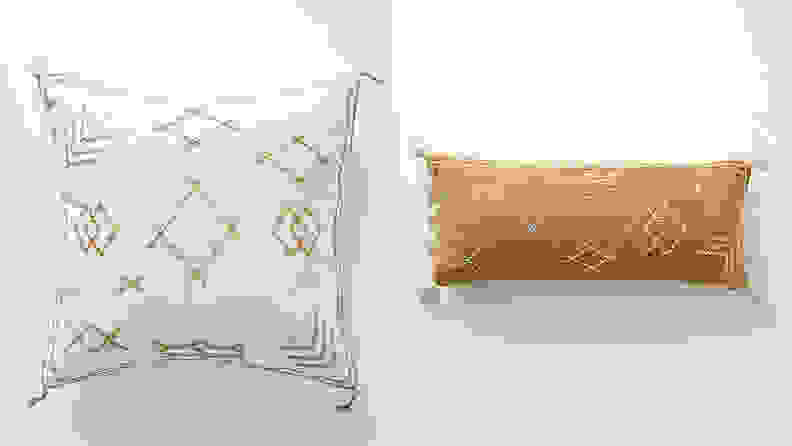 As far as guilty pleasures go, Fixer Upper is up there. It used to play all the time at my old gym and it made me look forward to hitting the treadmill. Anyway, I love that the Joanna Gaines collection at Anthropologie is even a thing, since Gaines has such an iconic place within the the home decor and style space. Her throw pillows, which are featured here, are a major must-have and the most popular part of her collection, so you should give them a try, especially if you're looking to spruce up your living room area.
Get the Joanna Gaines for Anthropologie Embroidered Sadie Pillow for $36-$51
19. Face Pots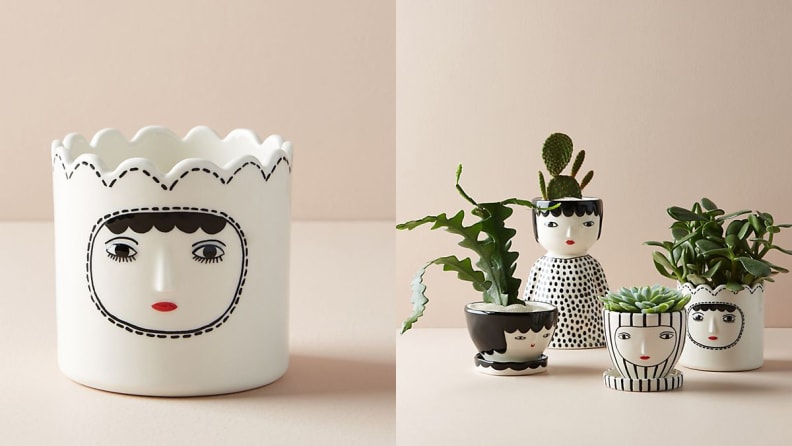 These pots have a cult-like following on Anthropologie, in part due to the buzz around London-based ceramicist Kinska, who designed them. Reviewers rave that these pots feel one of a kind. One wrote: "Big fan of Kinska from Instagram and as soon as I saw these I fell in love!" Others noted that while these pots can fit plants (succulents and air plants seem to work best), they also work well as jewelry holders.
20. Flutter-Sleeved Tee Dress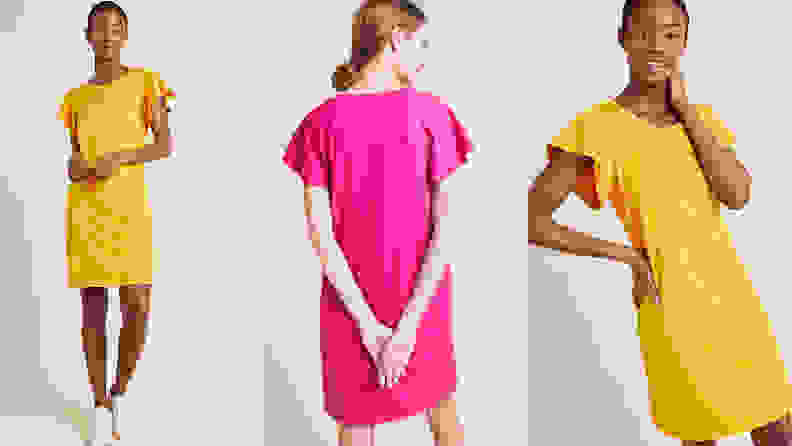 During these sweltering summer months, I want all the dresses I can get my hands on (and purchase without making my checking account take a nosedive). Basic dresses that are comfortable and have an airy quality jump on my radar quickly, which is something I particularly dig about the Flutter-Sleeved Tee Dress. You can dress it up or down, and it has these romantic flutter sleeves that are just so femme. We've featured this in our roundups of the best dresses to buy at Anthro and whenever a sale hits and our readers always scoop it up whenever the price dips, so you'll definitely want to keep this one on your radar, especially if you're looking for something girly yet casual.
Get the Flutter-Sleeved Tee Dress for $19.98 on sale, normally $78
21. Colorblocked Hair Clip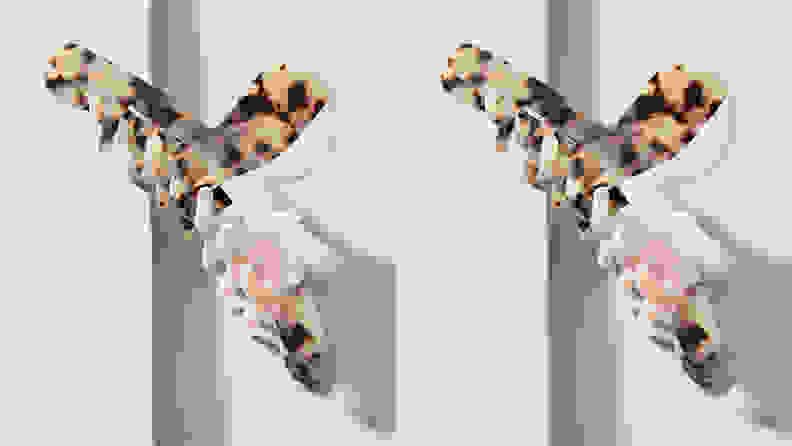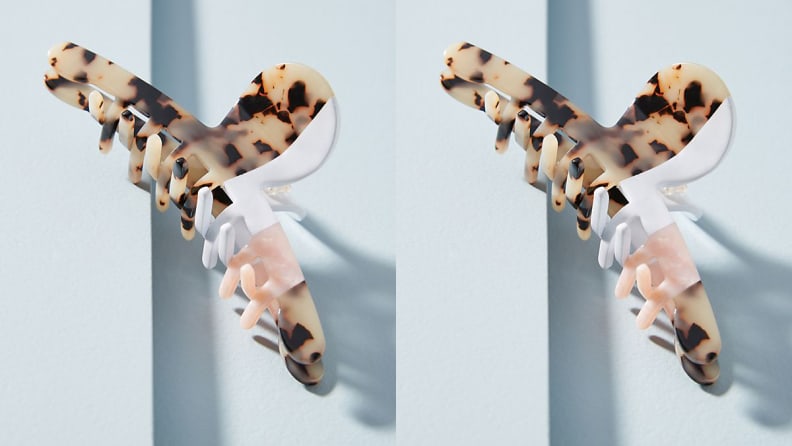 Trying to make a bad hair day feel like less of a disaster? You can corral wild, all-over strands and make your hair look better just by grabbing a clip like this, which is thick enough to hold hair in a total twist-up or in a half-up style. No matter what you opt for with your hair, keeping a couple of these clips around is always a good idea—after all, you never know when you might need one.
Get the Colorblocked Hair Clip for $2.98 on sale, normally $5.98
22. Linen pants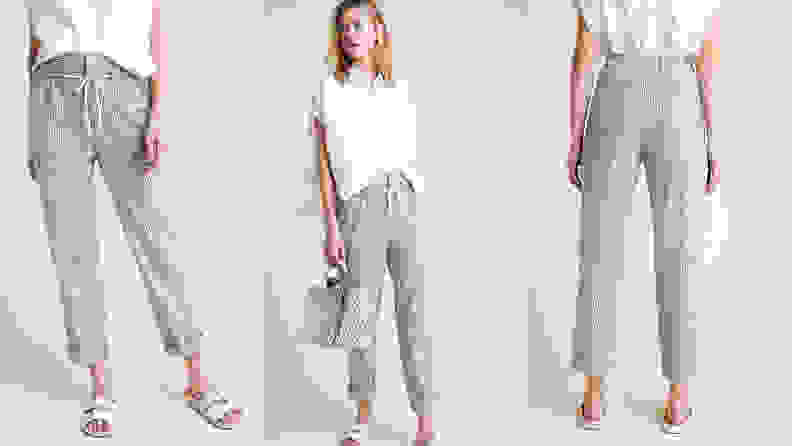 Linen is having a moment right now and I'm here for it. It's a great, breathable material for spring and summer, and these pants—which are popular with our readers and have a 4.5-star rating on the site—are especially good if you're going for an office look that's simultaneously elegant and also very comfortable. I feel like you could just as easily rock these pants at the beach too, and they seem perfect for low-key mornings at the farmer's market or roaming around some antique shops (okay, I'm just running through my weekend plans, I'll shush up now).
Get the Seashore Striped Pants for $49.95
23. Slip Silk Pillowcase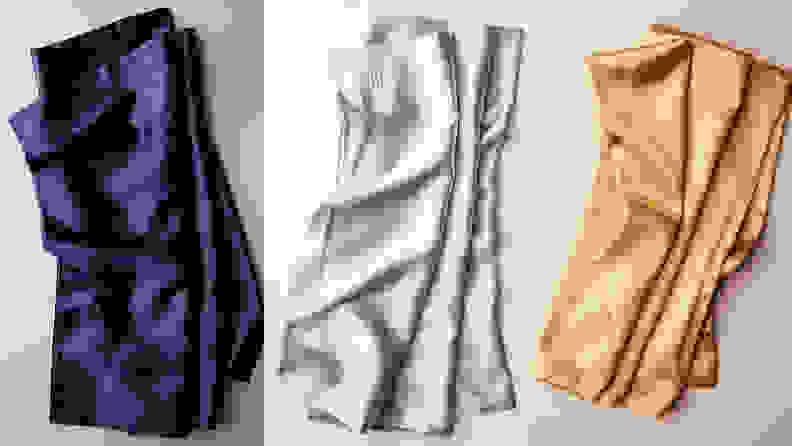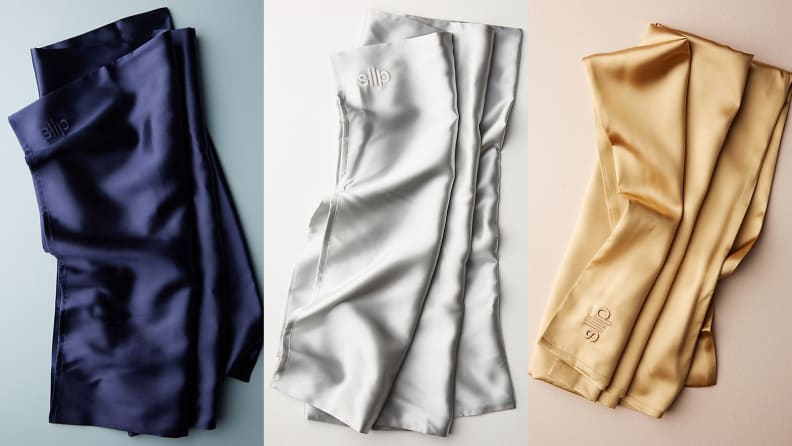 About seven months ago, I made the switch over to silk pillowcases (specifically this one from Anthropologie, since it was on sale at the time) and all I have to say is wow. As a naturally curly-haired woman, I've been locked in an epic battle with frizz for pretty much my whole life, but I've noticed a strong difference since I grabbed one of these pillowcases. True, they don't come cheap, but there are tremendous benefits to switching to silk, since unlike cotton, silk will help your hair retain its natural oils, making it less likely to frizz out and get dry or matted in the morning.
Get the Slip Silk Pillowcase for $85
24. Seychelles Plateau City Flats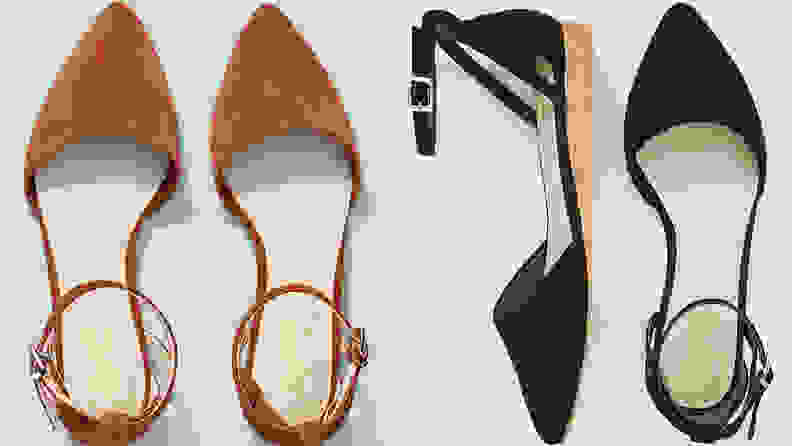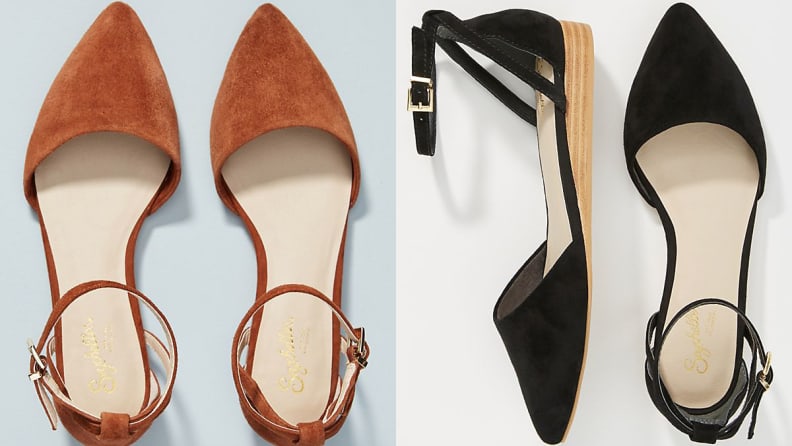 These flats are a staple, and not just for when you're stomping down some city streets (or in my case, stumbling down them in a hurry in order to catch the T on time). Despite having a pointed toe, reviewers widely agree that these are pretty wearable and have a short breaking-in period. The Peach Suede shade is a personal favorite, but what rules about these flats is that you have a lot of options in terms of choice.
Get the Seychelles Plateau City Flats for $100
25. Nifty Napkins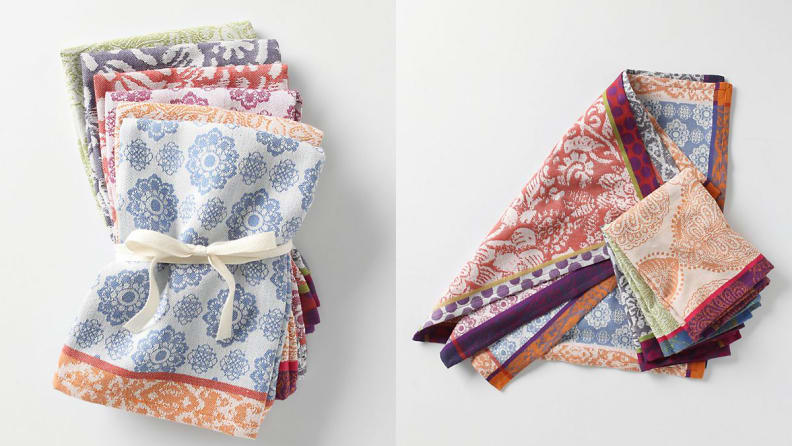 Still using paper towels? Ew. Make the shift over to cloth napkins already and not only will you enjoy it, but chances are, your next dinner guests will, too. This set of six soft, colorful napkins is completely reusable and are a more eco-friendly alternative to other stuff that's out there. Plus, they're one of the best-rated products on Anthropologie, so the people have clearly spoken.
Get the Nifty Napkins (Set of 6) for $32
The product experts at Reviewed have all your shopping needs covered. Follow Reviewed on Facebook, Twitter, and Instagram for the latest, deals, product reviews, and more.
Prices are accurate at the time this article was published, but may change over time.