Home & Garden
The 15 most popular things on Wayfair right now
Here's what to buy, according to thousands of reviewers.
Credit: Wayfair
Furniture, decor, appliances, oh my! There are a ton of things on Wayfair—which can be both a blessing and a curse. A blessing because you have plenty of options but a curse because how do you even choose??
To help you spend your money wisely, we've rounded up 15 of the most popular things people are buying on Wayfair right now. From everyone's favorite stand mixer to the most comfortable accent chair, these are the products that have thousands of great reviews—and may be worth adding to your own cart.
1. This cozy throw blanket
There are some things in life you can never have too much of—and cozy throw blankets is one of them. This one is highly-rated on Wayfair because, according to its nearly 8,000 reviewers, it's super soft and warm and is the perfect size for snuggling up under. Shoppers also appreciate that the blanket (which is made of stain-resistant fabric) is machine-washable.
Get the Nader Tweed Knitted-Design Throw from Wayfair for $35.25
2. The best stand mixer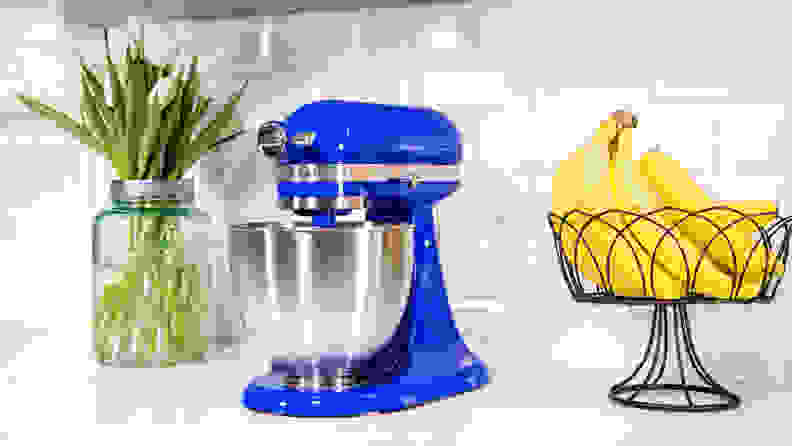 There are few appliances as iconic as the KitchenAid stand mixer. But does it live up to the hype? Our experts put it to the test against some of the other most popular stand mixers and found that yes, the KitchenAid does in fact reign supreme. Not only is it efficient and long-lasting but it also can be used with all different attachments, for everything from kneading dough to making pasta. At full price, it's a pretty penny, so we recommend waiting until you find it on sale.
Get the KitchenAid 5-Quart Artisan Series Stand Mixer from Wayfair for $429.99
3. This desk for your home office
Whether you work from home or simply want a place to store your laptop and important papers, a nice, sturdy desk is a must-have. This one from Wayfair has received over 6,000 positive reviews thanks to its simple, yet stylish design and affordable price point. Owners of this desk say it's made of great quality materials and that it's incredibly simple to assemble.
Get the Genthner 1-Drawer Desk from Wayfair for $74.99
4. This elegant rug that's budget-friendly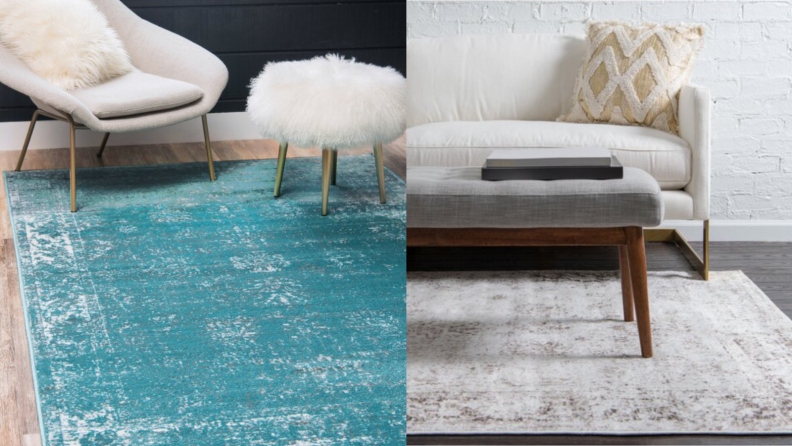 If you've ever shopped for a rug, you know that they get really expensive really fast. However, affordable rugs (that are also high-quality) do exist—like this one from Wayfair. Starting at just $30, it has over 44,000 reviews with a 4.5-star rating. People like that it's plush enough to feel cozy and soft underneath your bare feet while still being easy to vacuum and clean. Bonus: The rug is also stain-resistant so it's great for even the most well-traveled of rooms in your house.
Get the Brandt Floral Gray Area Rug from Wayfair for $30.99
5. Our favorite coffee maker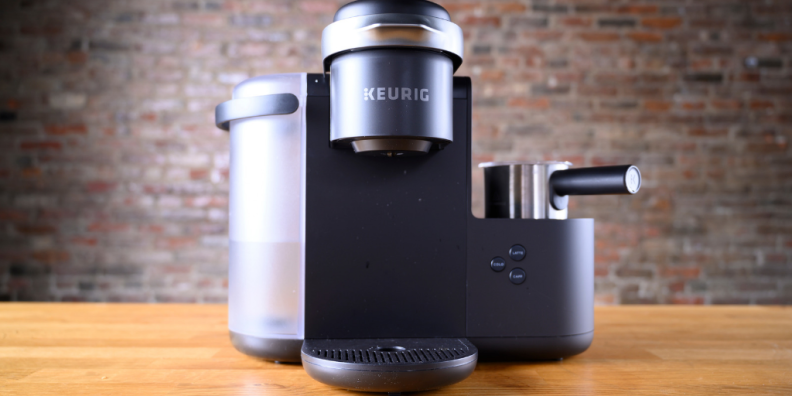 When it comes to coffee makers, Keurig is king. Not only does the K-Cafe have over 1,100 reviews on Wayfair, but our experts also dubbed it the most versatile single-serve coffee maker you can buy. It can make everything from a regular coffee to a foamy cappuccino to espresso in just seconds. Even more impressive, it has an attached milk frother for when you're craving one of those super fancy drinks from your favorite coffee shop.
Get the Keurig K-Cafe from Wayfair for $180.82
6. This chic floor lamp
Say goodbye to harsh overhead lights and opt for this popular floor lamp instead. With over 2,000 glowing reviews (pun not intended), the lamp is compatible with LED bulbs and has a convenient footswitch so you aren't fumbling around looking for the "on" switch. Happy customers like that the floor lamp is stylish, super easy to assemble, and has a base that's lightweight yet still heavy enough to prevent it from tipping over.
Get the Dale Arched Floor Lamp from Wayfair for $88.99
7. This top-rated coffee table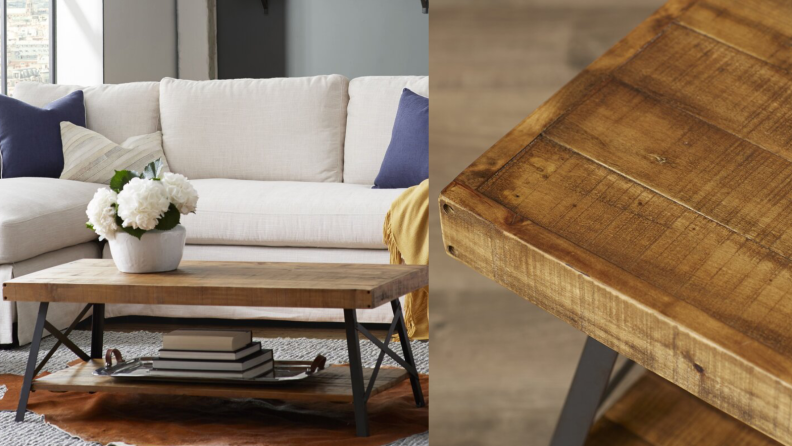 If industrial-chic is your thing, you'll love this iron and rustic reclaimed wood coffee table, which has over 7,600 reviews on Wayfair. People who've bought it say it's very sturdy and well-built and that the open bottom shelf offers plenty of extra storage space. And while you do have to assemble it at home, customers claim it's super simple to put together thanks to the detailed instructions provided (plus, Wayfair offers in-home assembly for an extra fee if you want it!).
Get the Kinsella Coffee Table with Storage from Wayfair for $172.99
8. This expert-approved air fryer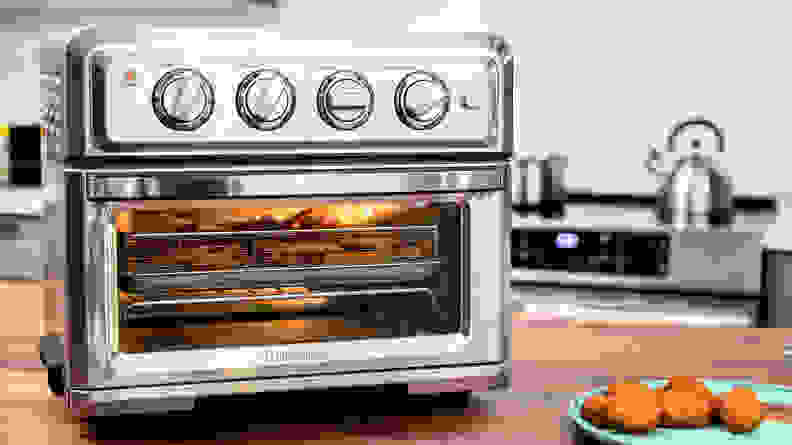 The 3,300+ people who gave the Cuisinart Air Fryer Toaster Oven a thumbs up on Wayfair aren't the only ones obsessed with the tiny appliance—our experts are, too. When we tested the top air fryers, we found the Cuisinart to be the best multipurpose one. It's space-efficient (ideal for saving counter space!) and both toasts and fries food evenly.
Get the Cuisinart Air Fryer Toaster Oven from Wayfair for $199.95
9. This sofa you may never want to leave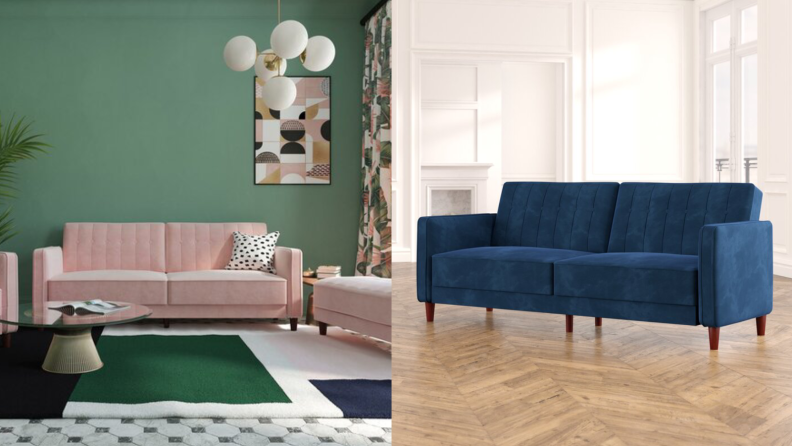 What's plush, luxurious, and affordable all at the same time? This velvet Wayfair sofa, according to nearly 10,000 reviewers. While customers like the super soft upholstery and the comfortable, yet firm cushions, they really love that the sofa is convertible. I.e. it features a split-back design that allows you to lower either side of the couch part-way to convert it into a lounger or all the way to turn it into a makeshift bed.
Get the Nia Velvet Square Arm Sleeper from Wayfair for $320.99
10. This trendy mirror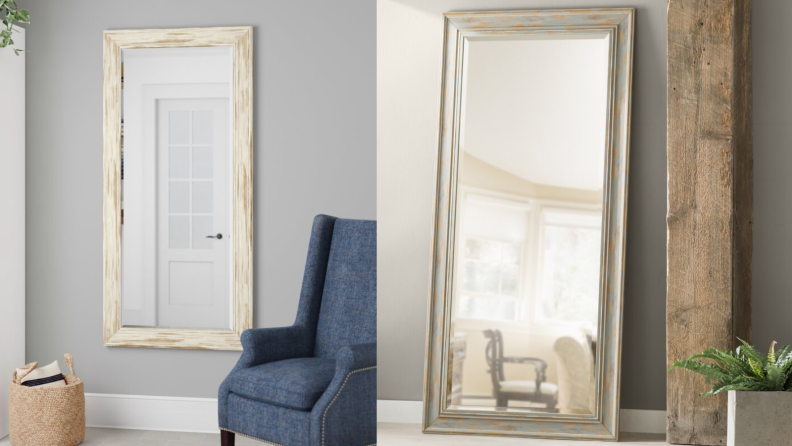 Mirrors are having a moment right now—and for good reason. Not only do they look trendy, they also have practical purposes, like opening a small room or brightening up a space by reflecting light. Nearly 1,500 Wayfair shoppers recommend this farmhouse-style mirror in particular because it's lightweight enough that you can hang it on the wall and that it looks much more expensive than it actually is (a floor mirror for under $170 is typically unheard of!). One person even says it's the best thing they've ever bought from Wayfair.
Get the Somerton Farmhouse Beveled Distressed Vanity Mirror from Wayfair for $169.99
11. This cookware every home chef needs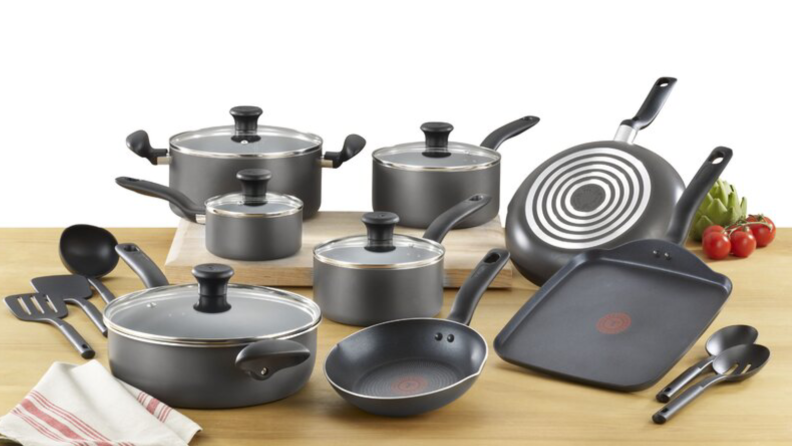 The secret to a better meal is better pots and pans. That's why this non-stick set from T-Fal has over 2,100 positive reviews. Not only do customers like that the aluminum pans have great heat distribution (so your food cooks evenly) but they also like that they're heavy and high-quality yet lightweight so they're easy to handle. More importantly, is that fans say the pots and pans are truly non-stick—i.e. you may never have to worry about burnt-on food and hours of scrubbing again.
Get the T-Fal Initiatives 18-Piece Aluminum Non Stick Cookware Set from Wayfair for $84.99
12. This high-quality headboard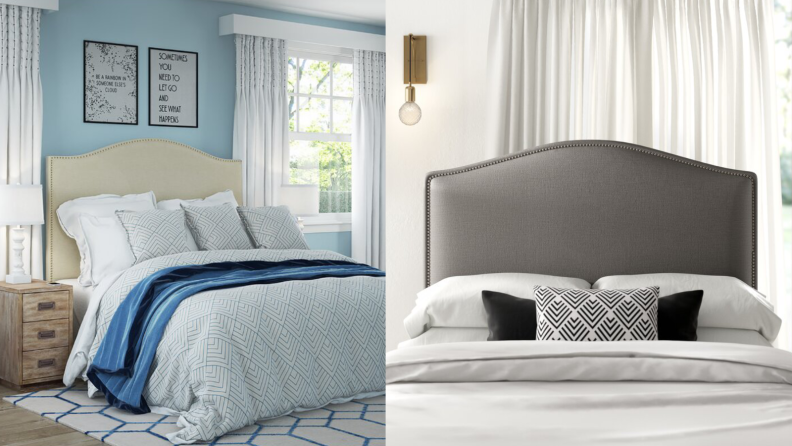 A good headboard instantly upgrades any bed. And this chic upholstered one from Wayfair—which has over 6,000 reviews and a 4.8-star rating—does just that. Customers rave that the nailhead trim adds an elegant touch while the headboard itself (which is made from solid wood) is super sturdy and well-made. Bonus: You can choose to either bolt the headboard to your bed or leave it freestanding.
Get the Zoe Upholstered Panel Headboard from Wayfair for $139.49
13. This bar cart for all your entertaining needs
If you're looking for the perfect bar cart, look no further than this top-rated one, which over 1,000 Wayfair shoppers have given high marks. They like that the metal cart (which comes in sleek gold or matte black) has lockable casters so you can easily roll it around the room or leave it securely in one place. Plus, it's spacious enough to hold all of your barware, including suspended racks for both your wine glasses and your wine bottles.
Get the Tibo Bar Cart from Wayfair for $259.99
14. This gorgeous dinnerware set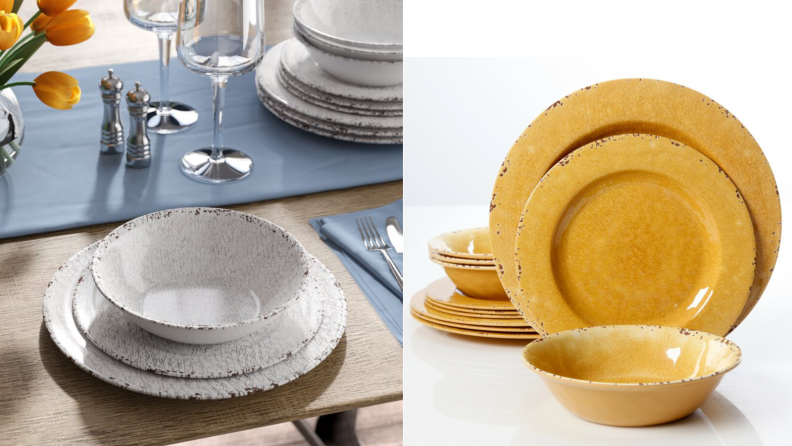 There's nothing wrong with using the same old mismatched plates and bowls you've had for 10 years every day for dinner—but there's also something classy about having a nicer, coordinated set. Opt for a set like this melamine dinnerware from Wayfair, which has over 2,000 reviews. Why are people so obsessed with it? Well, there's a lot of reasons, including that the plates are dishwasher-safe (i.e. easy to clean), chip-resistant, durable, and can be stacked neatly in your cabinet when they're not in use.
Get the Cogswell Mauna Crackle 12-Piece Melamine Dinnerware Set from Wayfair for $31.99
15. This must-have accent chair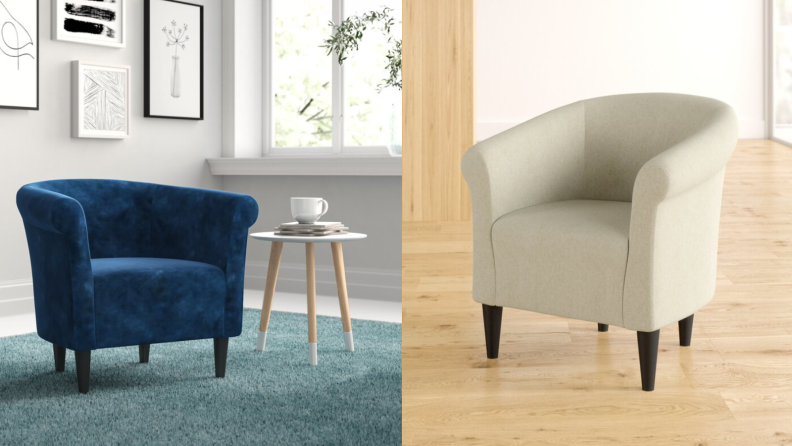 You know that empty space in your living room that you've been trying to fill but you're just not sure what to buy? Enter this crazy popular accent chair, which has almost 10,000 reviews on Wayfair. Customers claim it's super comfortable and has a soft microsuede upholstery you can't help but want to curl up in. They also like that it's compact enough to fit perfectly in smaller spaces, like a bedroom or an apartment living room.
Get the Liam Barrel Chair from Wayfair for $153.99
The product experts at Reviewed have all your shopping needs covered. Follow Reviewed on Facebook, Twitter, and Instagram for the latest deals, product reviews, and more.
Prices were accurate at the time this article was published but may change over time.