Laptops
The Best SSDs Under $100 of 2019
Need a new SSD under $100? We've got you covered so you can make the right choice.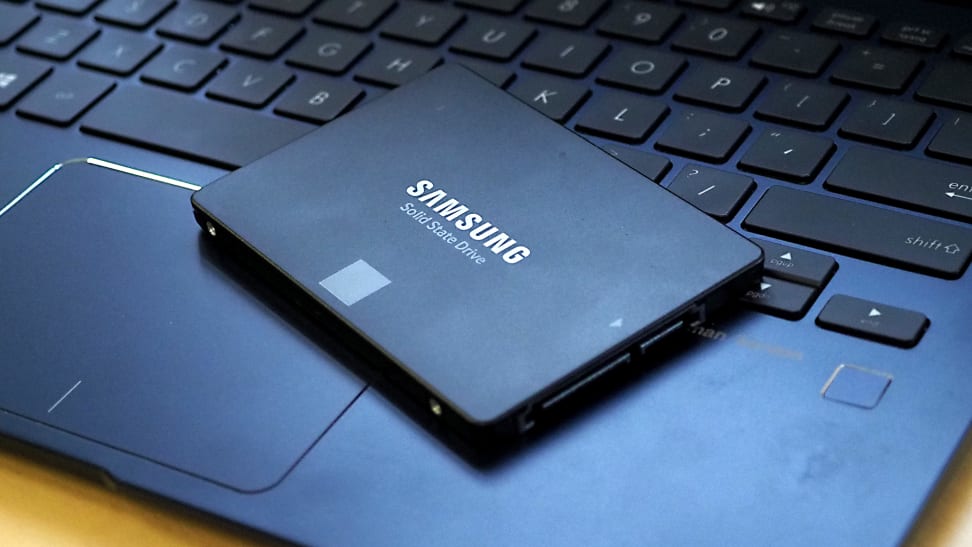 Credit: Reviewed.com / TJ Donegan
Shopping for an SSD is hard, but shopping for one on a tight budget can be brutal. Whereas a few years ago $100 would see you looking at slower, bigger spinning hard drives, these days you can get a fantastic solid state drive with over 200GB of capacity for less than the same amount.
Of the ones we've tested, our favorite is the 250GB Samsung EVO 860 (available at Amazon for $59.99). It's fast, durable, and available in a wide variety of formats and capacities. Though prices fluctuate daily, you can find the 250GB 2.5-inch version and the mSATA and M.2 models for a reasonable price.
As we discussed at length in our full guide to the best laptop SSDs, most new SSDs are going to run at similar speeds. The technology is held back by the SATA III standard, which is what most laptops use to connect to storage (this goes for both M.2 and 2.5-inch drives). As such, if you happen to find a great deal on another SSD we tested, you should feel comfortable going with that and saving some money.
These are the best SSDs under $100 we tested ranked, in order:
Samsung SSD 860 EVO 2.5" SATA III 250GB
Western Digital WD Blue SSD (2.5-inch 250GB)
Crucial MX500 SSD (2.5-inch 500GB)
Kingston A400 SSD (2.5-inch 240GB)
Kingston A400 SSD (2.5-inch 120GB)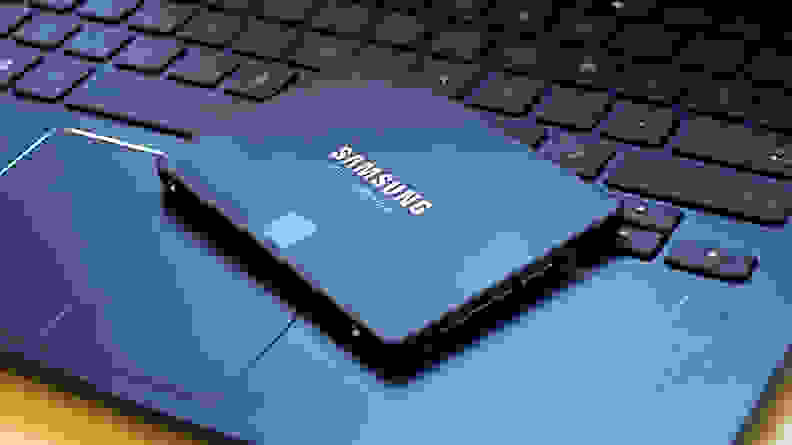 Best Overall
Samsung 860 EVO SSD (2.5-inch 250GB)
Formats: 2.5-inch, M.2, mSATA
Warranty: 5-year limited warranty
The Samsung 860 EVO launched early this year as the follow-up to the exceptionally popular Samsung 850 EVO. Though the 850 EVO is still trickling out of the market, the 860 EVO is the successor and includes a number of changes that result in better long-term endurance and some minor performance increases.
In our testing, the 860 EVO was a hair faster than the 850, even though both are limited by the SATA III interface's max speed. The 860 is actually the cheaper of the two now, as the 850 is leaving the market and prices tend to be higher.
Though not as cheap as the least expensive drives on the market, with the 860 EVO you can expect slightly better performance, a long 5-year warranty, capacities reaching 4TB (though M.2 versions top out at 2TB), and support for features like hardware encryption that not all drives support.
Across the board, the Samsung 860 EVO is the best laptop SSD that we tested. At typical capacities, it's only a tad more expensive than the other drives, and there's something to be said for the fact that it comes in nearly every form factor and capacity— with all the 250GB variants costing less than $100. Unless your laptop takes super-fast NVMe SSDs, the Samsung 860 EVO is the best bet on the market.
How We Tested
The Tester
My name is TJ Donegan, I'm the Executive Editor of Reviewed. I've reviewed nearly every kind of tech you can buy, from cameras and camcorders to smartphones, laptops, and PC components. I've built numerous custom PCs for myself and others, and lost at least 20 screws inside of various computers over the years.
Handling the testing side of this roundup is Kyle Hamilton, our in-house Product Test Technician and reviewer. He is a former validation technician for Intel, where he was responsible for testing power, performance, and thermal throttling for solid state drives.
The Tests
For testing, we are relying on the free and readily available Crystal Disk Mark, meaning you should be able to easily check our results. We picked our test batch by looking at market data, user reviews, current prices, and looking at other in-depth guides to the best SSDs at places such as Anandtech. We also reached out to each manufacturer to discuss their current product lines to see which drives may be replaced soon.
Though we're targeting laptop performance, for ease of use, each drive was tested using a Lenovo gaming desktop connected as a secondary drive via SATA III. For each test run, we used Crystal Disk Mark's full suite of benchmarks (set to repeat 9 times). We repeated the test run with each drive at least twice and checked our results against other outlets to ensure they were within expected norms.
What You Should Know About SSDs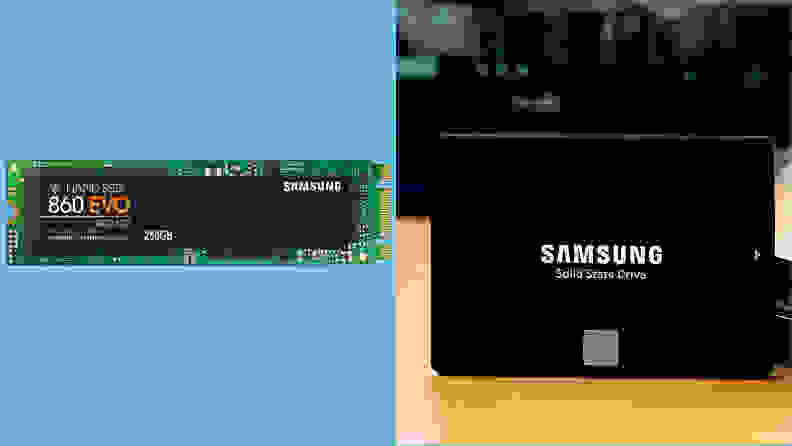 You could write 10,000 words on the different types of SSDs and still not explain all the differences, so we're going to keep it simple. When shopping for an SSD you first need to figure out what will fit into your laptop or PC. Most laptops, game consoles, and PCs take so-called "2.5-inch" drives that are a little bigger than a playing card. If that's what you need, just buy one and you know it'll fit perfectly.
In some slim laptops, however, you will find what is called an "M.2" port with SSDs that look like long, thin circuit boards. Why the drastic change? Because the actual memory in SSDs is really tightly packed, so most of the space in 2.5-inch drives is wasted. M.2 sticks are more space-efficient, which is perfect for today's laptops.
Most M.2 SSDs are 22mm wide sticks, but they come in various lengths up to 80mm long. (Such a stick usually has "2280" in the model name to denote its size). You can usually replace a longer M.2 SSD with a shorter one, but check with your manufacturer to be sure.
Some laptops have space for both kinds of drives, and there's not much to be gained just from using an M.2 SSD over a 2.5-inch one. Most of the drives we tested in this guide come in both form factors and have the same "speed limit" because of the SATA III standard—even M.2 versions. Just buy what you need and you should get roughly the same performance.
There is a new, faster kind of SSD out called NVMe, however. NVMe memory fits into an M.2 slot and can smash through that speed limit, but only if your laptop supports it. Since this is mostly limited to high-end machines and gaming laptops (and it's more expensive), we're leaving these for a future guide.
---
Other SSDs We Tested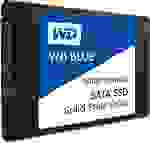 Western Digital WD Blue SSD (2.5-inch 250GB)
Formats: 2.5-inch, M.2
Warranty: 5-year limited warranty
The WD Blue series of SSDs has been a highly rated, well-priced addition to the market since the middle of last year. In our testing, the 1TB model managed consistently high read/write speeds, it's competitively priced, and it has a 5-year warranty.
While the Samsung 860 EVO did slightly better in a few tests and is rated to endure more use over time, for most people, the WD Blue is a cheaper option that will perform functionally identically in day-to-day use. It lacks hardware encryption and doesn't come in a 4TB package, but those are extremely niche concerns.
It's right around $75 for a 250GB model, jumping to around $115 for 500GB, and $229 for 1TB—with prices falling all the time. The 2TB price is still quite high, but at just under $500 it's in line with the competition and you get a 5-year limited warranty across the board.
Overall, there is very, very little performance-wise to choose between the WD Digital Blue and the rest of the drives we tested, so it's better to focus on value. The WD Blue does the best job of balancing performance, price, and a long warranty, so for most people, it's actually the best choice right now.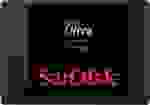 SanDisk Ultra 3D SSD (2.5-inch 250GB)
Formats: 2.5-inch
Warranty: 3-year warranty
The SanDisk Ultra 3D NAND SSD comes in a wide variety of form factors and capacities, and it's very, very similar to the Western Digital WD Blue. That's not surprising, given SanDisk acquired Western Digital a few years ago and all these drives are limited by the SATA III interface.
In our performance tests, the Ultra 3D SSD managed to slide right in among the middle of the pack, only narrowly behind our fastest SSD, the Samsung 860 EVO, and slightly ahead of our value pick. As with the others drives, it'll be a very fast upgrade over a hard drive but you won't notice a huge jump over other SATA III SSDs.
Our only hangup with the SanDisk Ultra is its 3-year warranty, which is a bit behind the 5-year warranty that most of the competition offers. SanDisk does allow you to write to the drive significantly more frequently per day while still honoring the warranty, though, so certain applications that use the drive constantly (such as a security system), may find it to be better suited to their needs.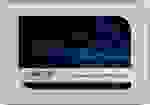 Crucial MX500 SSD (2.5-inch 500GB)
Formats: 2.5-inch, M.2, mSATA
Warranty: 5-year limited warranty
If one thing is clear from our testing, it's that most modern SSDs perform about the same when using the most common SATA III and M.2 connections. Outside of some newer high-performance NVMe drives that we'll test later this year, most people simply should find the cheapest drive that works for them and go with that—especially if that drive offers a 5-year warranty.
The Crucial MX500 definitely checks those boxes, and at 250 and 500GB it was as cheap as any other drive we tested. The one thing that held it back from our top value pick? The higher capacities were consistently more expensive, though at that point you're well out of the $100 price bracket.
Still, if you want a great, affordable SSD at 250GB, the Crucial MX500 is as good a pick as any under $100. It did perform ever so slightly worse than the best drives, but not enough you'd notice with regular use.
Kingston A400 SSD (2.5-inch 240GB)
Formats: 2.5-inch
Warranty: 3-year limited warranty
The Kingston A400 SSD performed admirably in our round of testing, but it didn't do enough to make up for the fact that it offered lower capacity and typically cost more than comparable drives in this round. Though the capacity differences weren't massive, an extra 10 to 40GB does make a difference.
Though occasionally a few dollars cheaper than the 250GB drives in this list, in general, we'd prefer to go with one of those options. There's nothing wrong with this drive if you can find it on a deeper sale, though, so keep your eyes peeled.
Add it up, though, and the higher price, average performance, and shorter 3-year warranty period were enough to keep the 240GB Kingston A400 from threatening the top spot.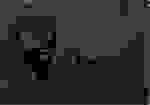 Kingston A400 SSD (2.5-inch 120GB)
Formats: 2.5-inch
Warranty: 3-year limited warranty
Of the SSDs we tested, the only one that comes in a sub-200GB version is this Kingston. It's not a bad option if you're on a really tight budget— it retails for under $50, after all—but it's only about $25 cheaper than the 250GB drives from other brands.
Still, if you opt for this you'll get similar (albeit slightly slower) performance than the 240GB version. For the extreme budget shopper looking for an SSD who doesn't need a lot of space, this will do the job just fine.
That said, we would highly recommend upgrading to the 250GB models listed above, especially if this is going in a PC or game console. The extra space will definitely come in handy.
More Articles You Might Enjoy
The Best Laptops
The Best Laptops Under $1,000
7 things to consider when buying a new laptop
Up next
Get Reviewed email alerts.
Sign up for our newsletter to get real advice from real experts.