These days there's a laptop for just about every budget, whether you need an inexpensive Chromebook for browsing the web or a high-powered machine for video editing or gaming. But for most people, the sweet spot is somewhere in the middle, especially around $1,000. We prefer the Dell XPS 13 9360 (available at Dell.com for $949.99) to anything else we tested.
Luckily, these days you can get some killer devices for under a grand, whether it's the entry-level version of a premium notebook or the fully-loaded version of a mid-range device. Either way, you've got plenty of options and we're here to help you find the best one for you. These are the best laptops we've tested for under $1,000, and the ones we'd recommend to our friends and family.
Here are the best laptops under $1,000 ranked, in order:
Dell XPS 13 9360 (Intel Core i5, 128GB SSD)
HP Chromebook x2
Microsoft Surface Go
Asus VivoBook S15
Dell Inspiron 15 7000 Gaming (8GB RAM, 256GB SSD)
Acer Nitro 5 (AN51551504A)
Asus ZenBook UX330UA
Lenovo Yoga 720 2-in-1 13" (8GB RAM, 256GB SSD)
Microsoft Surface Pro 4
Acer Aspire E 15 (2016, Intel Core i5, 256GB, 8GB RAM)
Dell Inspiron 13 7000 2-in-1
Razer Blade Stealth (Late 2016)
Dell Inspiron 15 7559
Updated March 25, 2019
Advertisement - Continue Reading Below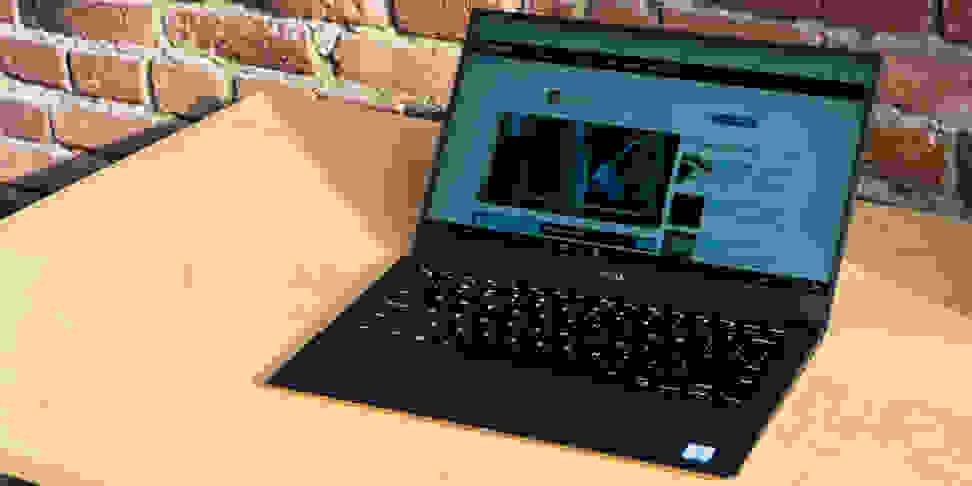 How We Tested
Here at Reviewed, we test graphics, processing power, battery life, and screen brightness. In other words, we try to push every laptop beyond its limits. We use popular benchmarks to test internal components such as Geekbench, 3DMark, and Metro 2033. This is how we gauge how well the laptop multitasks, responds to input commands, runs games, and more. As for battery testing, we set them up to continuously cycle through various websites at 200 nits brightness until they run out of power. This tells us how much juice you're getting on a single charge. We also take into account build quality, price, portability, and design.
The Tester
I'm Ashley Barry-Biancuzzo and I'm the primary laptop reviewer here at Reviewed. Though Reviewed has been testing laptops for a couple of years now, I seized control of this beat (cue evil laughter) in 2017. It's the perfect category for me because I've been playing around with laptops ever since I was a kid. While I like playing games and browsing the web as much as the next person, the tinkerer in me loves getting a good look at the internal components, as it kind of looks like a miniature metropolis inside the shell. For me, a good laptop needs to be the perfect balance of design and function. If it doesn't excite you in some way, then what's the point? The more innovative it is, the better.
The Tests
The first thing we do is push the graphics card (a circuit board that controls what you see on the display) and the processor (the brains of the laptop) to its limits. That means we run cinematic movies and games to test the graphics card and a program that simulates workloads to test the processor. These tests gauge how well the laptop multitasks, runs visually demanding games, responds to input commands, and so on. The next thing we do is record the screen brightness with a CS-200, a handheld device that measures luminance. The brighter the screen is, the better.
The final test we do is the battery test, as it takes the longest to run. First, we unplug the laptop and set it to 200 nits brightness. We then set it up to continuously cycle through popular websites like Amazon and Twitter until the battery dies. What we're trying to do here is simulate how an average person might use the laptop. This is how we figure out how much juice you're getting on a single charge. We also check build quality (does the screen have any flex?), portability (under three pounds is ideal), and design (sometimes an eye-catching color scheme really makes a difference).
What You Should Know About Laptops Under $1,000
For under a grand, you can expect a pretty wide variety of laptops. Before we get into the inner components, you should first decide on what type of laptop you want to get. There's the traditional clamshell, which can only be opened 180-degrees. These laptops have been around for ages and are popular among college students. Then there's the 2-in-1 convertible, which can be folded or flipped. You can flip the screen around and use it as a tablet or prop it up like a painter's easel. This kind of laptop is great for the regular traveler, as they're really versatile and lightweight.
The display size is another thing to consider. For example, an 11-inch display is going to be much lighter than a 15 or 17-inch. So, if you need something that's light and portable, a laptop with a larger display just isn't going to cut it. With that said, bigger displays have higher resolutions and that means a sharper picture. If you're a photo or video editor, you'll probably want a bigger screen so you can see all those minute details. If you just need a lightweight machine for research or writing papers on, an 11-inch display should do you just fine, especially if you're taking it from class-to-class.
The next thing we need to discuss is the operating system. If you work with editing software or play games, you'll want to spring for a Windows-based machine, as you can outfit it with a beastly processor and graphics card. If you just want to browse the web and watch Netflix, a Chromebook is a good option. These inexpensive machines run ChromeOS (aka Google's default browser), have low-power processors and are largely virus-free. You also need a stable WiFi connection, as these laptops are web-based, so there's not much you can do offline.
Last but not least, let's talk about the guts. A video editor or a hardcore gamer is going to have very different needs than the everyday user. Whether you're working with thousands of images or playing the latest AAA game, you're going to need a lot of "oomph." When I say "oomph," I'm referring to both the processing power (how fast it can run multiple programs at once) and graphics power (how fast it can render the graphics on your screen).
For those of you who need more "oomph" than the regular person, listen up. You're going to want to shoot for an Intel i7 processor that ends in either HQ or K. These processors use higher wattage and have four cores. If that sounds like gibberish to you, don't worry, that just means it delivers faster performance. As for the average user that likes to surf the web and explore the dark corners of YouTube, an Intel i5 processor should suffice. Finally, if you find yourself needing a lot of storage (for offloading pictures and such), you should get a laptop that has a microSD card slot and at least 8GB of RAM.
---
Other Laptops We Tested
If you're shopping for laptops, read our guide, The Best Chromebooks.
Advertisement - Continue Reading Below