Laundry & Cleaning
Fisher & Paykel DE4024P1 Compact Ventless Condenser Dryer Review
A compact condenser dryer that doesn't skimp on features
Credit: Fisher & Paykel
If your place is tiny with no separate laundry room you may be considering a compact ventless dryer. The Fisher & Paykel DE4024P1 may be an unfamiliar brand to you, but it's worthy of consideration.
Of course, if you're not even sure what a non-venting condenser dryer is, you've probably got some more reading to do. Suffice it to say, the DE4024P1 and its ilk might seem almost magical. They work by running very hot air through wet clothes, passing the moisture through a heat exchanger to condense it into water. Then they move the water into a drain or removable tank. Thus, the need for a vent is eliminated and you can install one anywhere you have space: kitchen, bathroom, basement, etc.
We're reviewed lots of compact ventless dryers, but the Fisher & Paykel DE4024P1 stands out as a particularly worthy option.
Design and Features
This dryer is tiny and powerful. Despite its limited color palette (white only), the DE4024P1 looks contemporary. Its exterior dimensions (33 15/32 inches high, 23 5/8 inches wide, and 25 25/64 inches deep) tell you it won't hold a big family's wet clothes, but could work fine for a single person or a couple.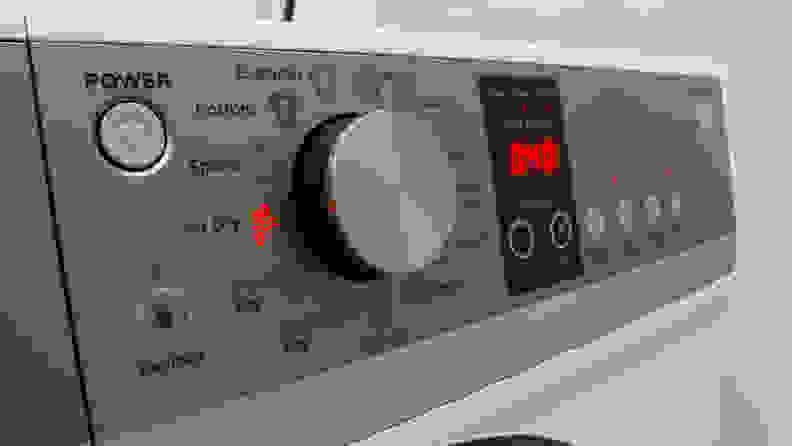 The controls are snappy and responsive, letting you dial up the cycle you need for each load. With 13 cycles and pressure-sensitive adjustments for Dryness level, Dry temperature, and Wrinkle free (an extended toss), you can dry the clothes pretty much any way you want.
Once you open the door, you see a shining stainless steel 4.0 cu.-ft. drum, a typical size for a compact machine. The texture is gently rippled, and two fins are wavy, the better to tumble the clothes. The interior is nicely lit, making it unlikely even a single sock will be left behind. A drying rack is included in the price of this dryer, and it's ideal for times when you want to dry things that shouldn't tumble: Think sneakers and backpacks.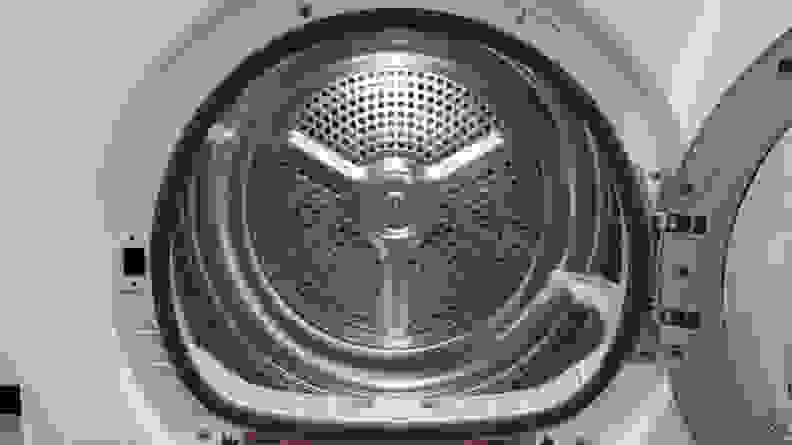 A lightweight lint trap holds plenty of fuzz and it's easy to open for cleaning. Don't ever skip this step—not only is a full trap a fire hazard, but leaving lint in the trap makes it harder for the dryer to get the moisture out of the clothes.
Performance
In our laundry labs, this dryer did an pretty good job drying our test loads. This model has an "autosensing" feature which determines the amount of moisture in the tub and stops the cycle when the clothes are dry. The Everyday cycle—which is called Normal on almost every dryer we've ever seen—runs hot, which is typical of condenser models. Clothes took over 96 minutes to dry on that cycle, at a temperature of 171°F. Your delicates are handled with finesse, taking 114 minutes to dry at a temperature just over 150°F.
Warranty
Fisher & Paykel offers a two-year limited warranty on parts and labor.
What users say
This new model has few reviews at this writing, but they are all positive, showing 4.8 out of 5 stars. Owners love its performance, its compact size, and its gentleness.
The Bottom Line
A compact condenser dryer offers an alternative for people who live in urban condos and tiny houses that lack laundry spaces. There aren't many dryers of this kind on the American market. This Fisher & Paykel model is produced in New Zealand by a company that uses sustainable manufacturing processes. The DE4024P1 performed well in our tests, and the under $1,000 price point offers good value. If your living situation doesn't allow for a standard dryer and you insist on doing laundry at home, this dryer, or another one of our top-rated compact models, could change your life.
Up next
Get Reviewed email alerts.
Sign up for our newsletter to get real advice from real experts.