Pros
Decent cleaning

Steam features

Large capacity
Cons
Costs a bit too much for what it offers
The GE GFD45ESPMDG is a handsome, if somewhat run-of-the-mill, higher-end dryer. We like its overall design, a matte gray body with silver flourishes and a clean control layout. When it comes to its performance, we don't have many complaints. Its cycles finish relatively quickly (with a few exceptions), and it delivers completely dry laundry.
We also like its steam features, which offer dedicated cycles for removing wrinkles and sanitizing particularly grimy garb.
Our main gripe with this GE is its Quick Dry cycle, which is not particularly quick and reaches temperatures that exceed the safe cutoff of 150°F. While neither of these two issues is particularly disqualifying, the competition amongst dryers in this price range is pretty steep. For that reason, we'd recommend comparing other top-performing dryers to make sure this GE is the best choice for you.
About the GE GFD45ESPMDG dryer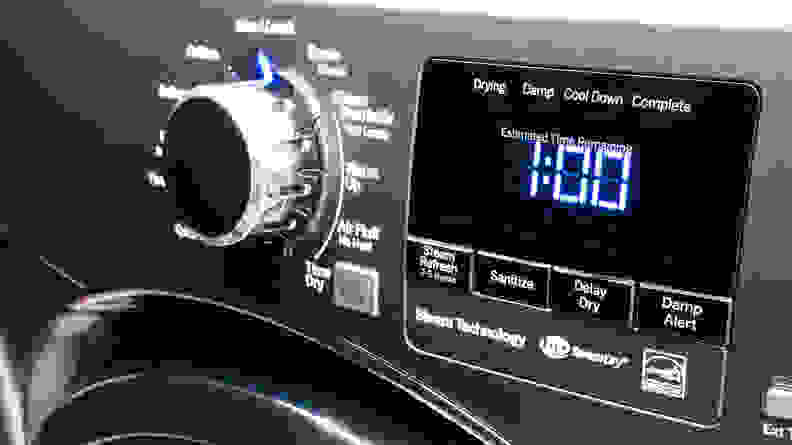 Dimensions: 39.38 x 27 x 33 (H x W x D)
Capacity: 7.5 cu. ft.
Finishes: Gray
Cycles: Quick Dry, Perm Press / Casuals, Bulky / Bedding, Delicates, Cottons, Mixed Loads, Towels / Sheets, Steam, Dewrinkle, Full Loads, Warm Up, Airfluff, and Time Dry
Cycle options:
Sanitize—Reduces certain types of bacteria by 99.8%, including: Staphylococcus aureus, Pseudomonas aeruginosa, and Klebsiella pneumoniae
Steam Refresh—Significantly reduces wrinkles on up to 5 garments
Damp alert—Causes the dryer to beep when clothes have dried to a damp level
Ext Tumble—Minimizes wrinkles by adding about 1 hour of no-heat tumbling after clothes are dry
eDry—Reduces the total energy consumption of specific dryer cycles by adjusting certain heat settings
Four temperature settings
Four water level settings
Matching washer: GE GFW850SPNRS front-load washer
User manual: GE GFD45ESPMDG dryer owner's manual
What we like
It gets your laundry dry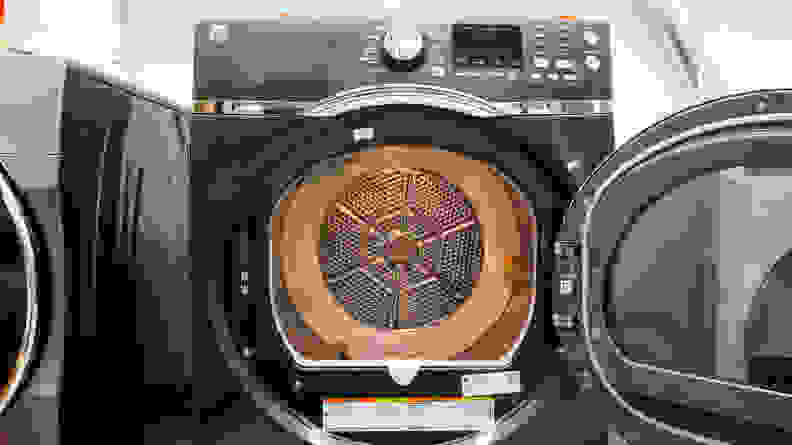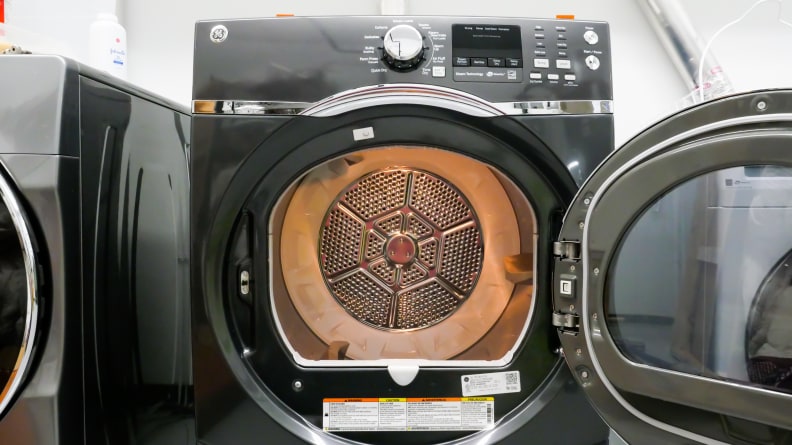 The core functionality of a dryer is to get your laundry completely dry as fast as possible. When it comes to the former criterion (we'll unpack the speed aspect later), the GE GFW850SPNRS is pretty good: Cottons, Quick Dry, and Bulky / Bedding cycles all finished our test cycles with 100% dry laundry.
Results like these typically mean the dryer has pretty good humidity sensors and a large enough drum to tumble dry laundry without wrapping larger items up into tight, dampness-insulating balls. We had no complaints here.
Note: While the Delicates cycle only got laundry 77% dry, which is 4–8% less dry than average, it's typical for most delicates cycles to end with partially-damp laundry.
The steam and sanitize options are lifesavers
If you're caring for a newborn, do a lot of traveling, or have a particularly dirty job, steam features on a dryer can really help ensure your laundry is as clean and fresh as possible.
The sanitize option uses steam to reach temperatures that would normally be unsafe for your clothes if it were dry heat. GE claims its sanitize setting even gets hot enough to kill certain types of bacteria by 99.8%. If that's true—we don't test for this in our labs—that means it's great for making particularly gross items safer, like that old stuffed animal your baby keeps throwing on the floor or putting in its mouth.
If you go on a lot of business trips, chances are you have a lot of nice clothes that are coming home in a suitcase looking awfully wrinkled. Whether your blouse was crumpled in your carry-on, or your shirt that got bunched up in a drawer for a while, a steam feature in a dryer is a great option for erasing wrinkles. Why break out the flat iron and sweat over every crease when you can just toss the item into your GE GFD45ESPMDG, start Steam Refresh, and come back in 30 minutes to wrinkle-free laundry?
Some dry cycles finish pretty quickly
When we go through our battery of lab tests, one thing we keep track of is how long each cycle take to run. Ideally, the most effective dryers take the shortest amount of time to get your laundry dry.
The GE GFD45ESPMDG has two cycles that merit mention for quick completion: the Bulky / Bedding cycle and the Delicates cycle. Typically, a bulky cycle or a delicates cycle takes about an hour to finish, and the GFD45ESPMDG actually finished each in 49 minutes. Impressively, the Bulky / Bedding cycle also managed to completely dry its load of laundry, which is something other dryers can struggle with, even when taking much longer to finish the cycle.
If you have a big bed with big sheets and comforters that you prefer to clean on a regular basis, you may appreciate the GFD45ESPMDG's excellent Bulky / Bedding cycle. Nobody likes unloading a huge item only to find it's all wrapped up around a damp core, and with this machine, it won't happen.
What we don't like
Quick Dry cycle gets a little too hot
This is a minor complaint, but something to watch out for: In our tests, we measured the Quick Dry cycle reaching 165°F. This is 15°F hotter than the 150°F cutoff point at which the heat starts to damage your clothes.
Temperatures above 150°F can dry out your laundry's fibers, making them more brittle and susceptible to wear and tear. The higher the temperature that the dryer reaches, the worse this effect on your clothing. As such, many manufacturers agree that dryers shouldn't be running above 150°F.
At 15°F higher than ideal, we'd recommend intervening and manually turning down the temperature on your dryer, which will take the edge off and prevent needless wear and tear damage.
These temperatures may not be high enough to reduce your clothes into rags overnight, but that wear and tear will accumulate over time, and it could reduce the longevity of your wardrobe.
Some cycles take much longer than average
The GE GFD45ESPMDG is an interesting case: The two main dry cycles that usually take the average dryer longest to run (bulky, delicates) performed fairly fast on this GE machine. Conversely, the average dryer's cycles that are usually pretty fast (normal, quick) to complete took a much longer time on this GE.
Its Quick Dry cycle was technically the machine's fastest cycle, but we wouldn't call it particularly… quick. The average quick cycle takes about 30 minutes to finish, with the really excellent machines completing in under 15 minutes. The GFD45ESPMDG, on the other hand, takes 46 minutes to wrap up. It does deliver 100% dry laundry by the time it finishes, but its Quick Dry cycle is only three minutes faster than its Bulky / Bedding and Delicates cycles.
Additionally, the Cottons cycle setting, this machine's closest equivalent to a "normal" cycle, takes a lengthy 87 minutes—almost 40 minutes slower than the Bulky / Bedding cycle.
With that in mind, we'd recommend you sticking with Bulky / Bedding as your default setting: It's only slightly slower than Quick Dry, doesn't reach temperatures that are unsafe for your clothes, and delivers completely dry laundry.
What owners are saying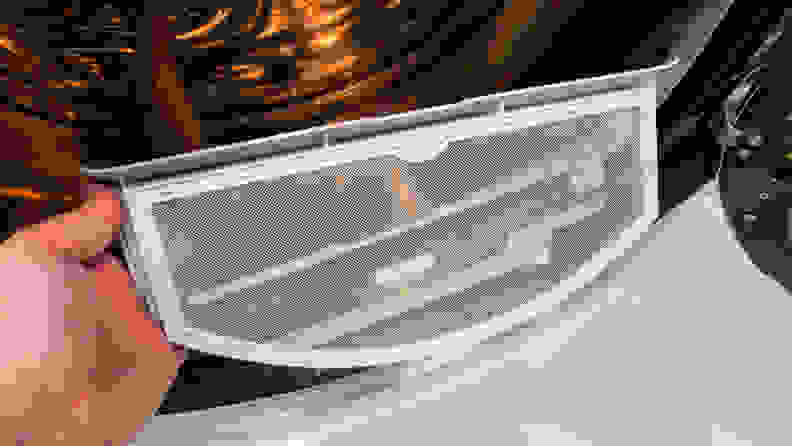 Owners seem to like their GE GFD45ESPMDG dryer, giving it an average of 4.6 out of 5 stars across major retailers. The elements that receive the most praise are the unit's capacity, steam features, quiet operation, and good-looking design. Complaints are relatively few and far between, with the most common one being that cycles took too long to finish.
We also found a few users saying it was actually too loud during operation—we didn't run into this while we tested, however, so it might just be an indication that particular person received a lemon.
Warranty
The GE GTW335ASNWW is covered by a limited one-year warranty for parts and labor. This is a basic policy for appliances. Some manufacturers have longer warranties, such as the 10 years offered by Maytag and the lifetime warranty offered by Speed Queen on select parts.
Should you buy the GE GFD45ESPMDG dryer?
Maybe. As with most of our less-definitive conclusions, the main point of contention here is price. The GE GFD45ESPMDG is a pretty good dryer. In our tests we found it got laundry 100% dry most of the time. While some cycles took a bit longer than we'd have liked, others finished much faster than the average dryer. We also really liked its steam and sanitize features.
The problem is, at its price point the GE GFD45ESPMDG has some pretty stiff competition. Most other dryers in this price range also have steam features, and many of them can get laundry drier, faster.
If you're considering the GFD45ESPMDG, it likely won't disappoint. If you want to get the most for your money, though, we'd recommend also researching the excellent Electrolux EFME627UTT, which is currently our highest-rated dryer. Not only is it actually a little cheaper than the GFD45ESPMDG, it has the same steam features and stays at safe temperatures, though some cycles do take quite a while to finish.
Meet the testers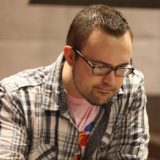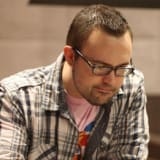 Mark Brezinski
Senior Writer
@markbrezinski
Mark Brezinski is a senior writer with over ten years of experience reviewing consumer tech and home appliances.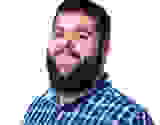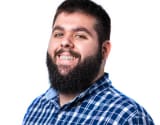 Kyle Hamilton
Product Tester
Kyle Hamilton is a product tester at Reviewed, specializing in home appliances and technology.
Checking our work.
Our team is here for one purpose: to help you buy the best stuff and love what you own. Our writers, editors, and lab technicians obsess over the products we cover to make sure you're confident and satisfied. Have a different opinion about something we recommend? Email us and we'll compare notes.
Shoot us an email