Laundry
Dirty Clothes Are No Problem With This Genius Suitcase
Genius Pack bags may be a godsend for the obsessively organized.

Credit:
Like many of you, we at Reviewed.com do a lot of traveling—sometimes for up to two weeks. For us, these trips demand a careful balance between packing enough underwear and not wanting to do any laundry.
Of course, if you do manage to avoid doing laundry on the road, you're left with a bag full of stained shirts and sweaty socks. Gross.
Genius Pack has a solution. Each of its carry-on bags and suitcases has something called "Laundry Compression Technology." But don't worry, it's not as highfalutin' as it sounds.
It's essentially a dedicated laundry chute that compresses laundry contents by expelling air through a valve. That compression creates more room for clean clothes, souvenirs, and other silly knickknacks. And once you get home, the chute itself can be quickly removed, doubling as a laundry bag.
In addition to the Laundry Compression Tech, Genius Pack bags include a near-obsessive number of organizational compartments and zippered pockets. There's a toiletry kit, a packing checklist, a portable battery pack—even an umbrella pop out.
This is luggage for folks who like to be organized.
Clearly, this is luggage for folks who like to be organized—perhaps too organized. If anything, Genius Pack overdoes it: The company's suitcases also include a compact portable speaker intended for listening to music while packing. The shtick is "extreme functionality."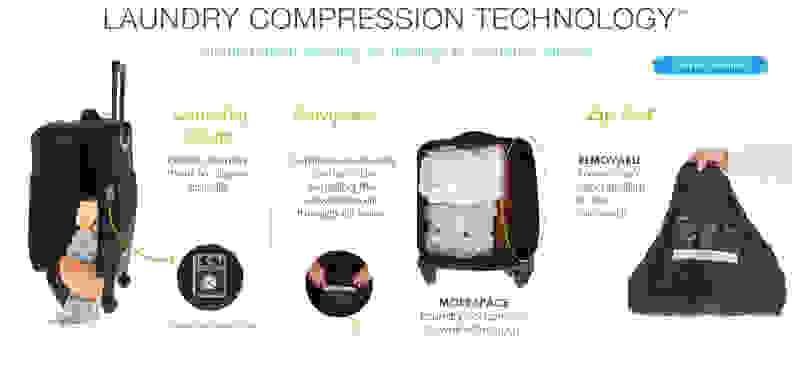 But Genius Pack sells a lot of products, most of them featuring a highly pragmatic, travel-oriented design—all examples of function over form. It sells iPad sleeves, leather document cases, portable chargers, universal adaptors—even a tie case.
If you're a neat-freak traveler, these bags are definitely worth checking out. Even if you're a klutz, something like Laundry Compression Technology may help you get your affairs in order, or at the very least freshen up your hotel room.