Laundry
Coronavirus can live on surfaces for 3 days—here's what you can do to keep things clean
Disinfect your home the right way.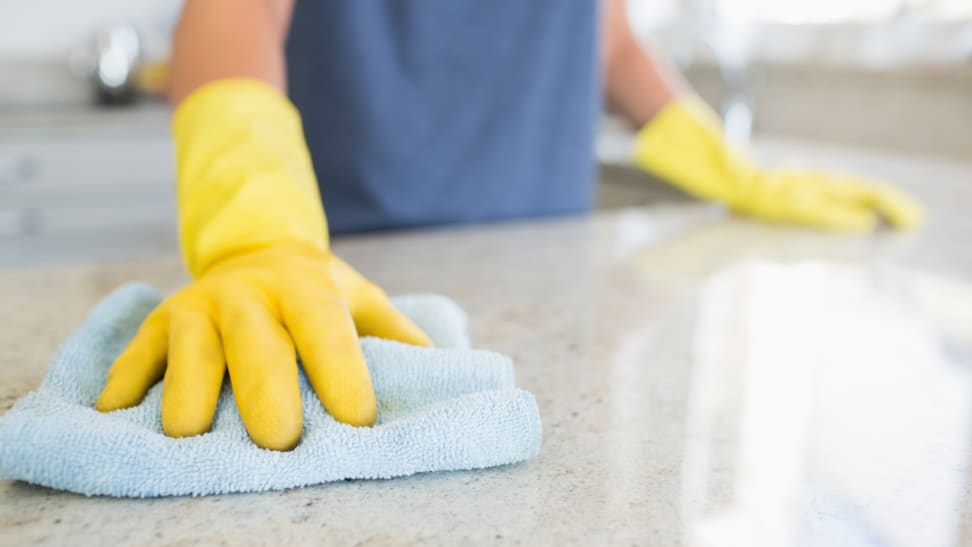 Credit: Wave Break Media/Getty Images
In light of the recent coronavirus outbreak, you thoroughly cleaned your house top to bottom four days ago—so you're good to go, right? Uh, maybe not, according to recent research. Tests by both scientists and the U.S. government have now revealed that coronavirus germs can live on surfaces for up to three days. Yikes.
If that's the case, what's the best way to disinfect the surfaces in your home? And what should you use? Below are some of the top cleaning tips to prevent the spread of coronavirus according to scientists and our own experts.
Which products should you use to protect against coronavirus?
Sprays and sanitizers are selling out at retailers across the country—but which ones are actually effective (i.e. worth buying)? The Environmental Protection Agency (EPA) has released a list of products that they've approved for use against the coronavirus. According to the EPA, all of the products—which include brands like Purell, Clorox, and Lysol—have been proven to be "effective against harder-to-kill viruses." In a news release, EPA Administrator Andrew Wheeler stressed, "Using the correct disinfectant is an important part of preventing and reducing the spread of illnesses."
One more thing: If you do choose to buy essentials like cleaning products or paper towels, please buy responsibly. Buying more than you need hurts your friends and neighbors so keep that in mind when you're ordering your supplies.
How to clean surfaces of potential coronavirus germs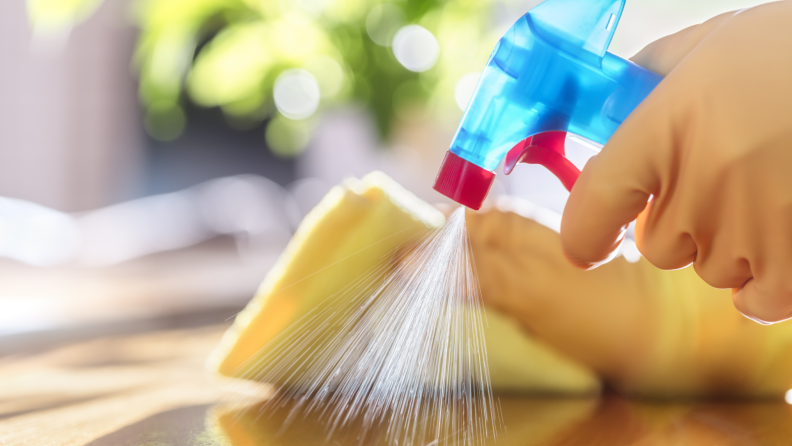 It's not just what you use to clean—it's also how you clean. Since a lot of information about coronavirus (including how to prevent it) is still unclear, Jonathan Chan, senior lab testing technician, recommends following general cleaning best practices for now. That includes knowing how to use sprays and wipes correctly. "Let disinfectants sit on the surface you're cleaning for at least 10 seconds before wiping them away," he advises, adding, "If you're using wipes, be sure to wipe in one direction. Studies have shown that wiping in one direction and not going back and forth helps reduce recontamination."
The Centers for Disease Control and Prevention (CDC) suggests cleaning "high-touch" surfaces daily to keep your home clean. These surfaces include tables, hard-backed chairs, doorknobs, light switches, remotes, handles, desks, toilets, and sinks. The CDC also advises people to wear gloves (which should be discarded after each use) while disinfecting and to wash your hands immediately after.
Is there anything you should do differently when cleaning to prevent coronavirus?
Other than opting for the products recommended by the EPA, not so much, Jonathan says. "The coronavirus isn't magic—it's just a virus and can be disinfected the same way," he explains. "Just let your cleaning products do their work and be diligent."
And while researchers agree that they have yet to find exactly how to clean surfaces of potential coronavirus germs, the study leader from the National Institute of Allergy and Infectious Diseases says that any solution containing diluted bleach is your best bet right now.
The product experts at Reviewed have all your shopping needs covered. Follow Reviewed on Facebook, Twitter, and Instagram for the latest deals, product reviews, and more.
Prices were accurate at the time this article was published but may change over time.