Laundry
LG TwinWash puts a second washer under your washer
If you want to wash two loads at once, LG TwinWash can get it done
We've tested hundreds of washers, dryers, refrigerators, dishwashers, and ovens—but the LG SideKick is easily one of the most unusual home appliances we've ever seen.
As a "companion washer" that makes up one half of the new LG TwinWash system, it has no competitors. Part pedestal, part miniature washing machine, the SideKick lifts your washer to a user-friendly height and cleans a small load of delicates or lightly soiled laundry.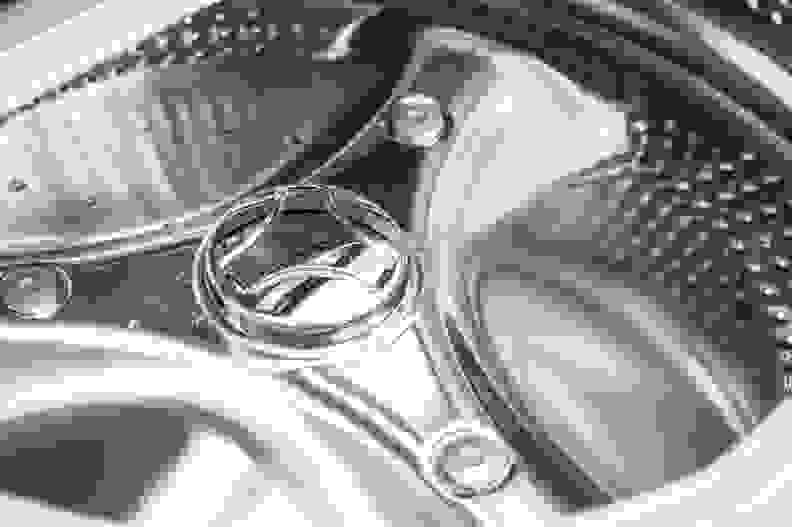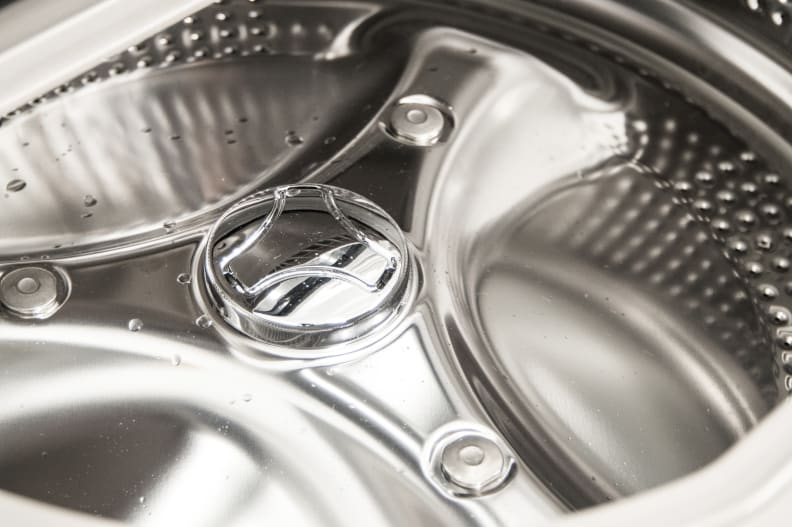 In LG's home country of Korea, a second washer is a common addition to a household and frequently used to clean baby clothes.
The SideKick is designed for small loads of delicates, while the main wash continues up top.
In the U.S., the company is marketing the SideKick as a way to divide and conquer your laundry, speeding up the whole process.
For example: Say you spent a day at the beach and want to wash your family's bathing suits and towels. Towels can be abrasive in a wash, and bathing suit colors can run. But if you throw the towels in the main washer and the suits down below, you'll save time and get better results. Overall, the SideKick is designed for small loads of delicates, while the main wash continues up top.
...At least, in theory. Like so many full sized washers before it, we took this miniature model into our appliance testing labs to prove or disprove the manufacturer's claims. Here's what we found.
The Pros
There's a lot to like about the SideKick and the TwinWash system in general.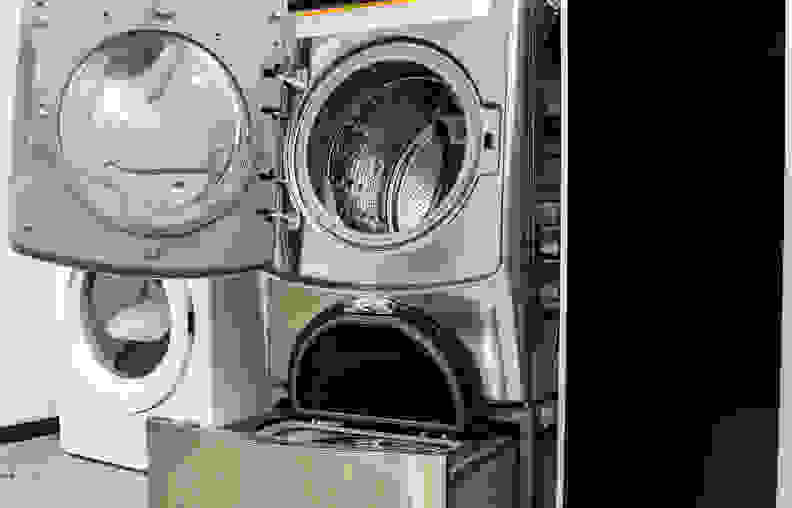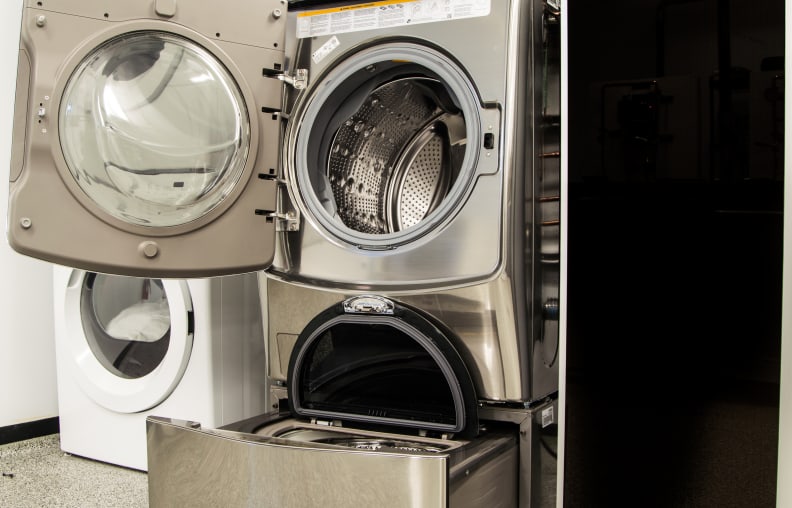 First, those who already own LG front loaders will be pleased to know the SideKick is compatible with over a dozen units–including both 27- and 29-inch widths. This PDF shows which machines are guaranteed to work.
If you don't own an LG front loader, consider getting one. Our tests show that LG makes some of the best washing machines on the market.
The SideKick brings those washers up to an easier-to-reach level. But separate water inlets and drainage keep it independent. Don't worry: Since the SideKick comes with Y-connectors that work with existing plumbing, you won't need to install more pipes.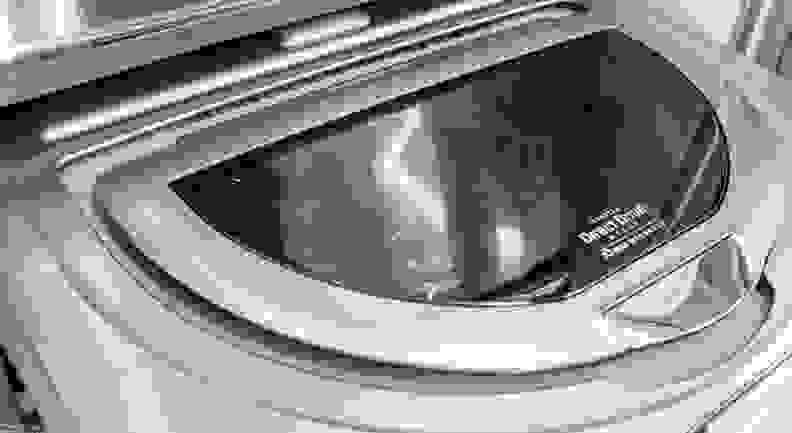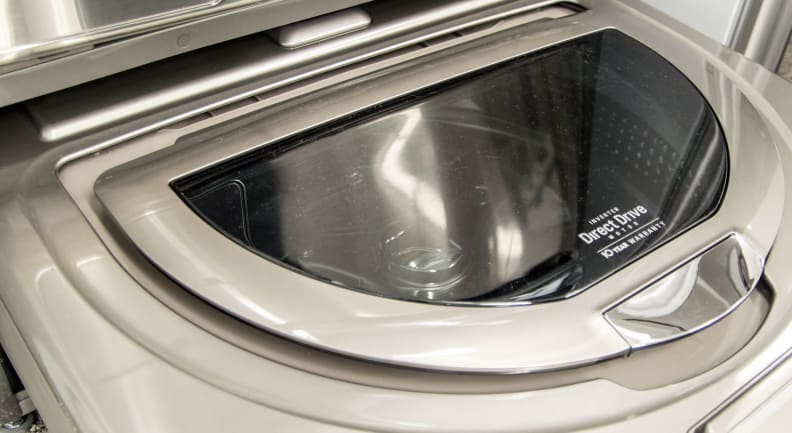 Once it's hooked up, you shouldn't be afraid to put delicates in the SideKick. The Handwash cycle is one of the most gentle we've ever tested, and uses cold water almost exclusively, so your colors won't run.
The Cons
There's one big drawback to this tiny washer: At an MSRP of $729.99 and sale prices of around $650 at time of writing, the SideKick is priced similarly to some of LG's own full-size washers.
That price is going to be a deal breaker for many consumers, and rightly so.


If you're willing to do some creative mental accounting, you can subtract the value of the traditional pedestal that you won't need to buy anymore, bringing the "cost" of the SideKick down to around $400. Still, you're not getting a lot of washer for that $400: A single cubic foot of capacity is enough for just a handful of items.
Although it's good at being gentle, the SideKick lacks an internal hot water heater and can't remove certain stains as well as a regular washer. Our tests showed that sweat, dirt, and blood were frequently left behind.
If you wash fragile fabrics infrequently, a delicates bag costs hundreds less. And if you don't care about isolating certain loads, it'd be more cost effective for large families to simply buy a mega-sized washer and wash two full-size loads instead.
Should You Buy It?
As of right now, TwinWash is a specialty item. The ideal SideKick customer will have need of a secondary cycle that washes separately, simultaneously, and more gently.
Most people just don't have those needs—certainly not every day. The U.S. SideKick model can't sanitize, so diapers are out, and for the money you could buy another full sized washer instead. The extra gentle Hand Wash cycle will go even easier on your unmentionables than most regular washers, but that's a pretty specific convenience for $650. It's just too much money for what you're getting.
However, if the price were to come down by half—which isn't unheard of in the appliance market—we'd reconsider. Nice pedestals cost about $200. Throw in a small washer for an extra $100, and now we're talking.
Related Video