Laundry
Will Neurio Invigorate the Smart Home Market?
A crowded market and tepid consumer interest pose a challenge to the next big "smart" trend.

Credit:
One should never judge a book by its cover, nor should one judge a startup by its name. "Neurio" isn't nearly as bad as some of the names on this list, but we have to admit it did not immediately hook us. Then we began to examine the product.
Made by Vancouver-based Energy Aware Technology, Neurio is a wallet-sized monitoring device that connects to your home's breaker panel, senses the flow of electricity throughout your house, and then transmits that data to the cloud.
But it's not just another smart home solution; Neurio may be the simple, all-in-one package this market so desperately needs. And there's more.

With the cloud service, Neurio can notify you of your peak energy hours, or send you alerts about usage, such as when your laundry is done.
It also has a public API and open-sourced cloud service, meaning you can get creative with how the device is used. For example, in combination with the popular programming app IFTTT, you could create a program that instructs Neurio to adjust your thermostat when the garage door opens (signaling you're home), or begin playing music when you start a bath.
That's all well and good, but will it give lift to the as yet stagnant smart home market? For that answer, we have to look at history.
A Brief History of the Smart Home
Back in the 1980s, home builders were pushing for wiring projects that seamlessly connected home appliances with public utilities. These systems could not only lower consumers' energy bills, but also allow them to remotely control the various operations of the home via phone.
The idea never really took off—partly due to a lack of interest among consumers, but mostly due to the unwieldy, underdeveloped technology then available. In a March feature, Stephen Melman, Director of Economic Services at the National Association of Home Builders, told us that consumers back then also preferred to have more control over the different gadgets that powered their domestic lives.
"The introduction of new products has always been a process of education." - Stephen Melman, National Association of Home Builders.
"The introduction of new products has always been a process of education for the builder… and for housing consumers who want to be comfortable with these new technologies," he said.
The Mobile Resurgence
A recent proliferation of wireless and mobile technology—not to mention a greater demand for green, energy-saving devices—has reawakened consumer interest in the smart home. And the competition is fierce.
In some ways, it's this crowded state that's holding the market back. Among the big brands vying for a slice of the smart home pie are Time Warner Cable, GE, Philips, Whirlpool, Verizon, and Comcast. Even Staples showed off a home- and office-connectivity product. The space is even tighter on the startup front, where products like Nest, LIFX, Valta, Modlet, and WeMo are all offering unique services, each one nuanced for a specific solution. Recently, we reviewed one such offering by Whirlpool:
Room for Neurio?
Neurio is more comprehensive than many other smart home services, many of which seem to focus on a specific power outlet or appliance, and don't coordinate with the home's central breaker. Energy Aware is still raising money on Kickstarter, but it surpassed its stated goal of $95,000 (CAD) in just 10 days. At the time of this writing, the pledge was up to $119,000.
But even if Neurio does catch on—and even if the rest of the industry manages to collaborate on some of the more niche demands of the smart home—its fate relies on the larger question of whether or not consumers truly want an integrated, connected home—with all the time, money, and effort that entails.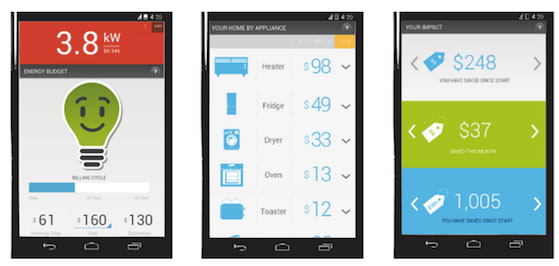 In some ways, the smart home market is a lot like the mobile payments space, which has also been inhibited by an abundance of services, disparate technologies, and little incentive to collaborate among the principle players. As the history of consumer technology shows, simplicity is key. Consumers like the idea of the smart home, but, just like with mobile payments, they don't want to pay a subscription, they don't want to buy several different products, they don't want to replace their gadgets, and they don't want to nurture their products.
[Photos: Energy Aware Technology, Inc.]