Laundry
These Magic Lockers Will Do Your Dirty Laundry
The "digital doorman" offers an array of services for urbanites.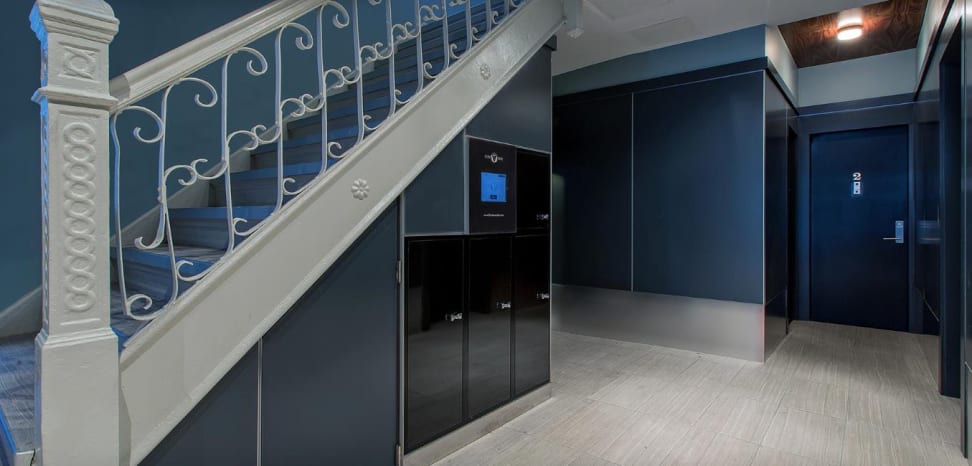 Credit: Clean Cube
If you live in an apartment without in-unit or in-building laundry, it can be a pain to lug your load to the laundromat—especially in winter. Now, a New York City startup wants to end your woes by putting a "digital doorman" in your building.
Clean Cube is essentially a set of internet-connected lockers paired with personal services, including laundry, dry-cleaning, storage, package delivery, Goodwill donations, and—eventually—grocery delivery.
According to the company, the lockers would be located in your building's lobby. They allow you to drop off and pick up items, depending on the service you're using. Clean Cube lockers are shared, but remain locked and are available only to you (via a personal passcode) when you're using one.
For the laundry service, you drop off your laundry in a locker, a Clean Cube employee picks it up and gets it cleaned, and you receive a text or email when the clothes are returned.
Clean Cube only charges you when you actually use its services, meaning there are no monthly or annual subscription charges. The company provides a list of rates for all its services, which can vary drastically.
For example, dry-cleaning a comforter costs $30. Meanwhile, Clean Cube's wash and fold laundry service costs $1.15 per pound, with a 10 pound minimum.
There's no doubt it's cheaper to go to an actual dry cleaner or laundromat, but time is money, and some city dwellers will gladly trade a few extra bucks for the convenience.
Package delivery works a little differently. When you order a package, you simply have it shipped to Clean Cube's address, and then the company delivers it to a locker in your building.
It's a clever way to ensure packages aren't stolen while sitting unattended in the lobby. For $3 per package, it's a relatively cheap insurance policy.
Clean Cube is currently available in a handful of NYC apartment buildings, but you can request it for any building in the country. It wouldn't hurt to hassle your landlord about it, too.
Related Video