Laundry
Dual-Load Your Laundry With LG's New Mini-Wash
An all-in-one laundry command center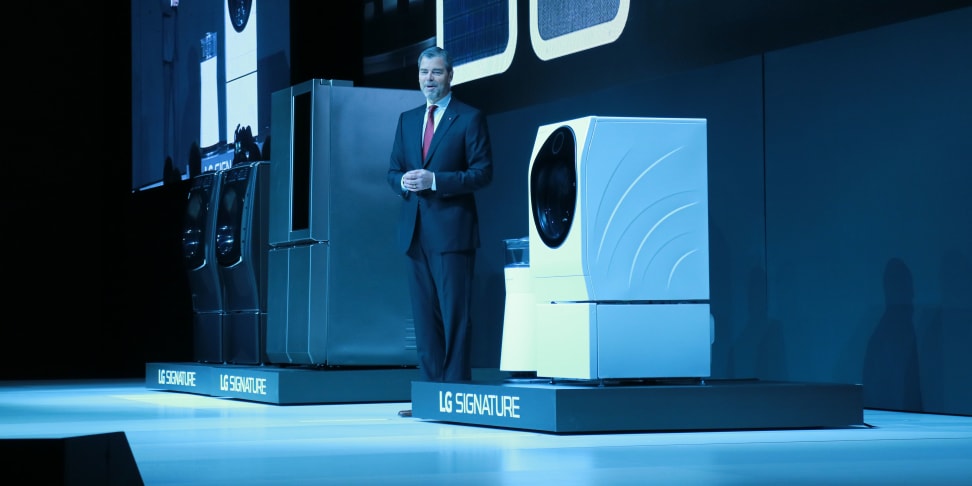 Credit: Reviewed.com / Johnny Yu
During a press conference at CES 2016 today, LG announced new additions to its premium Signature lineup. Aside from its celebrated OLED TV, the company also unveiled some high-end appliances, which include a paired washer and dryer, as well as a miniature all-in-one washer-dryer hybrid.
Similar to LG's TwinWash, the Signature Series 24-inch Mini-Wash will have a SideKick pedestal washer under the main drum, allowing you to do two simultaneous loads. And like LG's door-in-door refrigerator compartments, this front-loading washer can be opened with a light push. We can see that coming in handy when your hands are full of dirty clothes—you'll be able to access the compartment with a gentle nudge of an elbow.
Unlike current LG washing machines on the American market, this Signature washer will have an auto-dosing detergent dispenser. This means you'll never have to measure out detergent; the machine will draw the proper amount from its reservoir (which you fill up periodically) for every load.
Finally, this premium washer is also a heat-pump dryer, which truly makes it an all-in-one laundry command center. This is especially good news for consumers who can't install normal vented dryers. The Signature Series Mini-Wash is only available in Europe, but if it were to make the trip across the pond, it would be the first ventless hybrid laundry machine available on the U.S. market.
Other additions to the Signature lineup will include a full-size, 30-inche-wide, 5.8 cu. ft. washer—plus a paired dryer. This duet will be seeing an American release sometime in 2016. The washer will come with a SideKick pedestal washer, adding another 1.0 cu. ft. of capacity, but it won't have the auto-dispenser or built-in heat-pump dryer of the Signature Mini-Wash.
Related Video