Laundry
Harvard Startup Claims It Can Unshrink Your Sweaters
Wash your woolens without worry.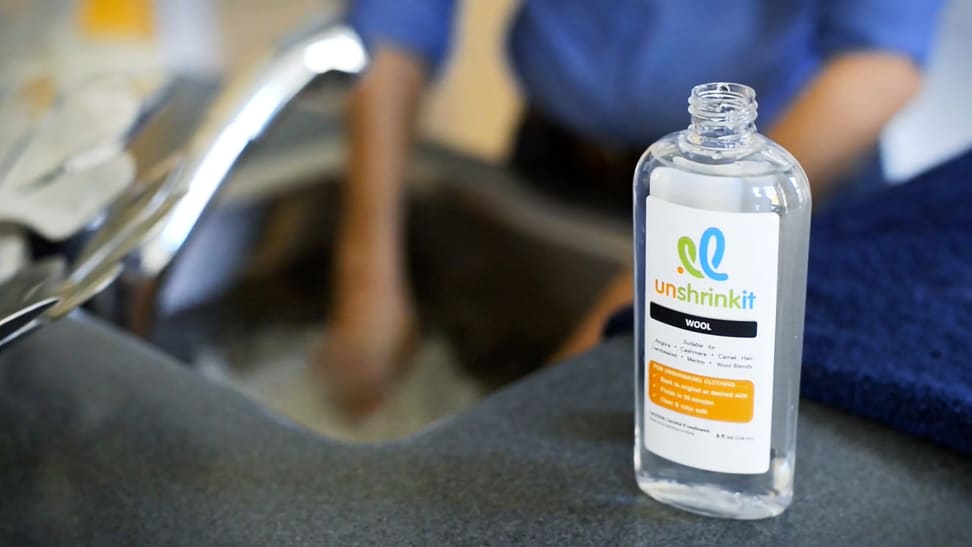 Credit: Unshrinkit
Just ask George Costanza: Shrinkage is the absolute worst. And if you've ever accidentally dumped your woolens in the washer, you know how serious the repercussions can be. Your favorite cashmere sweater could emerge as something sized for a Barbie doll.
But that may be about to change, if a new Harvard-based startup has its way.
According to its creators, Unshrinkit is a scientifically proven formula for returning shrunken laundry to its former, full-sized glory. The makers of the patent-pending product claim that it can completely restore shrunken sweaters to their original size and keep them there, provided you don't accidentally shrink them again.
The process is simple, if slightly labor- and time-intensive. You simply combine the formula with a gallon of warm water and soak the stricken clothing for 30 minutes. After it soaks, you can stretch your sweater back to its preferred size before rinsing and drying.
Anyone who's ever used the old hair conditioner trick is probably familiar with these steps, which may be a good indicator of the secret sauce behind Unshrinkit's solution. Regardless, anything that takes some of the risk out of washing wool is alright in our books.
It seems investors agree. Company founders Nate Barbera and Desiree Stolar successfully secured $150,000 in funding from Mark Cuban on a recent episode of Shark Tank.
Unshrinkit is currently available online for $11.98 at Amazon.com, and the company has plans distribute it to retail locations at a later date.
Related Video