Laundry
Now you can buy a robotic wardrobe that's basically Cher's closet from Clueless
Threadrobe puts your laundry away for you and helps you decide what to wear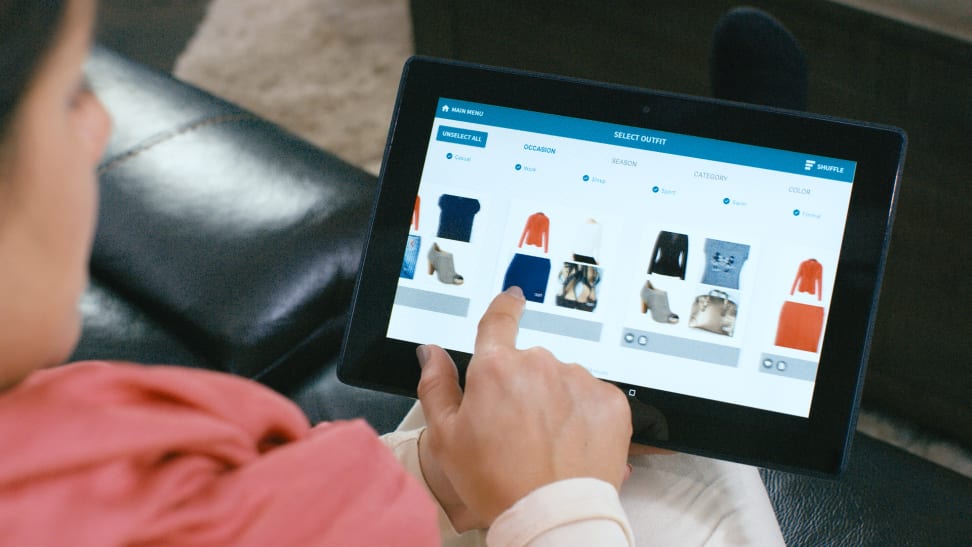 Credit: Threadrobe
Would you trust a robot to put away your clean laundry, then help you pick out an outfit?
Matt Powell hopes so. He's the brains behind Threadrobe, a D.C.-based startup that built a wardrobe that automatically separates, identifies, and stores your clothes—then dispenses them in a complete outfit at your command.
"We call it automated furniture, but it's kind of a hybrid of furniture, appliances, simple robotics, and software," he said.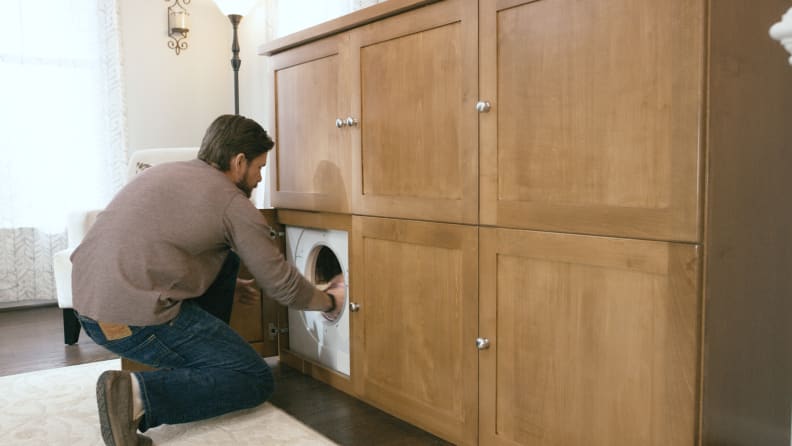 Users put clean clothes in a drawer at the bottom of the unit, and the Threadrobe's robotic arm hangs them inside. When it's time to get dressed, the process works in reverse—and the arm dispenses a complete outfit into a steamer that refreshes and dewrinkles garments.
But it isn't just about storage. Powell also wants to help you choose what to wear. In other words, he built Cher's closet from Clueless.
Like any startup founder, Powell sees an opportunity where the rest of us just see a closet. "We have thousands of dollars of clothes, and everyone's just kind of managing them with their gut instinct," he said.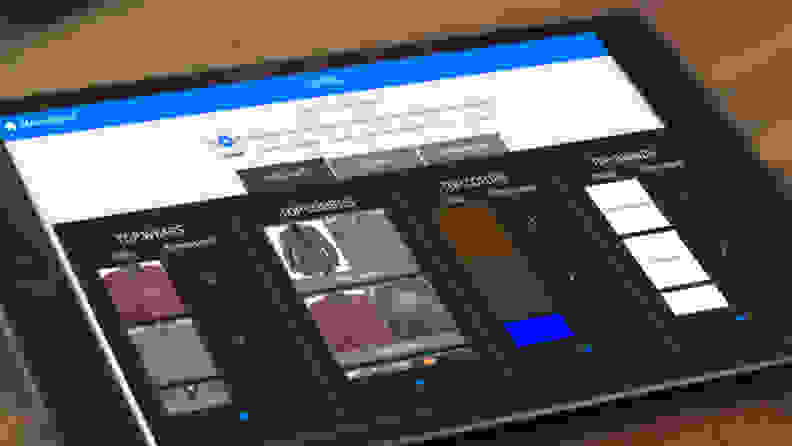 While deciding what to wear can be exciting for some, others dread the task of matching a shirt and a pair of pants. So the Threadrobe app works at both ends of the spectrum—whether it's mixing and matching pieces in new, artful ways, or just preventing you from walking out of the house in mismatched socks.
Powell sees an opportunity where the rest of us just see a closet
For Threadrobe to recognize a piece of clothing, users must take a photo of it, attach an RFID tag, and enter it into the Threadrobe app—a process that takes about 30 seconds. Up to 25 items of clothing can fit into the loading drawer, and it takes about a minute for a simple robotic arm to quietly hang each item.
The arm is set up kind of like a claw crane arcade game with a modified clothespin at the end—except it's designed to actually pick things up. RFID tags tell Threadrobe what each item is and how to store it, and stereo cameras and sophisticated software help the arm know where to grab. It can even tell if it's picked a pair of pants from the waist or the cuff. And if something goes wrong, it'll drop the item and re-grip it.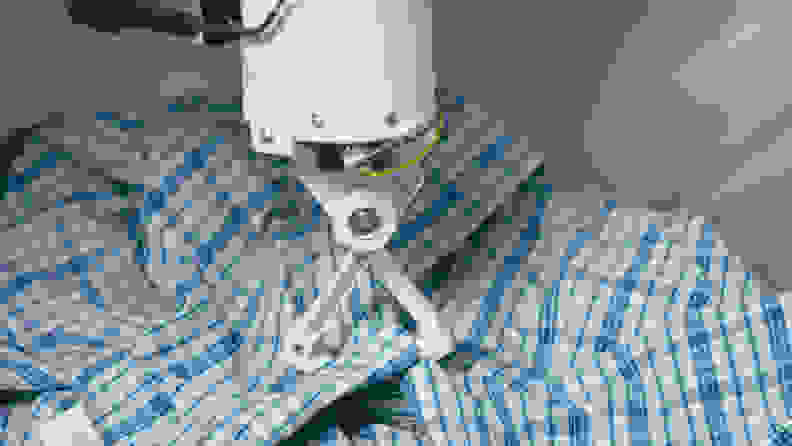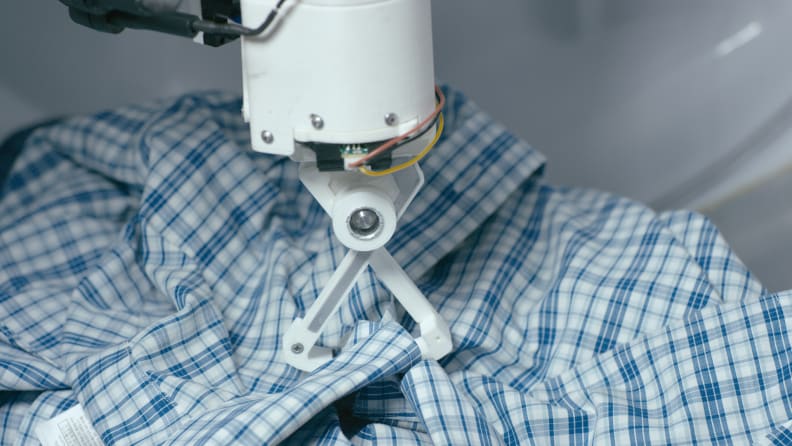 "It works in reverse on the way out, but you have the option to steam the outfit," Powell said. It takes between 30 and 45 seconds to retrieve each item, and about four minutes to steam an outfit. In other words, if you choose an outfit before you get in the shower, it'll be ready by the time you're done.
It's also possible to take things out by hand. But if you open the doors, you won't see shelves of neatly folded sweaters and shirts. "We didn't just build an automated folding machine or storage device," Powell said.
If you choose an outfit before you get in the shower, it'll be ready by the time you're done
Instead, Threadrobe is designed to store clothes the way a machine would—not how a human would. That means lots and lots of hooks, with items hanging on top of each other.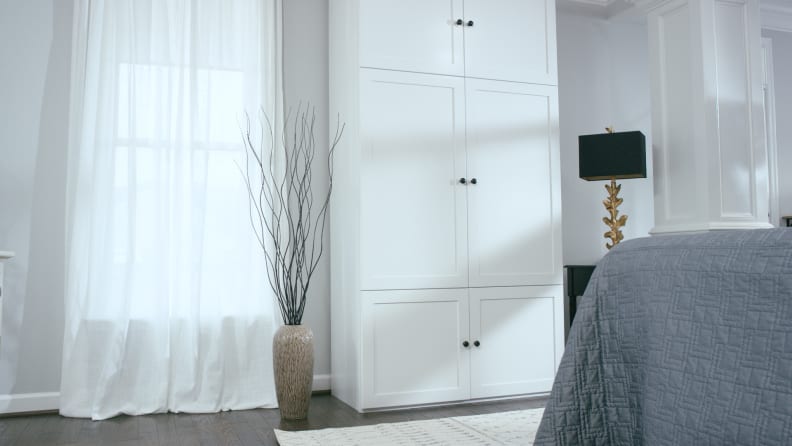 Threadrobe isn't cheap, but it's also not outlandishly expensive for what it does. A wardrobe that stores 100 items is priced at $3,750, and one that stores 200 items will sell for $4,250. You can reserve one now on the Threadrobe site with a 10 percent down payment, with delivery of the first units expected in mid-2018.
According to Powell, those first customers will be key in offering feedback on how to improve the device.
"We're not using this money to fund the business," he said. "We want to build a base of consumers we can reach out to, and have them give us input."
Powell says that the target audience could eventually be as large as 10 million homes, and he hopes to bring costs down as the project scales up.