Laundry
Samsung's latest innovation can do four loads of laundry at once
The new washer and dryer are a direct hit on rival LG
Credit:
Samsung's latest washer and dryer can wash and dry multiple loads of laundry at the same time. The new products are aimed at multitaskers who care about sorting clothes—and at competing appliance companies with similar products.
The washing machine looks like an ordinary front loader, but adds a separate compartment up top for washing items that can't go in with a main wash. Similarly, the dryer has a rack meant especially for delicates.
The wraps will come off the new FlexWash washer and FlexDry Dryer later this week at CES in Las Vegas.
Samsung's early announcement of advanced new appliances ahead of one of the world's largest tech events suggests the Korean company plans to put a tough 2016 behind it by focusing on new product debuts.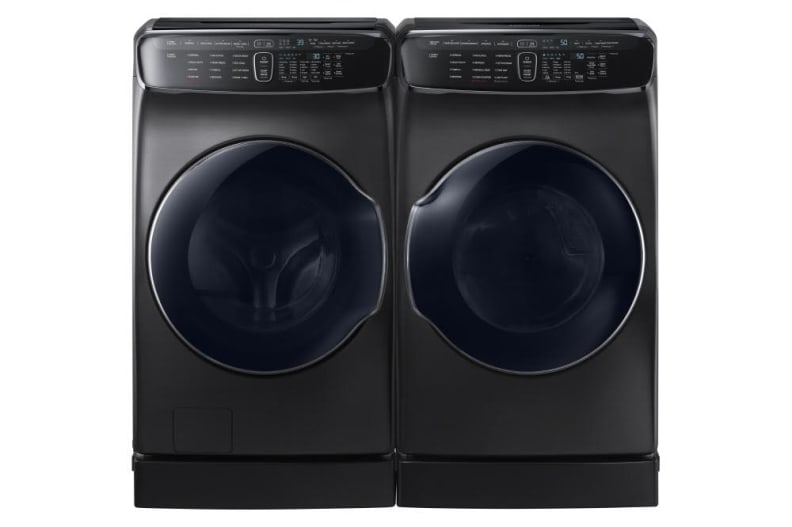 The new appliances also heat up Samsung's ongoing rivalry with fellow Korean electronics giant LG, who introduced its own TwinWash double washer in 2015. LG's version lacks a double dryer and puts a second washer as a separate unit in a drawer that pulls out from underneath the washer, so it can be sold separately or installed after the fact. It took LG's engineers about a decade to develop, and has since become a signature product for the company.
The new appliances heat up Samsung's ongoing rivalry with fellow Korean electronics giant LG
Samsung's design puts all the parts in a single machine. It features a large, 5.0 cu. ft., front-loading drum for washing standard loads. On top is a smaller, top-load washer with room to separately wash 1.0 cu. ft. of laundry.
Similarly, the dryer features a standard-size, tumbling drum for drying normal loads. Above that, however, is a heated rack for drying delicates. The Delicate Rack doesn't move clothes around, and it never gets hotter than 95ºF. Samsung says that putting the washer and dryer on top of the machines instead of in a pull-out drawer makes loading and unloading easier.
According to Samsung, the washer and dryer were designed for the 87 percent of Americans who sort clothes before washing and drying them.
"Everyone has different clothes and different ways of caring for them," Samsung home appliance head Seo Byung-Sam said in a statement. "We are striving to give consumers the freedom and flexibility to adjust the laundry process for the way they live, not the other way around."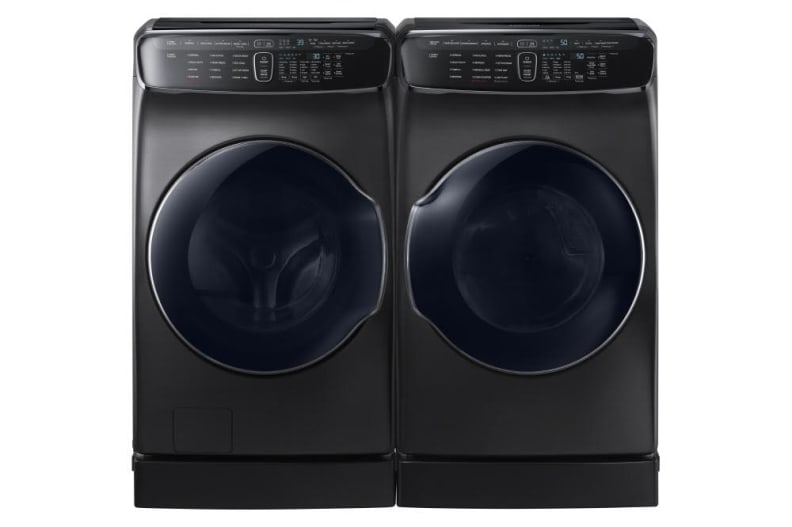 In addition to LG's TwinWash, we've seen similar ideas before. In 2007, Maytag introduced the Drying Center, a heated drying rack that sat above a standard dryer. Similarly, the ActiveWash system puts a sink for hand washing on top of a standard washing machine.
We haven't seen the FlexWash washer or FlexDry dryer in person, but they both appear to be quite a bit taller than a normal front-loading pair. Pricing hasn't been announced, either—but we'd expect the pair to sell for close to $2,000.