Just about everything in your kitchen and laundry room is getting more efficient these days, and that even includes the little things—things like laundry detergent.
Last month, Walmart announced its intent to reduce the amount of water in the detergents it sells by 25 percent over the next four years. The effort follows a similar sustainability goal accomplished by the retail giant in 2008.
But the plan does more than help the environment and bolster Walmart's green cred (though the company's overall environmental claims remain in question). It actually helps boost profit for manufacturers, too. More concentrated detergents allow manufacturers to use less water while still selling the same amount of suds.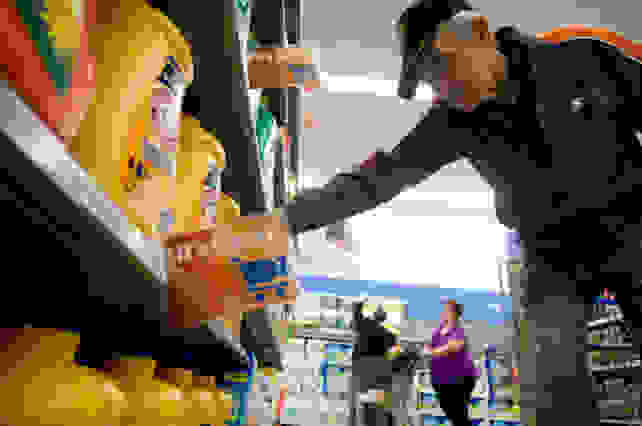 So it's no surprise that manufacturers like Procter & Gamble and Sun Products are leaping to support the plan. P&G, which controls roughly two-thirds of the detergent market, pointed out in a recent press release that 25 percent less water in every dose of its detergents equates to 45 million gallons of water saved in the U.S. Henkel, makers of Purex, also signed on for the initiative, claiming 30 million gallons of water savings.
Producers get another fringe benefit from the plan. Since they'll be using 25% less water, the plastic bottles the detergent goes in will also be 25% smaller. And plastic, of course, is made from increasingly expensive fossil fuels.
Both Walmart and detergent manufacturers get to pat themselves on the back for helping the environment, while also saving tons of money.
So the effort is a win-win for the industry: Both Walmart and detergent manufacturers get to pat themselves on the back for helping the environment, while also saving tons of money.
But what about consumers? Well, in all likelihood nothing's going to change. You'll be able to reduce the amount of detergent you use per load, but it's not likely to translate to big savings on your grocery bill.
In fact, it might end up costing you. As detergent gets more concentrated, every ounce becomes more expensive. That means you need to be more precise when measuring out each dose—something Americans are notoriously sloppy about.
It's also worth noting that liquid detergent sales have been slumping in recent years, thanks in large part to consumers' growing preference for pre-measured detergent "pods." Last year, according to the Wall Street Journal, liquid sales fell 1.3 percent, and over the past three years sales have grown by a measly average of 1.1 percent.
Between a surge in pod popularity and a slump in liquid sales, the company that stands to gain the most is P&G. As mentioned, the consumer goods giant owns most of the liquid detergent market—which is about to get more efficient—but it also accounts for three-quarters of the pod-detergent market.
Our editors review and recommend products to help you buy the stuff you need. If you make a purchase by clicking one of our links, we may earn a small share of the revenue. Our picks and opinions are independent from any business incentives.