Laundry
GE GFD45ESPKDG dryer review
This affordable dryer gets your clothes totally dry—as long as you're not in a hurry
Credit: Reviewed.com / Jackson Ruckar
Are you looking for a stackable dryer with steam at a reasonable price? Meet the GE GFD45ESPKDG . It's handsome, loaded with features, and could appeal to a wide range of buyers. And after spending a week testing this dryer in our laundry labs, we conclude that this model gets clothes nice and dry—as long as you have plenty of time to wait.
Design
You can buy this 7.5 cu.-ft. dryer in a swanky Diamond Gray finish, like the one we tested, or you can purchase it in white (GE GFD45ESPKWW) for about $100 less. The plastic "chrome" trim provides a shiny contrast on the gray model.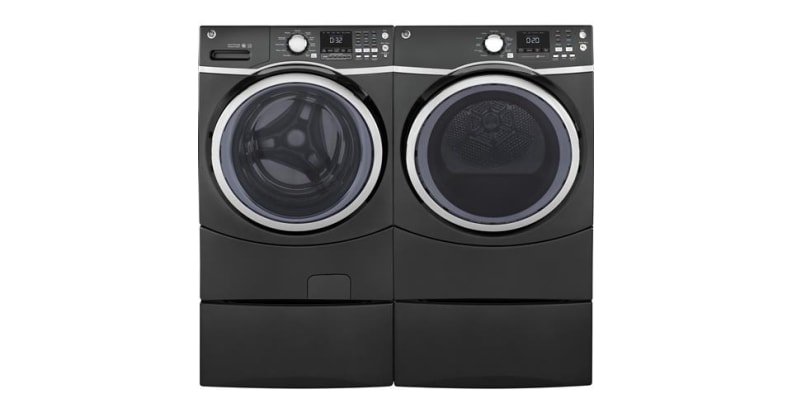 If you also purchase the companion washing machine, you can stack them together. If your laundry room is really a laundry closet, that ought to work well.
To start the dryer, you hit the Power button on the right, dial up a cycle on the left, and them push the Start button on the right. The zigzag motion is a small annoyance, but at least it's the same process as on the matching washer.
Features
The dryer has many desirable features. We especially liked these.
• Sanitize with steam—If your kids that take their stuffed animals everywhere, this is how you get rid of the germs.
• The shirt warming cycle—We love the idea of the Warm Up feature for cold winter mornings.
• Steam de-wrinkle cycle—It uses steam on full-sized loads of wrinkled clothing, so you don't have to waste time at the ironing board. 
• Ext Tumble—If you can't get to the dryer immediately to unload it when the cycle is finished, this setting can extend tumbling the laundry for an additional 60 minutes. It's another way this dryer helps prevent wrinkled laundry.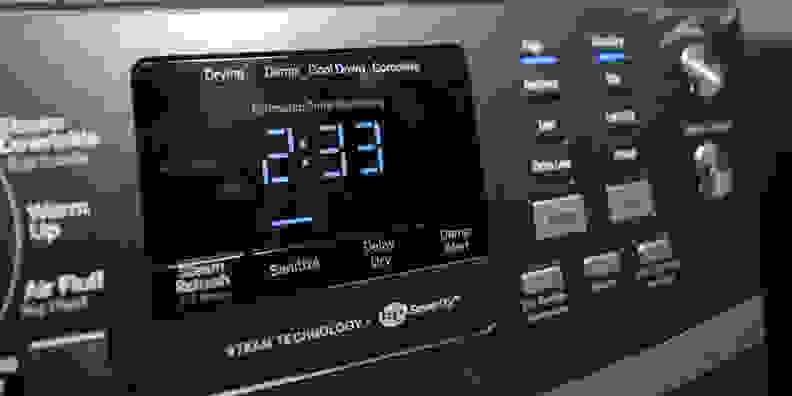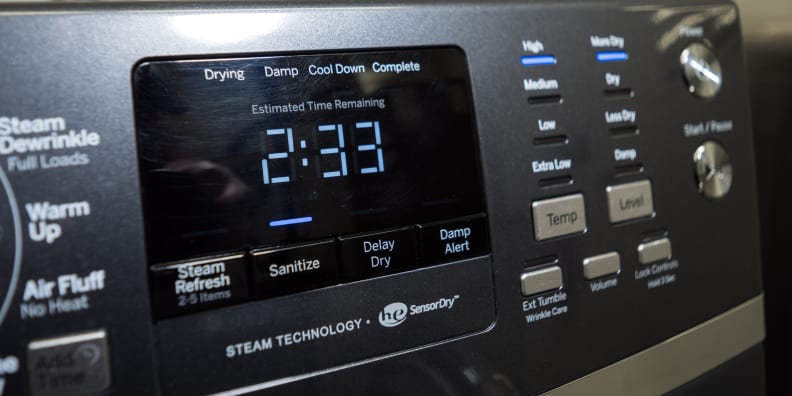 Performance
The features are awesome, but in our lab tests, we discovered that the cycles are slow—and inconsistent. Our test laundry always came out between 99 and 100% dry, so the machine's sensor is working, but it took longer than expected to dry any load of laundry, and the timing wasn't consistent from load to load on the same setting.
• Normal cycles took between 57 and 78 minutes to complete, despite using a standardized load.
• The Quick Cycle was not terribly quick, with completion times between 35 and 44 minutes. It got our laundry very dry, but ran barely any faster than most other dryers' Normal cycles. Our top-rated dryer has a 15-minute rapid dry cycle.
• The Delicates cycle took between 66 and 71 minutes to finish. It isn't very hot—an average of 118°F compared to the Normal cycle's maximum temperature of 188°F—but that's totally appropriate for clothes that need TLC.
• Bulky cycles took between 57 and 91 minutes to get our bedding dry. That's an unusually wide time range.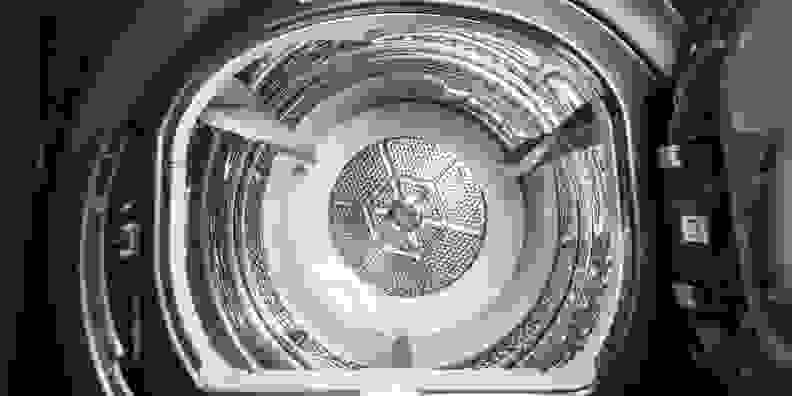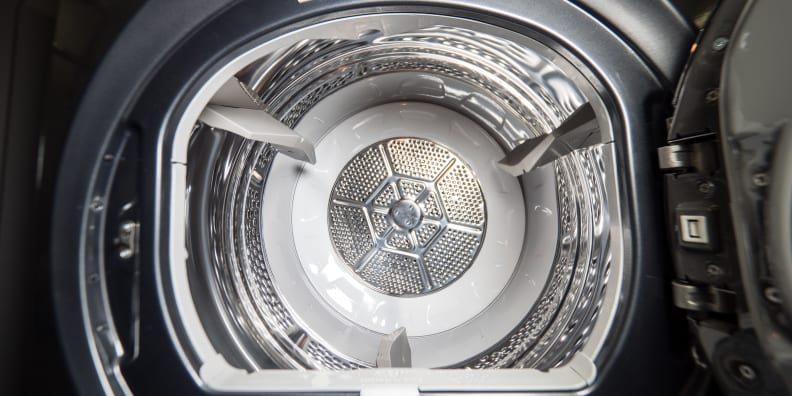 What the users say
Despite what our lab tests showed, users seem to love this dryer. Although there aren't a ton of customer reviews for this newer model, users are positively passionate about it. The average rating is close to five stars on a variety of sites. Owners rave about the steam features for sanitizing and removing wrinkles, the generous size of the drum, and the speed of drying.
The bottom line
For a dryer so loaded with options, we think the GE GFD45ESPKDG is a good value, despite its idiosyncracies. Dryers with comparable features are often priced in the $1000+ range. This model looks beautiful with a Diamond Gray finish, and it dries laundry almost perfectly. But we find that its cycles are inconsistent, and that this dryer is just too hot to run this slow.