UPDATE: August 7, 2019
We've updated this roundup to include the Samsung DVE50R5400V. We're testing lots of dryers right now, so stay tuned for further updates!
While the basic idea of the washing machine has been around for centuries, brands are still finding new and fascinating ways to make the process of doing your laundry easier and more efficient. From apps that allow you to start a load of laundry from your phone to a fold-down sink for easy rinsing of stains, cool new features are being introduced all the time. In our humble opinion, though, steam is one of the best features to have on a washer or a dryer. A dryer with one or more steam cycles/options can easily help you to refresh your summer wardrobe at the end of winter, or tackle an entire load of wrinkled laundry.
Finding a dryer that can meet all of your needs and has a steam cycle can be a little challenging, but we're here to help. With our lab-tested reviews, we've already done most of the heavy lifting for you. Our favorite right now is the Electrolux EFME627UTT (available at AppliancesConnection for $993.00) because of its outstanding drying performance and myriad of useful features, including steam.
Here's our list of the best dryers with steam you can buy today, ranked in order:
Electrolux EFME627UTT
LG DLEX9000V
LG DLEX3700W
Samsung DVE54M8750V
Electrolux EFME527UTT
Maytag Bravos XL MEDB835DW
Maytag MEDB955FC
Samsung DVE50R5400V
Samsung DVE45R6300V
Samsung DVE60M9900V
Whirlpool Cabrio WED8500DC
Advertisement - Continue Reading Below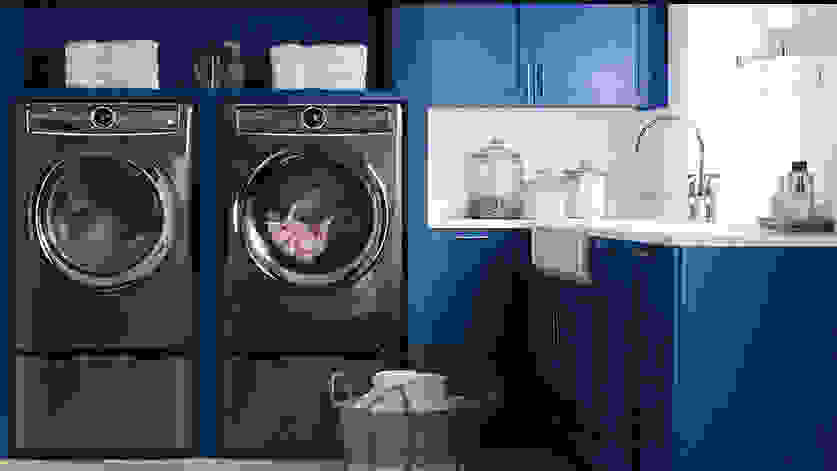 Why Would You Want a Dryer With Steam?
In these busy times, people are always looking for labor- and time-saving devices and appliances—just look at the success of the robot vacuum!
That's the idea behind adding a steam cycle onto a clothes dryer: by paying extra for a water hookup (in addition to the normal dryer venting), you've just reduced the amount of time you have to spend ironing your clothes to make them look clean and pressed.
Clothes irons remove wrinkles from your clothes in two ways: with its weight and with steam. Most fabric is thermoplastic, which means that at high temperatures, the fabric is malleable and can easily change shape, but once it cools down, the fabric retains that new shape. So the fabric in your clothes takes on a new shape (gets wrinkled) when it stays in a crumpled position for a more than a day (e.g. tossed into a laundry hamper), but the steam from the iron relaxes the fabric, and the weight of the iron squishes the fabric flat again. When your fabric cools down post-ironing, it's back to its pre-wrinkled state.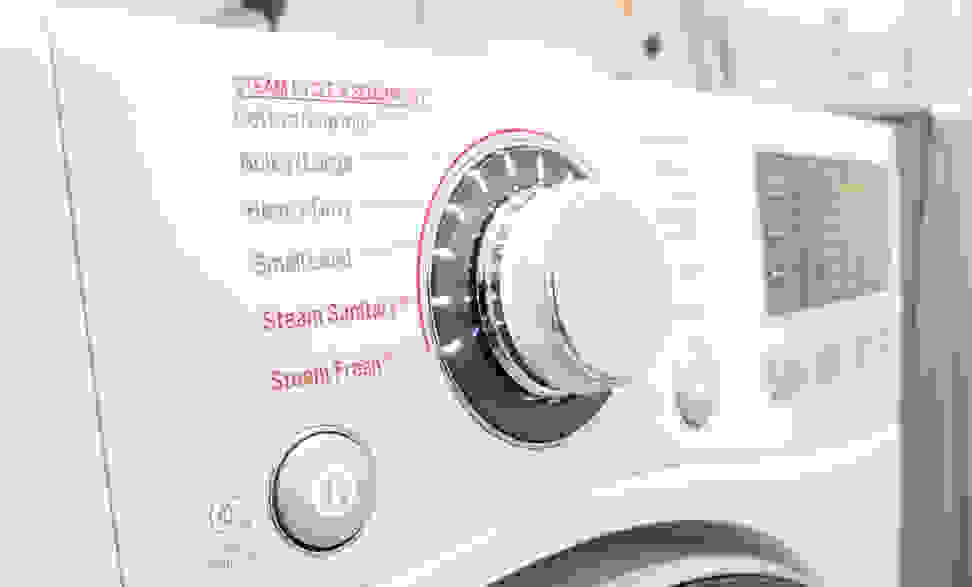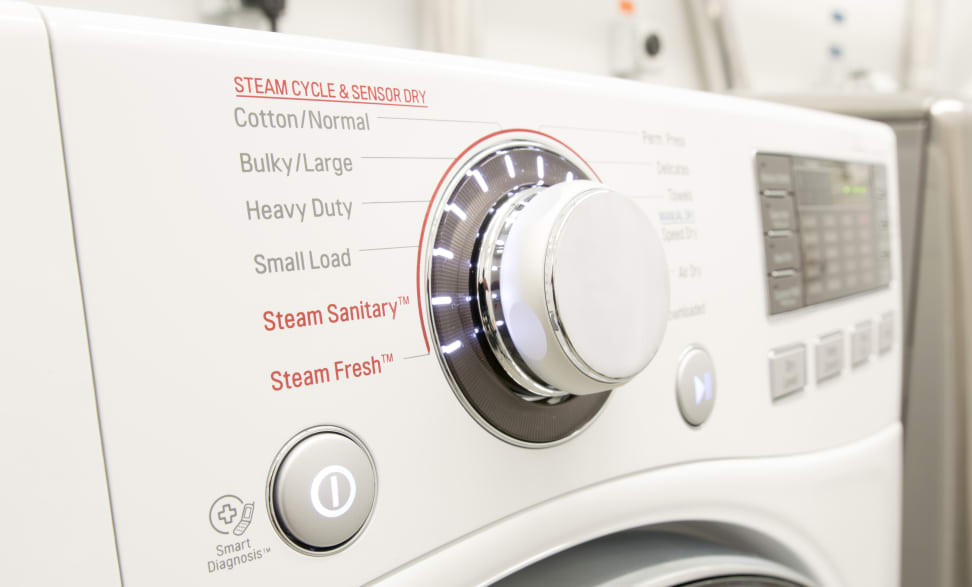 With a steam cycle in a dryer, you're getting one of the two aspects of a clothes iron that makes it effective. As mentioned earlier, a steam cycle relaxes the bonds in the clothes fabric, however, without the weight of an iron, there's a good chance that a steam cycle won't completely remove every wrinkle. It might remove minor wrinkles on clothes that are thin and have large enough weaves to let the steam in (like jersey cotton), but for stiffer fabrics and huge, noticeable wrinkles, you're still going to need to pull that iron out. However, a steam cycle should do part of the job for you, and reduce the time you'll have to spend taking that shirt to task on an ironing board.
Beyond the wrinkle benefits, a steam cycle can also be helpful when it comes to eliminating odors, allergens, and bacteria from your laundry load.
---
How We Tested
The Testers
Hi there! We're Reviewed's appliance testing team. Between the three of us (Jon Chan, Kyle Hamilton, and Julia MacDougall), we've spent many years testing major appliances including washers, dryers, refrigerators, dishwashers, vacuum cleaners, and robot vacuum cleaners.
We have plenty of experience testing these products in the lab, but we've also used them like normal people would in the course of their daily lives, which means that we have a great sense for what appliances are bargains at their price points, and which appliances have really useful extra features (as opposed to the kitchen-sink approach to features).
With all this in mind, you can feel confident that when we recommend a product, we're giving it our Reviewed stamp of approval, which means two things: firstly, this appliance performs well, and secondly, this appliance is easy to use. We're always reviewing new products, so stay tuned for our reviews and roundups of the latest products in laundry, refrigerators, dishwashers, and vacuum cleaners.
The Tests
Every dryer that comes into Reviewed's labs gets put through the same testing regime, which addresses both performance and user-friendliness.
Performance tests include:
• Drying performance – How much water does each major dryer cycle actually remove from your clothes, and how quickly can it achieve that level of dryness?
• Maximum temperature – We record the maximum temperature in each dryer cycle. Some like it hot, but if dryer temperatures get too hot, it could damage your clothes.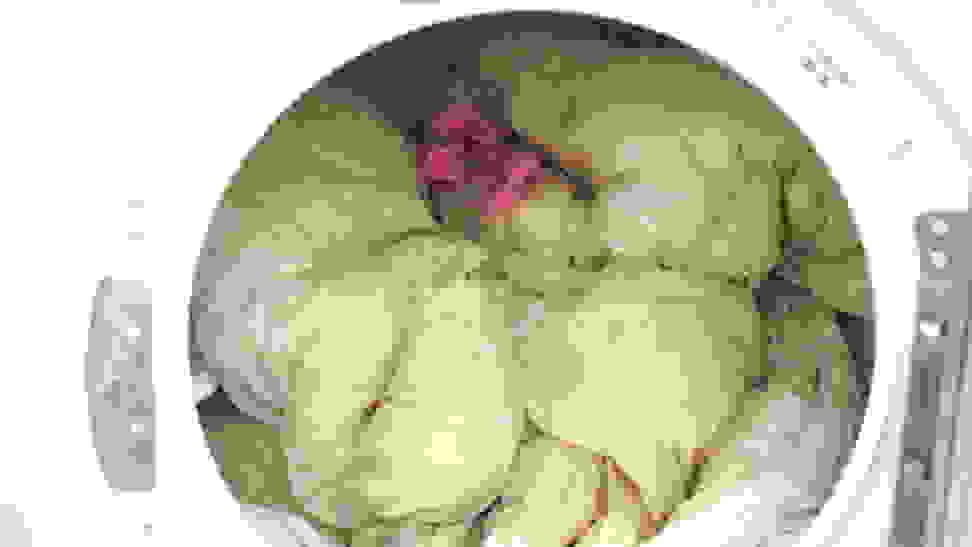 The best dryers completely dry your clothes at a temperature that is hot (140°F-150°F) but not too hot (lest your clothes be scorched or damaged), and have short cycle times.
Beyond these performance tests, we also assess the usability of each dryer, based on our experience, both during testing and during more casual use (one perk of working at Reviewed is that there is plenty of laundry machines on premises!). Our main goal is to get the answer to one question: how easy is it to actually use this dryer? This involves cumulatively assessing the control panel, the door, the vent, and any smart features that are included.
By combining the performance data with our own observations, we can make solid recommendations for someone looking for any type of dryer at any price point.
---
Other Dryers With Steam We Tested
More Articles You Might Enjoy
• The Best Dryers for Large Families
Advertisement - Continue Reading Below