Laundry
Samsung WF45R6100AW Washer Review
This Samsung is tough on stains—and on your clothes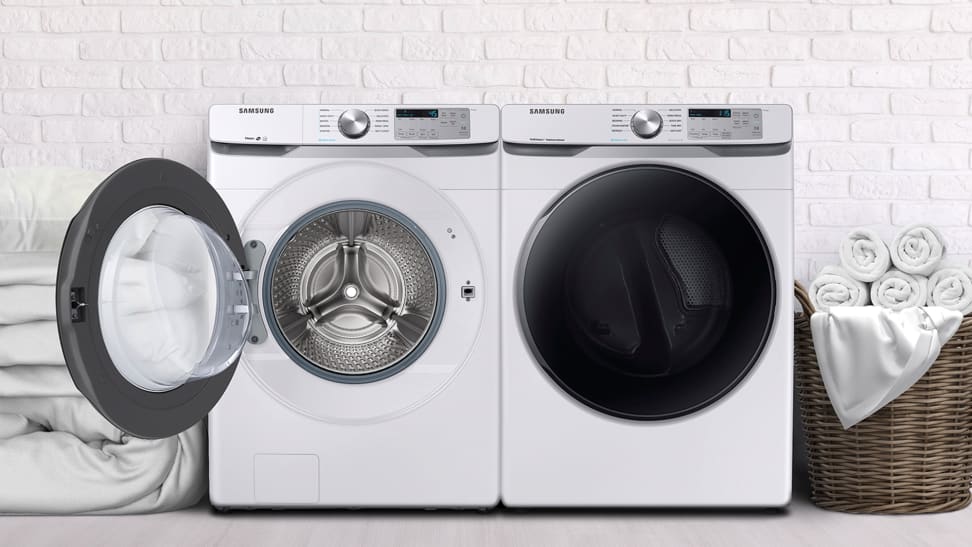 Credit: Samsung
The Samsung WF45R6100AW (available at AppliancesConnection for $805.10) is a solid washing machine, capable of scrubbing out tough stains in a timely manner and for an appropriate price point. Its main stumbling block: It's rough on your clothes. If you don't have many delicates, it'd make a great addition to your laundry room—otherwise we'd recommend the Samsung WF45R6300AV. It costs a bit more, but offers a similar design, gentler handling and smart features.
The Samsung WF45R6100AW is a nice-looking mid-range washer. Its cycle selection dial allows for a simple interface for the majority of users, but there's also a touchpad with more granular options for those who want a bit more control. The drum is a spacious 4.5 cu. ft., which should be large enough for the majority of families.
In terms of performance, we had no complaints—compared to other washers we've tested, the cycles managed to clean about 10% more stains than average, without taking longer to finish. The Heavy cycle in particular offered impressively efficient cleaning.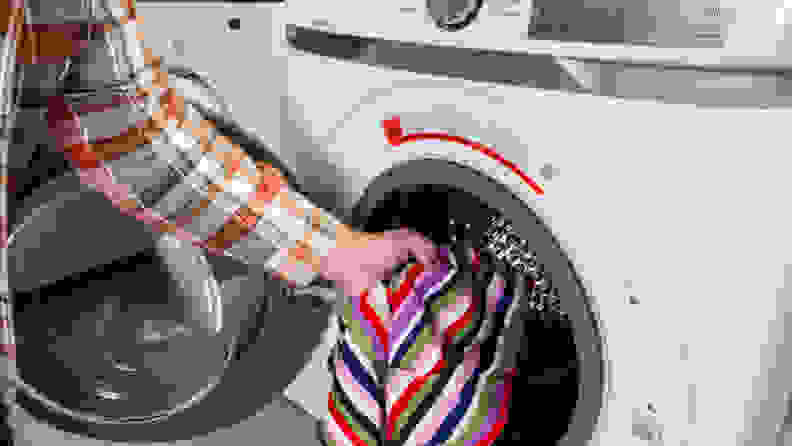 Good cleaning performance, a nice-looking design and an appropriate price point—so what's the catch? In this case, it's wear and tear. This machine isn't particularly gentle on clothes, even on the Delicates cycle. Whether or not this is a deal-breaker is likely up to your wardrobe, but if you tend to wear durable clothes that require a hard scrub every now and then, this is a great option.
If you're looking for a washer without the downsides, we really liked the Samsung WF45R6300AV. It offers better performance, is easier on your laundry, and has smart features for a slight bump in price.
About the Samsung WF45R6100AW washer
Dimensions: 38.75" x 27" x 31.4" (H x W x D)
Capacity: 4.5 cu. ft.
Finish: White; black stainless steel (costs about $100 more)
Nine wash cycles: Normal, Heavy, Whites, Bedding, Sanitize, Quick, Delicates, Permanent Press, Rinse+Spin
Cycle features: Steam, Self Clean, Pre Soak, and five settings each for spin, soil, temperature, and rinse levels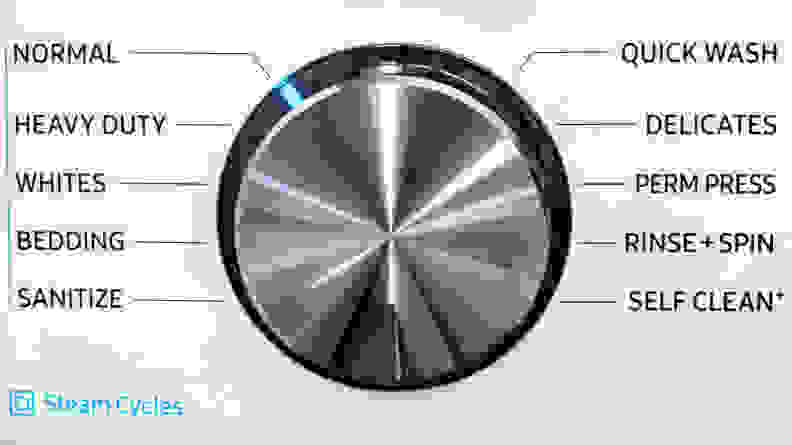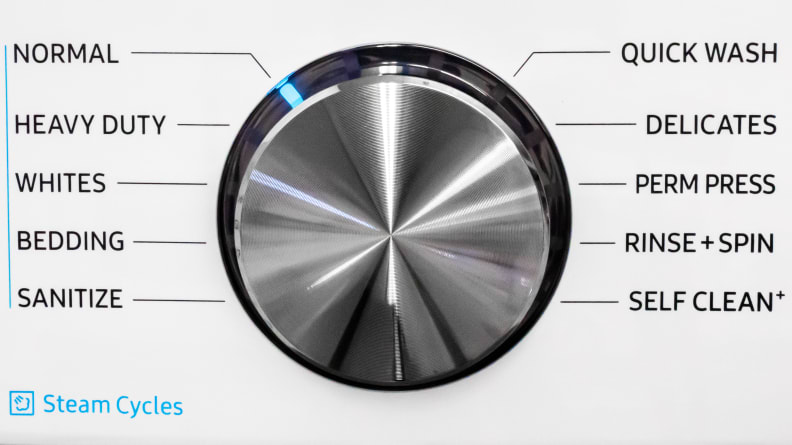 What we like
Great at scrubbing out stains
The Samsung WF45R6100AW has solid cleaning performance. It keeps pace with similar washers in terms of cycle length and achieves above-average stain removal. Its Heavy cycle was best, removing an impressive 83% of our standardized stains in about two hours (for context, the average Heavy cycle removes about 60% of stains). The Normal, Delicate, and Quick cycles each removed over 70% of stains in average times for those cycles.
The controls provide opportunity for customization
The controls are a good compromise between traditional and modern. There's an intuitive cycle-selection dial for choosing your cycle and then, if you want to get a bit more granular, you can use the touchpad to customize the options to your liking. This is especially helpful if you want a cold wash option for a cycle, or really want a really thorough clean—just dial those settings up or down for the perfect wash. The dial has a good feel to it as it turns, and settles into position with a satisfying click. The touchpad was very responsive and the buttons were large enough to be easy to push.
A dial-and-touchpad combo is our favorite type of washer layout because it retains the simple interface of the washers we grew up with, but gives additional, optional control for those who desire that complexity.
What we don't like
Not so delicate
This washer might clean well, but all that scrubbing can be tough on your clothes. We found pretty much every cycle, even Delicates, introduced a lot of wear and tear on fabrics.


We measure wear and tear in terms of the number of threads pulled away from a pre-cut surface on a mechanical action strip. With the Samsung WF45R6100AW, we saw 50% more threads pulled away or broken on the Normal cycle. For the Delicates cycle, more than twice as many were broken or pulled than average. If you have a lot of fine clothes, this probably isn't the washer for you.
What owners say
Online user reviews are generally positive, focusing on the washer's aesthetics, simple controls, or its ability to get clothes clean—it averaged 4.7 stars across hundreds of reviews on major online retailers. There were no significant complaints about durability or usability.
Warranty
Samsung offers a one-year guarantee for parts and labor with some extensions: The stainless steel tub is covered for three years and the motor is covered up to 10 years.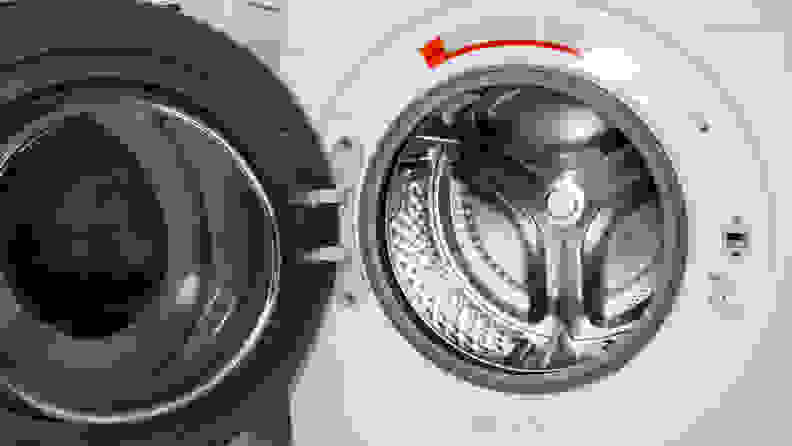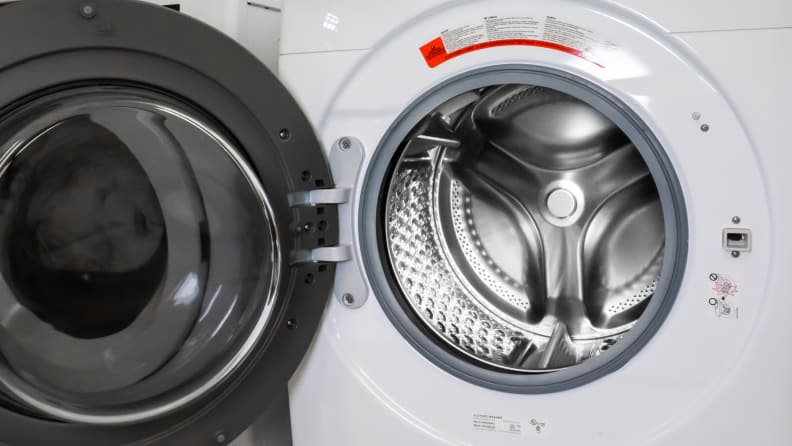 Should you buy it?
Yes—providing you tend to wear more durable clothing. It's a solid washer, offering good cleaning performance at an appropriate price. The only place where it fell out of line slightly was on our wear-and-tear testing, so if you tend to use the delicate cycle a lot we'd recommend the Samsung WF45R6300AV. It's basically this model's bigger brother: It costs a bit more, offers improvements across the board, is far gentler on your clothes, and also includes smart features.