Laundry
Samsung WF45R6300AV Washing Machine Review
Here's a washer that works for a family of any size
Credit: Samsung
The Samsung WF45R6300AV (available at AppliancesConnection for $985.10) is a front-load washer that hits the mark between giving you what you want and presenting you with options you never even knew you needed. The 6300 has good stain-removal capabilities, fast cycles, and a sanitize cycle that actually sanitizes. In addition to all the high-end features we'd expect, the 6300 also comes with useful smart connectivity, and a gentle tumble. Combine all these features and you get a washer that's a solid choice for everyone from single people to large families.
About this washer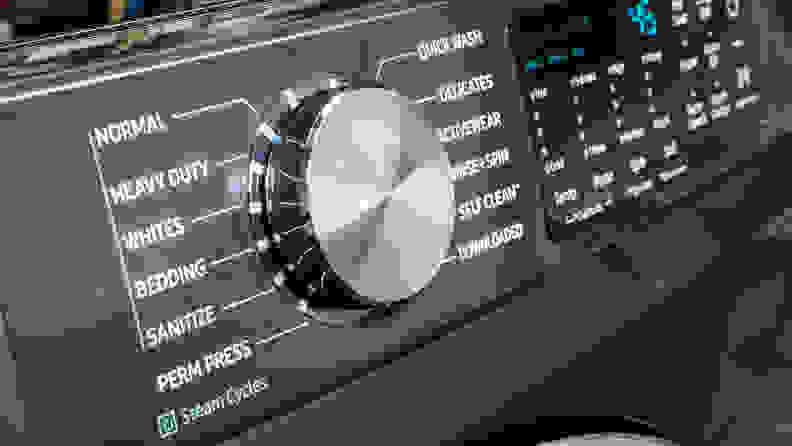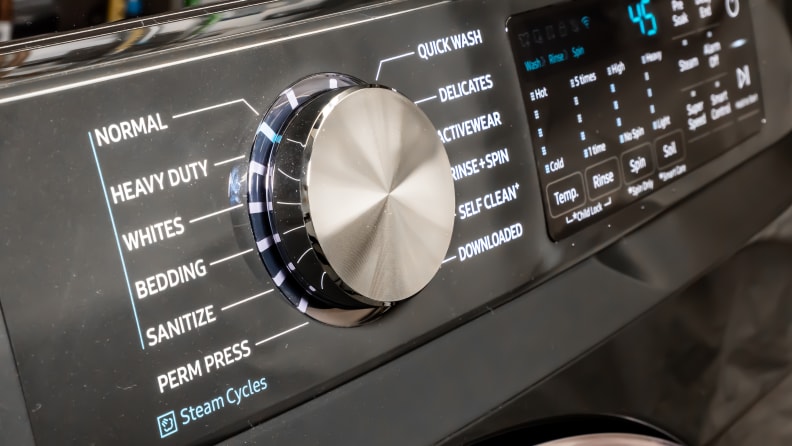 • Capacity: 4.5-cubic-foot drum
• Finishes: White, Black Stainless, Champagne
• Dimensions: 27 in. x 38.75 in. x 31.38 in. (WxHxD)
• Cycles: Normal, Heavy Duty, Whites, Bedding, Sanitize, Perm Press, Quick Wash, Delicates, Active Wear, Rinse+Spin, Self-Clean
• Accompanying Dryer: Samsung DVE45R6300V (Electric) and DVG45R6300V (Gas)
• Stackable: Yes (kit sold separately)
What we like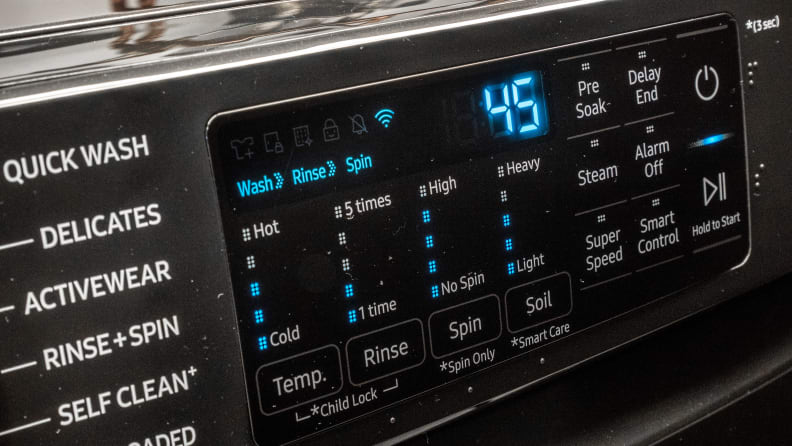 Fast(er) cycles: Whether your household produces mountains of laundry or you're constantly on the go, faster cycles are always a plus. The WF45R6300AV has the SuperSpeed feature that can be applied to select cycles, like Normal, to really get things moving, intensifying the spray and tumble. The end result is a 45-minute cycle that can finish in 30 minutes. Our tests showed that the truncated cycle removed 3% fewer stains, but in our opinion, that's a pretty good tradeoff.
Above-average stain removal: When we wash laundry in our labs in Cambridge, Massachusetts, we use a photospectrometer to gauge how clean it gets a variety of stains, from red wine to sweat. In our gamut of stain tests, the 6300 acquitted itself well, removing 75% of stains. Its scores match the Electrolux 627, our pick for the best washer.
Sanitizing features: According to the temperature sensors we used in test cycles, WF45R6300AV's Sanitize cycle reached around 150°F. When you combine that with detergent, you get a combo that can kill common bacteria and denature many allergens.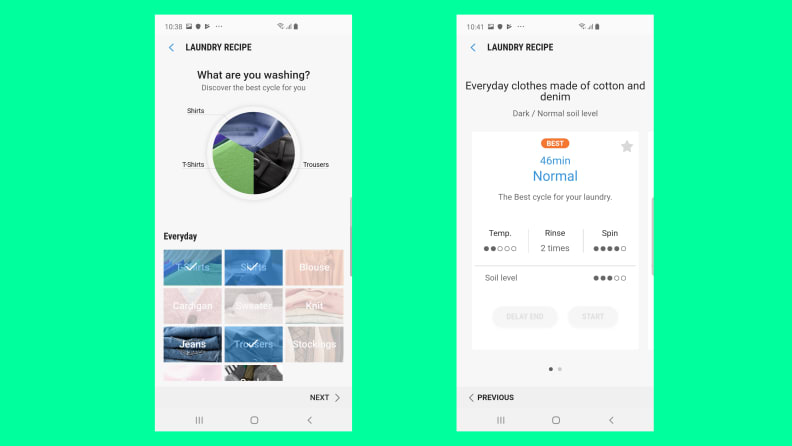 Some useful smart features: The new generation of Samsung washers have two useful smart features activated by syncing your washer to your phone via the SmartThings app. First, your phone can alert you when a cycle is finished. (We envision a forgetful roommate getting a pleasant reminder from the washer and then a harsh one from you.) The second smart feature of value is the ability to download cycles. If you're unsure on how to wash a tricky load of clothing, Samsung has an entire database to peruse and activate on your own machine.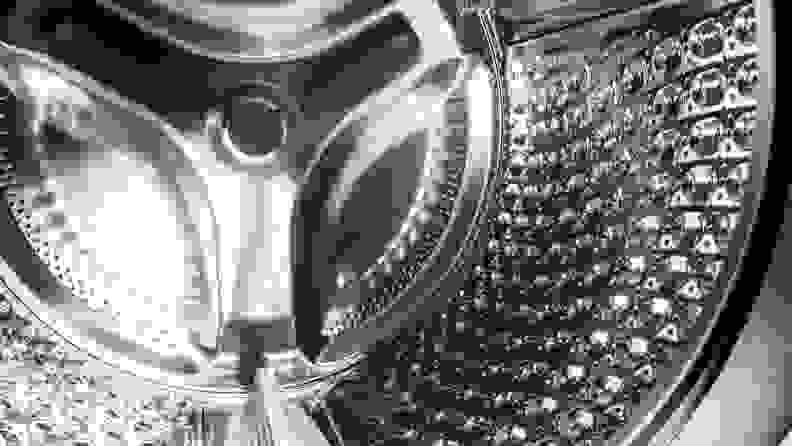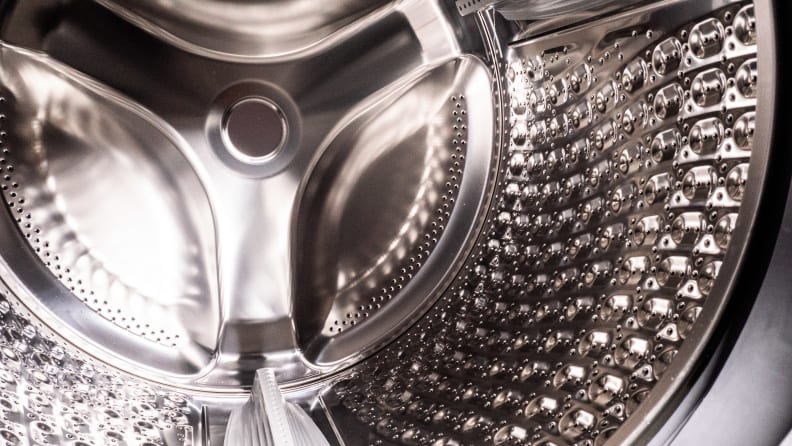 Gentle scrubbing: Our testing also includes checking how rough a washer is on clothing. The results show that the bubble-texture drum was very gentle on fabric. In addition, the 6300 has a No-Spin setting, which can help clean very delicate items.
What we don't like
The washer is not that environmentally friendly. In terms of water and electricity usage, the Samsung WF45R6300AV isn't the best. The Heavy Duty cycle uses about 17 gallons of water and takes two hours to run. That's a lot compared to the LG WM37700HWA, which uses 10 gallons and takes an hour and 18 minutes to run. Based on national averages, we estimate the 6300 will use about 3,600 gallons of water a year.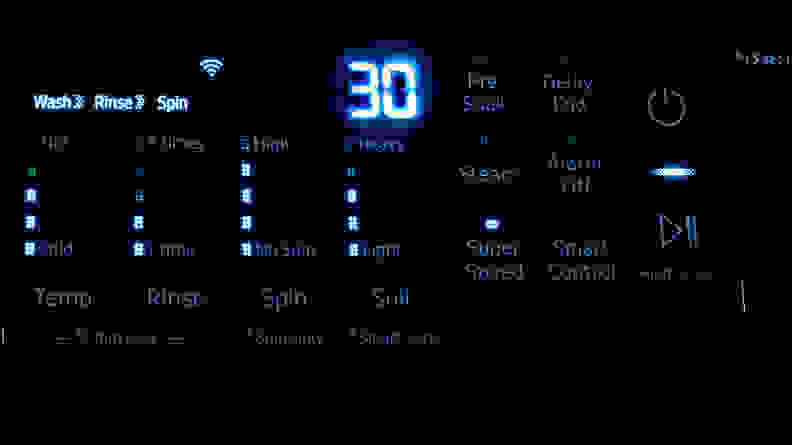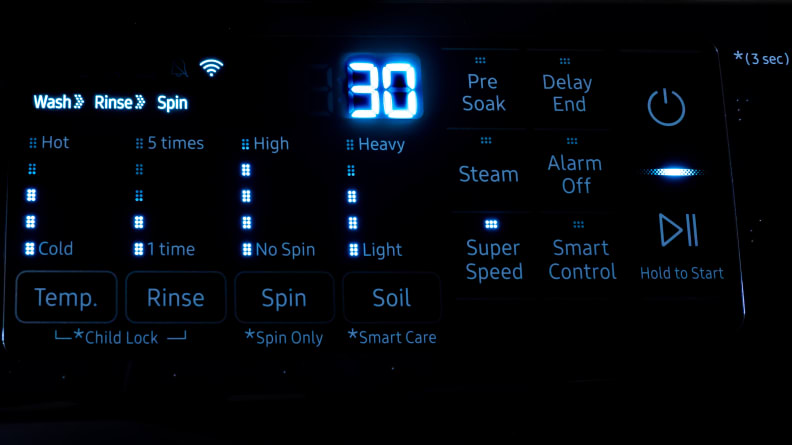 The control panel is cluttered. People tend to favor having more features than they need, versus the other way around. However, the control panel on the 6300 is too cluttered with options. Our test model was black stainless, which could make it especially difficult to make out buttons in a dimly lit basement.
What users are saying
It's pretty early in the Samsung WF45R6300AV's life, but an average of initial ratings from Home Depot, Best Buy, and Appliance Connection, give this washer 4.6 out of 5 stars. Consumers reviews praise the strong stain removal and gentle scrubbing the washer does.
Should you buy this washer?
The Samsung WF45R6300AV is a generalist. It'll work well for most people. It isn't huge, but can still get through loads of laundry with speedy cycles. People with certain types of allergies or small children will find the Sanitize cycle to be a godsend. Finally, you get this whole package for under $800. With how well the 6300 performed in our stain removal and fabric wear tests, we think this washer is a good value.