The most eye-catching feature on the Whirlpool Cabrio WED7000DW (available at Best Buy for $719.99) is its intricate touch control panel in lieu of a cycle-select knob. The panel has a sleek, modern design and responsive controls. Unfortunately, other aspects of this dryer feel less well-designed. This dryer's door is hard to close unless you slam it shut. The lint trap is unwieldy and gets dust everywhere. While laundry comes out dry, it takes longer than other dryers we've tested.
At a glance, the Whirlpool Cabrio WED7000DW stands out due to its innovative touch control panel. It has a soft-curved edge and a sleek, modern design. It certainly looks nice when paired with the Cabrio washer, though the aesthetic might look jarring if you're pairing it with a different washing machine. The control panel allows for a high-degree of cycle customization, with 25 different cycle combinations and a few other sliders to toggle.
The care and attention put into the control panel's design didn't extend to other elements of this dryer, however, as we saw a few quirks that should've been caught by Quality Assurance. The door is surprisingly hard to close. It requires a forceful push or outright slamming it shut to get the door to stay closed. The lint trap, located on top of the dryer, is over two feet long. Not only is that a bit cumbersome to maneuver, but when you pull it out, the lint-catching side is facing downward, making it easy to accidentally dump it out onto the top of the dryer.
In terms of drying performance, the WED7000DW is average. It finished its cycles with dry laundry, but many of its cycle combinations took longer than the average dryer. We found cycles also had inconsistent lengths from load to load, despite our tests using very standardized quantities of laundry.
About the Whirlpool Cabrio WED7000DW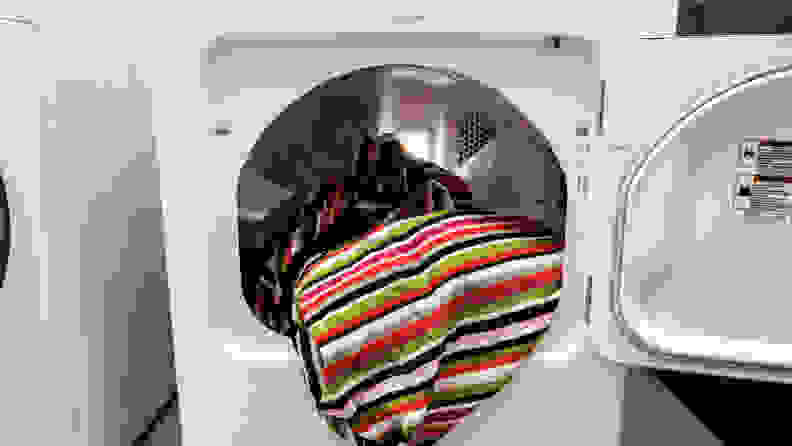 Dimensions: 40.25" x 29" x 28.25" (H x W x D)
Finish: This dryer is only available in a white finish.
25 cycles: This dryer breaks cycles down into "What To Dry" (Mixed, Casuals, Towels, Delicates, and Bulky/Sheets) and "How To Dry" (Normal, Sanitize, Gentle, Heavy Duty, and Timed Dry). One of each must be chosen for a cycle, resulting in 25 different cycle combinations.
Features: Once you pick a cycle, you can choose from five different temperature settings and four dryness settings. You can also opt for Wrinkle Shield, which adds up to 150 minutes of periodic tumbling after a cycle is complete. For Timed Dry, you can customize how long the cycle will take.
What we like
The drum has a large capacity
The drum size for the Whirlpool WED7000DW is a roomy 7.0 cu. ft. For context, our test comforter takes up about half the drum: It should be more than large enough for all your bulky items.
Dryer settings are highly customizable
With over 25 different drying cycles, settings for temperature and dryness and a Wrinkle Shield, there's a lot of options for customizing how your load of laundry is dried. Have lots of garments with very specific cleaning instructions? The Whirlpool Cabrio WED7000DW is your best bet outside a professional cleaner.
Can get bulky items dry really fast
Between the large drum and customizable settings, we were able to get our bulky load nearly dry in about 60 minutes with the Heavy Duty + Bulky settings. It was able to get a soaking-wet comforter almost 100% dry in an hour. That's incredibly efficient drying.
What we don't like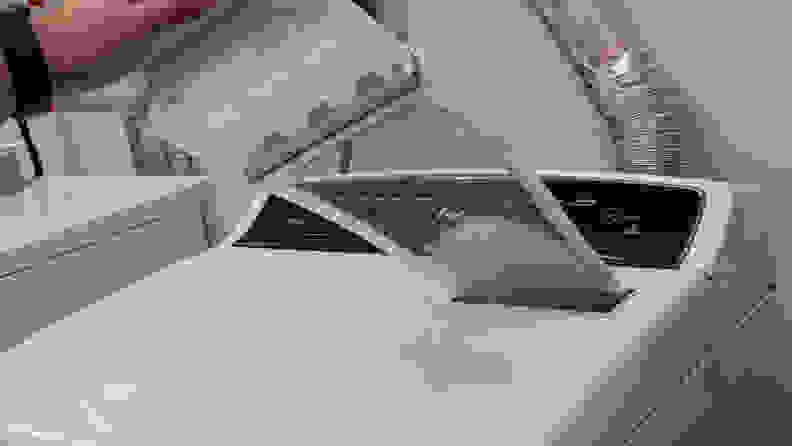 The lint trap is cumbersome to use
The top-mounted lint trap is really, really long—25 in. long, to be exact. (Almost as long as the dryer is wide.) It's a little awkward to pull out of its slot and the trapped lint faces downward as it comes free: Unless all the lint is completely trapped, some will shake loose on top of your dryer.
The door is hard to close
The door-locking mechanism feels a little cheap and requires a lot of force to close properly. You really need to slam the door shut to get it to stay closed. Thankfully, opening the door is much less of a hassle.
Most cycle lengths are slow and unpredictable
During testing, we noticed cycle completion times could sometimes vary, despite using identical loads and settings. For our tests on the Normal + Mixed cycle (maximum temperature and the lowest dry settings), our standardized load of laundry was done somewhere in the range of 29 to 47 minutes. Other cycles typically vary by 5 to 10 minutes. While this likely won't be a deal breaker, it's inconvenient. No one wants to schlep to the laundry room only to have arrived about 10 minutes too early.
Warranty
Whirlpool's standard warranty applies here, which covers parts and labor for one year. This is a typical warranty for appliances, but other companies may cover certain parts for longer.
What owners say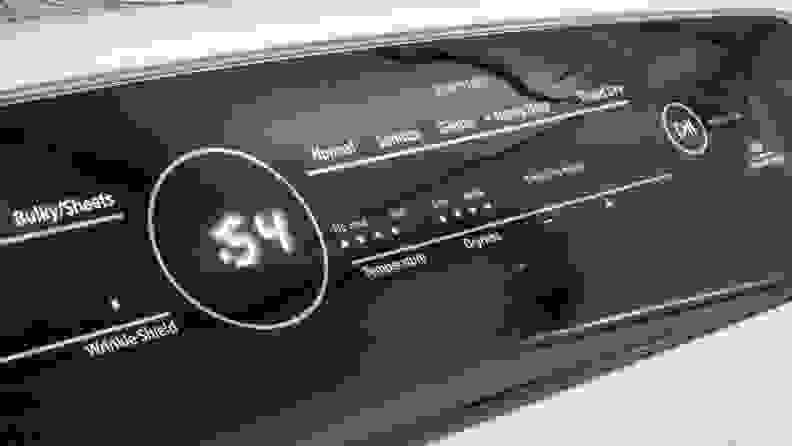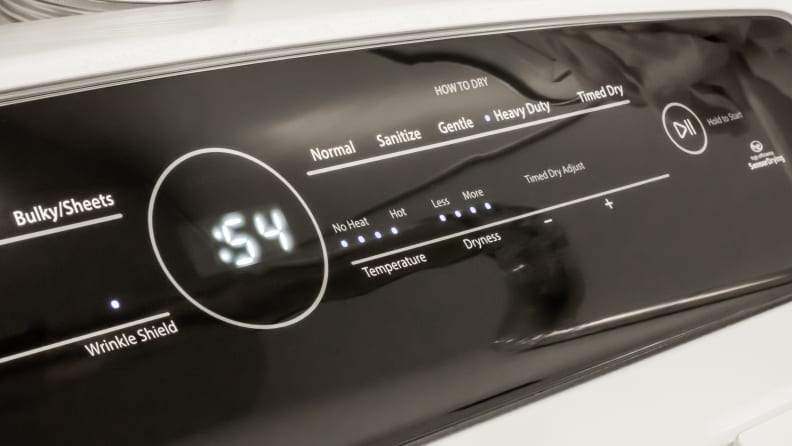 This dryer has an average rating of 4.1 out of 5 on user reviews across major sites. This is slightly lower than what's typical for a major manufacturer's product—somewhere in the 4.6 to 4.9 range—but it's still a good overall score. Positive reviews praise the WED7000DW's speed, quiet operation, and ability to deliver dry laundry.
Users are split on whether they like the control interface and options.
Multiple negative reviews mention a possible malfunction with its sensor, claiming either that laundry stopped getting dry or that cycles started taking significantly longer than the displayed time to finish. Users are split on whether they like the control interface and options, with some users praising the level of customizability and others claiming it was "confusing" or "unnecessary."
Should you buy it?
Probably not. While it has some interesting customization features and a unique aesthetic, its quirks and inconsistent drying efficiency make this dryer seem too expensive at its current price point. If you'd prefer to stick with an American-made dishwasher, the Maytag MEDC465HW has much better drying performance (if fewer features) and costs about the same. If you want a Whirlpool specifically, the WED4950HW scored slightly better and is available at a much lower price point.
Still looking for more options? Check out our lists of top-performing dryers and the best washer-dryer sets.