I certainly don't enjoy cleaning my hair brush. When I do it, I get frustrated by the pieces of lint that stubbornly cling around the bristles. I've even noticed that the lint seems to stick like a coating to the bristles, possibly because I use that same brush when my hair is fresh from the shower. Wet lint? Ew.
So when I heard about this Qwik-Clean "smart" hair brush ($19.99 on Amazon) that cleans itself—and that more than 500 shoppers have reviewed on Amazon—I instantly felt like it was geared toward me. No more smacking my brush against my hand to get the hair to dislodge, and certainly no more tediously plucking the hair out over the trash—sign me up!
How does the Qwik-Clean hair brush work?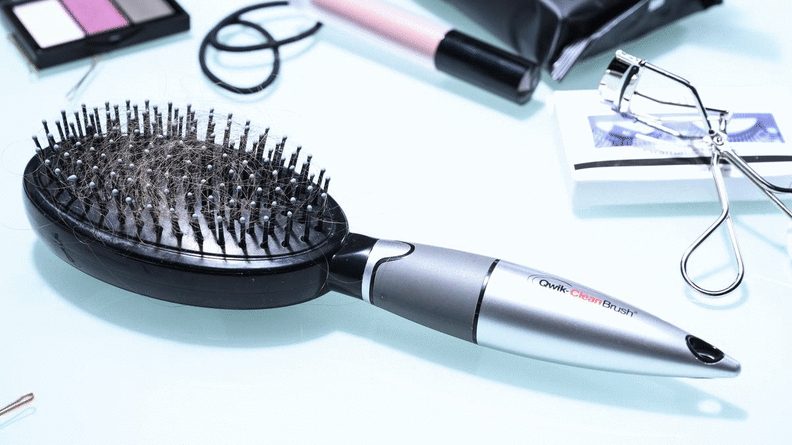 This brush looks a bit different from what you'd expect: The barrel, which holds the bristles, is made of a hard plastic that's firm rather than the typical cushion-like material. Calling it "self-cleaning" is a bit of a stretch, though. When you're ready to remove the hair, you have to squeeze the two buttons on the back of the brush head and pull outward. This action retracts the bristles fully into the barrel, so the hair formerly tangled around them should simply fall off.
Does it do what it claims?
Disposing of matted hair with this brush is definitely easier than a typical one. I thought my semi-thick, naturally curly hair might retract into the brush with the bristles and get tangled, but was surprised to see this wasn't the case. As far as cleaning a brush goes, this is my ideal.
My experience doesn't represent everyone's, of course. This product has a 3.6-star rating, with most reviews of four or five stars, but enough of one or two stars to pull the average down. The happiest customers raved about how much easier it is to dispose of the hair. Exhibit A: "I have long thick but very fine hair and was pleasantly surprised by how well this brush not only felt but also worked through my tangles and didn't catch and rip small strands. The release to clean the brush works effectively and 'feels' well made (as if it should continue working for years)."
On the other hand, the negative reviews complain mainly about the product seeming cheaply made and still requiring some hair tugging to fully clean the brush. Exhibit B: "Not happy with the brush—did not clean easily, even with the bristles retracted."
Whether I like it for my own hair is a bit more nuanced. I like the functionality of the brush, but found that I enjoy the traditional springiness that comes with the cushioned base and prefer bristles that are a tad softer. I noticed my hair snagging on this brush as I used it and felt that it wasn't as gentle as I would have liked on my hair. I'm not alone in this opinion—numerous Amazon reviewers also had this complaint, and others relating to its comfort: "It hurts my head when I brush my hair because the bristles are too rough and hard."
Should you buy it?
If you feel irked just thinking about cleaning your hair brush and are willing to spend $20 to give it a try, the Qwik-Clean may be worth the gamble. Be warned, though, enough reviewers complain their brushes malfunctioned or broke to give me pause, with one in particular writing, "I used it once and the brush is stuck in the retracted position … not worth the cost."
Get the Qwik-Clean Self Cleaning Hair Brush on Amazon for $19.99
The product experts at Reviewed have all your shopping needs covered. Follow Reviewed on Facebook, Twitter, and Instagram for the latest, deals, product reviews, and more.
Prices are accurate at the time this article was published, but may change over time.