Even better: You can find it on sale for under $900. It might not look as fancy as ranges that cost three times as much, but the FGGF3054MF is one potent—and well-priced—package.
The FGGF3054MF made an excellent first impression with a blisteringly fast preheat. The oven reached 350°F in just over seven minutes, while the convection setting reached 350°F in—once again—just under seven minutes.
First impressions count, but to make a lasting impact an oven has to score well in our bake tests. Fortunately, when it comes to accuracy and precision, the FGGF3054MF delivers in spades. Our test cookies emerged from the oven almost perfectly uniform. The cookie bottoms were darker than the tops, but that's to be expected, and we do use dark baking trays. The cakes were less uniform, indicating some minor issues with heat circulation.
Turning on the convection setting had a negative effect on the cookies (a few of them emerged slightly overdone), but cake uniformity improved drastically using the convection setting.
A study in stainless steel
At this price, we expected Frigidare to skimp on at least a couple of features. Imagine our surprise to find the FGGF3054MF absolutely stuffed with bells and whistles, all of which should go a long toward making your cooking experience more pleasurable.
On the outside, the FGGF3054MF is finished in a smudge-proof stainless steel skin. It works as intended—the trim is definitely more resistant to grime and fingerprints than competing ovens—but it's also a little darker than most other stainless appliances. The FGGF3054MF also features a 2-hour self cleaning cycle, though there's no option for steam cleaning.
Along with the welcome cleaning advances, the FGGF3054MF also has a bevy of cooking features. The central 10,000 BTU "fish burner" is great for cooking long items. The oven is equipped with a temperature probe, so you can keep an eye on your food without actually opening up the cavity. A sliding oven rack makes taking heavy dishes out of the oven a little easier—just be aware that sliding racks add a few minutes to preheat times. Fortunately, the FGGF3054MF does have a quick preheat setting to offset any delays.
Another useful feature is what Frigidaire calls the Spacewise rack. This clever half rack lets you store an additional dish on one side of the oven while maintaining clearance room for tall items.
The Frigidaire FGGF3054MF offered some of the best rangetop performance we have seen from a gas range. The front right burner managed to boil six cups of water in four minutes. That's an impressive result for any burner, let alone a gas one. The rear left burner managed the same feat in six minutes, which means you'll be able to boil two pots simultaneously.
The remaining burners were less impressive. The front left and rear right burners took 10 minutes to boil six cups of water.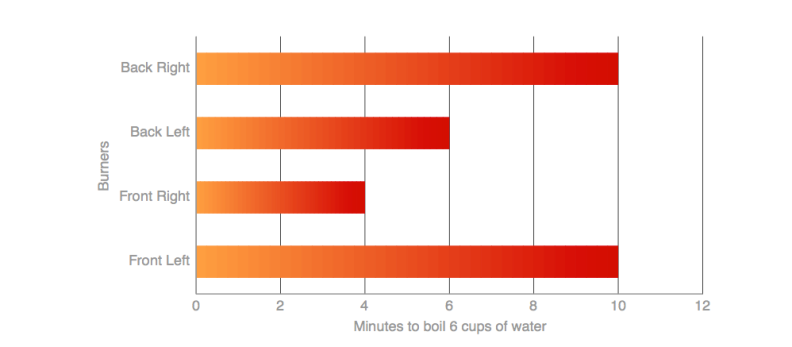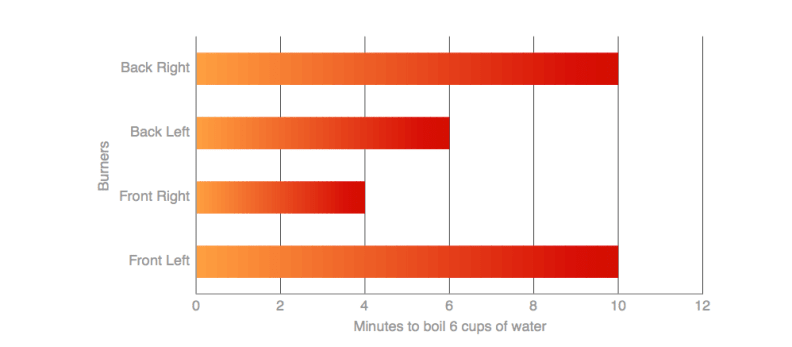 The FGGF3054MF's burners reached an average maximum temperature of 409°F. That's about the standard for gas burners and should suffice for searing, just be aware you need about 600°F temperatures to do any wok cooking, or at least to do it well.
The FGGF3054MF got down to some pretty impressive minimum temperatures. We recorded a minimum of 123°F from the left rear burner, and 141°F from the front left.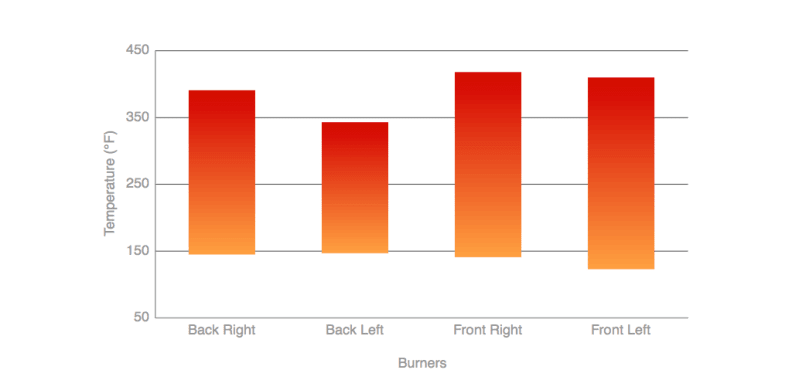 This rangetop gets hot, but keeps its cool
We were impressed with the FGGF3054MF's gas rangetop. While gas burners are extremely responsive, they typically lack the raw power and speed of their electric and induction counterparts. In the crucial areas of water boiling speed and minimum temperatures, the FGGF3054MF held its own.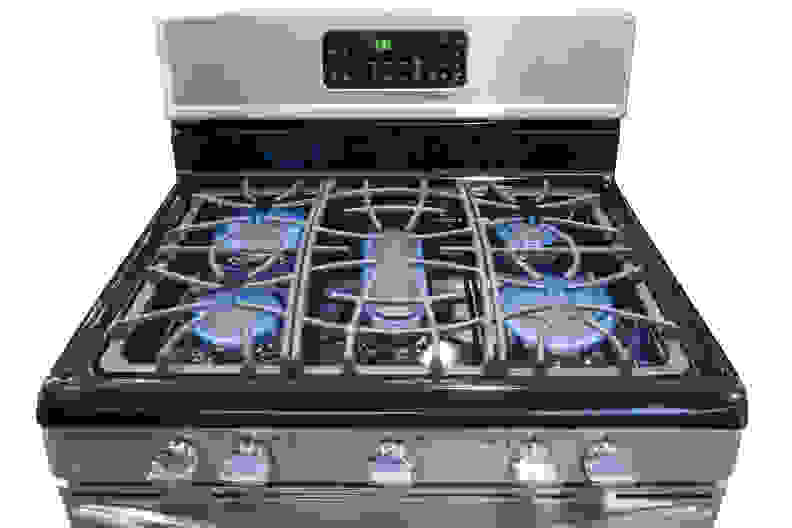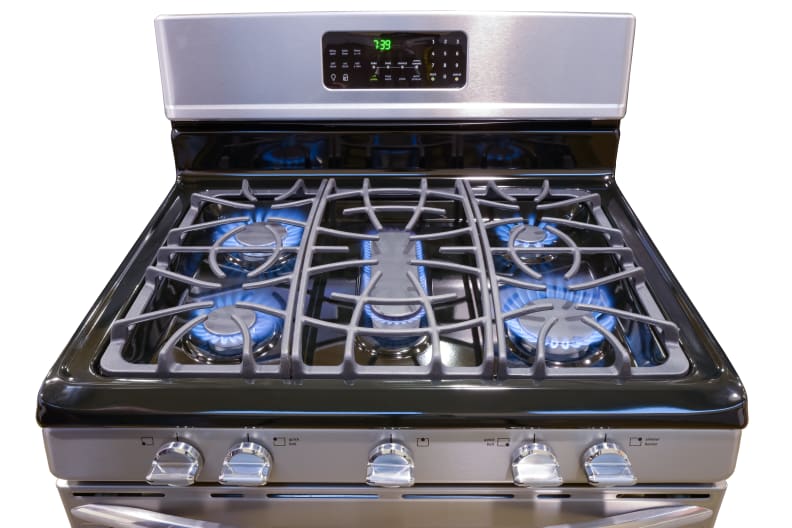 The front right burner brought six cups of water to the boil in just four minutes, which is impressive for gas. The rear left burner managed to boil the same amount of water in six minutes, too. That's good news if you plan on boiling two pots at once.
We also recorded some amazingly low minimum temperatures. The rear left burner got as low as 123°F, while the overall average across all four was a cool 122°F. That's good news if you're making sauce or soup.
Fast and even baking
A great set of burners is one thing, but a mediocre oven can really take the shine off a range. Fortunately, the FGGF3054MF's oven is a perfect companion to the rangetop, and features a fast preheat speed and some excellent cooking performance.
The oven cavity took only seven minutes to reach 350°F, and that's without the Quick Preheat setting. That's so fast, you might not have time to prep your food, so take that into account if you plan on roasting up some vegetables.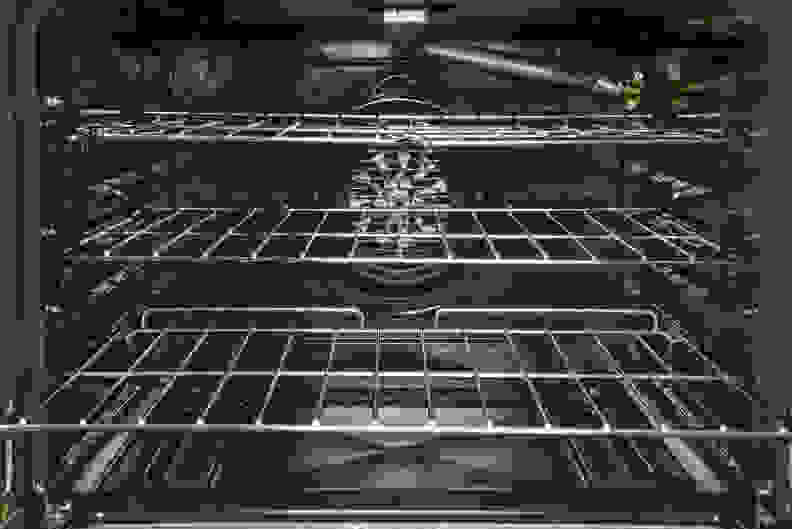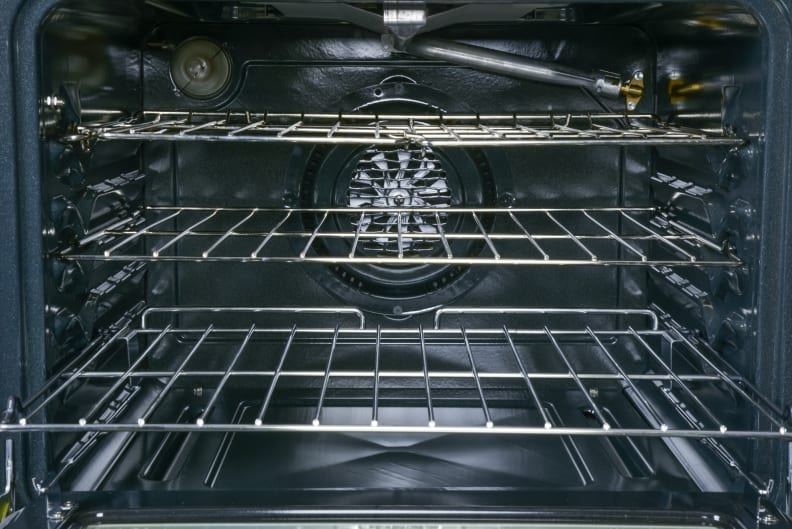 When it comes to the FGGF3054MF's overall baking evenness and uniformity, the proof is in the pudding, or... in the cookies and cakes, we should say.
The standard bake setting—without convection—resulted in almost perfectly uniform cookies. We had to squint just to see any difference between them at all—luckily, our photospectrometer proved our eyes weren't deceiving us. The bottoms of the cookies were slightly overdone, but this can be avoided if you use a lightly colored baking sheet. The cakes, while less impressive, were also in great shape.
Baking with convection resulted in less impressive cookies (this isn't uncommon for dishes that don't take long to bake) but improved the overall cake uniformity considerably. Our advice: Stick with the standard bake setting for dishes that require a short cooking time.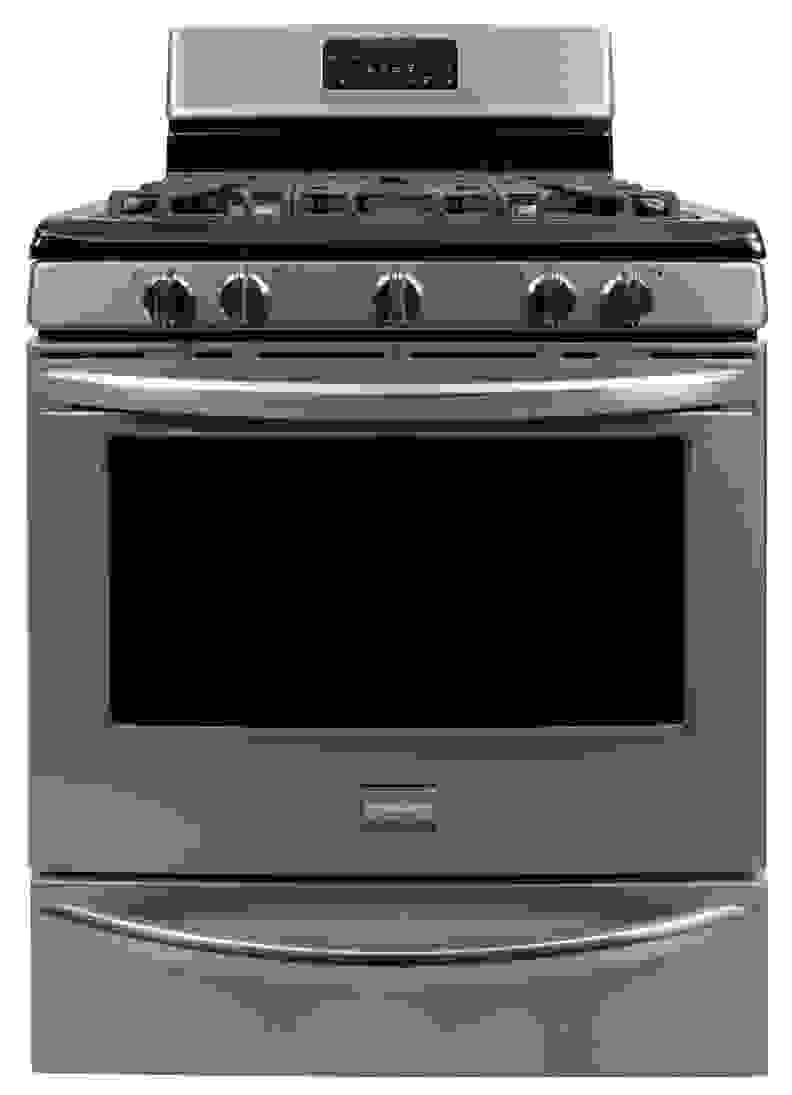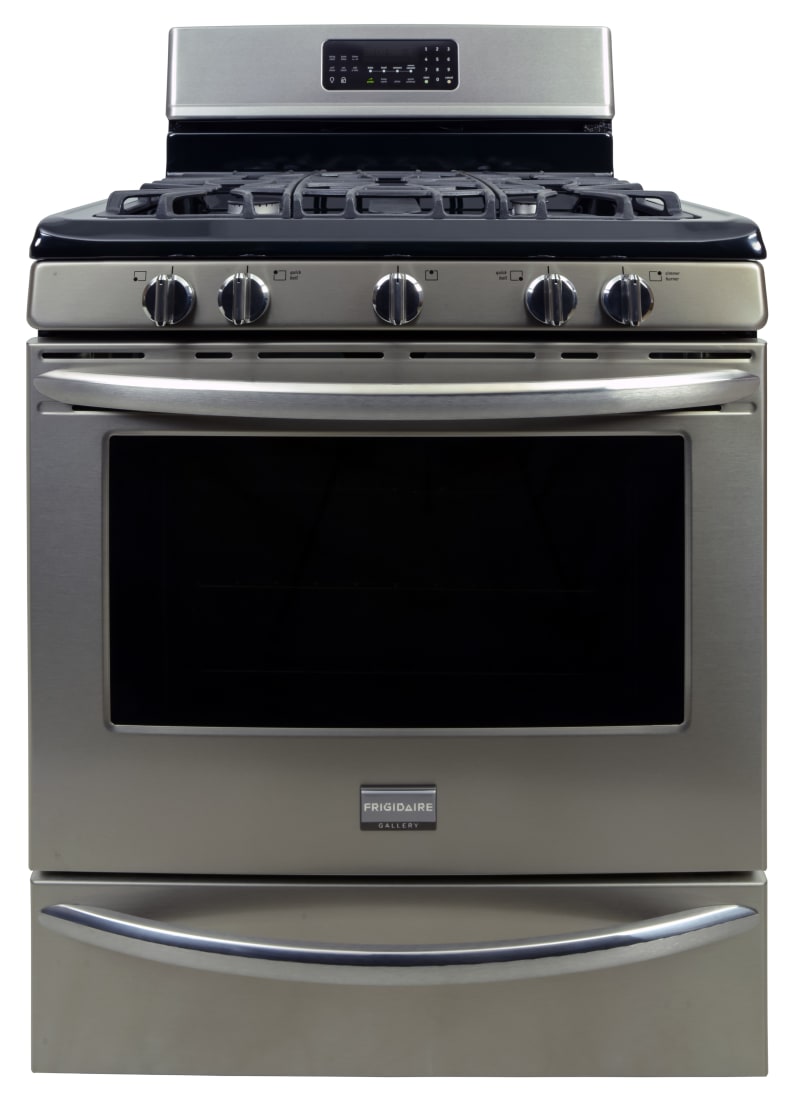 A remarkable gas range
If you're looking for a gas range with great performance, the Frigidaire FGGF3054MF should be on your shopping list. Best of all, it can be found for under $900 on sale.
A low price doesn't mean a budget product, though. This Frigidaire features such extras as a roll-out rack, continuous grates, a temperature probe, five burners, and true convection. Stainless trim and front-mounted controls keep it stylish.
If gas is your fuel of choice, this range is worth checking out.
Meet the tester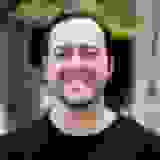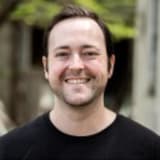 James Aitchison
Staff Writer
@revieweddotcom
Aside from reviewing ovens and cooktops, James moonlights as an educational theatre practitioner, amateur home chef, and weekend DIY warrior.
Checking our work.
Our team is here for one purpose: to help you buy the best stuff and love what you own. Our writers, editors, and lab technicians obsess over the products we cover to make sure you're confident and satisfied. Have a different opinion about something we recommend? Email us and we'll compare notes.
Shoot us an email