Introduction
Front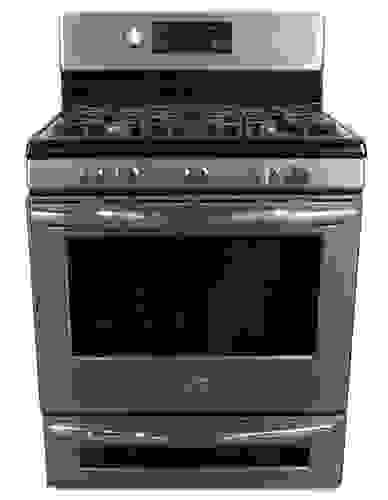 Range-top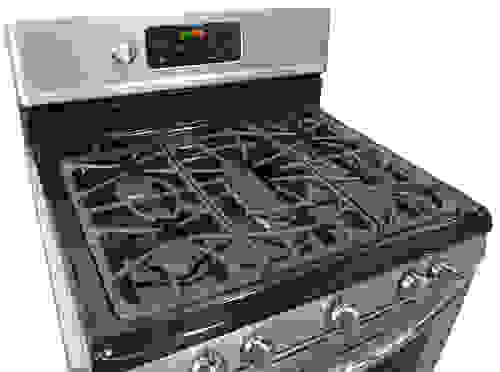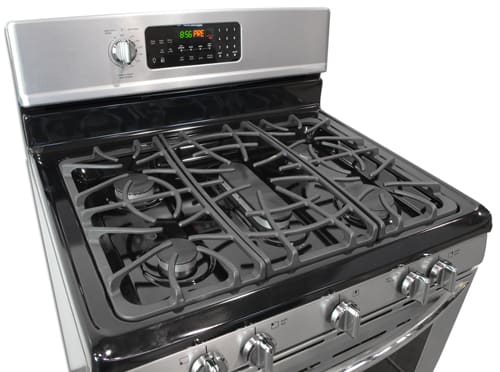 Upper Oven
Broiler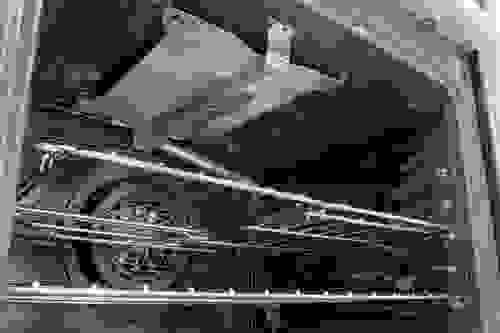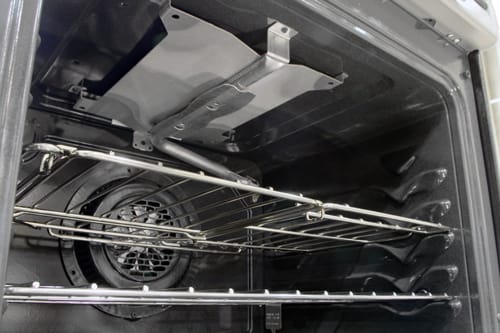 Warming Drawer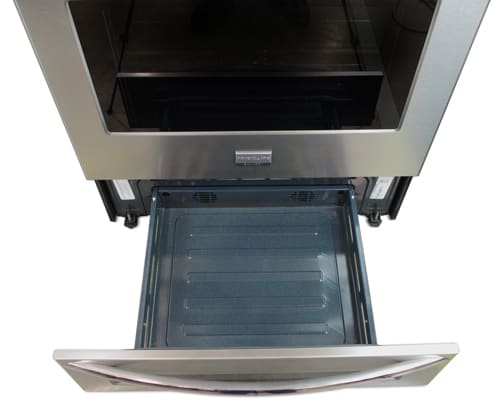 Cooking Performance
The 's rangetop produced excellent results, performing well in the boiling and simmering departments. The oven had a more complicated story, but wasn't too bad.
Range Performance Overall
We found good performance from all 5 burners in our tests on the range of temperatures that this oven could produce: all of the burners had a wide enough range of temperatures to handle all types of cooking, from a gentle simmer to an aggressive sear.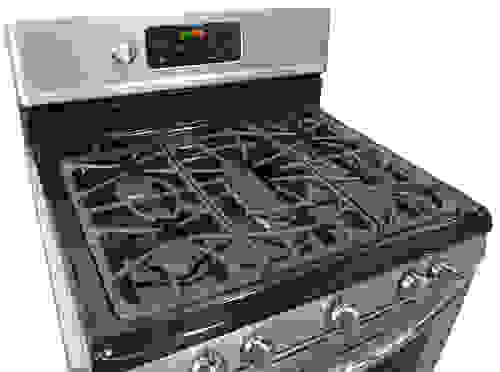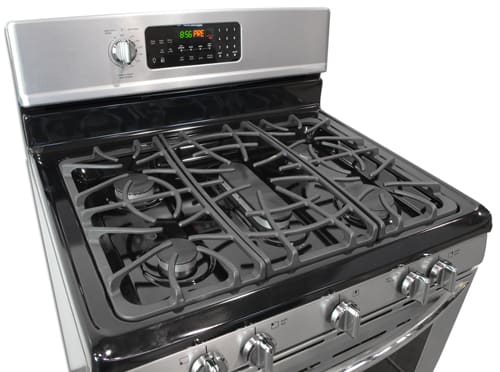 Water Boiling
The three non-simmering burners are extremely fast, boiling six cups of water in four, seven, and eleven minutes. This is an absolutely fantastic average.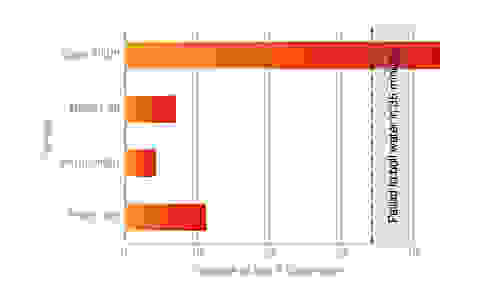 Low Temperature Cooking
The lowest temperature that this range was capable of producing was just over 100°F, from the front left ring. The others produced higher temperatures, which make them less suited for producing light sources and other dishes that require gentle cooking. Still, for a gas rangetop, this is not bad at all.
Range-top Temperature Range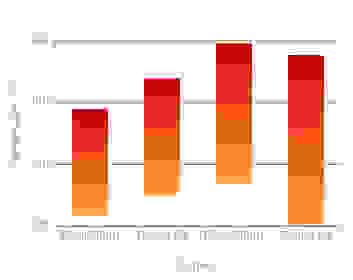 High Temperature Cooking
For frying or searing a dish, you need high temperatures. This range wasn't capable of producing temperatures as high as some, , maxing out at 397°F. Not the best at searing.
Overall Oven Performance
The trip to 350°F is reasonably fast, hitting the target in just over seven minutes.
Target Temperature Accuracy
The oven's ability to hit its target temperatures wasn't quite amazing. While the keep-warm temperature was fine at 180°F (though we prefer 170°F), the 350°F setting averaged 364°F. On 550°F, it averaged 539°F, which was off, but not too bad.
Temperature Fluctuation
Temperature fluctuation was kept fairly low at the 350°F and 550°F settings, something bakers will appreciate, as no one likes unevenly cooked food. Temperature fluctuation was rather high at the keep-warm setting, but that's generally not a big deal because the temperatures aren't so high.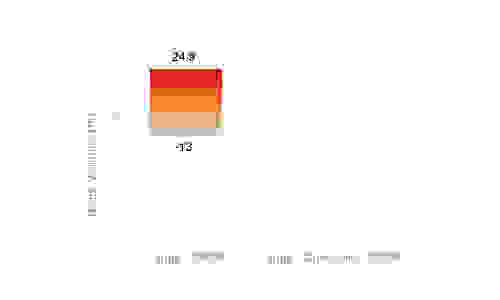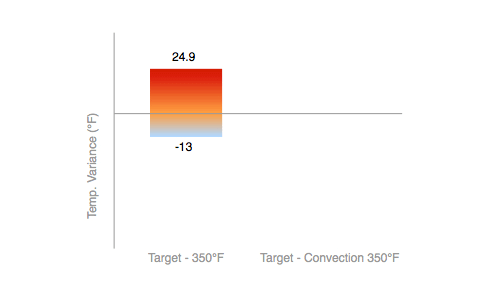 Broiler Performance
We test the performance of the broiler by timing how long it takes to heat our test device to a temperature of 608°F. This broiler reached this temperature in just under 11 minutes, which is pretty fast.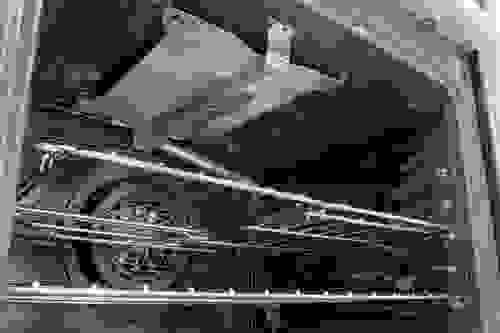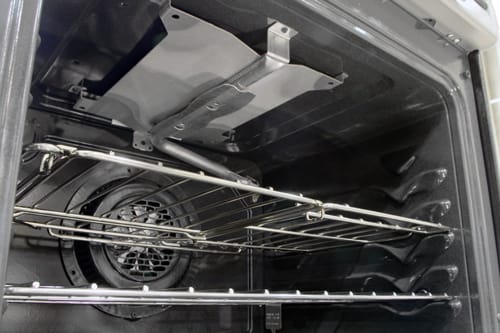 Broiler Features
The broiler uses a 13500 BTU burner, which provides a lot of heat. No broiler tray is included, but this can be added.
Overall Efficiency
The oven used rather a lot of gas, but the range used much less.
Range Efficiency
The range used less gas, with the burners being rated at 9,500, 17,000, 15,000 and 5,000 BTUs. That provides a good range of output power, which means that there is a burner for pans from small to large.
Oven Efficiency
The oven consumes rather a lot of gas, which we measured at 18,000 BTU. That is pretty much spot on to the rating specified by Frigidare at 18,000 BTU.
Features
There are five burners on this range top, with the sizes ranging from the very small upper right to the large and powerful burner in the bottom right. In the middle is a large elliptical burner, usually called a fish burner. This can be converted to a griddle with the addition of an optional griddle plate, but the heavy grate that covers this burner is somewhat awkward to remove.
The large oven includes three racks, one of which has a removable section can be used to hold a large pan (up to 11 inches in diameter). There are 6 rack positions, which makes for flexible rack placing.


The usual timer controls are on offer, which allow you to set alarms or to set a delayed start for the cooking process. One nice touch here is the add minute button, which allows you to add a minute to the timer with a touch. This will be very useful if you want to defer a reminder to give food more time to cook.
Controls
The burners are controlled by the large dials on the front of the oven. These are easy to use, and the wide paddles are easy to turn. We did find that these dials were a little too easy to turn: it might be possible to accidentally turn the burner on if you lean against it.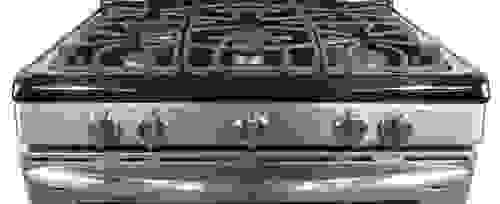 The oven is controlled through the touch panel above the burners, which also includes a 6-digit LCD display that show the temperature and settings of the oven. There are a lot of buttons here, including buttons for several cooking modes and other features. These buttons are easy to use, requiring only a light touch to activate. The oven beeps in response to a touch, so it is easy to know when you have selected an option.


The broiler is controlled by the same touch panel as the oven.
Cleaning
This range uses a pyrolytic cleaning system, where it tries to remove dirt from the oven interior by increasing the temperature to burn them off. This method is effective, but requires more time and uses more energy than the steam cleaning system that other ovens offer.
Comparison Overview
The is a gas oven, while the LG is an electric model. But both do the same job of cooking food, so it is still fair to compare them. The LG is the overall winner in our tests, with better all around performance and a more attracttive design.
Comparison Overview
Both ovens are fueled by gas, but otherwise these two are rather different. The Samsung is a much simpler and more straightforward oven than the Frigidare, with a shorter range of features. This also means that the Samsung is a little cheaper than the Frigidare: you could save about $300 with the Samsung, which is also the better performer overall in our tests.
Comparison Overview
Both ovens cost about the same, coming in at about $1699. Although they do not share a fuel source (the GE is electric, the Frigidare gas), they both have 5 burners or elements on the top with a similar layout. The Frigidare also has a single oven, which could be a plus or a minus depending on how you look at it: the single oven is bigger, but the dual ovens are more flexible and more efficient if you are cooking something small.
Conclusion
The is an attractive package that offers a good range of features for the price. Listed at around $, the includes burners that can handle anything from a small pan to a big pasta pan (and boil the water in that quickly), and an oven that can produce a good range of consistent temperatures.
All in all, this oven seems to be a good choice for most cooks, especially those who frequently use the rangetop for boiling.
Meet the tester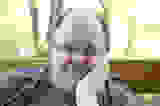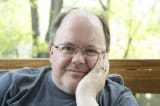 Richard Baguley
Contributor
@
Richard Baguley is a valued contributor to the Reviewed.com family of sites.
Checking our work.
Our team is here for one purpose: to help you buy the best stuff and love what you own. Our writers, editors, and lab technicians obsess over the products we cover to make sure you're confident and satisfied. Have a different opinion about something we recommend? Email us and we'll compare notes.
Shoot us an email