While we can't objectively tell you if this stainless steel oven is beautiful, we can tell you that it is a fantastic performer, ready for whatever culinary task you have to throw at it, onto it, or into it. The exceptional gas rangetop performed quite well, acing our boiling test and the oven kept temperatures close to the target for even cooking.
With features including convection mode, a griddle, and the "AquaLift" self-cleaning method, this oven has a lot with which to impress the user.
The is a traditional single oven gas range with a fifth burner added in the center. The stainless steel finish approximately follows the same design language of some of the other ranges we've seen, with small exceptions such as the lack of knobs canted upwards for easier adjustment. Subjectively, we found it to be a good looking oven, and we liked the continuous grates along rangetop. This range is no sculpture, but we think it looks nice. But don't take our word for it, that's something you can test without our help.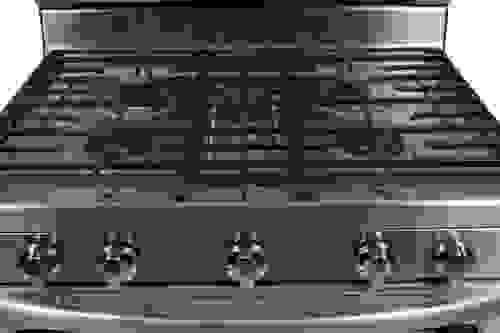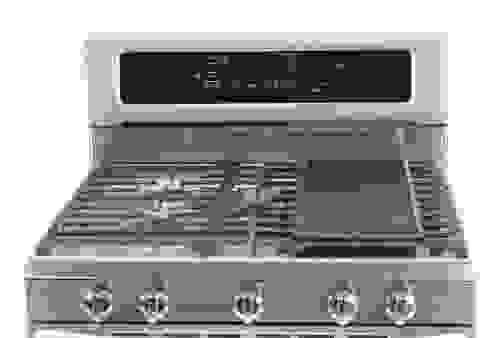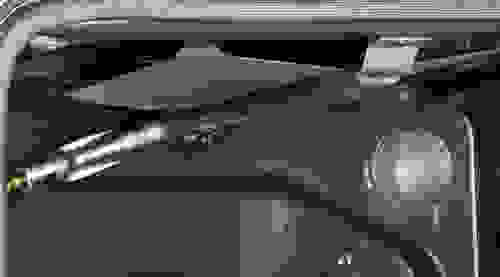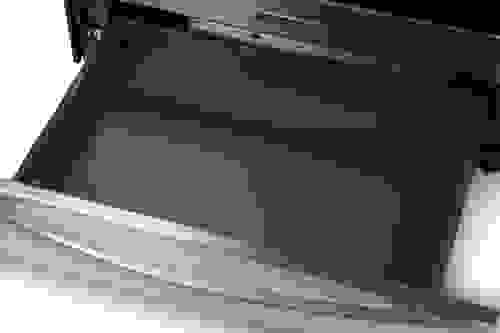 The 's ability to maintain the proper temperature impressed us greatly in our tests. Besides averaging the proper temperature—treating the user's input as injunction, not suggestion—this oven's temperature didn't vary a whole lot. Even temperatures mean even cooking, so this is something that bakers should definitely think about if considering this oven.
The rangetop tested decently well in our boiling tests, although it didn't demonstrate a very wide range of temperatures for searing and simmering. The only other flaw we found was reasonably significant: a broiler that just doesn't seem to work well.
All in all, the turned in some of the finest boiling times we've seen. Users of this gas rangetop also have the advantage of actually seeing how hot it is, as the flames' size and colors keep the user in the loop far better than the vague glows of coils or glass surfaces. And of course, unlike its electric counterparts, using gas allows instant change of the burner temperature rather than a gradual one.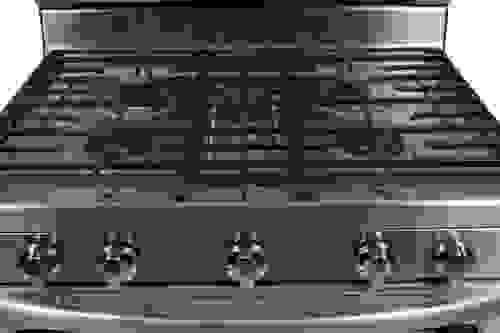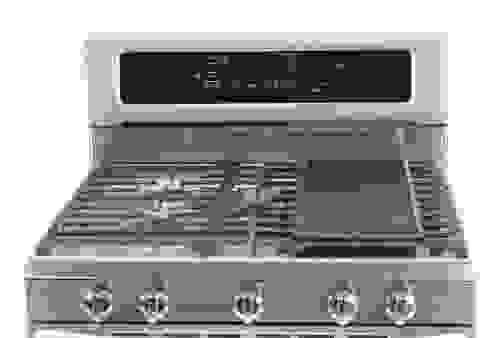 The front left and right burners boiled six cups of water in five and six minutes respectively, excellent numbers compared to the field. No one wants to wait as a big pasta pot boils for fifteen minutes, and this is when the high performance pays off. The other regular (i.e. non-simmer) burner did well in the rear and was able to boil in under ten minutes.
The simmering abilities weren't quite as good as the boiling power, as we saw only the rear burners do a good job keeping the temperature low, at 145°F and 130°F for the left and right (the regular and simmer burners respectively). While these numbers aren't particularly impressive, they are much better than the front burners were, as they only got into the 240s. Don't simmer on the front.
Range-top Temperature Range
There is a weird relationship between boiling power and the maximum temperature a burner can get a pan. Intuitively, one would think they are connected, but sometimes cases like the show that it's not always that simple. Despite hurrying to the boil, the rangetop couldn't get our test pan that hot in our tests, with the front burners maxing out at 437°F and 392°F for the left and right. The rears were about the same at 428°F and 387°F.
The 5.8 cubic feet preheated to 350°F in just under eleven minutes, not a particularly remarkable result, but not bad either. But once preheated, the oven blew us away in the tests with its fantastic temperature control, made especially more fantastic because it's a gas oven, traditionally considered inferior in suppressing variance.
The low end of the temperature range is exactly where we like it to be, averaging around 170°F for the keep-warm setting, cool enough not to cook, but hot enough to prevent chicken saltimbocca from becoming chicken salmonella. The 350°F temperature was also as accurate as it should be, but the maximum setting was a bit under the industry standard of 550°F, at 500°F, and not particularly accurate. Fortunately, that may not be an issue for chefs, who often simply need just a "hot" temperature.
This is where the really shines. During the keep warm setting, it strayed no more than 3°F below 170°F and no more than 11°F above. Whoa. At 350°F it only went 15°F above and 11°F below, and at the maximum temperature, we still liked what we saw. These are phenomenal numbers for a conventional oven, as anything under ±20°F is good by us. Oddly, the convection oven mode isn't quite as good, but it's still pretty decent. It ran a little hot into the lower 380s, but it also ran hotter than 350°F so the variance wasn't so bad, but users may want to lower the temperature slightly more than usual.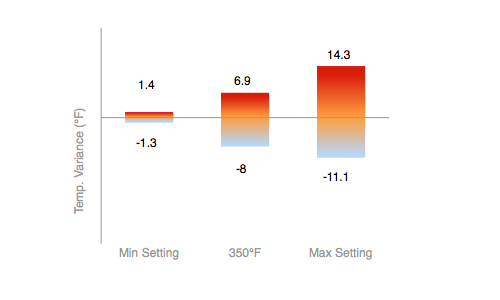 Althought it's got an excellent oven, the does not have a good broiler. In our preheating test, it heated up so slowly we had to time the test out at sixteen minutes, when the broiler had reached just 387°F. We doubt broiling ability is a dealbreaker, but if it is, don't get this.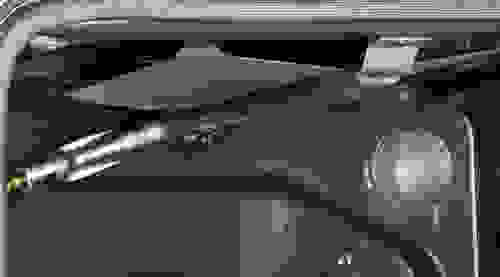 This is a straight laced broiler design with a adjustable control that gives the user the choice between high (500°F), medium (450°F), and low (400°F) settings.
We like to remind consumers that testing range and oven efficiency is a very tricky thing to do, as it's difficult to measure the energy that's lost, and there aren't any Energy Star ratings for ovens at the present time. All we can really do is measure the energy used with the performance we tested.
Since the rangetop performed so well and guzzled a normal amount of gas, we can infer that the range uses its energy in an efficient way, at least compared to its competitors.
In our audit of the manufacture stated energy consumption, we found that most of the elements did what they were supposed to do. However, we did see two burners using a different amount of gas than advertised. The 9,500 BTU/hr burner used too many, and the 5,000 BTU/hr simmer burner used too few. Fortunately, this isn't a huge deal, as they all but cancel each other out in common use.
While the performance was phenomenal, the oven's display of raw power—the preheat time—wasn't that impressive, which made sense, as the oven did guzzle that much gas (17,788 BTU/hr). So it seems that there is low-ish power with a low-ish power draw, so things seem fairly efficient down below.
In addition to the four fantastic gas burners on the rangetop, a fifth 8,000 BTU burner lies in the center for more options. conveniently provides a griddle plate for the center burner when you buy a , a nice change from all the "sold separately" speak.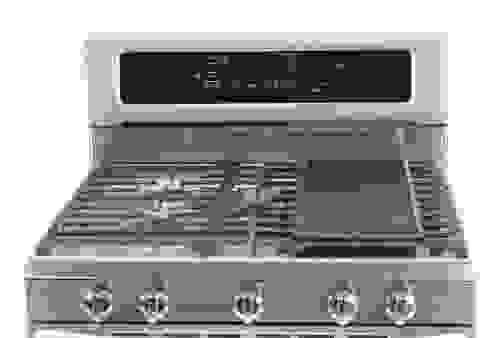 The large 5.8 cubic foot oven cavity is certainly large enough to accommodate the Thanksgiving turkey and whatever else you have to throw into it. Three oven racks divide the space and offer different options: one rack is max capacity, one is split, and one is a "SatinGlide" roll-out extension rack. Of course, a large true convection fan sits at the back circulating the hot air and making things cook more quickly and efficiently.



The timer is straightforward—you just press "timer," enter the temperature, and press start. No leading zeros need be entered.
The 's range controls are located on the front, something we like very much as the user doesn't have to reach across a boiling hot stove to adjust the burners. Unlike the fancier double oven KGRS505, it doesn't have controls canted toward the user, but they are still very easy to adjust.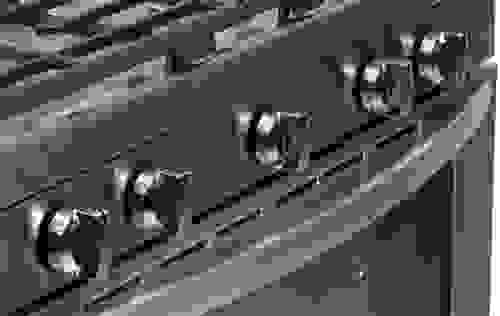 Controlling the 's oven might look akin to flying a 747, but even with the sea of buttons, it's not so bad. Unfortunately, the oven controls are located on the black panel on the rear guard so your hand might get burned while you figure out how to use it.



The broiler controls are on the back control panel with the oven controls, and allow for multiple temperatures of high, medium, and low.
The cleaning method is different from the normal pyrolitic way. Instead of simply heating up for a long time, the oven uses a water-based system to clean at lower temperatures, called "AquaLift." This also means it takes far less time to clean, something that messy users will definitely appreciate. Under an hour at 250°F is a bit nicer than hours at 550°F.
For around $1,650 (MSRP $1,799), the is a fairly expensive oven, so we expected performance as high as the stack of money it takes to buy it. After running through our vigorous testing, we found it performed very well compared to the field, and lived up to its pricetag.
The rangetop boiling abilities were phenomenal, with all three non-simmer burners able to boil six cups of water under ten minutes, with one of them at just five minutes. With the extra center burner and the griddle feature, the rangetop combines both high performance and features that we think would satisfy any chef. Often we see electric outperform gas, but here the high performance is combined with the gas's ease of use. It's always easier to adjust a flame than a vague hot disc. The only disadvantage we saw in the rangetop was marginal simmering ability, so small quantities of liquid may not simmer well.
While the oven didn't heat up that quickly, getting to 350°F in over ten minutes, it performed splendidly, showing great accuracy of the 350°F setting as well as minimal temperature fluctuation. These two things ensure that food isn't overcooked or burnt on the outside and raw on the inside. Bakers and roasters will appreciate this very much. Unfortunately, the broiler didn't function well and timed out on our test, so it might be good to grill elsewhere.
The bottom line here is whether you need all these features and performance badly enough to foot the bill for this luxury item. If you can afford it and will use it, this would be a phenomenal machine to own.
Meet the tester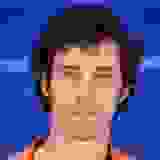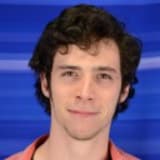 Ethan Wolff-Mann
Staff Writer
@ethanwolffmann
Ethan writes reviews and articles about science for Reviewed.com, and edits the Science Blog. He's originally from Vermont and thinks the bicycle and guitar are examples of perfected technology. Prior to Reviewed.com, he studied furiously at Middlebury College.
See all of Ethan Wolff-Mann's reviews
Checking our work.
We use standardized and scientific testing methods to scrutinize every product and provide you with objectively accurate results. If you've found different results in your own research, email us and we'll compare notes. If it looks substantial, we'll gladly re-test a product to try and reproduce these results. After all, peer reviews are a critical part of any scientific process.
Shoot us an email