Exhibit A: The Whirlpool WFG515S0ES gas range (MSRP $849). Not only does it feature stainless steel trim and an oven that's great for baking, but it can also be had for the low retail price of just $539. A deal like that is hard to beat.
We'll be honest: It's not perfect. (Few ranges are.) The rangetop has all the temperature reach and speed you'll need, but none of the burners are terribly versatile. The broiler is slow to preheat, and the exterior straddles the line between "minimalist" and "cheap." Still, when you're on a budget, this range is undeniably better than most other options.
Design & Usability
These bones aren't all bare
This Whirlpool isn't exactly stunning, but it's there to help you cook up a feast for your stomach—not your eyes.
We tested the black-on-stainless version, which has a stainless steel front and handle, but a black front control panel dotted with black rangetop control knobs. The backsplash is black, too, with stainless trim surrounding a digital oven control panel that lets you select settings like Bake, Broil, Keep Warm, and a pyrolytic Self Clean cycle. Like most of its similarly priced competitors, this oven does not offer convection.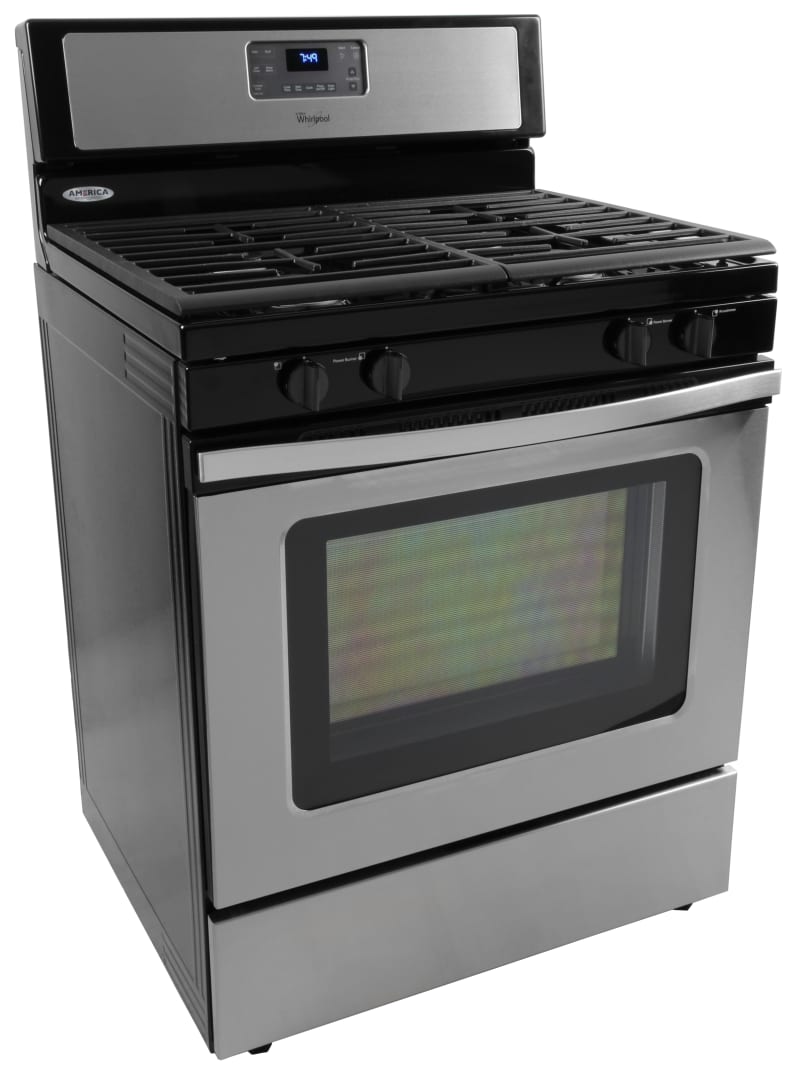 ×
Design
The 5 cubic-foot oven cavity has two standard racks on which to set your food. Below, you'll find a storage drawer that provides extra space for your cookware. Above, the 30-inch-wide black cooking surface is coated in porcelain enamel for easy cleanup and covered by two continuous cast iron grates, which top the rangetop's four sealed gas burners. The right rear burner is billed as a simmer burner, while Whirlpool markets the right front burner a SpeedHeat burner. That's advertising-speak for a burner that's meant to sear and boil quickly.
It's pretty bare bones as ranges go—fairly common at this price range—but that self-clean cycle may prove useful if your food ever drips inside the oven. The similarly priced Frigidaire FFGF3047LS, for instance, does not offer a self-clean cycle.
If you're not a fan of stainless steel, you can also purchase the range with a black, white, silver or even an off-white "biscuit" finish (commonly known as bisque) although the price varies with color.
Rangetop
Good enough
This 30-inch rangetop only has four burners, and they're definitely a mixed bag. They'll give you all the tools you need for a variety of cooking techniques, but you may have to be picky about which burners you use for different tasks.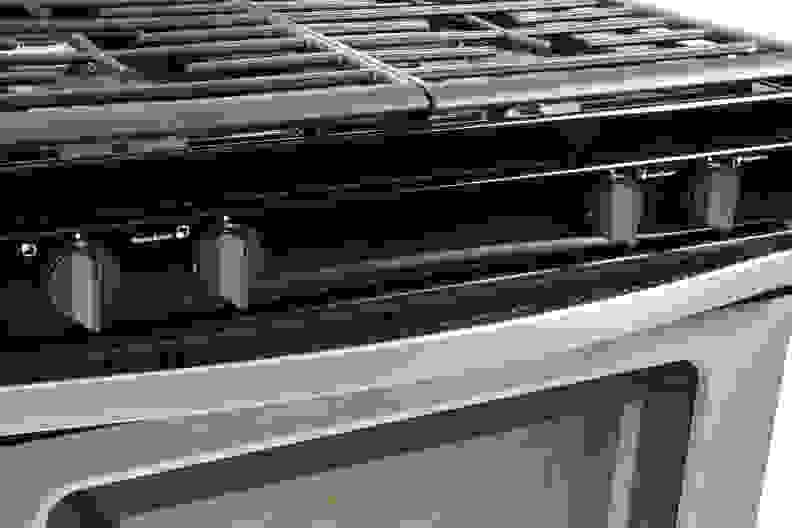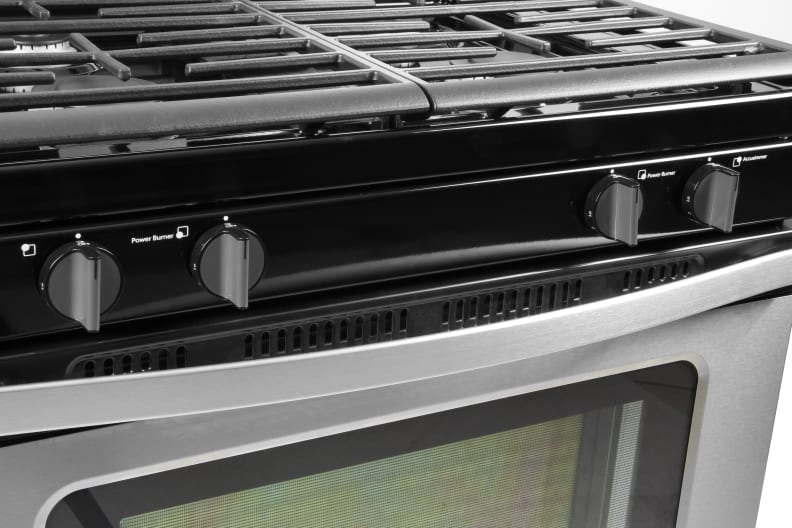 If you want to perform a low-heat task, such as simmering or melting butter, you'd do best to stick to the right rear simmer burner, which is the only burner on the rangetop that can dip below 150°F to a balmy 120°F. The left rear burner almost gets low enough to satisfy, but at 151°F we just can't recommend it for low heat cooking. The two front burners bottom out above 200°F, so steer clear of the front of the rangetop when you're aiming for a more gentle temperature.
Thankfully, the burners did a little better when we cranked up the heat. Even with 15,000 BTU of power, the right front burner failed to rise above 375°F. The smaller, 9500 BTU left rear burner maxed out at 430°F on a smaller pan, while the 15,000 BTU left front and 5,000 BTU right rear burners alike each rose above 375°F, but not by much.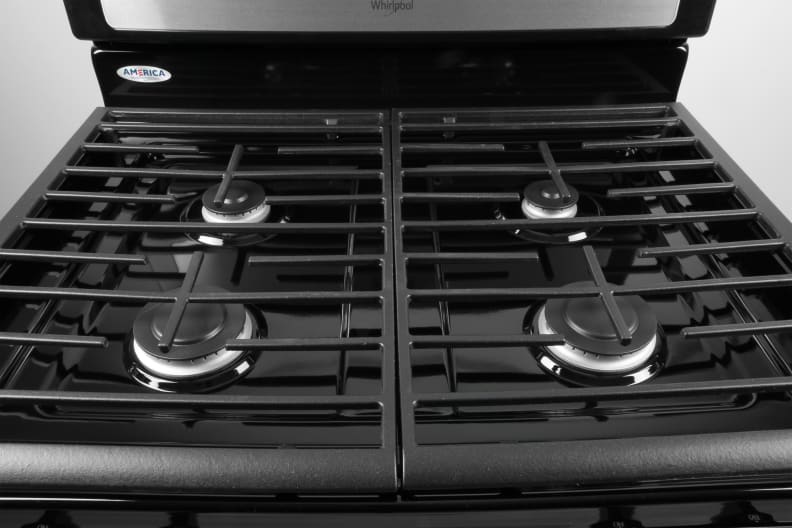 When we boiled water on the rangetop, the two front burners were quite fast for gas, each boiling six cups in under six minutes. The left rear burner took almost twice as long, while the right rear burner was unable to boil in an acceptable length of time. Still, so long as you boil on the front of the rangetop, you won't be waiting long.
Oven & Broiler
Great baking, no convection
For such an inexpensive range, the WFG515S0ES's oven is surprisingly excellent. Although it lacks a convection setting, the standard bake setting performed admirably during our real-world baking tests. After baking a sheet of cookies, the whole sheet emerged evenly browned. We also baked two cakes set side-by-side in the cavity, which showed very little variance in doneness. This indicates that the 5 cubic-foot cavity does a great job regulating temperature and airflow.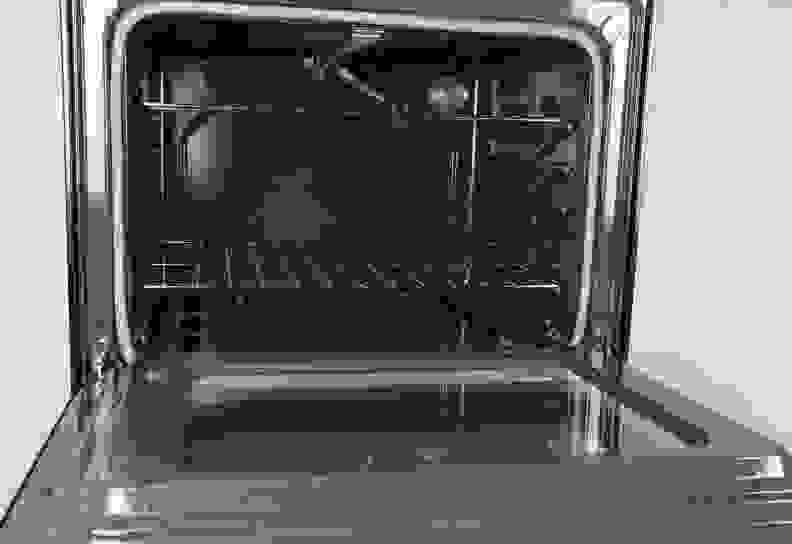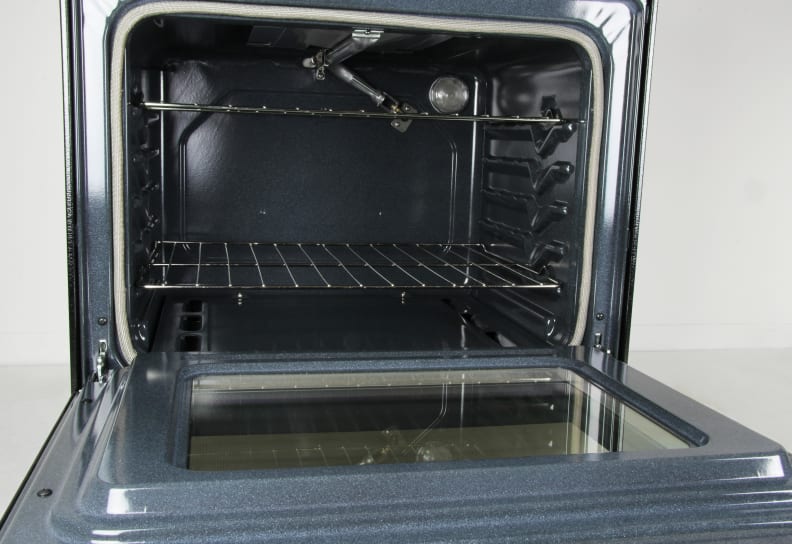 As far as preheat times go, the broiler was the weak link. The oven's standard bake setting took just under 11 minutes to preheat when we set the oven to 350°F. That isn't good—but it's hardly anything to complain about. The broiler, on the other hand, took more than 13 minutes to heat the area beneath the broiler element to 600°F.
Warranty
For one year from the date of purchase, Whirlpool will cover the cost of replacement parts and labor to repair any defects in materials or workmanship you may uncover. After that, you're on your own. For a range at this price point, that's a standard warranty.
Conclusion
A great deal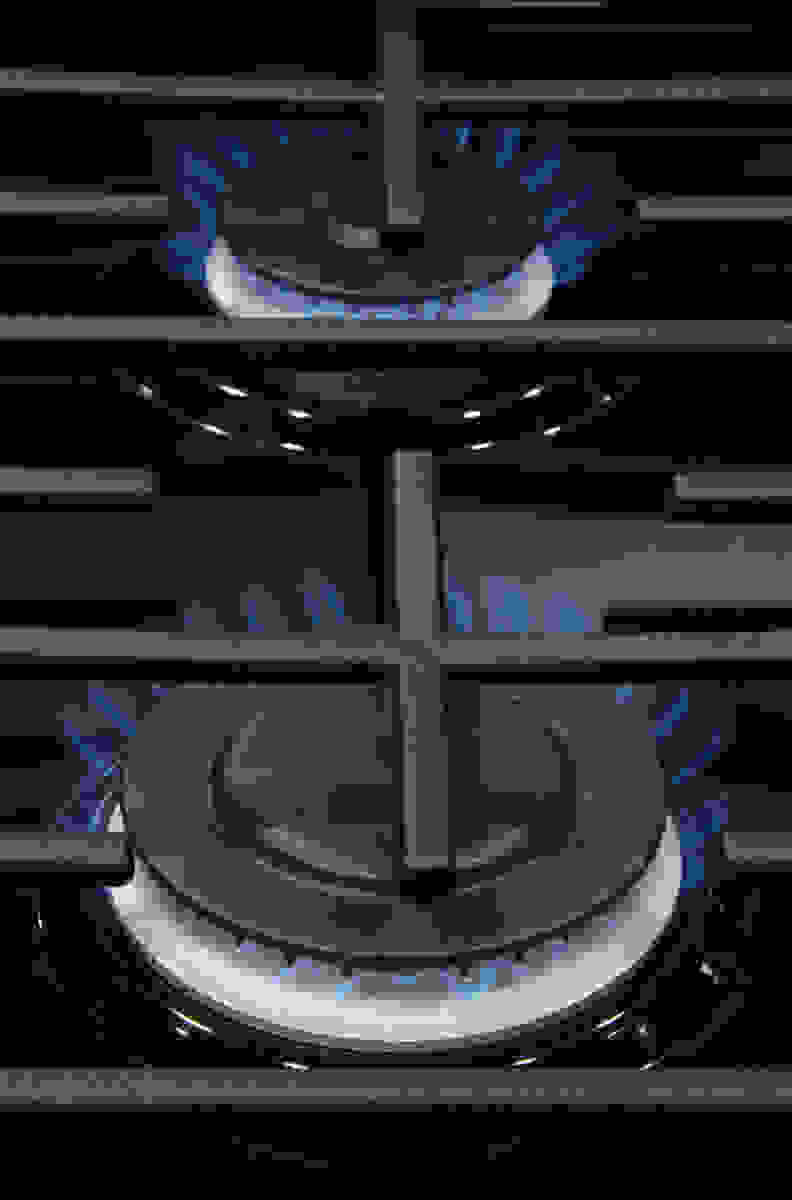 This budget range can cook—and it can cook well. The oven may not offer convection, but it offers the consistent temperature regulation you'd often be more likely to find in a pricier oven.
The rangetop wasn't outstanding, but it's good enough to do whatever you might need it to. As far as we can tell, the only downside for some consumers may be its minimalist appearance—and of course, that's just a matter of opinion.
For the price, color us absolutely impressed—even if that color is called "biscuit."
From the Lab
We took the Whirlpool WFG515S0ES for a spin in our labs to test everything from how evenly it can bake to which temperatures its burners can reach. Our results were largely positive, especially when it came to the oven.
Oven & Broiler Performance
The oven preheated in a reasonably fast 10 minutes and 55 seconds. The broiler, on the other hand, took 13 minutes and 26 seconds to heat the area below the broiler element to 601°F—which is frustratingly slow.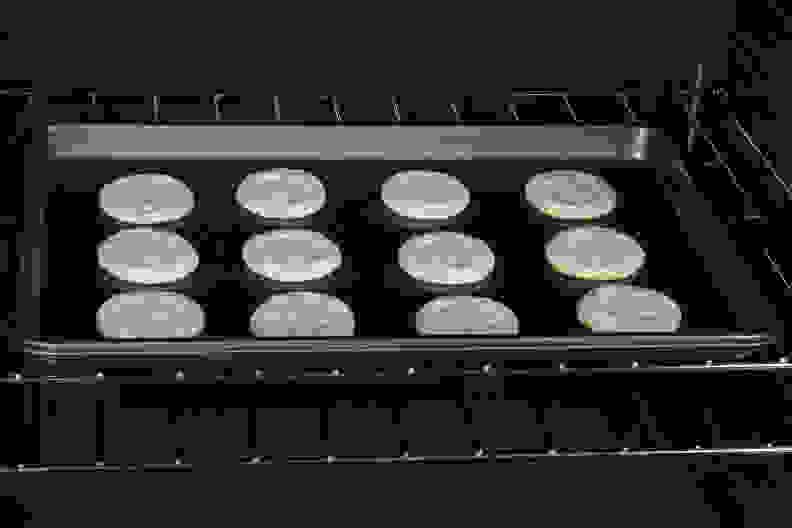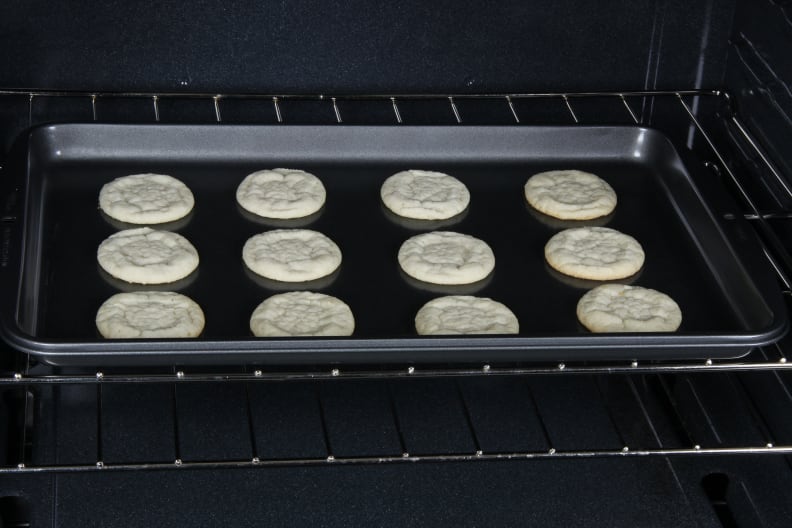 When we baked a batch of cookies in the oven using the standard bake setting, the results were golden. Cookies were consistently evenly browned. When we baked two cakes side-by-side in the oven, browning was so even it was almost perfect. You'd be hard-pressed to find an oven that demonstrates such superior heat distribution capabilities without the aid of a convection fan.
Rangetop Performance
The rangetop gave a mixed performance, but you'll be able to coax the kind of heat and speed you need from it—so long as you use the appropriate burners.
The right front burner was quick to boil—taking just 5 minutes and 39 seconds to boil 6 cups of water—but its temperature reach is limited to a disappointing 242°F-361°F. The left front burner boils 6 cups of water in a similar 5 minutes, 26 seconds. Its lowest temperature of 232°F is similarly too warm, but at least it fares a bit better than the right front burner when it comes to maximum temperature; 381°F isn't exceedingly hot, but it's good enough for most high heat tasks.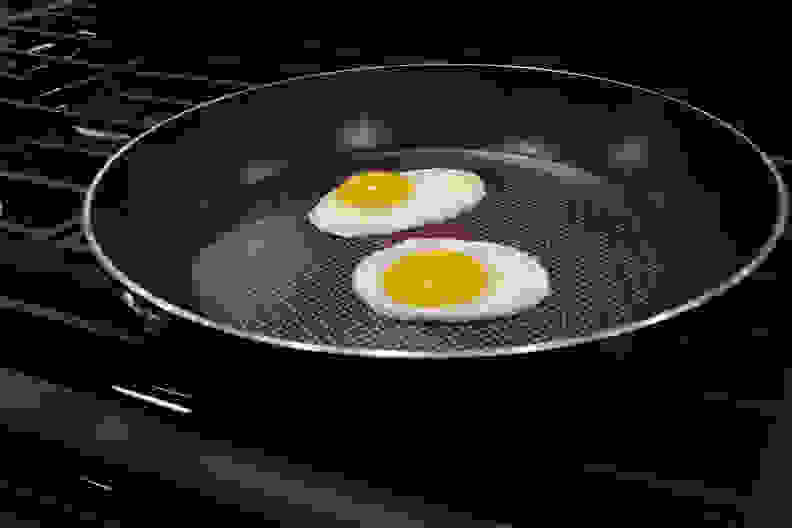 On the rear of the rangetop, the right rear burner proved the only burner capable of dipping to an acceptably low temperature of 120°F. Its 381°F max temp is fine, but if you try to use the burner to boil water, you'll be waiting for an unreasonably long time. The left rear burner is the hottest one on the rangetop, climbing to a steamy 430°F during testing. Its minimum temperature is almost low enough to fall in the realm of "good enough," but at 151°F it's just a few degrees too warm. It can, however, boil 6 cups of water in 10 minutes and 10 seconds—not wonderful, but it'll do.
Meet the tester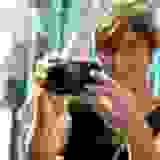 Kori Perten
Former Editor, Home & Outdoors
@Reviewedhome
Kori began her journalism career as a teenage fashion blogger and has enjoyed covering a wide variety of topics ever since. In her spare time, she's an amateur poet, avid reader, and gluten-free cake baker extraordinaire.
Checking our work.
Our team is here for one purpose: to help you buy the best stuff and love what you own. Our writers, editors, and lab technicians obsess over the products we cover to make sure you're confident and satisfied. Have a different opinion about something we recommend? Email us and we'll compare notes.
Shoot us an email