If your answer to that last question is "more than one," you might be in the market for the Whirlpool WGE755C0BS Double Oven Electric Range (MSRP $1,749), which will fit a big roast, but can cook it at the same time as a side dishes.
Yes, there are other double-oven ranges out there, but this Whirlpool is a class above. Beyond space efficiency, it sports basic good looks, features like convection, and a reasonable sale price around $1,530. It's not fancy, but we especially appreciated its stellar rangetop and lower oven.
We test all our ranges very thoroughly, and the Whirlpool WGE755C0BS is no exception. From temperature tests to boiling tests and baking tests, we put the WGE755C0BS through the wringer. Although there were a few snags, we were pleased to see it excel in the majority of tests.
All the basics and plenty of space
Ranges are typically boxy in shape, but there's something particularly sharp and angular about the WGE755C0BS. It's more simple than edgy, but clean lines give it a sleek look.
The black, ceramic glass cooking surface features a dual-ring burner, three regular burners, and a rear central warming zone. Raised rangetop edges protect your kitchen floor from boiled-over sauce or pooled bacon grease. The only major design flaw is that the rangetop control dials are set on the backsplash, a location we disapprove of whenever we have to reach over hot cookware to adjust a burner's temperature.
×
Design/Usability
Below, a 2.5 cubic foot upper oven and 4.2 cubic foot lower oven lie stacked on top of one another. That's a lot of space in total, even if the smaller oven seems positively miniature.
Oven controls are located on the back of the range and stick to the basics feature-wise. Want to bake, convection bake, keep warm, or broil? The WGE755C0BS has you covered. But bread proof, slow cook, and chicken nugget settings are absent. If those are important to you, you might want to go for the similarly-priced Frigidaire FGEF306TMF electric dual oven range instead, which boasts the ever-important chicken nugget and pizza settings, plus two ovens of equal size.
Happily, both of the WGE755C0BS's ovens do house a broiler, as well as the Precise Clean self-cleaning system, which saves energy by timing its cycles to be as short as possible while still cleaning an optimal amount. There is also a steam clean option, in case self cleaning is too hot for you.
The most telling part of our oven testing is the real world baking tests that we perform to see how the ovens handle actual food. In our cookie tests, we bake sugar cookies in the oven and then measure the difference in browning between the cookie tops and bottoms, as well as the difference in browning from one cookie to another. In our cake tests, we take the same types of measurements as we do in our cookie tests, while also noting the degree to which different spots in the same cake vary in doneness.
The WGE755C0BS's ovens did not receive the same scores in our testing. The smaller upper oven was the weakest link, turning out cookies with light tops and extremely dark bottoms. While the tops of the cookies barely varied from one cookie to another, the bottoms showed a large amount of variation, earning the oven a low score for the cookie test overall. Cakes fared slightly better, but we were unimpressed by the significant differences in doneness measured in different areas of each cake. Still, both cakes we baked proved consistent in their issues, which means that turning the pans 180° halfway through cooking may be a valid way to improve the final product.
The upper oven's performance in the baking tests proved that it had some problems with air circulation and regulation of radiant heat output in different parts of the cavity, resulting in hot and cold spots throughout the cavity. This wasn't exactly a surprise to us, given that it received low scores for both accuracy and precision in our 350°F temperature testing, averaging around 337.7°F.
Our test of the Keep Warm setting at least showed the oven temperature staying somewhat level, even if it overshot the 170°F target temp by 38°F on average. It's a large inaccuracy, yes, but because it's consistent, one can compensate by cutting the bake time a bit short.
×
Upper Oven Science
The lower oven had a convection setting, which thankfully provided it with slightly better air circulation.
Cookies baked in the lower oven showed very little variation in browning between the tops and bottoms, and this proved true across the board—and across the cookie sheet. Cakes, on the other hand, had almost the same results as the cakes we baked in the upper oven, showing that—convection or not—the lower oven's air circulation still needs some help.
Our temperature test of the convection setting echoed these findings, with temperatures shifting as low as 325°F and as high as 355°F and averaging around 341°F — that's 9°F away from the 350°F target temp. Keep in mind that this model does not automatically convert temperatures for convection.
×
Lower Oven Science
Electric rangetops are often especially good at boiling water quickly and reaching high temperatures, and the WGE755C0BS followed suit in both areas. The left front burner (outer ring) boiled six cups of water in 3:41, while the similarly fast right front burner took 5:21.
The remaining burners required more than twice that amount of time to reach a boil, but maximum temps were high for every burner but the left rear. These temps were staggered, burners reaching their limits around 800°F, 700°F, 600°F, and 500°F, respectively. It's not the most convenient if you need to use two burners with the exact same searing capabilities at once, but it makes for some options.
Low temperature scores were also high, as the rangetop temperatures simmered down to a gentle 83°F at best and 116°F at worst.
×
Rangetop Science
High or low, this rangetop brings the right amount of heat
This rangetop is a joy to use. With all elements engaged, the front burners sped through our boiling tests, each bringing six cups of water to a boil in less than five and a half minutes—perfect for those times you want to simultaneously poach salmon and boil asparagus!
The WGE755C0BS hit it out of the park as far as maximum temps are concerned. While the left rear burner's style is more about simmering, the remaining burners hit temperatures ranging from 485°F to a sweltering 787°F. Sear away, brave cooks! This rangetop can handle it.
Low temperature cooking is also a wonderful option on this rangetop, as three burners can dip to temperatures below 100°F. Soups and sauces shouldn't be a problem on the WGE755C0BS.
These twin ovens aren't identical, and neither are their performances.
The WGE755C0BS sports two ovens. Both feature broilers, but only the bottom oven features true convection with an additional fan-based heating element. The lower oven produced foods that were beautifully baked, with perfect cookies across the baking sheet and cakes that were evenly browned. We'd put the Thanksgiving turkey down here.
We'd recommend the bottom oven for more complex recipes, as the top oven had difficulty in our food bake tests. Sugar cookies emerged with significantly darker bottoms than tops. Just how brown depended on where each cookie was placed inside the cavity. Cakes fared slightly better. Yes, they came out unevenly baked, but at least they were consistent in their unevenness.
Those hot and cold spots are indicative of poor air flow and inconsistent radiant heat across the cavity. We'd recommend turning your pan halfway through baking to make things a bit more even, but only if you must use the top oven for baking. It may be better-suited for easier jobs like reheating side dishes or roasting veggies. If you use it as a broiler, be prepared to wait 11 minutes for it to preheat.
Whirlpool gets it right.
We'll give this range an enthusiastic nod of approval. It's tricky to get things right when putting two ovens in a single range, but Whirlpool's WGE755C0BS is a great product. Retailing around $1,525, it's also a great value—especially when you factor in its two ovens and quietly-stylish stainless steel finish.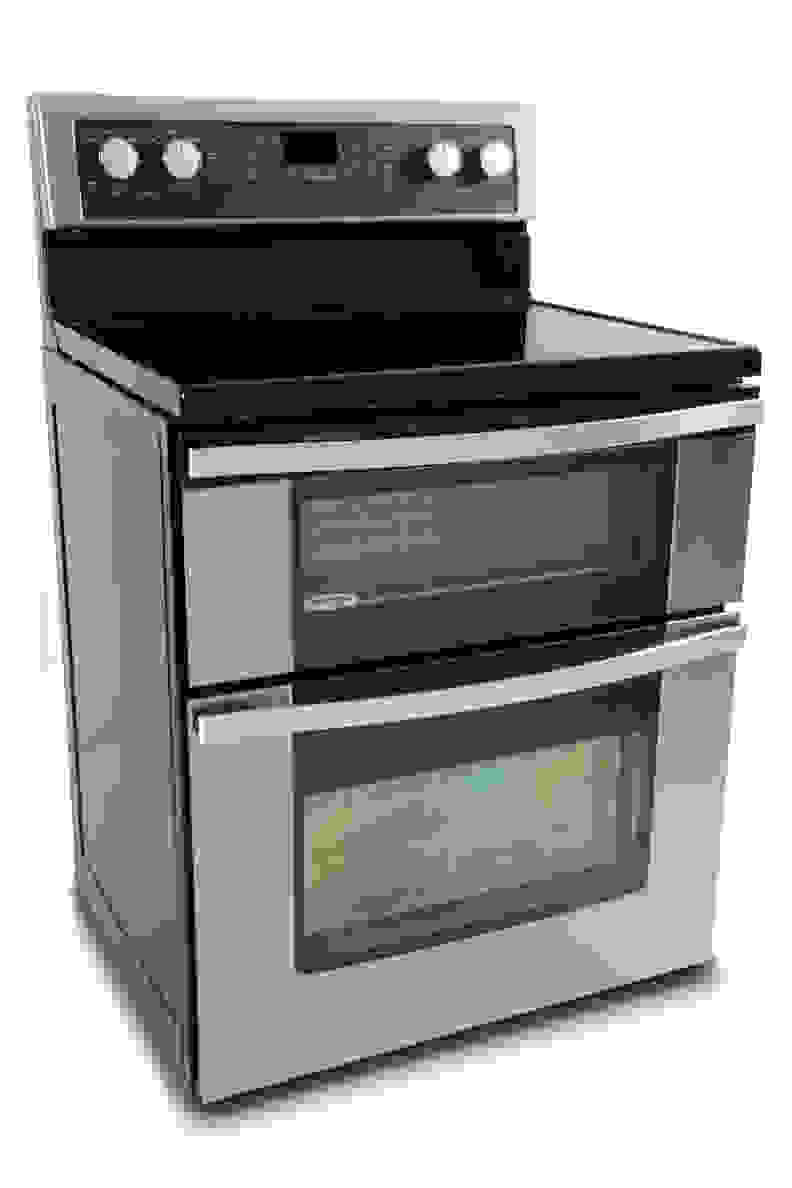 The fantastic rangetop is capable of reaching blistering highs and gentle lows, and two of the burners can boil water extremely quickly. The top oven isn't perfect but the lower oven turned out really excellent cakes and cookies. We'd recommend it for home cooks of any ability.
Meet the tester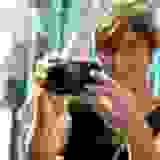 Kori Perten
Former Editor, Home & Outdoors
@Reviewedhome
Kori began her journalism career as a teenage fashion blogger and has enjoyed covering a wide variety of topics ever since. In her spare time, she's an amateur poet, avid reader, and gluten-free cake baker extraordinaire.
Checking our work.
We use standardized and scientific testing methods to scrutinize every product and provide you with objectively accurate results. If you've found different results in your own research, email us and we'll compare notes. If it looks substantial, we'll gladly re-test a product to try and reproduce these results. After all, peer reviews are a critical part of any scientific process.
Shoot us an email