Ovens & Ranges
10 healthy recipes you won't believe aren't fried
Your favorite guilty pleasures, made (a little) healthier!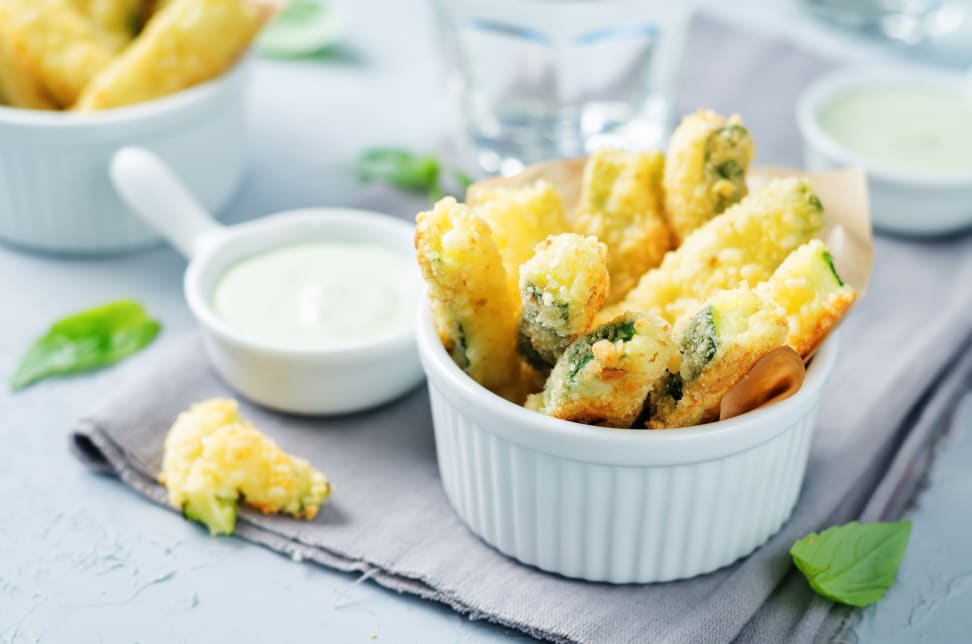 Credit: nata_vkusidey / Getty Images
Fried food is so darned tasty, but it's also pretty unhealthy. Cue heavy sigh. Not to mention, frying food at home can be a messy and potentially hazardous task—hot oil is no joke.
The good news is that many wonderful food bloggers have figured out ways to recreate classic fried foods without actually frying them, thereby making them at least marginally healthier. From good ol' fried chicken and French fries to donuts and tots, these alternative recipes for popular fried foods are sure to be a hit with your family!
1. Fried chicken so good you won't believe it's actually baked
The easiest way to make a fried recipe healthier is to bake it instead—this cuts out the unhealthy oil of frying, but often results in lackluster taste as well. However, you can bake your fried chicken (oxymoron, I know) and still retain that delicious crunch with this Copycat KFC Fried Chicken recipe! The secret is periodically spraying the chicken with butter as it bakes.
Get the recipe for Copycat KFC Fried Chicken from Pink When
2. Crispy, crunchy air fryer French fries
One of the most buzzed-about kitchen appliances lately has to be the air fryer. These cool countertop gadgets (which you can get for $75 on Amazon) let you recreate tasty fried foods with just a fraction of the oil. Seriously, it's never been easier to make healthy, yet delicious French fries!
Get the recipe for Air Fryer French Fries from A Pinch of Healthy
3. Oven-baked fried pickles with homemade dipping sauce
Did someone say fried pickles?! Whether you love them or hate them, you can't deny these crispy snacks are a quintessential fried food!
You can save yourself the hassle of deep frying by using this recipe for Oven-Fried Pickles, complete with homemade buttermilk ranch dressing. While it may not qualify as a "healthy" snack, it's at least a little healthier than the traditional preparation.
Get the recipe for Oven-Fried Pickles from Cooking and Beer
4. Fried rice that's actually nutritious
Ok, so fried rice isn't technically fried in the traditional manner, but it still has the word in its name. Ergo, it still counts.
You can make this popular Chinese dish healthier by swapping in brown rice and tossing in a few extra veggies like peas and carrots. Fly through the prep work with a high-quality chef's knife, like our favorite, the Zwilling Pro ($139.95 on Amazon).
Get the recipe for Very Veggie Fried Rice from Cooking Classy
5. Baked doughnuts made with fresh apples
As someone who's made doughnuts from scratch and gone through the process of frying them, I can confidently say they're a whole lot of work. Save yourself some hassle and just bake them instead!
This recipe for Baked Apple Donuts from The Cake Blog uses applesauce AND fresh apples, so that qualifies them as healthy, right? Make sure to use a high-quality baking sheet to ensure your delicious doughnuts cook evenly! We're partial to the Nordic Ware Natural Aluminum Commercial Baker's Half Sheet (just $9.97 on Amazon).
Get the recipe for Baked Apple Donuts from The Cake Blog
6. A healthier twist on spicy jalapeno poppers
Looking for something spicy to serve at your next soiree? You've got to check out this recipe for baked jalapeno poppers! They're stuffed with cheese and topped with breadcrumbs, making for easier prep than regular fried ones. Serve them with ranch dressing, and get ready to watch your friends fight over them!
Get the recipe for Healthier Jalapeno Poppers from Berly's Kitchen
7. Mozzarella sticks with fewer calories and just as much flavor
I would like to personally shake the hand of whoever invented mozzarella sticks. Definitely one of my favorite appetizers of all time.
If you're looking for a way to make these oh-so-delicious apps a little healthier and less calorie-dense, check out this recipe for Skinny Baked Mozzarella Sticks. In addition to baking the cheese sticks instead of frying them, you'll also sub in part-skim, reduced-sodium mozzarella for a healthier take on the classic snack.
Get the recipe for Skinny Baked Mozzarella Sticks from Skinny Taste
8. Your new favorite snack: fried apple chips!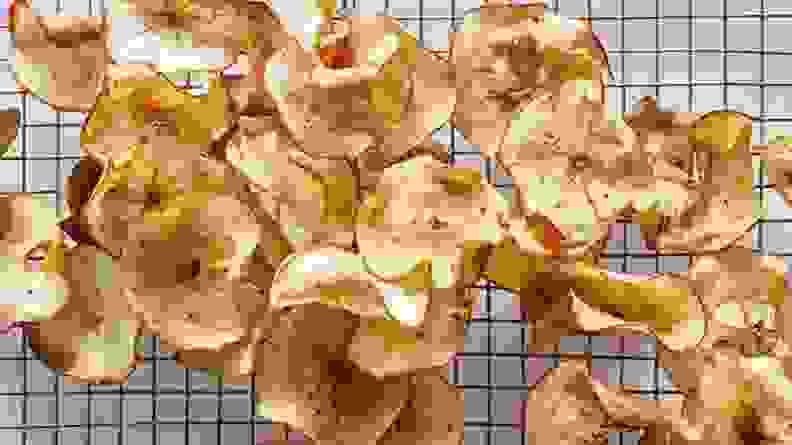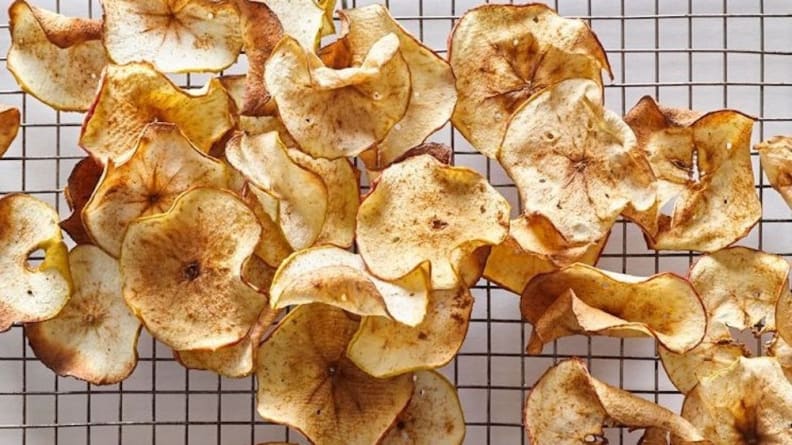 Put down the potato chips! Once you upgrade to these delicious homemade apple chips, you won't go back.
You'll definitely need an amazing mandoline to get your apple slices the perfect thinness—we recommend the KitchenAid Adjustable Hand-Held V-Blade Mandoline Slicer ($19.94 on Amazon), which aced all of our editors' tests. You'll also need an air fryer, and you'll be on your way to delicious fruit chips that the whole family will devour.
Get the recipe for Air Fried Apple Chips from Williams and Sonoma
9. Adult-friendly zucchini tater tots
Come summer, you'll want to make these zucchini tater tots all the time with fresh produce—even when the kids aren't around! You need just four ingredients to whip up a batch of these healthy tater tots, and they make an amazing side dish when served with ketchup.
Get the recipe for Zucchini Tater Tots from She Likes Food
10. Healthy-ish baked churros with chocolate sauce
There's no such thing as a truly healthy churro, so these might be as close as you can get. This recipe for baked churros skips the frying, and it doesn't roll the yummy dough in sugar, either! That counts as healthy-ish, right?