Ovens & Ranges
10 healthy snacks you can make and keep with you the whole week
Calm your munchies with these wholesome bites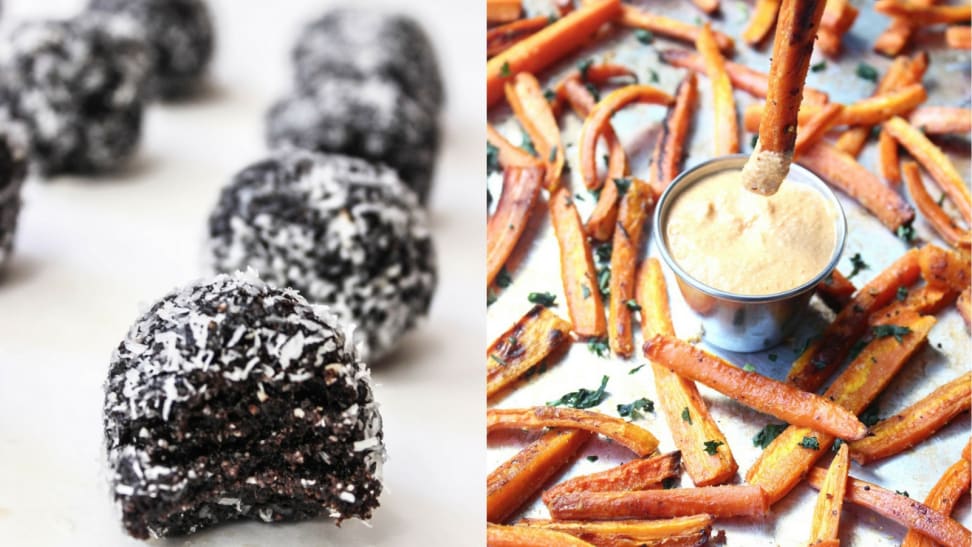 Credit: Healthy Liv / Eat the Gains
When 3 o'clock hits, so do the munchies. For most of us that means reaching for a salty bag of chips. If you're trying to take steps to be a little healthier, you could always go for some simple prepackaged healthy foods found at your local grocery store. But those do tend to break the bank (seriously, why do kale chips cost $10?).
For the most economical and healthy midday snacks, you can easily make your own healthy snacks. Luckily, there are plenty of recipes on Pinterest, for those of us who don't know where to start, such as energy balls, chips, and even all-natural Fruit Roll-Ups. Store these delicious finger foods in the best food storage containers we've tested for an entire week of healthy snacking.
1. Sweet potato chips with less fat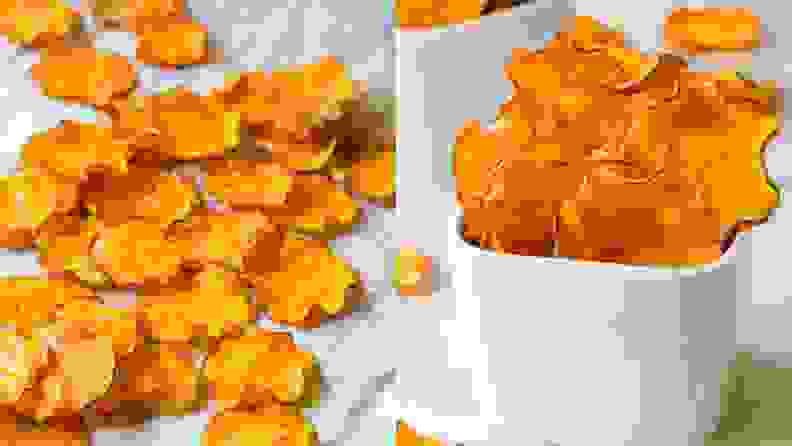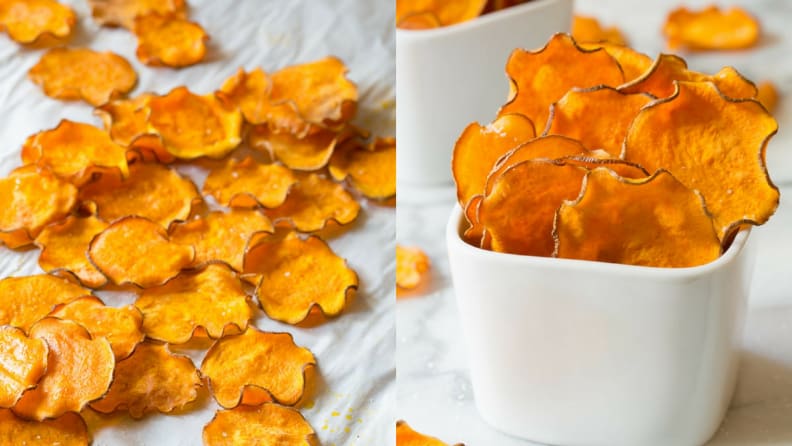 These Baked Sweet Potato Chips from A Spicy Perspective are the best Lay's alternative and only require three ingredients. Plus, you're able to control how much oil and salt are going into your food rather than worrying over the preservatives listed on the bag. For thin, even slices, you're going to want to use our favorite mandoline.
2. Chocolate bites that are still good for you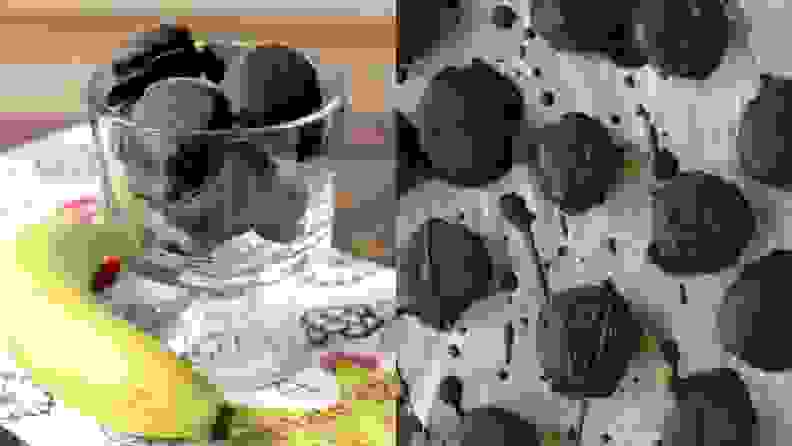 The only better combination than peanut butter and chocolate is probably peanut butter, banana, and chocolate. These Dark Chocolate Peanut Butter Banana Bites from Smile Sandwich are perfectly portioned for a snack or dessert. Use the best baking sheet we've tested to freeze these little bites.
3. Energy balls that require no baking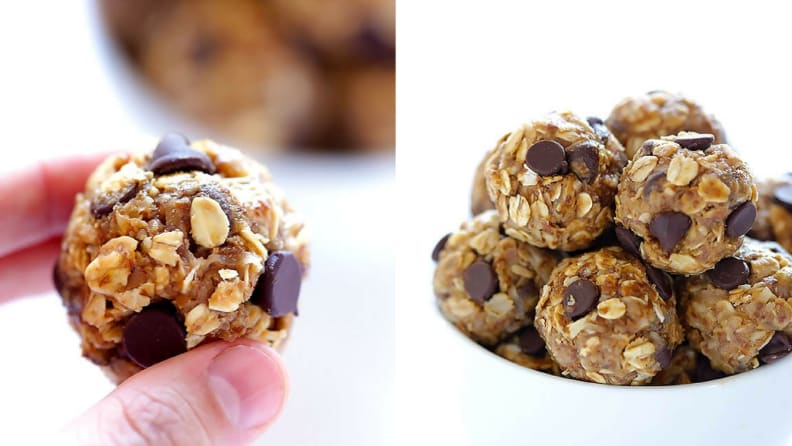 Possibly the best part of whipping up these nutritious snacks is they require no actual baking. The No-Bake Energy Bites from Gimme Some Oven are super easy to make and filled with good-for-you chia seeds and flax seeds. For exact measurements, you may want to invest in a kitchen scale.
4. Beans with a salty crunch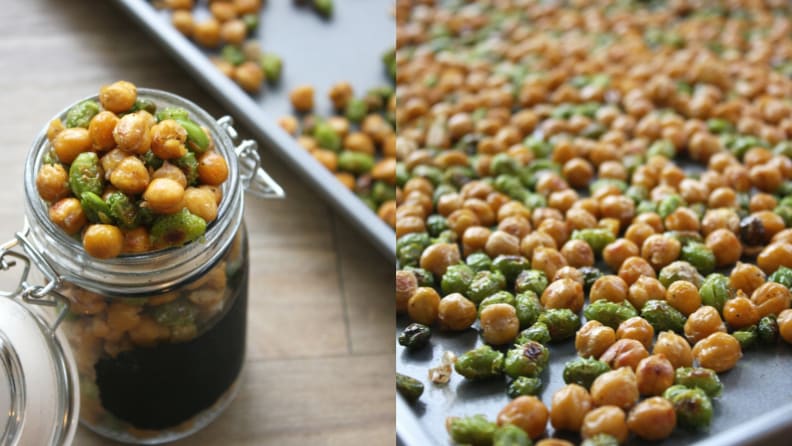 We all know the best snacks are both salty and crunchy—but it's even better when they're actually good for you. These Crispy Chickpea and Edamame Oven Snack from The Garlic Diaries are full of seasoning and protein to power you through the rest of the day. Be sure to thoroughly rinse the beans in a colander before baking to assure optimal crispiness.
5. Brownie chunks that are still wholesome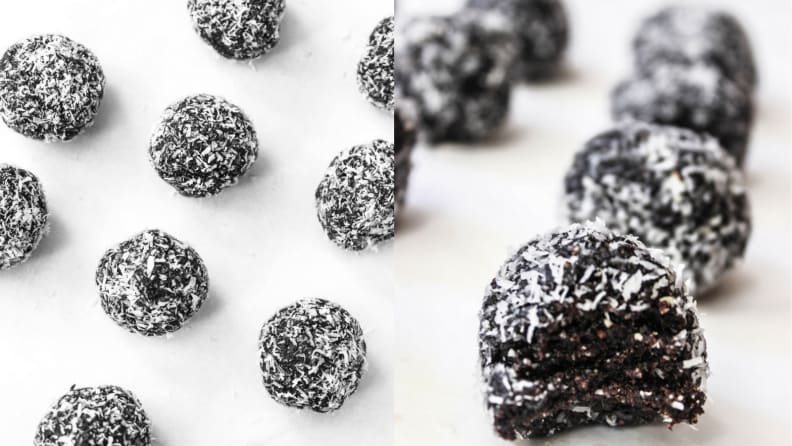 Who knew brownie bites could be good for you? These Dark Chocolate Coconut Brownie Bites from Healthy Liv are loaded with dates, almonds, and walnuts, giving you wholesome energy while still tasting like the brownie you're craving. For this recipe, you'll need a food processor to mix all the ingredients—I personally use this one from KitchenAid.
6. Frozen yogurt that's better in bite form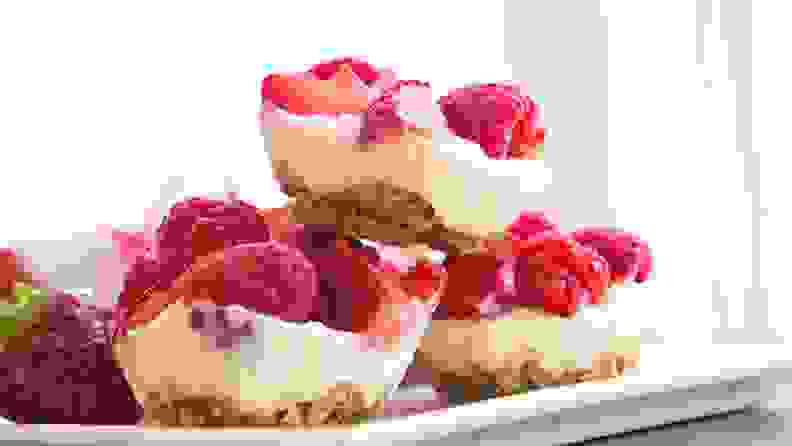 We all went through that addicted-to-froyo phase (or at least I did). No matter what you tell yourself, it's really not healthy, especially if you load up of sugary toppings. But luckily, these Froyo Berry Bites from Skinny Ms. are nutritious, with ingredients like fresh fruit, greek yogurt, and granola. Be sure to use a sturdy chef's knife to chop through those berries.
7. Bars that are Whole30-approved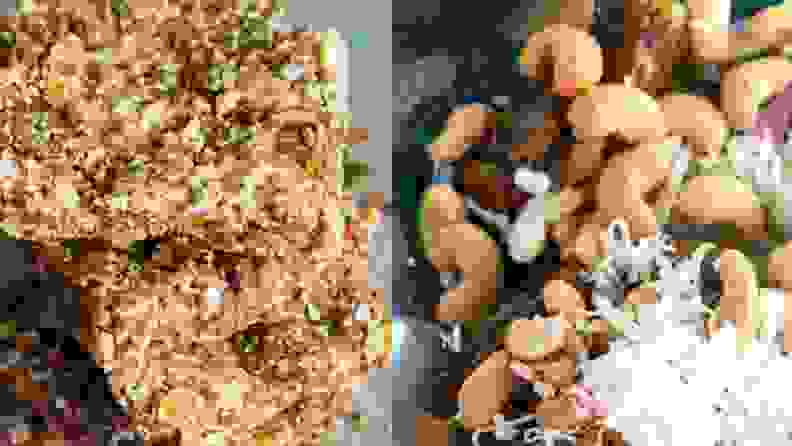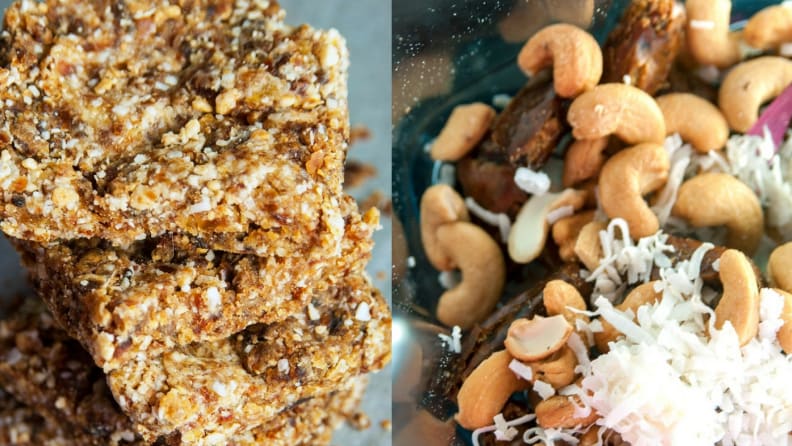 With only three ingredients (cashews, coconut, and dates), these Coconut Cashew Bars from The Bewitchin Kitchen are Whole30 compliant. Using a high-performance blender, you can fully blend the ingredients or leave things a little chunky for an extra crunch.
8. Meal-preppable mini parfaits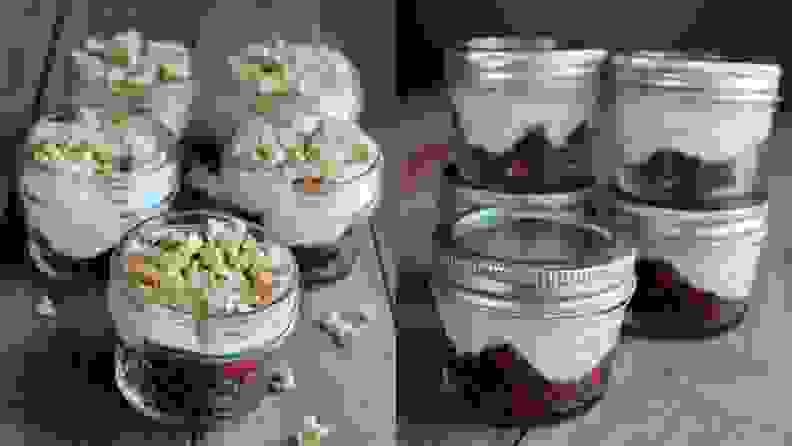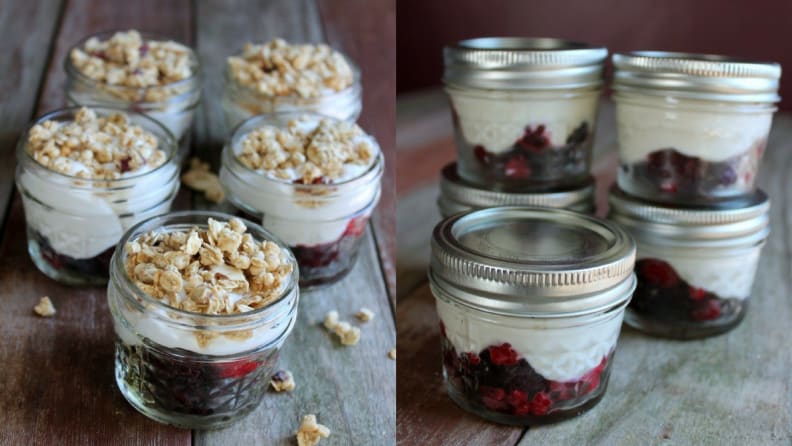 There's nothing more satisfying (for your stomach) than coming home to a pre-made snack to satisfy your afternoon cravings, especially when it's good for you. These Make Ahead Mini Parfaits from Organize Yourself Skinny are super easy to prepare and even easier to grab later. Be sure to stock up on mini mason jars to add an extra flair of cuteness to your snackage.
9. Carrot fries with a spicy dip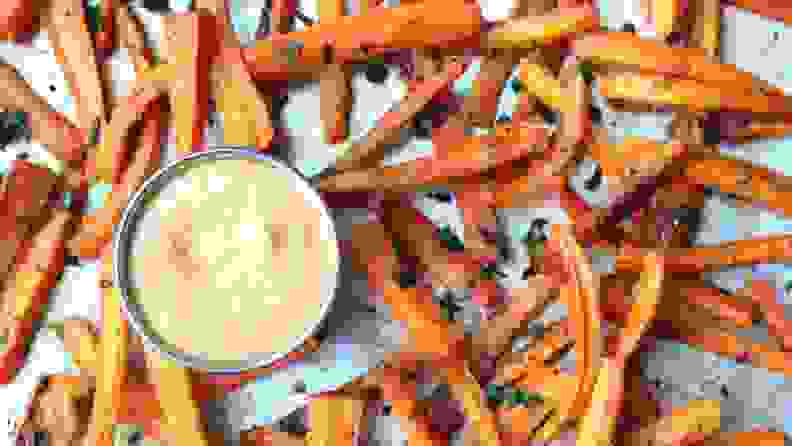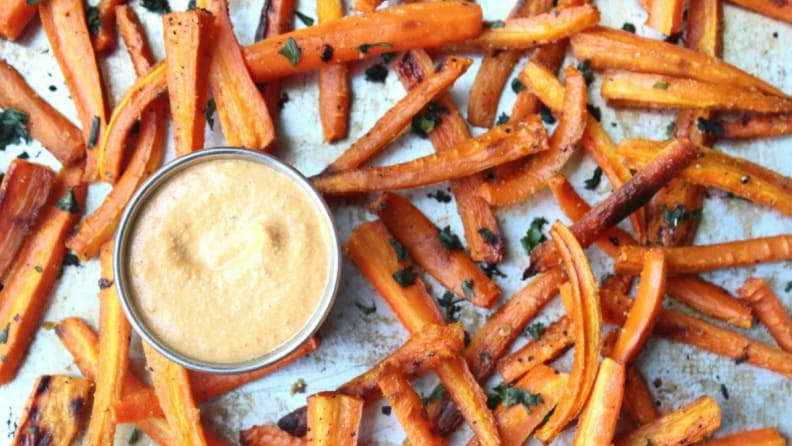 Nothing can replace real, greasy fries, but these Healthy Carrot Fries from Eat the Gains have a nutritious twist that makes them almost as good. Instead of ketchup, these seasoned sticks are dunked in a homemade curry dipping sauce, which brings the heat. Make sure you have a good cutting board handy to chop all those carrots into perfect strips.
10. Homemade fruit roll ups with actual fruit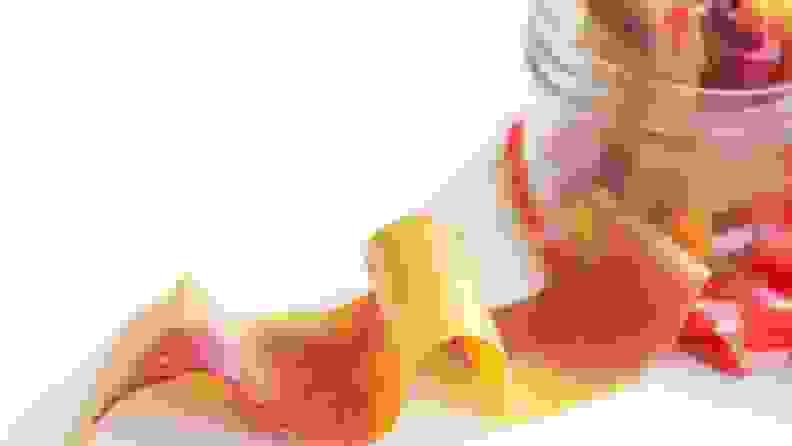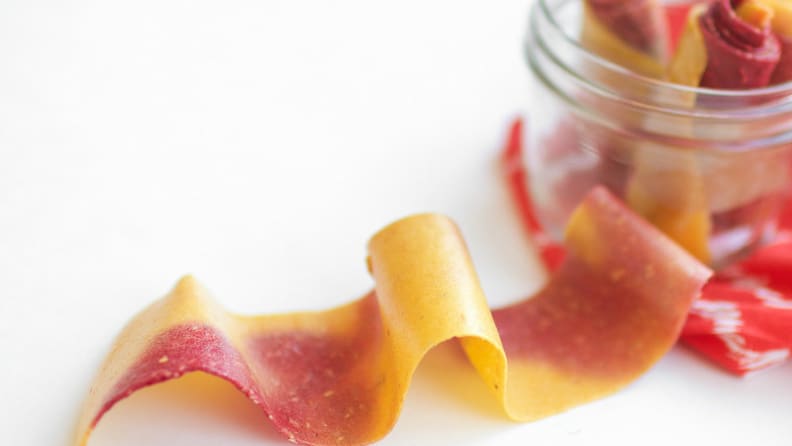 Fruit Roll-Ups bring a wave of nostalgia—and food dyes and preservatives. This Peach Raspberry Fruit Leather from Oh So Delicioso only requires three ingredients and has no added sugar for a healthy version of the treat from your childhood memories. You're going to want to use a blender to make sure the ingredients are well incorporated—like the best affordable one.
Prices are accurate at the time of publication, but may change over time.