Ovens & Ranges
2012 OvenInfo Best of Year Awards
Just in time for the Thanksgiving feast, our picks for the best ovens of the year.
Credit:
Next to skills, the most important thing a chef needs is a good oven. Make the wrong choice and you'll not only ruin recipes, but you'll waste time waiting for an oven to preheat or for water to boil. We put some of the most popular gas and electric ranges on the market through an exhaustive battery of scientific testing—a trial by fire, if you will—to determine which is the best choice for a home chef.
This year saw some new innovations in addition to incremental improvements to existing products, which made for a solid lineup of ranges. But only the finest can get our Best of Year awards. Here are the winners:
---
Best Innovation
(MSRP $1,699 for FE710DRS/XAA)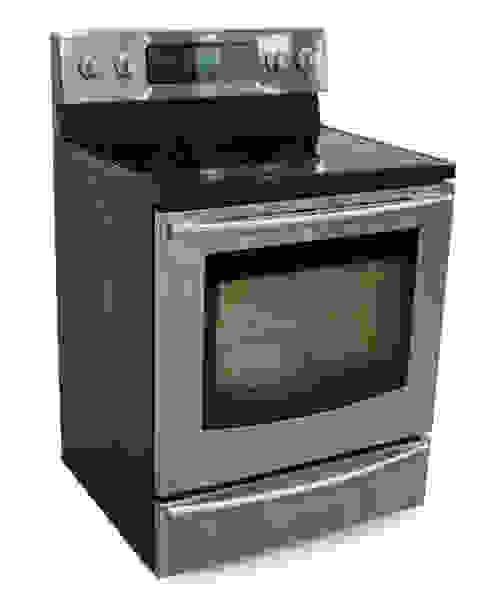 From Samsung comes the Flex Duo, a range that converts from single oven to double oven in seconds. A removable partition slides into the convection-equipped oven to create two separate spaces, allowing cooks to bake two different items at two different temperatures. To use the entire oven, just slide the partition into a shelf beneath the oven door. Until this revolutionary range came along, homeowners had to choose between a double or a single oven cavity, resigning themselves to various respective drawbacks.
Now, the Flex Duo gives home chefs the ability to cook multiple items at once or to use the entire oven for turkeys, roasts, and other large fare. We were glad to discover that, aside from its innovative interior, the Flex Duo also performed impressively in our lab tests. On the rangetop, burners boiled water quickly, while each oven cavity offered up even heat.
Read the full review of the Samsung Flex Duo
---
Best Electric Range
(MSRP $999.99)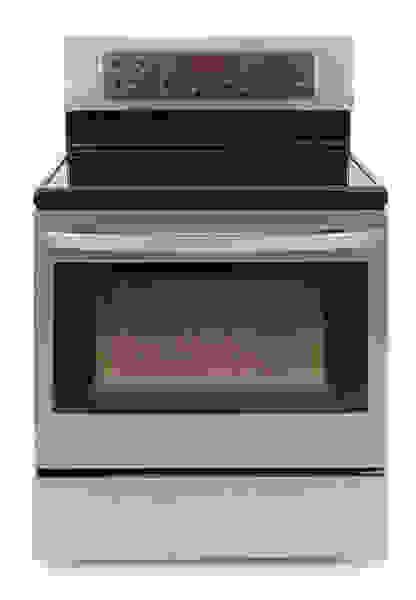 Runner-up
(MSRP $1,499)
Priced below $1,000, the LG LRE3023ST is a great performer that also happens to be a great value. In our tests, its ceramic rangetop easily sustained temperatures low enough to melt chocolate without a double boiler, as well as temperatures that were hot enough to effectively sear meat. Down in the oven cavity, temperatures remained remarkably steady regardless of how hot or cool we set the thermostat, and the convection fan was very effective as well.
Though it certainly left us impressed, the LG LRE3023ST isn't a perfect oven by any means: Its broiler didn't get hot enough and its burners took a long time to bring water to a boil. However, those drawbacks are far outweighed by its otherwise superb operation, and it's safe to say that this LG is a great deal for anyone looking for an electric range.
The KitchenAid Architect Series II KERS306 barely missed snagging best electric range. With no major weaknesses whatsoever, the KERS306 demonstrated amazing rangetop performance, boiling six cups of water in five and six minutes on its two most powerful elements. Oven performance was just as solid, demonstrating exceptionally even and accurate temperatures. Depriving the oven of a perfect score sheet, the keep-warm oven setting ran a fever, acting a bit more like a keep-hot. Like we said, a minor flaw. With its handsome looks and amazing performance, the second place range still has our approval.
Read the full review of the LG LRE3023ST
Read the full review of the KitchenAid KERS306BSS
---
Best Value Electric Range
(MSRP $549)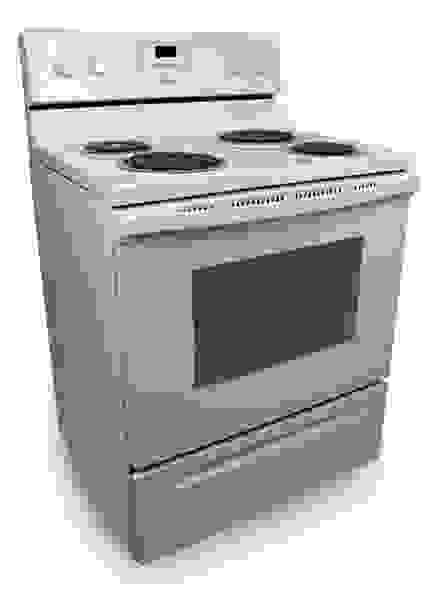 While the smooth surface of a ceramic rangetop is undoubtedly attractive, our tests showed that you shouldn't count out the lowly coil burner. The Whirlpool WFC310S0AS sells for under $550, but its rangetop outperformed competitors that cost thousands more. Water boiled in under five minutes, and the rangetop temperature gamut was astonishingly wide, accommodating any searing or simmering task.
However, the inexpensive Whirlpool definitely exhibited drawbacks beyond appearance, such as the lack of convection oven and adequate broiler. Still, if you're on a budget and need a range that plugs in, this Whirlpool is an excellent choice.
Read the full review of the Whirlpool WFC310S0AS
---
Best Gas Range
(MSRP $1,799)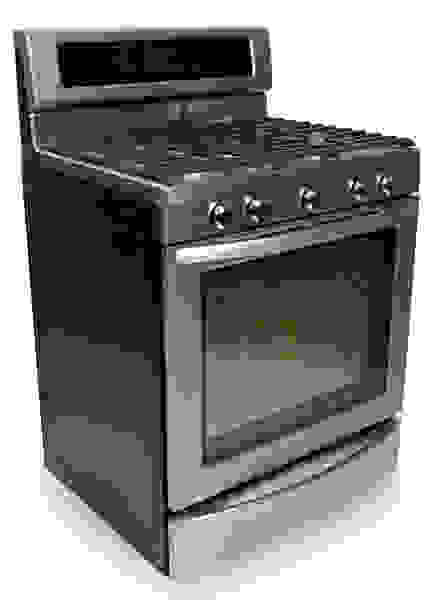 Runner-up
(MSRP $1199)
Many serious cooks prefer the control of a gas rangetop, with its superior responsiveness and visible heat source. In our category of best gas range, the KitchenAid KGRS308BSS handily beat out the competition for the crown. In our tests, this range boiled water incredibly quickly, though it demonstrated a slightly narrow temperature range. In the oven, we found similar excellence, such as smooth, even temperature control, a brief preheat, and a competent convection fan. Yes, the broiler and the simmering abilities are questionable, but all things considered—this is the best gas oven of the year.
The GE JGB600SETSS is a solid runner-up for a gas range. Though collective rangetop power wasn't impressive, one burner proved to be powerful, boiling six cups of water in just five minutes. Below, we found much better performance, as the JGB600 showed very consistent temperatures, close attention to the target temperature, and a preheat to 350°F in under six minutes. Caveat emptor if you depend on the broiler, as it was unsatisfactorily weak in its preheat. But with five burners of gas precision and a solid convection oven, the JGB600 secures our praise.
Read the full review of the KitchenAid KGRS308BSS
Read the full review of the GE JGB600SETSS
---
Best Convection Range
(MSRP $1,699 for FE710DRS/XAA)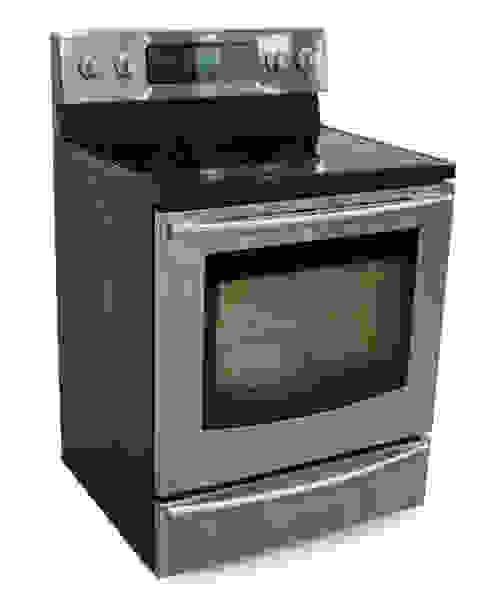 Runner-up
(MSRP $999)
Besides offering the most interesting innovation we've seen this year with its removable cavity divider, the Samsung Flex Duo FE710DRS/XAA also is the proud owner of the finest convection oven we've seen. After a speedy eight minute preheat, the Flex Duo strayed no more than five degrees below the target and six degrees above. This is unbelievable adherence to the target temperature, especially when you consider that a normal variance is plus or minus 20°F. Ovens often seem to ignore their temperature settings, so this marks incredible progress towards complete control of the oven temperature.
In addition to being our highest scoring electric range this year, the LG LRE3023ST grabs the silver medal in the convection oven category. With a strong adherence to the target temperature and an eleven minute preheat to 350°F, we found excellent temperature control. Deviating only eleven degrees above and nine degrees below the target, this is indeed impressive and part of the reason why this oven has proved to be this year's best electric range.
Read the full review of the Samsung Flex Duo FE710DRS/XA
Read the full review of the LG LRE3023ST