Ovens & Ranges
"American Food 2.0" Set to Take World's Fair by Storm
The best and brightest in the U.S. food scene are off to Milan.
Credit:
Mention the World's Fair to the average American and they'll probably conjure up images of dusty, turn-of-the-century Chicago or 1960s New York City. What they may not realize is that the fair is still happening today—every five years, in fact. This year it's headed to Milan, and as you'd expect from an Italian expo, it's all about food.
Specifically, it's about the future of food.
Expo Milano 2015 is set to kick off May 1 and run through October 31, with the theme "Feeding the Planet, Energy for Life." As one of the biggest producers of food worldwide, the United States will have a major presence at the fair. At SXSW Interactive 2015, we spoke with James Beard Foundation executive VP Mitchell Davis. He'll also serve as the Chief Creative Officer for the USA Pavilion in Milan.
Designed by award-winning architect James Biber, the USA Pavilion will feature a number of novel features that both celebrate America's incredibly diverse cuisine and look forward to the challenge of feeding an anticipated world population of 9 billion by 2050.
Culinary all-stars will serve up five-course, prix-fixe meals highlighting the best of American food.
Among the former group will be the first food truck court ever to appear at a World Expo (serving everything from Korean BBQ tacos to lobster rolls), and the James Beard American Restaurant, which will play host to dozens of renowned American chefs. Flown in weekly, these culinary all-stars will serve up five-course, prix-fixe meals highlighting the best of the States' innovative, fusion-driven cuisine.
The latter group will encompass everything from conferences on global food security to panel discussions with tech innovators, farmers, and chefs. Perhaps the most striking element of all will be a 7,200-square-foot "crop wall"—a vertical farm that will grow 42 different varieties of vegetables, grains, and herbs throughout the Expo's six-month run. It's an exhibit designed to show off a highly integrated, sustainable vision for farms of the future.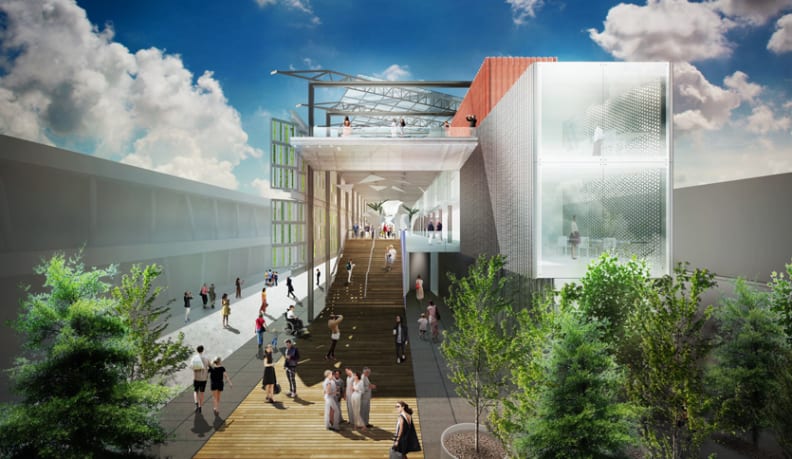 ---
A Sneak Peek
At SXSW, Davis moderated a panel including National Geographic executive editor Kaitlin Yarnall, Bolthouse Farms CEO Jeffrey Dunn, and Instacart founder Max Mullen. The four discussed some of the challenges facing both the American farming industry and the world in the face of climate change, shifting global diets, and a skyrocketing world population.
During the course of the discussion Dunn highlighted what he called a "big shift" in U.S. consumption habits. Baby boomers, he said, were largely driven by marketing, while Millennials tend to be more influenced by products themselves. "It's no longer just what's in the pantry or what's on the end cap in the grocery store," he said. "It's what I've decided I want to eat, what I want to put in my body."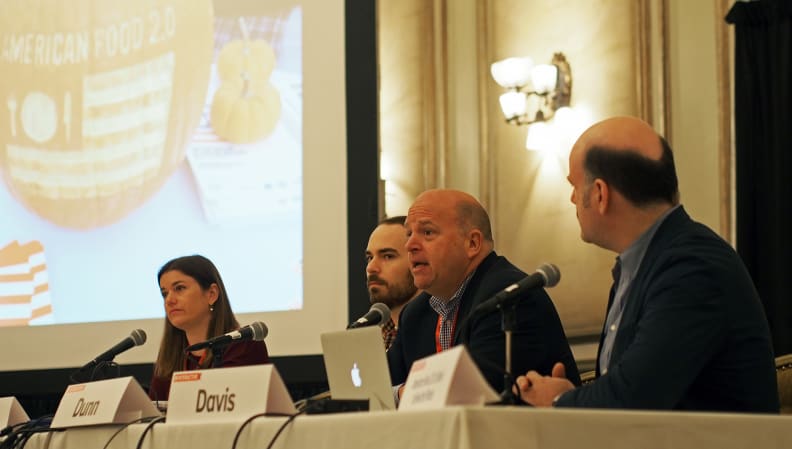 Each panelist brought his or her own agenda and preoccupations to the table, but all agreed that a gradual transition toward vegetables and vegetable-based proteins—and away from animal protein—is essential to feed an ever-growing world population. "Not everyone in the world can eat like Americans or Europeans," said Yarnall.
In other words, if other large populations like China and India begin to consume meat at the rate America does, the world is in serious trouble. Dunn argued that the "paradigm of affluence" needs to change, so that meat consumption is no longer associated with success.
---
---
Both Yarnall and Mullen were enthusiastic about leveraging Big Data to improve food production and supply chain efficiency, keep customers informed of food choices, and help them keep track of what they're eating. Mullen believes services like Instacart have "an incredible power, and maybe a responsibility, to help people make smart choices," while Yarnall thinks data can be used to reduce or eliminate food waste—a huge issue worldwide.
Dunn said the ongoing California drought could cause "the single largest reset of agriculture in the history of this country."
Dunn ruminated on the effects of global climate change, focusing on the ongoing California drought, which he says could cause "the single largest reset of agriculture in the history of this country." He also spoke about the obstacles and unexpected opportunities that will arise as agriculture shifts to new geographical regions. The government of the Canadian province of Saskatchewan, for example, is already investing in a "large distribution platform" to support year-round farming—an undertaking that would have seemed inconceivable decades ago.
These issues and more will be food for thought in Milan, where some of the world's greatest minds will come together in an effort to map out a more efficient, productive, and sustainable future for the global food industry, both in America and worldwide.
Related Video